Never miss a bite! Sign up here to receive new recipes and reviews straight to your inbox.
Disclosure: I received complimentary movie passes for Cinemark Palace 20 and XD and was invited to dine as a guest of Movie Bistro. No monetary compensation has been received for this post. As always, all opinions are 100% my own.
After much anticipation since the closing of the Rapoport's-owned Bogart's Bar and Grill inside Cinemark Palace 20 and XD in Boca Raton, Movie Bistro has finally opened its doors and movie goers can once again do dinner (or lunch) and a movie at their leisure without having to leave the theater.
Movie Bistro, open daily at 10 a.m., is located on the Premier level of Cinemark, smack dab in the center of the six Premier Level theaters where comfy balcony seating, seat-side tables for food and drink, and complimentary popcorn will have you swearing you'll never visit a "regular" movie theater ever again. Aaaaand the general admission movie theaters on the first floor have new, plush recliners too, which was extra awesome since that's where my boyfriend and I were watching the 20th Anniversary special screening of The Big Lebowski.
Guests can come and go to Movie Bistro, even if they aren't seeing a movie, to enjoy lunch, dinner, happy hour and/or dessert. The totally remodeled, full-service restaurant seats 249 guests and features a large bar seating 34, hi- and low-top tables, TVs throughout the dining area, and a game room (for those 16+) with two billiard tables, a 12-foot shuffleboard table and two foosball games.
But that's not all — there is also an intimate VIP Screening Room adjacent to said game room, where guests can reserve a space for up to 29 of their friends, family or colleagues for a one-of-a-kind viewing party with in-theater wait staff as well as state-of-the-art, built-in presentation equipment, making this an ideal location for business events, corporate meetings, holiday and birthday celebrations and more. The private room features innovative electric recliners with in-seat call buttons as well as — wait for it — seat warmers. Yes, you read that correctly. You will never have to worry about being too cold while enjoying a flick in Movie Bistro's VIP Screening Room. This makes me incredibly happy because I'm definitely that girl who wears like, three sweatshirts whenever she goes to the movies. It's like the freakin' Arctic in there. 
But let's get back to the food, shall we? The menu is very carefully constructed to appeal to pretty much any and all guests, which is smart since it's likely to have a very diverse clientele because of its movie theater location. Although most of the items on the menu are your traditional pizza, burgers, sandwiches and bar bite appetizers, there are definitely a couple foodie-approved gems, especially the blistered shishito peppers. It's a super simple yet effective preparation — just a drizzle of olive oil and a sprinkle of sea salt and we're good to go. They don't even come with a sauce, but it's totally okay because they don't really need one. Just be careful — typically every shishito dish will have at least one spicy one; our batch had two.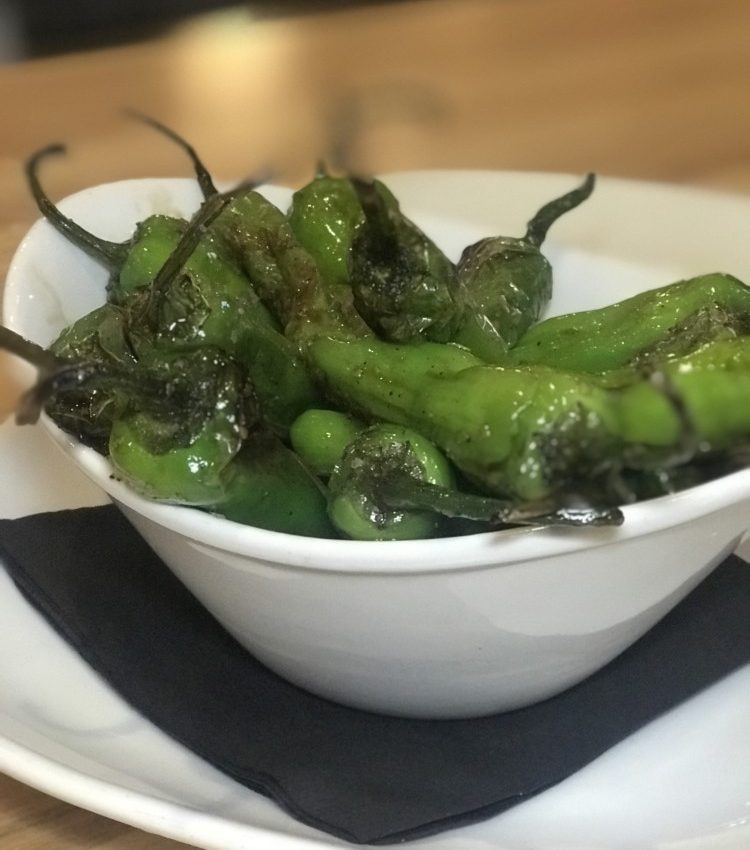 My eyes also wandered to the Patatas Bravas, a dish found most often on the menus of Spanish Tapas restaurants and made popular by the incredible Chef Jose Andres. I've made his exact original recipe before and it was a hit. There are many versions of the dish out there, but the basic components include crispy potatoes, an aioli and a tomato sauce. At Movie Bistro, they serve the potatoes along with a roasted garlic aioli and spicy tomato sauce. Normally both of the sauces are drizzled on top, but we had it served deconstructed since I couldn't have the aioli. The spicy sauce was super flavorful, but I would have preferred crispier potatoes.
Also on the menu is a Tuna Poke, clearly a current MVP on restaurant menus everywhere, with tons of different variations. Movie Bistro serves theirs with soy marinade (not able to be made gluten-free, so I had to omit) with diced avocado, cucumber, sesame seeds, green onion and fried crisps. It was kind of basic when it comes to poke, and since I couldn't have the sauce I don't have a handle on its true flavor profile, but I will say the tuna was very fresh tasting and I was happy enough with the tuna-avocado duo.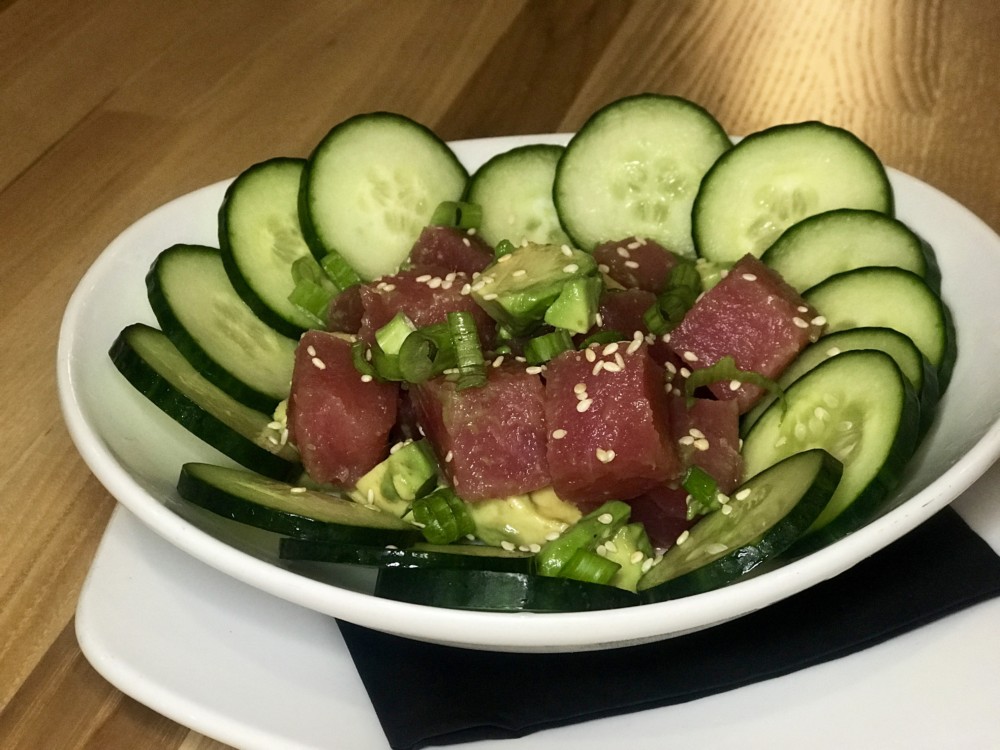 There are a lot of burger and sandwich options to choose from, even including a vegetarian option — the southwest black bean burger — and a featured fresh fish. Roger, my boyfriend and the "official media dinner plus one," chose the poblano burger, which would have been my choice too if I was a meat-eater. A half-pound beef patty is topped with roasted poblano peppers, sliced Swiss cheese, crispy fried onion strings and chipotle mayo on a brioche bun, served with fries. Insider tip: ask for the rosemary French fries, they're delish!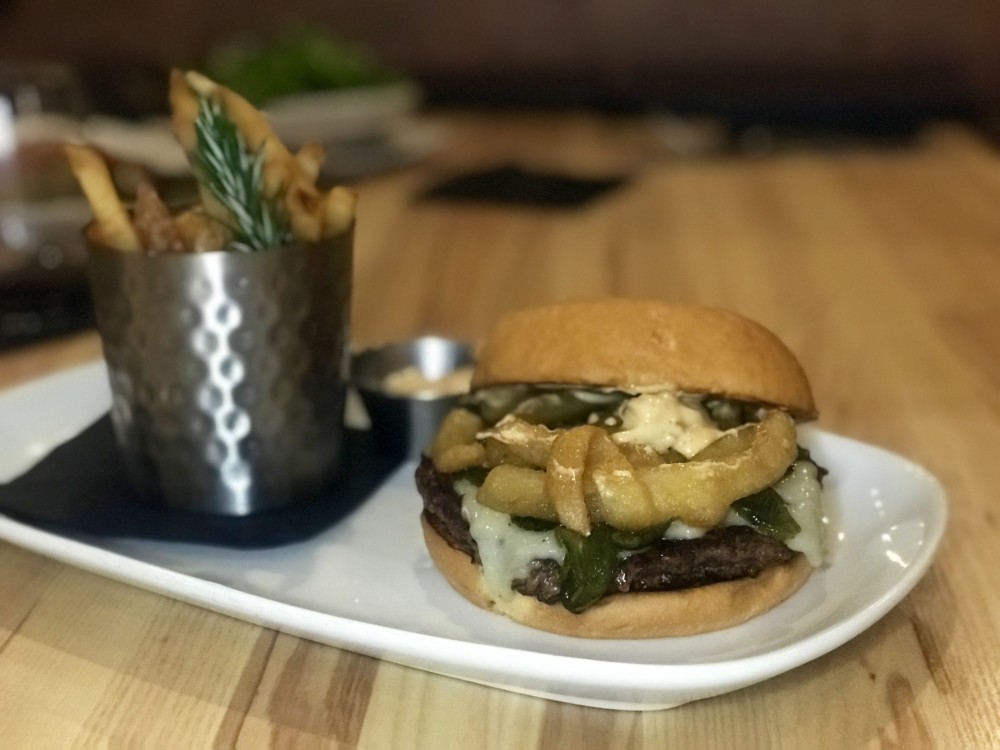 For me, I'll admit my choice was a little anticlimactic (movie terms seem appropriate here) — simple pan-seared salmon served with roasted Brussels sprouts, with a house salad instead of the wild rice because it was cooked with butter. Although it sounds boring, the salmon was cooked to absolute perfection. You could hear the skin crack as I sliced my fork into the fish — the sign of extreme crispness — and the inside temperature was just right. The simple side of sprouts was tasty, and the salad added a light, refreshing balanced element to my meal. It was a good choice.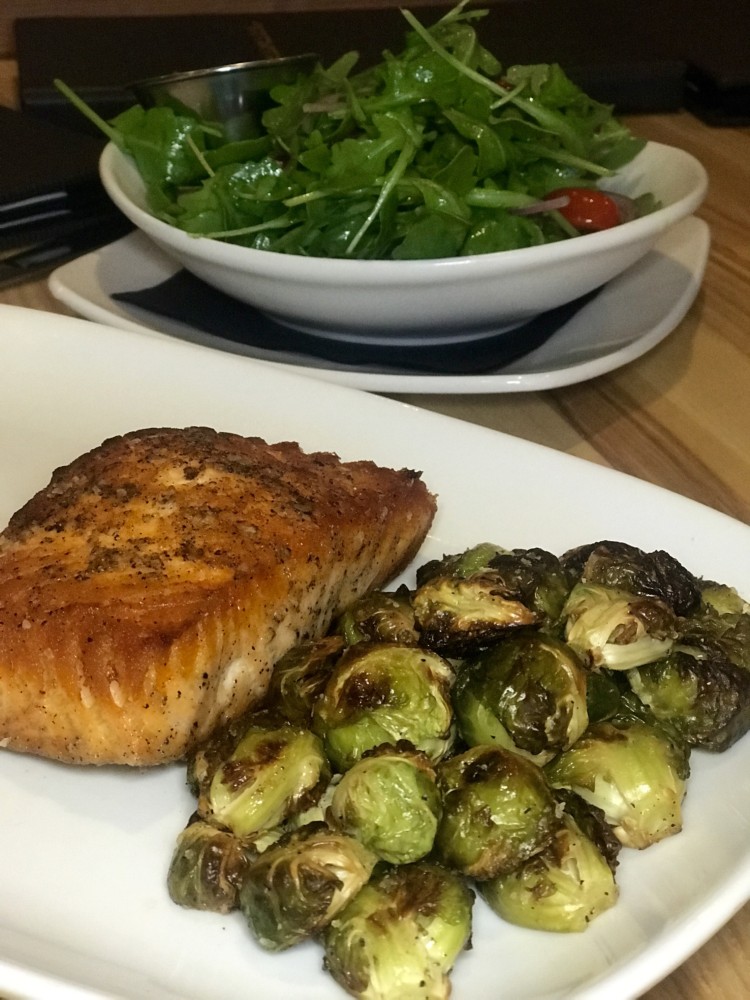 Grabbing something to eat before or after a movie is much more convenient when you don't have to get in your car and go anywhere. Wouldn't you agree? Movie Bistro has a modern, retro feel with bright colors and an inviting atmosphere where you can't help but have a good time. And with food and drinks, games and movies all at your fingertips, why wouldn't you?
Movie Bistro at Cinemark Palace 20 and XD is located at 3200 Airport Road in Boca Raton. Take note that Premier Level movie tickets, as well as entrance into Movie Bistro is restricted to ages 18+ after 5 p.m. daily.