Never miss a bite! Sign up here to receive new recipes and reviews straight to your inbox.
Mujadara with Lebanese Salata is a combination of lentils, rice and caramelized onions topped with a mixture of bright, crunchy veggies. Tasty, healthy, and wallet-friendly — it's the best kind of meal!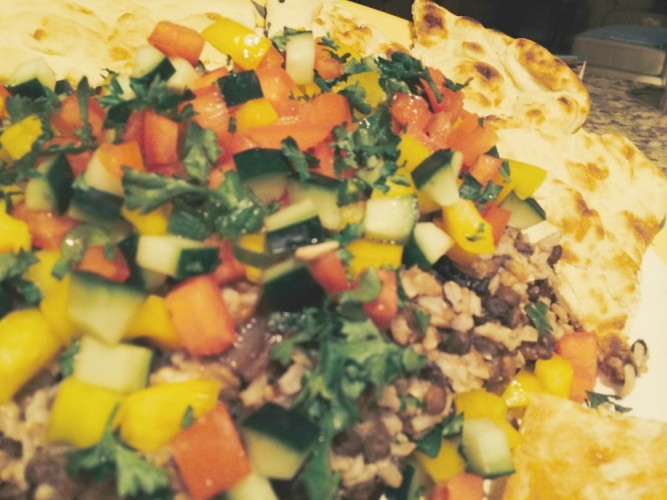 Out of everything I spend money on, I think food is probably at the top of the list. As a food blogger, I am constantly in the grocery store buying ingredients to experiment with in the kitchen. But I'm no millionaire (although sometimes I like to pretend…), so I've got to stay on a budget. Budget-friendly meals are important to have on hand and #SundaySupper is here to bulk up your collection of recipes with some super-yummy meals that take it easy on your wallet. Thank you so much to this week's hosts, T.R. of Gluten Free Crumbley and David of Cooking Chat.
This Mujadara with Lebanese Salata was inspired by one of the most delicious dishes I had at a Lebanese restaurant in Boca, Aladdin's Eatery. The only difference is that they fried their onions and I chose to caramelize them. I prefer this style of cooking when it comes to onions over any other. I could probably eat an entire bowl of caramelized onions and be totally content. Is that weird? Oh well. Caramelized onions are friggin GOOD!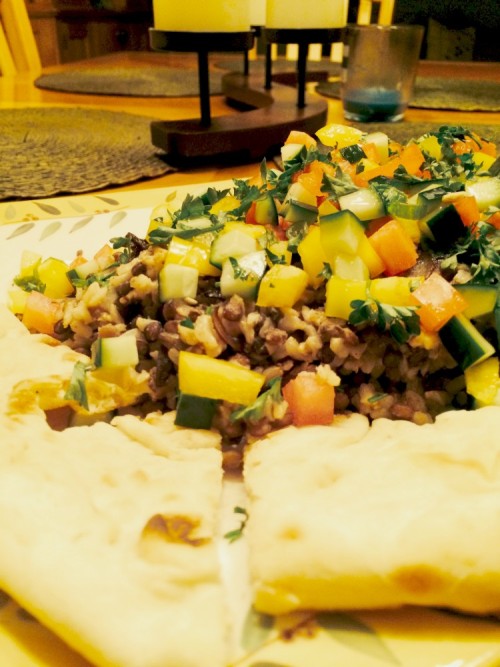 There may be a lot of ingredients in this dish, but they are all things you probably have in your cabinet already. These ingredients are also easy to find, and inexpensive, and a little goes a long way — meaning you'll have plenty of leftovers! Brown rice is a pantry staple and you can easily make a lot of it at once so you're able to prep meals ahead of time for days. This is a key part of preparing budget-friendly meals. You want to buy ingredients that will last and give you a lot of bang for your buck! Lentils are another pantry staple for me — are they for you? I'm not sure if everyone would agree with this, but it's such a great ingredient to use in soups and chilis, and dishes like this Mujadara with Lebanese Salata. Onions, cucumbers, tomato, yellow pepper, scallions, parsley and a few spices to kick up the flavor-factor. Nothing too fancy and nothing causing you to break out the Black Card (what do those even feel like?!).
To me, a budget-friendly recipe includes ingredients that you purchase with the intent of using more than once, for a variety of different dishes. So whatever your grocery bill comes to, divide it by however many meals you plan on getting out of your purchases and you'll see how you can make restaurant-quality, delicious dinners at home without breaking the bank. I do love going out for Middle Eastern cuisine, but now I know I can make it just as yummy in my own kitchen with inexpensive ingredients that are full of bold flavor. Mujadara with Lebanese Salata is a great starter recipe if you want to explore cooking this type of cuisine. Although there is quite a bit of prep work, the actual cooking part is not complicated at all and results in one really great meal.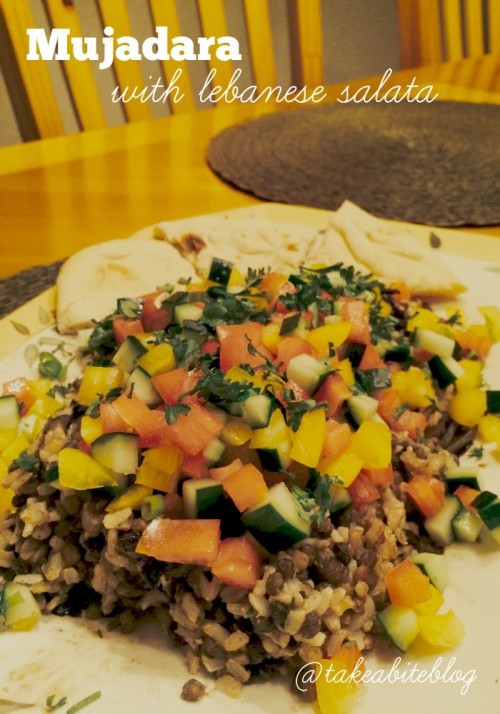 Mujadara with Lebanese Salata #SundaySupper
Author:
Mujadara with Lebanese Salata is a combination of lentils, rice and caramelized onions topped with a mixture of bright, crunchy veggies. Tasty, healthy, and wallet-friendly — it's the best kind of meal!
Ingredients
For the Mujadara
1/2 cup brown rice
1 1/2 cups water
2 yellow onions, sliced into thin strips
1/4 cup balsamic vinegar
1 cup cooked brown lentils (I used Trader Joes)
cinnamon
cumin
smoked paprika
salt and pepper
For the Lebanese Salata:
1/2 medium cucumber, small diced
1/2 yellow pepper, small diced
1 roma tomato, small diced
1 tbsp chopped scallions
1 tbsp chopped fresh parsley
juice of 1 lemon
Instructions
Add rice and water to a medium pot and bring to a boil. Lower to a simmer and cook, covered, for 45 minutes or until the rice is fluffy and has absorbed all of the water.
Heat a saucepan on high and add onions. Add 1-2 tbsp of water and let cook until fragrant, about 2-3 minutes.
Add balsamic vinegar and continue to cook until onions are translucent and have absorbed the liquid, about 5-8 minutes.
Once the rice is done cooking, add cinnamon, cumin, paprika, salt and pepper according to your own taste. Use at least 1 tbsp of each, gradually adding until it reaches your desired flavor.
Add the cooked lentils and onions and mix well.
To make the Lebanese Salata, combine the diced cucumber, peppers and tomato in a small bowl and mix well.
Scoop the lentil and brown rice mixture onto a plate and top with Lebanese Salata. Sprinkle the chopped scallions and parsley on top. Finish with a squeeze of lemon juice.
Serve with tahini, curry sauce, hummus, tzatiki, etc.
Notes
Mujadara recipe adapted from "Forks Over Knives" by Del Sroufe
Keep your wallet happy with all of these great recipes from my #SundaySupper friends!

Scrumptious Mains (Breakfast and Dinner)
Satisfying Sides
Sweet Treats
Sips, Spreads, and Snacks

Join the #SundaySupper conversation on twitter on Sunday! We tweet throughout the day and share recipes from all over the world. Our weekly chat starts at 7:00 pm ET. Follow the #SundaySupper hashtag and remember to include it in your tweets to join in the chat.
To get more great Sunday Supper Recipes, visit our website or check out our Pinterest board.


Would you like to join the Sunday Supper Movement? It's easy. You can sign up by clicking here: Sunday Supper Movement.