Birthdays are all about celebrating, and one of the best ways to celebrate something is with lots of fun, food & of course, friends. This is exactly how I spent my 24th birthday weekend. Thank you so much to two of my best friends, Leanne and Kelly, for coming down to visit and spend my birthday with me. These two truly made it the best birthday weekend ever! 
While I don't have any foodie pictures for this post, there is plenty to talk about. We basically ate and drank our way around Boca, Deerfield and Delray, enjoying every moment of it.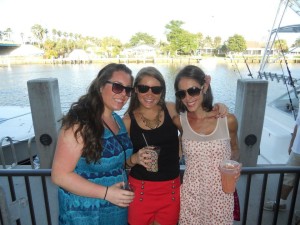 After getting our fill of sun all day on Friday, we headed over to Two Georges at The Cove in Deerfield Beach for its famous Friday Happy Hour. If you haven't been there on a Friday night before, I definitely recommend it. Half-price drinks, great food, and an awesome outside atmosphere right on the water. Their signature cocktail is called the Plantar's Punch, which is a mix of rums and tropical juices so sweet and fruity you'll easily find yourself downing a second cup. I wish I got pictures of our dinner, but we were having such a great time I didn't think to do so. The three of us shared the Maryland crab dip for an appetizer. Leanne and Kelly both got the baked stuffed shrimp with crab imperial, and I got the pretzel-crusted grouper topped with a mustard dill sauce. Everything was really good and we had so much fun hanging out on the deck outside. My birthday weekend started out on the right foot; little did I know how much better it was about it get.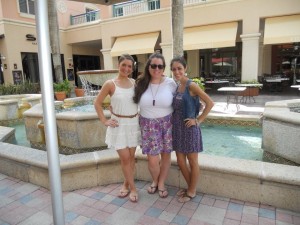 Bubby took us to brunch at Max's Grille on Saturday morning. We drank refreshing bellinis and ate unique and delicious omelets. Kelly and I both got the jumbo lump crab meat and fontina cheese omelet with spinach, tomatoes and scallions. Leanne got the mushroom and spinach omelet with goat cheese. Both dishes came with home fries, sautéed with peppers and onions. We all agreed these were the best home fries any of us have ever eaten. The rest of the afternoon was a lot of fun; the weather was beautiful so we went out on the boat with my aunt and uncle. 
After an awesome day "at sea," we got ready for our night out on the town. The real birthday festivities were about to begin… We got all dolled up and ready to go out.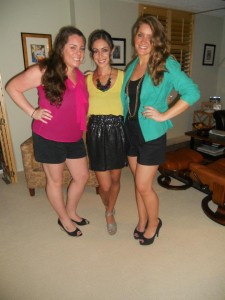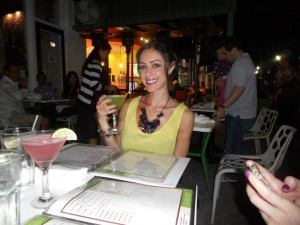 Thank God for our friend (and my fellow Jersey-native-turned-South-Floridian, see end of post for backstory) Adam who took over the planning for my birthday dinner and took it upon himself to figure out the reservation. I love not having to deal with all those details. We ate at Lemongrass on Atlantic Ave in Delray Beach. There were about 10 of us, so we ordered an insane amount of sushi and everyone shared.  There was salmon, tuna, eel, crab — the list goes on and on. Every piece I tried had its own unique taste. Aside from some fab sushi, I also matched my outfit with a neon green apple martini!
We spent the entire night dancing at Il Bacchio in Delray, a great outdoor nightclub right off Atlantic Ave. I don't think any of us stopped dancing until we left at closing. Our feet were killing us, but that's the price you pay for an awesome night out.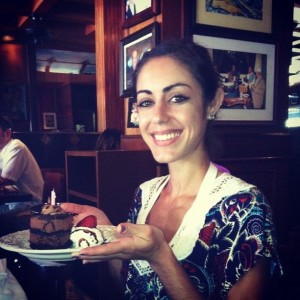 Sunday we all went to brunch at Caffe Luna Rosa in Delray on A1A right across the street from the beach. While we waited for our table to be ready, Leanne, Kelly and I dug our toes in the sand and soaked up the sun. By the time we sat down to eat I was no longer in the mood for breakfast, so I ordered a grilled veggie & lentil wrap, which was seriously out-of-this-world delicious. Then came the Happy Birthday singing and the decadent dessert…a rich chocolate mousse topped with chocolate ganache. We passed the plate around the table so everyone could get a taste of this amazing piece of cake.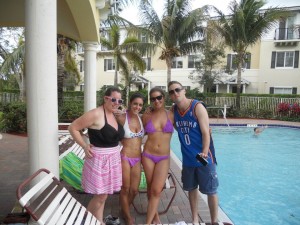 The weekend continued as we spent the rest of the day relaxing by our friend Matt's pool and playing with his and his roommates' adorable puppy, Cali! The birthday celebration continued into the night when my friends decided to throw me a birthday party. The boys cooked dinner and even got me an ice cream cake! It was like being a little kid again. They made a really great dinner of tilapia and chicken caesar salad. Many thanks to Matt, Leo and Jake for hosting everyone at their house, and to Jordan and Ben for their cooking skills!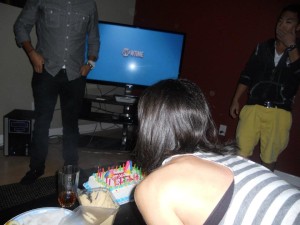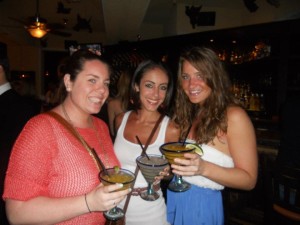 This was the never-ending birthday. Monday had even more in store. Leanne and Kelly were here until early Tuesday morning, so I took off from work and we kept the party going strong. We spent the entire day outside and all had the suntan to prove it by the end of the day. That night the whole gang met up once again at Rocco's Taco's for one last birthday dinner. I could go on forever about Rocco's guacamole. It's so fresh and has the perfect amount of kick to it. It's made right in front of you too, so you get to see exactly what goes into it. The chips that come with it are the best tortilla chips ever; I don't know what kind of seasoning they use, but it's ridiculously addictive! They've also got one amazing drink menu with a huge variety of margaritas. Rocco's is one of my favorite spots in Boca. Like I've mentioned many times before, give me a good margarita and chips & guac and I am one happy girl! 


Sadly, Tuesday morning at 4:45am, Leanne and Kelly left me to head back to south Jersey and the best birthday weekend ever officially ended. I can't believe how amazing my friends made the whole weekend for me. Without them, I don't know how I would have celebrated my birthday and I know for sure it wouldn't have been anywhere near as fun. HUGE hugs and kisses go out to Leanne, Kelly, Adam, Bruce, Zach, Matt, Justine, Jordan, Ben, Paul, Eileen, Nick, and anyone else who was around all weekend long. Thank you for making it such a special weekend for me!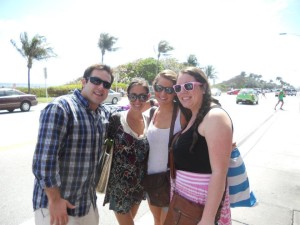 609 takes over South Florida! 🙂
Adam (or Roth to all his good friends) moved down to Florida about a year or so before I did. I actually met him a while back in Hebrew High, but we were never really friends outside of the synagogue walls. Years later, I met Leanne and Kelly through a mutual friend who I've known since preschool. South Jersey may be huge, but it's really small when it comes to who knows who. It seems like everyone is acquainted with everyone in some way, especially in the town I'm from and its neighboring areas. Anyway, Roth was part of their group of friends. I quickly became one of the gang and have been best friends with these awesome people ever since. Leanne, Kelly and Roth all went to high school together and have been close for a long time, so they were extra excited to get to spend some time with him. They hadn't seen him since he moved here! Having Roth here in Florida made my transition much easier; it's always better to have a piece of home nearby when you move to a new place. We have been that for each other and I appreciate having him here. Our friendship has grown stronger since I moved here and I definitely consider him my best guy friend. The four of us had an amazing time together during the girls' visit. It was a successful "609" invasion!