Brule Bistro in Delray is probably my top favorite place to go. It's in Pineapple Grove. If you've never been, I highly recommend it. The chefs are extremely creative with their food and the specials are always top-notch. My boyfriend is the manager and head of promotions there (I swear I'm not biased — it really is good!), so I'm there pretty often. They just launched a brand new happy hour menu for both food and drink, with awesome daily drink specials: Sundays and Mondays are all night HH, and Saturday is all day. Tuesday is half off all glasses of wine, and Wednesday is half off all craft beers. They have a pretty extensive beer menu and a gorgeous wall of wine, so you're sure to find something you like — and probably discover new favorites. Thursday night you can get $5 mixed drinks and Friday is 25% off all bottles of wine. My favorite appetizer on the happy hour menu is the grilled avocado with roasted tomato salsa. I recently tried the Korean chicken wings and they're freaking awesome. I promise you'll enjoy yourself when you go, so make it a point to…soon. Normal happy hour is from 4-6:30pm daily with $4 select wine and spirits, $3.50 tap beers, and $5 or $7 appetizers.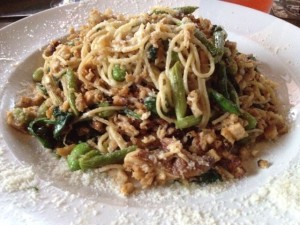 Also in Mizner Park is Yardhouse. I first went to this restaurant in Hallandale about a year and a half ago. The menu is insane. They have every kind of food imaginable — Asian inspired, American classics, pasta dishes, vegetarian and vegan friendly dishes, etc…The beer list is even bigger. When you sit at the bar, it's like being introduced to 100 new beers. I love looking at all the cool taps for each one. What I like about Yardhouse is that aside from having a regular happy hour during the week from 3-6pm, they also have a late night one that starts at 10pm on Sunday-Wednesday. Late night happy hours are hard to come by around here, so when you find one you have to hope it's good! Select dishes are half price — a pretty decent amount are listed on the happy hour menu so you have a lot to choose from. There are drink specials for the various beers, $6 house martinis and $2 off all specialty drinks and glasses of wine. One of the best things I've had is the chicken garlic noodles. It's listed as an appetizer, but you could definitely order it as dinner.
Venture a little further west in Boca and you'll find one of my Bubby's and my favorite places: City Fish Market. When we go, we like to hang at the bar to indulge in their happy hour specials for a bit before sitting down to dinner. The happy hour there is really good, but we really love having dinner here. If you haven't been, you must go. Happy hour is Sunday through Friday from 4-7pm and includes specials on draft beer and select wines by the glass. There is a nice list of martinis and cocktails, plus their special infused martini of the day and homemade sangria. You can get delicious appetizers for anywhere from $4-9. Oysters Rockefeller, Bluepoint Oysters, mussels, Top Neck clams, calamari, crab cake, ceviche, shrimp and crab cocktail — all the great seafood dishes you know and love. There's usually live music in the bar area too, which makes for a pretty nice ambiance.
A nice thing about going for happy hour is you aren't out too late and can get to bed at a decent time. For me, that's a huge plus because I like to wake up pretty early to get in my morning workout. OR, there's the fact that everything is cheaper. Yeah, that's a pretty good plus, too.