If you could think of the most nerve-wracking thing your boss can tell you on a Monday afternoon when you've been bombarded with paperwork and phone calls, I doubt it would involve the words "you're going to Las Vegas tomorrow." But yep, that's exactly what happened to me last week. I'm not sure if I've mentioned my day job before, but I work in the promotional products industry. I'm an account manager for a supplier — well, a supplier that also doubles as an advertising and marketing team. Anyway, the biggest trade show of the year was last week in Las Vegas at the Mandalay Bay Convention Center. Our company got hit with a freaking flu epidemic and so many people got sick, including Tyler — my friend and co-worker who I've mentioned before. He wasn't able to go to the show as planned. So what did that mean? I was going instead. Amy told me the news late in the day on Monday that a car service would be picking me up at 7 am the next morning. So, yeah, needless to say, this was the most last-minute trip I've ever taken in my life. If you know me, you know this is very out of character and definitely out of my comfort zone. Which is a good thing. You need to go past what's comfortable in order to grow.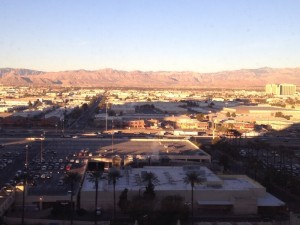 The view from my hotel room… Good morning, Las Vegas!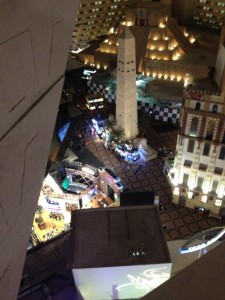 View of the Luxor looking down from my floor
I threw a suitcase together with show outfits, dinner outfits, and a couple flashy things because well, it IS Vegas. Even as I was packing I still couldn't believe that I was actually going to Las Vegas for the first time and had absolutely no time at all to plan anything. I stayed at the Luxor, which looks like a pyramid and lights up at night — it's a pretty cool place with an Egyptian feel throughout the entire hotel and casino. There was one thing I knew for sure: I HAD to see a show while I was there. I specifically wanted to see Cirque de Soleil LOVE. Everyone I spoke to said it's the one show you have to see while you're there. So of course I got a ticket for it. It was the most spectacular performance — the dancing and acrobatics, the costumes and the MUSIC were phenomenal. They make everything look so easy! Bouncing all over the place, flying through the air… It was probably the coolest show I have ever seen.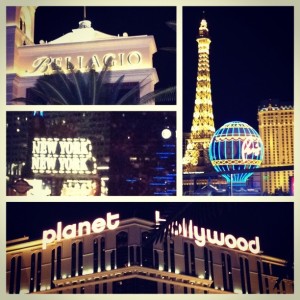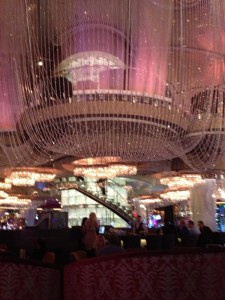 The chandelier bar at The Cosmopolitan
My first night there, my boss, Scott, took me out to a few different places so I could get a little taste of (almost) everything. First we walked around The Cosmopolitan, which is a VERY cool hotel. There's a gorgeous and gigantic crystal chandelier with a bar right in the center of it, lots of great shops — there was one full of fun foodie things and an awesome clothing store called All Saints that was like Urban Outfitters and Anthropologie on crack, a.k.a freaking amazing (and insanely expensive). We checked out a couple restaurants before deciding on Jaleo by Jose Andres, a Spanish tapas restaurant. The menu was filled with so many dishes to choose from and everything was very creative and original. Even the cocktails were strangely unique. I got their signature drink, the Jaleo Bramble: vodka, txakoli wine, cucumber water and berry puree. It was refreshingly sweet. Since it's tapas style, we ordered a bunch of different things to try. It was a lot of food, but the plates were small and the portions perfect for sharing… Toasted ethereal bread with tomatoes and manchego cheese. Gazpacho with tomatoes, cucumbers and peppers. Salmon tartare. Sautéed spinach with pine nuts, raisins and apples. Boiled octopus. Potatoes with a spicy tomato sauce and aioli. Sautéed wild mushrooms with potato purée. Piquillo peppers filled with goat cheese. My favorites were the spinach and spicy potatoes. My least favorite? The gazpacho. To me, soup should be hot — I just don't get cold soup. After dinner we walked through Cystals at City Center, which is pretty much the most luxurious shopping mall I have ever been to. Gucci, Yves Saint Laurent, Dior, Versace, Harry Winston, Jimmy Choo… Stores I wish I could afford to even warrant walking inside! Eventually we made our way over to the Bellagio just in time to see the famous water show. That was really cool. It was set to the overture from Chicago, which made it even more entertaining since that is one of my absolute favorite musicals. Our next stop was the Aria where we had drinks at bar Masa until the time difference finally caught up with me and I needed to go to sleep.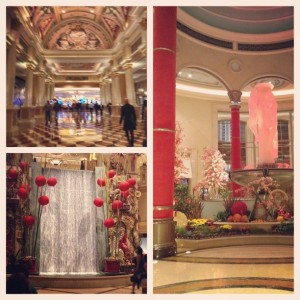 Inside The Venetian lobby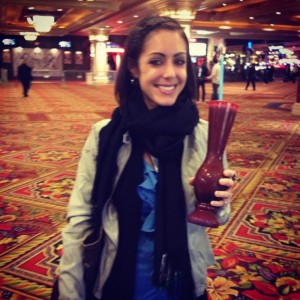 Night number two was low key since we had an insanely busy day working the trade show. We stopped for a drink in the Mandalay Bay casino area on our way back to our respective rooms — this is when I had my very first "Vegas-y" drink in one of those big souvenir cups. It was some kind of coconut rum frozen concoction that made my tongue turn bright blue. Eh, whatever. Worse things have happened. Amy and I made our way to The Venetian to walk around and have dinner. It was absolutely beautiful. Very classic. We looked at the menus for just about every restaurant… My only complaint is that most of the great chefs' restaurants are steakhouses with menus made up of beef, pork, lamb, etc., so my choices were sometimes limited. But we ended up going to a great seafood place called AquaKnox by Chef Tom Moloney. We had drinks while waiting for our table — let's be honest, there is no such thing as getting a table right away in Vegas. I had a yummy pomegranate mojito as suggested by the waitress. The service was impeccable. We were seated in much less time than they said the wait would be, and our waiter was at our table in mere seconds. We ordered one salad, entree, side, and dessert and split everything. The shrimp and lump crab salad with greens, cantaloupe, avocado and sesame citrus vinaigrette…wow. This stacked salad had a beautiful colorful presentation, and the taste… it was as if someone punched you in the mouth with a fistful of flavor. Our waiter explained the menu and said the John Dory is what they are known for, so naturally we had to get it. I've never had John Dory but have heard it's really good. The dinner came with a lobster succotash with fava beans, corn and white truffle sauce. YUM. Then came another punch in the mouth. We got their hand-cut Kennabec pomme frits with a very unique mustard dipping sauce. Dessert was banana cream pie. It came with Guinness ice cream, but that didn't sound too appetizing to either of us so we opted for a new flavor: Browned butter ice cream! I've never heard of such a thing — it had notes of caramel and maple syrup and was very rich and flavorful. It complements the banana much more than I would imagine the Guinness does. It wasn't your typical banana cream pie either, it was encrusted in corn flakes! Pretty delicious though…you can't really go wrong when it comes to banana desserts.
Come back tomorrow to read about my last two days in Vegas…