You can thank me now for not including my entire trip in yesterday's post. That would be have been way too long. But I know you all want to hear about the rest of my stay in Vegas so here you go!
On Night #3, we remained at Mandalay Bay after the show for drinks at Red Square with one of our customers. Ahh, we were waiting for these martinis ALL DAY LONG. I had taken a look at the menu earlier so I could get a feel for what Russian cuisine is, since after all, it is my heritage. There were some things that sounded very good, but it was too noisy for a sit-down meal. Instead, we headed over to Border Grill, a gourmet Mexican restaurant by Chefs Mary Sue Milliken and Susen Feniger of Food Network's "Too Hot Tamales" and Bravo's "Top Chef Masters," respectively. Their guacamole and chips were on point, and of course, so was my cadillac margarita. I got the market vegetable quesadilla with roasted poblanos, mushrooms, grilled corn, chipotle and manchego, panela and cojita cheeses. Hmmm…I love good Mexican food! After dinner, there were still a few places I wanted to check out, so Amy and I walked around a bit more. We ended up at an Irish Pub in New York New York. That was a cool place, made up to look like the streets of downtown NYC with cobblestones and everything.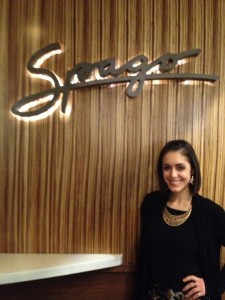 On Friday, we made sure to decide where we wanted to go for dinner early in the day so we could make a reservation. Since I would be going to the Mirage to see LOVE after dinner, we wanted to stay in that area. A few names were thrown around, but in the end we chose Wolfgang Puck's Spago at Caesers. This has been on my restaurant bucket list for quite some time, so I was super excited to go. The menu was impressive and there were so many things I wanted to try. I kind of wished I could take a little of a bunch of different entrees and make my own, buuuut I doubt that kind of accommodation would be made for little ole me. I was even impressed by the bread they brought to the table: white, wheat with dried cranberries, and a crispy parmesan flat bread that was sooooooo good. Even the plain white bread was good! Soft and surdoughy with a crispy crust that was simple yet delicious. I got the diver scallops with spinach, wild mushrooms and Brussels sprouts in a pomegranate sauce. The scallops were HUGE and really tender. It was so good, just the right amount of sweet and savory on one plate. For dessert, we ordered three very different dishes to share. I chose the coconut creme brûlée brownie with chocolate coconut creamieux and coconut sorbet. Amy chose the apple crumble with pecan bourbon ice cream and bourbon caramel. Debbi and Norm (the company's owners) chose the key lime pie Baked Alaska with key lime gelato, graham cracker ice cream and a huckleberry compote. Mmmm, everything was so good. After dinner, I went off on my own to see LOVE. Like I said yesterday, it was easily the best show I've ever seen. If you have a Vegas trip pending, get your tickets now!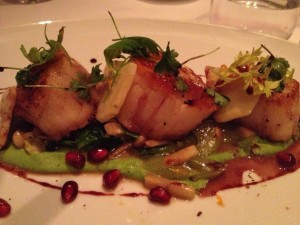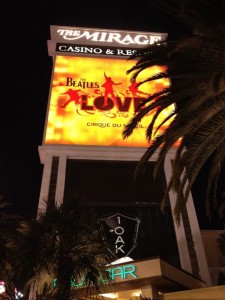 Vegas has some pretty highly regarded restaurants and I only got to try a tiny fraction. I can't wait to go back and see more of the city; I assume every time you go you find new things to do and never need to repeat the same thing twice. For a totally last minute trip, it was 100% enjoyable.
Have you been? Tell me about the restaurants, food, shows, etc you experienced while you were there!