After living in Florida for nearly 9 months, I finally headed back to good ol' South Jersey for a little visit. It was nice going back to see my family and friends, but I wasn't too thrilled with the weather. As soon as I stepped off the plane and felt the cold air, I wanted to turn around and fly right back to Ft. Lauderdale. Buuut… when I was greeted by the huge smiles on my parents' faces, I remembered why I was home: to spend time with the people I love and have missed immensely. 
From the airport we went to The Golden Nugget in Atlantic City, where my dad works as a casino supervisor. He was excited to show me the transformation that has taken place there since I'd moved. The Trump Marina was sold and  became The Golden Nugget a few months before I checked outta Jersey, so I was only able to see the beginnings of what was soon to become an absolutely beautiful place. The decor is outstanding. Warm reds, oranges, yellows and modern prints adorn the lobby and casino floor. There are a multitude of restaurants featuring all types of food, as well as many trendy boutiques and a great chocolate shop and bakery/sandwich shop. We had breakfast at Michael Patrick's Brasserie, which is their 24/7 coffee shop serving breakfast, lunch and dinner. I had the fruit platter that came with yogurt and banana bread. Pineapple, strawberries, red grapes, cantaloupe and honey dew — my favorites! Eggs Benedict for Mom, and Dad's favorite, two eggs, over light, on rye toast, with bacon and potatoes. After we were nice and full from a delicious breakfast, we walked around the building. It's an awesome place. I'm anxious to get back there and try the new sushi and noodle bar, Lillie's. Here's a picture of me and my dad in one of the lounges; this is a good example of the color scheme I mentioned earlier.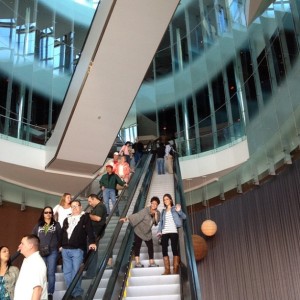 Our next stop was the newest casino in town, Revel. Boasting the tallest building in the city, it's impossible to miss…for a strange reason though, there's a big ball on the very top that no one seems to know anything about. There's also no sign that says "Revel" anywhere on the building. It seems as though the big guys want to keep this hotel and casino pretty exclusive; we weren't even allowed to go into certain areas since we weren't hotel guests. Aside from that, it's quite a mind-blowing place. Right off the boardwalk, it overlooks the beach, which is being replenished and turned into "Revel Beach." This is a picture of me and my mom on one of the huge escalators that greet you when you enter the first floor of the building. If you ever find yourself in Atlantic City, you should do yourself a favor and check out these two resort hotels. Even if you aren't a gambler, there is still plenty to experience and enjoy.
The main reason I went home was to see my little sister Rebecca perform in her high school's performance of Bye Bye Birdie. She played Mrs. Macafee and was so good! The show was great; lot's of amazing talent. It reminded me of the musicals I did while in high school. Being involved in shows was always so much fun, and you make some great memories when you get involved in activities like that in high school. I was extremely impressed with how good my sister was — her singing and acting were spot on! My best friend for over 15 years, Jordan, who was always my partner in crime throughout the majority of my performing experiences, also came to see the show that night. It was great to finally see her again, and I got to see all of my other friends the next day at Bayfest, an all-day outdoor fair in nearby Somers Point, where lots of vendors filled the streets with food, crafts, entertainment and more. We spent our day in the parking lot of one of our favorite local bars, where there was live music, beer trucks and insane crowds of people. It was so much fun to get together with everyone and just have a good time. I wish the weather had been nicer, but I survived. The air was cold, but at least the rain held off until later in the night.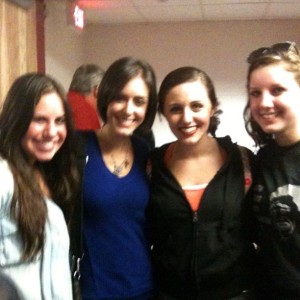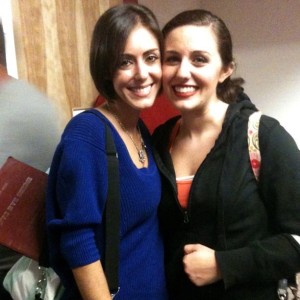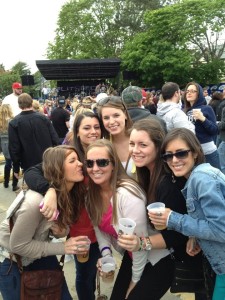 Sunday I went to see Bec's show again and then had dinner with her, mom and dad before I had to head back to the airport. As always, we couldn't get through dinner without having some kind of craziness happen. iPhone problems this time — oh technology, how I love you… But even when we are at each other's throats, we still have to admit we love each other's company. I know my parents are proud of me for pursuing a life outside of New Jersey, and I am so glad I've had their unconditional support through everything. Not everyone is blessed to have parents like that. While they may be happy for me and glad I'm down here in Florida, I know they miss me and I definitely do miss them. Soon enough, they'll move down here, too! Now as for Rebecca…we'll see where college takes our little girl, but I hope she eventually finds herself in the Sunshine State, too.