Can you believe we're already a week into 2013? New Years Eve was an interesting day for me. I was really looking forward to the plans I had for the evening — dinner at The Rebel House, followed by some bar hopping along the Ave in Delray where we'd see the fireworks at midnight. Welp, my date got called into work (the downfall of working at a restaurant, I guess) and our dinner reservations went out the door. So naturally, I went into panic mode. What was I going to do? Would I end up sitting home alone all night? Did I buy a dress for nothing? Ugh…I wish NYE wasn't so stressful. It always is, every single year. Plans are usually left until the last minute and they're never easy to make, and keep. I worked myself up, wracking my brain for what the night would now entail, so when Shannon asked me to come to the beach with her for a while to chill out, it couldn't have come at a better time. I felt better after sinking my toes into the sand, watching the beautiful sunset and having some quality girl time. There was no better place to be on the last day of the year.

As expected, right after I calmed down, took a shower and started to get ready for whatever I'd end up doing, I got a phone call from my friend Adam inviting me to come out with him to Delray. Woo! The night was back on! We headed out to Atlantic Avenue, which is a pretty happening spot on NYE as well as any other weekend, and decided to have dinner right on the beach at 50 Ocean. This place was totally chosen at a whim. Kind of funny story — Adam's roommate's girlfriend really wanted to eat at a restaurant called Oceans 234, to which I responded "That's in Deerfield…" but nope, she said it was on A1A in Delray. Ooookay… So Kevin called and was actually able to get us a reservation. Now remember, he called Oceans 234. So the four of us walked alllllll the way to A1A where the restaurant was. This was really a long walk, and I was in heels. My night hadn't even begun and those shoes were off within 5 minutes!

So we got to the restaurant and walked up to the door and just as I suspected, it was not Oceans 234, but 50 Ocean. We all just stood there, cracking up. Kevin made reservations at a restaurant about a 45-minute drive from where we were. WONDERFUL. So we had no idea if we'd even be able to get a table in this place, but we were there, and walked all that way, so we crossed our fingers and headed up the elevator to the 2nd floor of the building where the restaurant was located. Thankfully, we were able to at least grab a high top table by the bar and put our names in to get the first available table. Eventually we were moved to what I would say was the best spot in the whole place: a huge table in the back corner, surrounded by windows with an absolutely amazing view overlooking the ocean. We ended up staying there the whole night — drinks, appetizers, dinner, dessert, fireworks, watching the ball drop. And even better news… that date who had to cancel on me? He came when he finished work, and he made it there with plenty of time to spare before midnight.

Now let's talk about the fantastic fare that made up my last meal of 2012. We ordered a couple of appetizers, the skillet calamari and lobster and jumbo lump crab cake. I only had a tiny bite of the crab cake, but it was delicious. What I couldn't get enough of was that calamari. It wasn't fried! As the name suggests, it was baked in a skillet with a sambuca flambe, finger peppers, roasted peppers and tomatoes and feta herb crust. Most restaurants' calamari appetizers are usually fried, so I loved that this was different. I really adore calamari — even more so when it's not covered in a crispy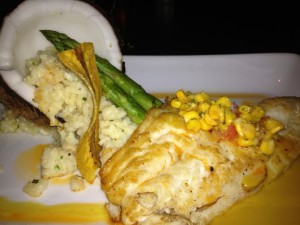 Our waiter could not have boasted more about their yellowtail snapper, so it was kind of a no-brainer when it came time to ordering dinner. It pretty much incorporated all of my favorite foods and flavors onto one plate. I love snapper; it's definitely up there as one of my favorites. Then there was a coconut risotto. Risotto is my absolute favorite pasta dish, and I can't get enough coconut — the flavor, the smell, even the texture. I love it. Along with the fish was a mango ginger sauce, asparagus and a roasted corn and red pepper relish to top it all off. I don't think I was drunk from the champagne — I think it was the "amazingness" of my meal. Dessert was just as good. The "Chocolate Blackout" is a flourless dark chocolate cake with nougat, chocolate ganache and raspberry jam. I was too busy marveling at this treat and digging in to bother taking a picture of it. Sorry…

Uh, yeah, I'd say 2012 definitely ended with a humongous bang when it comes to food.

What was your last meal of the year? I hope it was as enjoyable as mine!