I've been on a soup kick lately. I never used to be a big soup person — except for Bubby's matzo ball soup and the crab bisque at The Crab Trap back in Somers Point, New Jersey; never been one to get excited about soup. Maybe it's the time of year, or… maybe I'm just finally getting a clue. I think it all started at the cafe in the Kabbalah Centre. Their homemade soups are so good, I was hooked after I tried their mushroom bisque for the first time. There are a few others that I like, but this one is my favorite by far. Since that moment, soup has played a bigger part in my world. Even Bubby has dabbled a little bit more into the soup-making biz. She made one with tons of veggies, lentils and barley — it definitely gives her matzo balls a run for their money.
I was at Whole Foods recently and had a coupon for Imagine brand soups. They have sooooo many different kinds it took me forever to choose the two that I wanted. I finally decided on Creamy Sweet Potato and Acorn Squash & Mango. I love thick soups, either creamy or just filled to the brim with vegetables, beans and whatever else.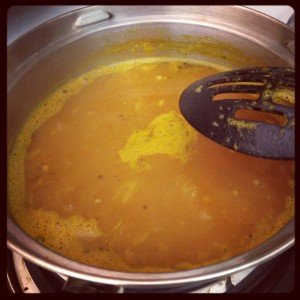 Quick pause for a self reflection moment… Is anyone else laughing about the fact that I've written two paragraphs solely talking about soup? I am.
Ok, anyway, I like soup. I never knew how much I liked it until recently. So it only seems natural that I make my own. I wanted to use up the rest of the pumpkin puree that I had — soup seemed like the perfect way to go. This is probably the last pumpkin recipe you'll see, since Thanksgiving is over and I think pumpkin goes back into hibernation until next year. I got the idea from Skinnytaste's recipe for roasted pumpkin sage soup. It was super easy to make and I was really surprised at how good it was. Sometimes it's the simplest recipes that turn out the best. I adjusted the measurements from her recipe because I didn't need to make so much, and I used canned pumpkin puree instead of following her directions for using actual pumpkins.
Right now, soup is my ideal lunch, with some crackers or
pita chips. It's an afternoon party in my tummy 🙂