I'm a little late with this post — it has to do with breaking Passover, which was over 2 weeks ago. Oops.
If you're familiar with Passover, you know it means going an entire 8 days without any kind of leavened food or what we call "Chametz." This means no wheat, oats, rye, barley or spelt. No breads, pastas, cookies, cakes, pretzels, crackers, etc… It is every snacker's nightmare. I have no problem with not eating bread and pasta since those aren't foods I regularly indulge in anyway, but not having my oatmeal every morning and not being able to snack on pretzels or wheat thins throughout the day — that's what kills me. I'm not a huge fan of Matzoh either, so I don't really eat it at all after the first night. It's not too easy on my stomach, if you get my drift…
Despite the restrictions, Passover Seders are always filled with lots of delicious food. We had our family seder at my Aunt Patty's — Mom, Dad and Bec were here to join us, too! We started with Bubby's famous Matzoh ball soup. No one makes those balls as fluffy as she does, and I doubt anyone ever will. Someone eventually needs to learn how to recreate her recipe so we never lose the tradition. My cousin Beth made a brisket (which, although I don't eat it, smelled and looked delicious). Aunt Patty is a great cook, too, and made a host of other dishes for us to enjoy — tender chicken soaked in an olive and prune marinade (sounds gross but I swear it was good!), sweet cooked carrots, spinach quiche, Maztoh kugel, and my favorite of all her recipes — a white bean and artichoke salad. I handled the dessert this year with dark chocolate covered matzoh and a spiced apple cake (using Matzoh cake meal). I got the recipe for the cake from the blog, Hungry Rabbit. I was so nervous making this cake — Matzoh cake meal is super-duper dense and heavy and I wasn't sure of how it would turn out. But with the abundance of apples, cinnamon, pecans, and brandy soaked-golden raisins, you can't really go wrong, can you? Thankfully, everyone enjoyed it.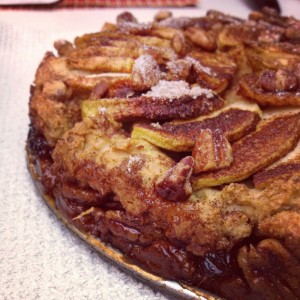 After 8 days of no bread products, my carb cravings are insane. I almost always break Passover with pizza and this year was no different. McKenzie has been telling me about Pizzeria Oceano for ages now — it's a tiny little pizza place in Lantana with a menu that changes daily, and once the food for the day is gone, the place closes. The pizzas are extremely out-of-the-box, sometimes even boasting weird ingredients like pig heart. The other menu options are just as unique, pairing together only the best flavor combinations you can imagine. I couldn't have been more excited to stuff my face with pizza, pasta, and bread. The servings aren't too big, but still shareable. The fresh bread was so good. I tend to judge a restaurant by their bread. Once I tasted the bread, I knew the rest of our food would be amazing. The menu is small but pretty stacked! We got the penne rigatoni with smoked brie and mozzarella, grape tomatoes, and fresh basil — so cheesy and delicious; I sprinkled freshly grated pecorino Romano over top and it was an instant flavor booster. Then came our pizza with broccoli rabe and lots of mozzarella and parmesan. The crust was the best pa
rt — super-thin and crispy, just how I like it.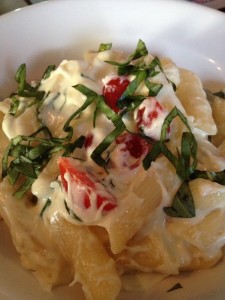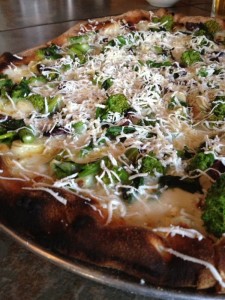 My carb cravings were 100% satisfied after this meal. The place was very cool too; you can sit outside on the porch, or if you prefer, sit right at the bar inside and watch the guys as they make the pizza right in front of you — that's what we chose to do. We could smell the freshly made pizza straight out of that wood-burning oven, which only enhanced our appetite. It was a pretty successful breaking of Passover, if I do say so myself.