After several attempts to get my little sister Rebecca down here for a visit, she finally made it. Being a senior in high school, her schedule is pretty hectic. The Florida fam and I were hoping she'd make an appearance around Thanksgiving, but nope — she cheers, which means she obviously had to be home for the football game. But this week was her winter break — the perfect time for her to come. She got here on Thursday and left on Christmas Day. I wonder what it's like to fly on Christmas. A gazillion movies and TV shows take place in an airport on the holiday. Home Alone and one of the really old Christmas episodes of Full House are the two that stand out in my mind the most.
Anyway, Rebecca got here on Thursday, so after work I headed on over to Bub's and we all went to dinner at one of Bub's and my favorite spots for seafood: City Fish Market. I'd say we're regulars there now. Pretty fancy schmancy, what can I say? 😉 As always, the food was delicious. One of my favorite parts about dinner at City Fish is the sourdough bread they bring to the table. It's always so freshly baked, soft and warm — you can tell it's never sitting too long before they bring it out. Rebecca was definitely happy with the choice of restaurant as shown by her licking her plate clean and devouring her dessert. She got the parmesan crusted salmon with grilled asparagus and garlic whipped potatoes, I got blackened Mahi Mahi with whipped sweet potatoes and spinach, and Bub had fried oysters. For dessert, Bec opted for the most decadent thing on the menu, of course. It was a fudge brownie sundae topped with chocolate covered nuts and I don't even know what else. I was so full from my meal, but still had to try a few bites. That was all I really needed anyway to get a taste of the rich chocolately deliciousness.
Friday night she got to experience Shabbat at the Kabbalah Centre and dinner with all of my friends at Shannon's. It was quite the extravagant dinner this time around; normally it's just a couple of us getting together after connection or we all stay for dinner at the Centre. The whole crew came and we had such an awesome time. Shannon made tilapia, Janine brought the salad, Lauren made sweet potatoes and veggies and ginger cookies for dessert; there was chicken, plain and raisin Challah, crackers, hummus, and TONS of wine. Seriously…tons. I think each of us brought at least 1 bottle, and there were about 10 of us. There was a lot left over, but it was still hilarious to see the bottles strewn all over the table.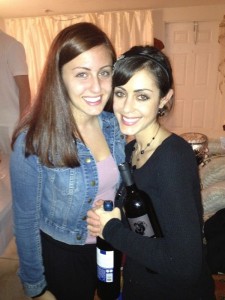 Since Bec was flying back home on Christmas day, we had our traditional "Jewish Christmas" on Christmas Eve instead. We saw The Guilt Trip with Barbara Streisand and Seth Rogan. I highly recommend you all go see this movie; it was hilarious. We were laughing out loud through pretty much the whole thing. Next door to the theatre just so happened to be a sushi and Thai restaurant, which was exactly what we wanted. Sushi Masa — I had heard good things about this place from a lot of people. The three of us each ordered a different Thai dish and shared. I ordered a cashew nut dish with shrimp (pictured top); it came with sautéed bell peppers, carrots, celery, water chestnuts, onions and scallions, and as the name says, lots of my favorite nut, cashews! Bec ordered the peanut chicken with veggies (pictured bottom left). The grilled chicken was slathered in this thick peanut sauce that closely resembles the taste of peanut butter, kicked up a few notches from all the Thai spices. Bubby got the traditional pad thai, a favorite of all of ours (pictured bottom right). Between the three of us, we had enough food and variation to totally satisfy our craving for Thai.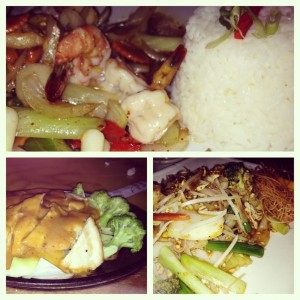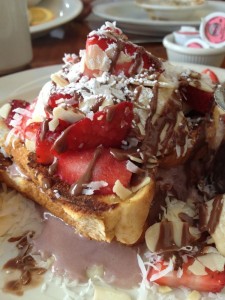 Christmas morning we headed over to Delray Beach for a good breakfast before taking Bec to the airport. Caffe Luna Rosa never disappoints. It was packed, but we were seated within minutes and even got a table outside. Bubby got a traditional breakfast of oatmeal, scrambled eggs and an english muffin, and Rebecca got a Belgian waffle with strawberries and bananas and homemade whipped cream. This was a "go big or go home" meal for me; I totally let myself indulge. I very rarely go out for breakfast, so whenever I do, I have to do it right. I got the french toast special: marscapone-stuffed french toast topped with strawberries and bananas, sliced almonds, shredded coconut and drizzled with Nutella. I was imagining it to be this huge monstrous dish when it came out, but it was a pretty normal sized portion and with Bec and Bub both taking a few bites, I wasn't able to really enjoy this delicious breakfast (dessert?) without completely stuffing myself and feeling gross. Warm, sunny weather, and a table outside right near the beach was the perfect atmosphere for Bec's last meal in Florida before heading back to the cold.
I hope she had a good time down here, dividing her time between my place and Bub's, lounging by the pool when the weather allowed, shopping, and eating great meals every day. She'll be back in March with my Mom and Dad; finally all three of them will be here at the same time instead of each coming down randomly on their own. Looking forward to that… Until then, I'd better rack up a list of good places to eat during their visit!