Never miss a bite! Sign up here to receive new recipes and reviews straight to your inbox.
Disclosure: I received complementary media passes to attend the event. No monetary compensation has been received for this post. As always, all opinions are 100% my own.
Join me in Dania Beach this Saturday, October 1st, to celebrate #NationalSeafoodMonth!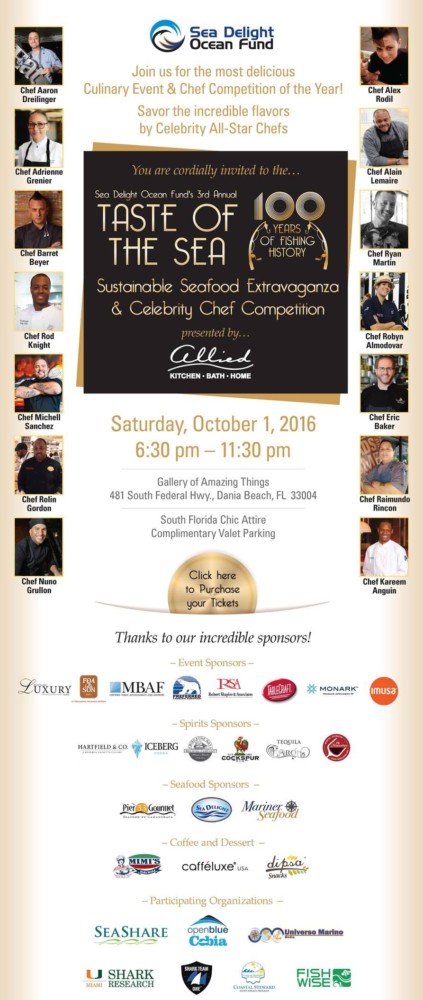 The 3rd Annual Taste of the Sea – 100 Years of Fishing History, presented by Allied Kitchen & Bath, and benefiting the Sea Delight Ocean Fund, will give guests a chance to savor the finest responsibly sourced seafood dishes created by South Florida's all-star celebrity chefs. There will be a 'Fish-Off' Challenge, in which guests will be able to vote on their favorite seafood creation. There will also be wine, craft beer and spirits to complement each dish along with desserts, music, raffles and an interactive conservation village. The event will take place from 6:30-11pm at the Gallery of Amazing Things, centrally located at 481 South Federal Highway in Dania Beach.
In addition to the "Fish-Off" Challenge for the fan favorite dish, there will also be a live Chopped Style Competition featuring six celebrity chefs, all of whom you may recognize from shows like Cutthroat Kitchen, Diners, Drive-ins and Dives, Chopped, and Hell's Kitchen. 
The Chopped competition will be hosted by Chef Robyn Almodovar, winner of both of the Food Network's shows Chopped and Cut Throat Kitchen, contestant of FOX's Hell's Kitchen and owner of the Palate Party food truck. The competing chefs are:
Winner of Food Network's Chopped, Chef Adrienne Grenier is Executive Chef of 3030 Ocean at the Marriott Harbor Beach Resort.

Red Robin Burger Winner Chef Michell Sanchez, of Latin House Grill, winner of the 2nd Annual Taste of the Sea Fish-Off Challenge, a contestant on Food Network's Chopped, and featured on Diners, Drive Ins and Dives,

NY Chef Barret Beyer, contestant on Fox's Hell's Kitchen, Season 11, Food Network's Kitchen Casino, Cutthroat Kitchen and known as the "palate pirate" throughout Long Island, New York.

Chef Alain Lemaire, contestant on Food Network's Cutthroat Kitchen and owner of Sensory Delights Catering, a full service off-premises caterer.

Chef Alex Rodil, contestant on Food Network's Chopped and Cutthroat Kitchen and owner of On the Fly private catering for the yachting industry.

Chef Nuno Grullon, of Miami's new Café Roval, known internationally for its innovative menu highlighting seasonal, farm-to-table ingredients and featured on BRAVO's Best New Restaurant.

Chef Ryan Martin, owner of 180° at the DRB in downtown Miami, known worldwide for his global flavors and his Gastronomy Redefined.

Chef Aaron Dreilinger, is partner and co-owner of Chef David Catering and Event Design, one of Miami's premier gastronomic event planning enterprises.

Sous Chef Rod Knight of Thursday's, the newest French-American restaurant on Las Olas, that is known for its landmark status in Montreal, Canada.

Executive Chef Eric Baker of Max's Harvest is known for his innovative dishes made with locally sourced products with a global influence. Max's Harvest, was the first farm-to-fork concept to open in Palm Beach County.

Chef Kareem Anguin, formerly of Oceanaire Seafood Room, and now creating his culinary masterpieces for Open Blue, raising the finest quality Cobia in the deep open ocean off the coast of Panama.

Chef Rolin Gordon, owner of the acclaimed Tropic Gourmet Spice & Catering and his own Tropic Gourmet Hot Sauce.

Chef and Gastronomy Professor Raimundo Rincon of Federacion Latinoamericana Gastronomia and 3R Catering Miami.
In addition to these famous celebrity chefs, expect pairings from exclusive partners such as P&G Fine Wines, Iceberg Vodka, Cockspur Rum, Baron Tequila, Hartfield & Company Bourbon, Biscayne Bay Brewing Company, and CoffeLuxe. Pastry Chef Anthony Billisi of Mimi's Ravioli and Dipsa Snacks will also be providing incredible desserts.  
Ticket prices are $50.00 per person or Couple's Tickets at just $75.00 for the pair. VIP tickets are $100.00 per couple or $175.00 per pair. Click here to purchase!
The Sea Delight Ocean Fund, is a local 501(c)(3) non-profit organization founded in 2012 to create and support global fishery improvement projects and better fishing practices initiatives that protect marine resources and promote conservation efforts globally. All proceeds from this event will help further marine conservation programs led by the Sea Delight Ocean Fund, a 501(c)(3) non-profit organization dedicated to the conservation and protection of our oceans.
For more information, visit http://www.seadelightoceanfund.org