New Cigar and Wine Bar Opens in Downtown Delray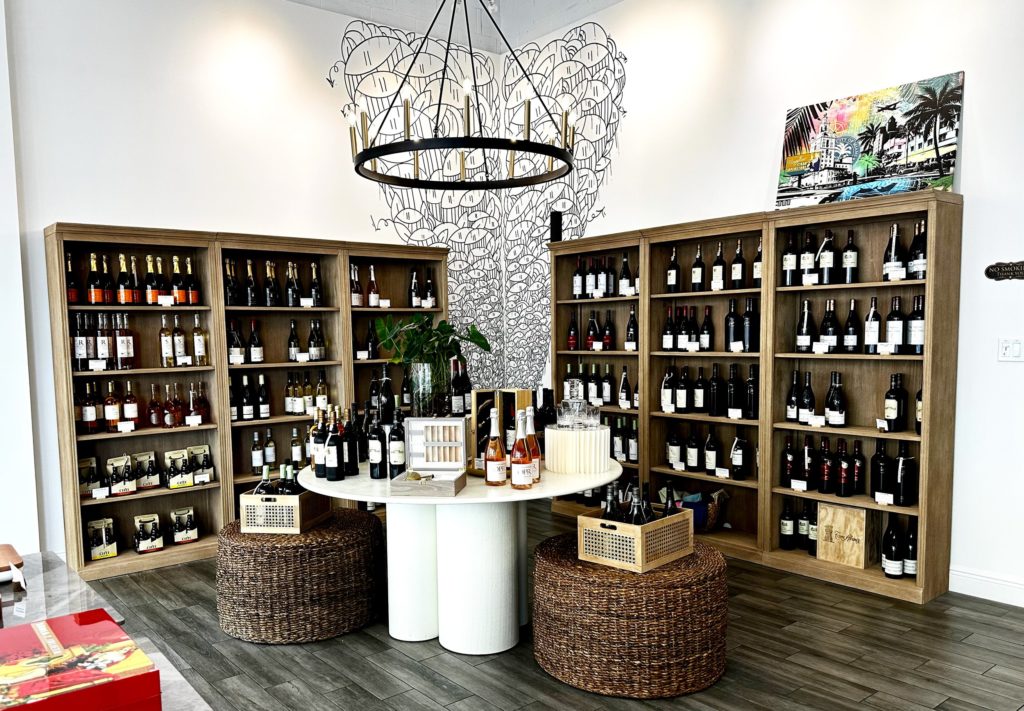 Downtown Delray Beach welcomes a new cigar and wine bar, located next door to the Hyatt Place in Pineapple Grove. Neptune Cigars and Wine opened in early 2023, bringing customers a selection of carefully curated wines and premium handmade cigars. The most recent addition is a beer tap that will feature local breweries.
The store is home to Bartolo's Café, serving up artisanal coffee, smoothies, teas and bakery treats. The café also features a menu of soups, salads, cheese and charcuterie and other dishes such as Quiche Lorraine, Croque-Monsieur, and arepa-style empanadas.
Woman-Owned Cigar and Wine Shop
I know it's a total stereotype, but wouldn't you agree that cigars are often associated with men? Not at Neptune! This local shop is woman-owned, with over two decades of experience in the cigar industry. While cigars are not my thing at all and not something I endorse, I love supporting woman-owned businesses, especially when it's in an industry that is predominantly taken over by men. Let's go, girls!
Important note: Although Neptune is a cigar shop with a full cigar humidor and a wide array of options, this venue is 100% non-smoking. Customers are welcome to sit at the tables outside to smoke after purchasing their cigars, but there is absolutely no smoking allowed indoors.
This specific feature sets Neptune Cigars and Wine apart from other cigar shops that do allow smoking indoors. People like me who don't like the smoke appreciate that so much! Being that it is also a wine bar and café with food, clouds of smoke surrounding the area are not welcome, and not allowed.
Wine Tastings and Music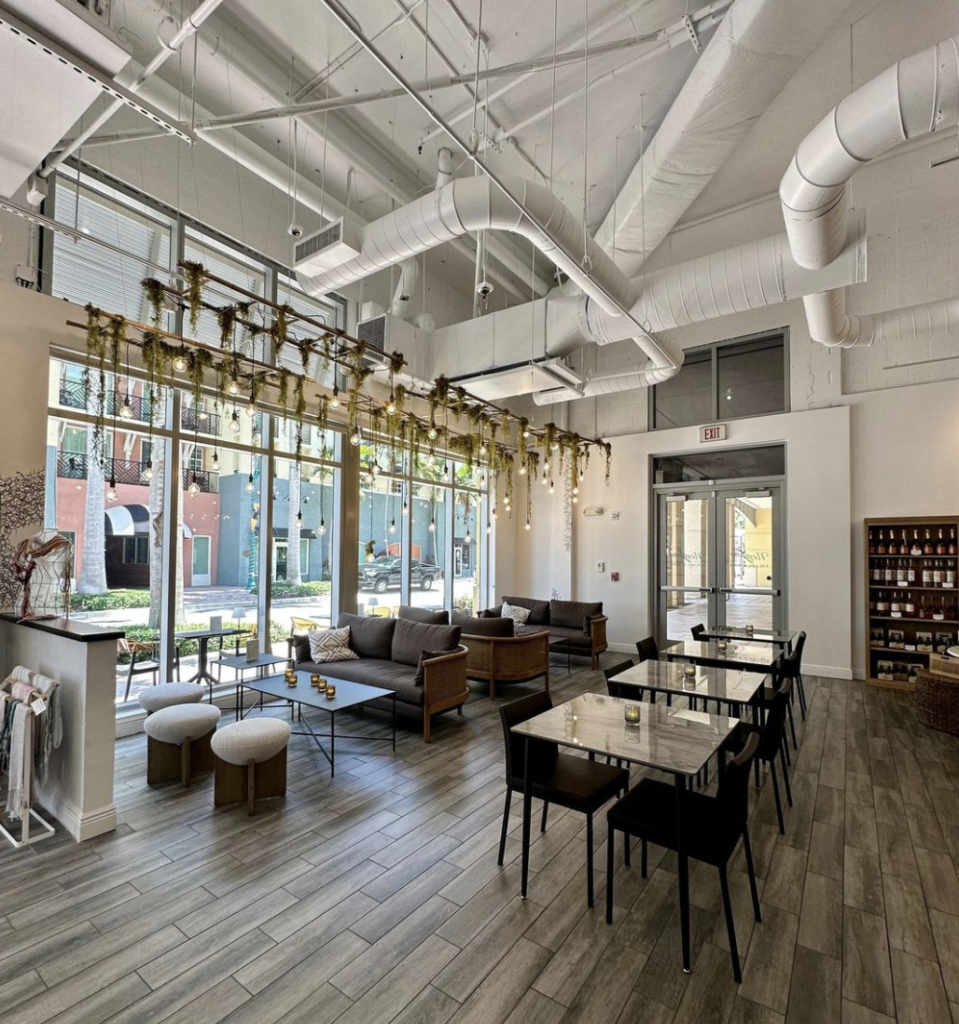 This beautiful, spacious environment that is perfect for holding an event. The shop frequently hosts wine tastings and other local gatherings, and welcomes musicians to entertain their customers.
You all know I love my wine and always enjoy a good wine tasting event. So, naturally, I've teamed up with Neptune Cigars and Wine to co-host a wine tasting for the community. This 'Tour-de-France'-themed event is coming up on Thursday, August 3rd from 6-8pm.
Guests will be transported to the beautiful French wine country through a sommelier-led tasting of four different wines, each hailing from a distinct region. Accompanying these fine wines will be four appetizers to enhance the tasting experience.
Tickets are $35/person and include wine tastings and paired appetizers, as well as one additional glass of wine, and a raffle ticket. Neptune Cigars and Wine is more than just a wine bar though — it's a wine retail shop too! During our event, select bottles will be offered at 15% off.
There are limited seats available, so get those tickets before they sell out! Click here to purchase.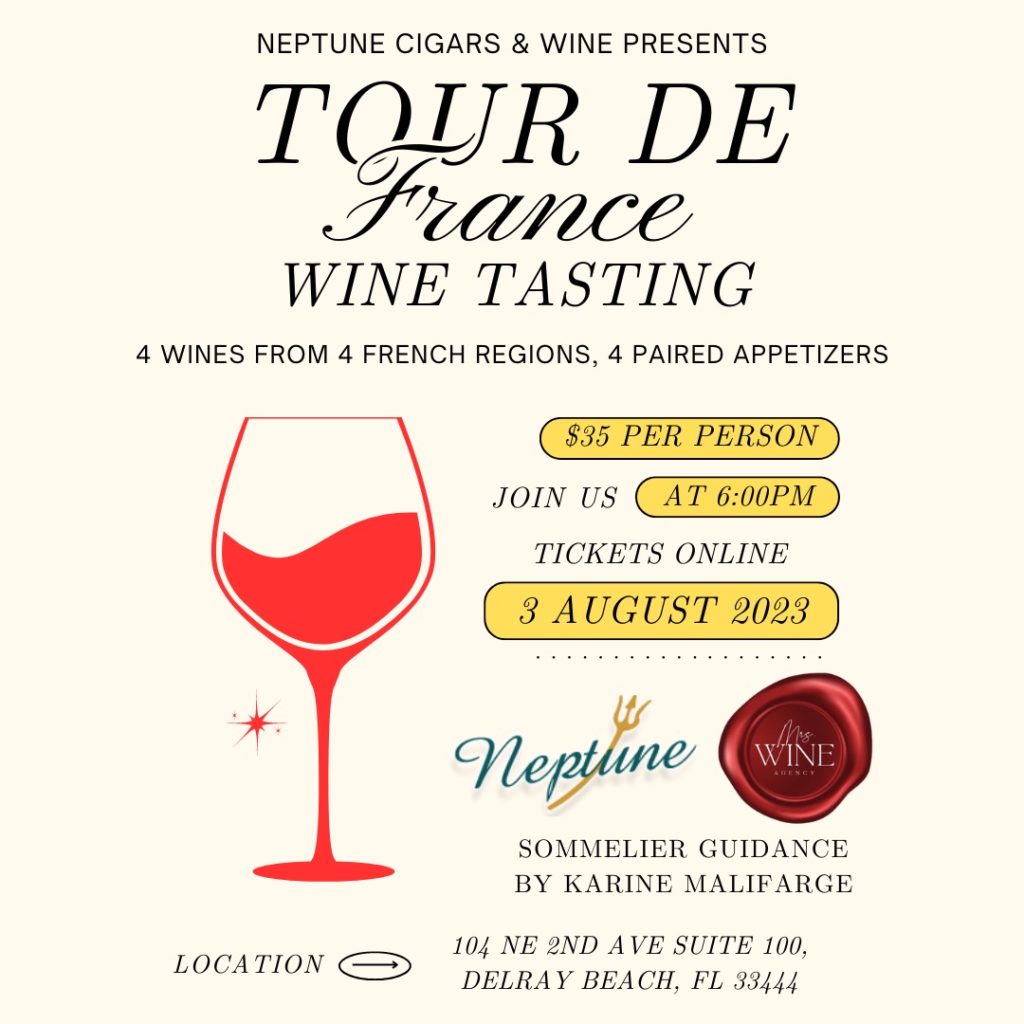 Guests are encouraged to stick around after the event for live music from South Florida duo, Indigo Dreamers, starting at 8pm. It will be a fun night, and I hope to see you there!
Relax and Unwind at Neptune Cigars and Wine
Neptune Cigars and Wine is located at 104 NE 2nd Ave, Suite 100 in Delray Beach. The shop is open Monday through Wednesday from 9am-7pm, Thursday from 9am-8pm, Friday and Saturday from 9am-10pm, and Sunday from 10am-7pm. Happy hour is every day from 4-7pm, featuring 2-for-1 glasses of wine.
Instagram: @neptunedelraybeach
Website: https://www.neptunedelraybeach.com/
Disclosure: This is a sponsored post by Neptune Cigars and Wine. As always, all opinions are 100% my own.