Never miss a bite! Sign up here to receive new recipes and reviews straight to your inbox.
Disclosure: I was invited to dine as a guest of the restaurant. No monetary compensation has been received. As always, all opinions are 100% my own.
With food "mash-ups" being all the rage, it's no wonder South Florida's innovative Peruvian-Japanese concept, SuViche, is such a popular spot, especially with its brand-new bar program with more than 15 new craft cocktails and shots available at its Pisco Bar locations in Wynwood and Las Olas. Having this Pisco Bar is what makes SuViche stand out among the many restaurants in the Fort Lauderdale and Miami area. In addition to the new drinks, the restaurant has also launched its 2017 Features Menu, offering guests a small menu of specialty items available for lunch and dinner.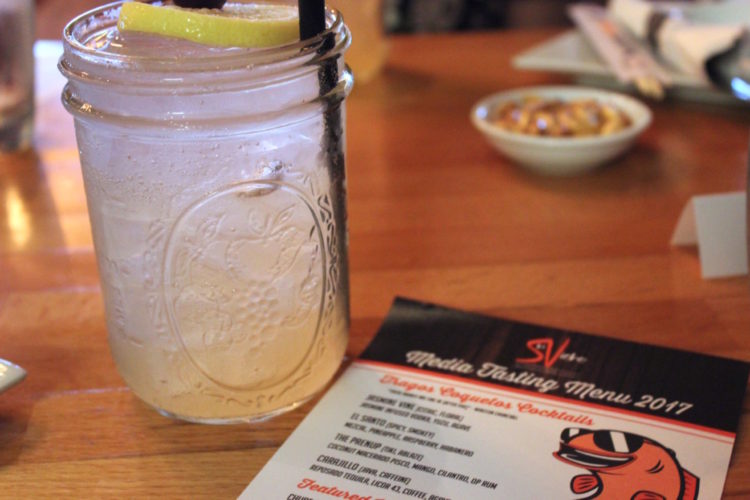 Peruvian and Japanese food in the same sitting is a beautiful thing. Think about it — a menu full of the fresh ceviche and the super flavorful sauces of Peruvian-style cooking, alongside signature Japanese specialities like sushi, tuna tataki and spring rolls. There are plenty of sweet and spicy ingredient combinations, tons of classic Peruvian seafood options, and over 20 sushi rolls to choose from. I had a chance to try items from the Features Menu, as well as a variety of the new cocktails. As SuViche likes to say, we were about to #GetSaucy!
The new bar program features a creative lineup of craft cocktails with a heavy focus on, of course, Pisco. If you're not familiar with this spirit, Pisco is an un-aged brandy, and a favorite of the Peruvian culture. We tried an interactive cocktail called The Prenup, made with coconut macerado pisco, mango, cilantro and OP Rum, topped with a lime peel that is then torched table side and served with a flame. The mango stood out as the dominant flavor of the drink, which also gave it a thicker mouthfeel. It was a bit of a show stopper, as everyone got up to SnapChat and get Boomerang videos of the server lighting the drinks on fire. While there are plenty of other Pisco cocktails on the menu to enjoy, there's also a great variety of other spirits used.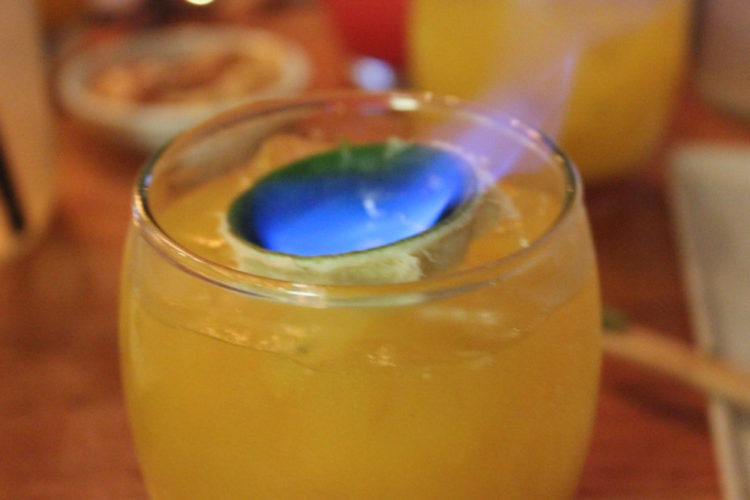 The El Santo was my favorite, made with mezcal (tequila's smoky sister), pineapple, raspberry and habanero. Others at the table felt the drink was heavy on the smoke, but I loved it. It was a perfect balance of smoky and sweet, with a tiny hint of heat that hit the back of your throat after each sip.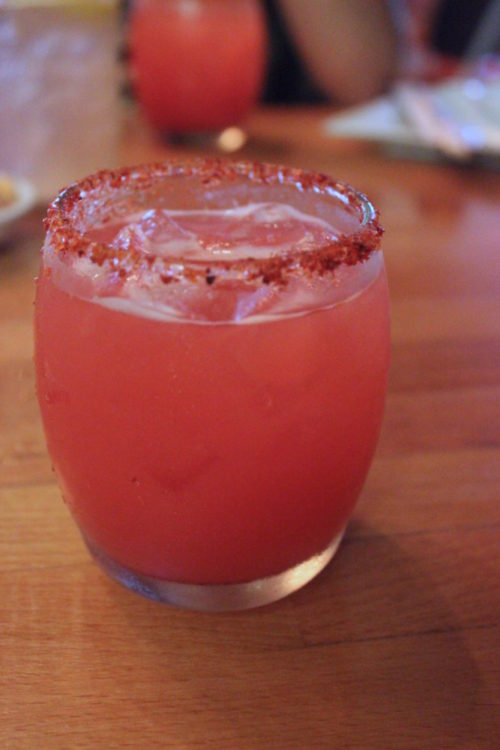 We also tried the Jasmine Vine, a vodka-based cocktail with jasmine, yuzu and agave. It was a little too citrus-y for me, but was definitely a favorite among the group. The last drink of the night, and not usually something I go for, was the Carajillo, made with reposado tequila, Licor 43, coffee and agave. It was definitely a coffee-lover's drink and not for the faint of heart. If coffee keeps you up, don't drink this late at night! Caffeine doesn't have a huge affect on me, and I do love the taste of coffee so I relished a few final sips of that jolt of java.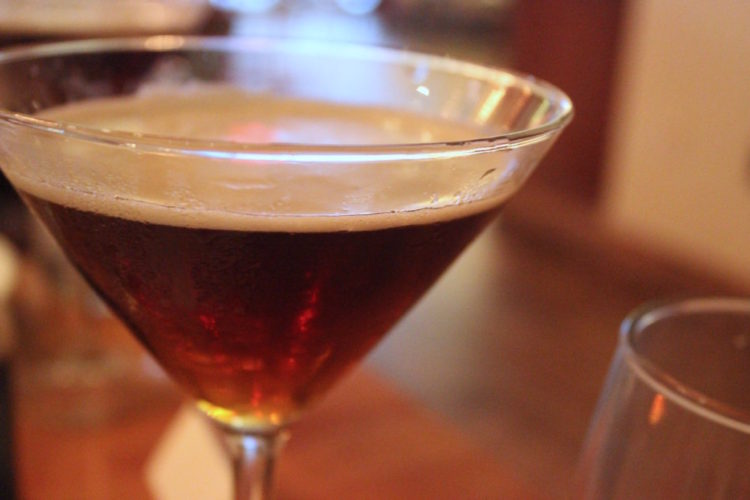 Now that you've worked up an appetite for SuViche's cocktails, let me entice you with their yummy food. We started off with a soup called Chupe de Cameron. It's a combination of shrimp, fish, rice and potatoes in an aji amarillo sauce and a little bit of spice for an extra kick of flavor. I'm not normally one to order soup when out for dinner, but this was thick enough that it felt more like a stew or just a bowl of seafood smothered in that delicious Peruvian sauce. I almost wished they had given us more than a small tasting portion…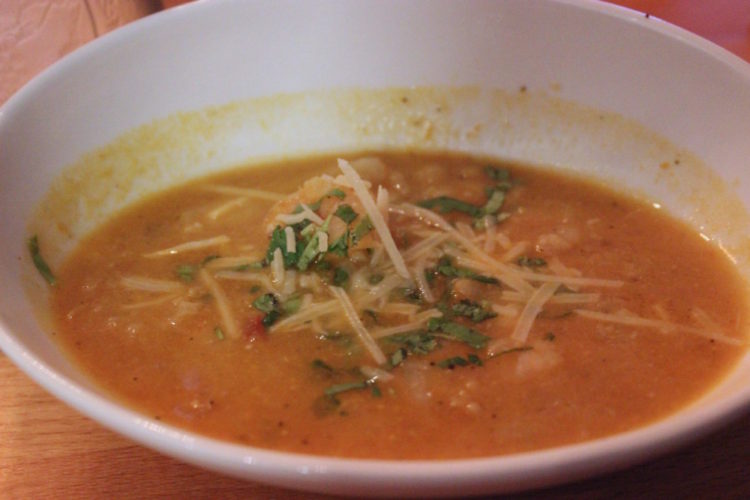 The Camote Roll was next — sweet, savory and spicy come together nicely in this specialty roll consisting of fresh tuna, cucumber and SuViche's signature sauce. It's then topped with a thin slice of torched sweet potato and more of that deeeeelicious sauce. If you've been reading my blog consistently, you know how big a fan I am of a good sauce. I guess this is why SuViche's catchphrase is #GetSaucy…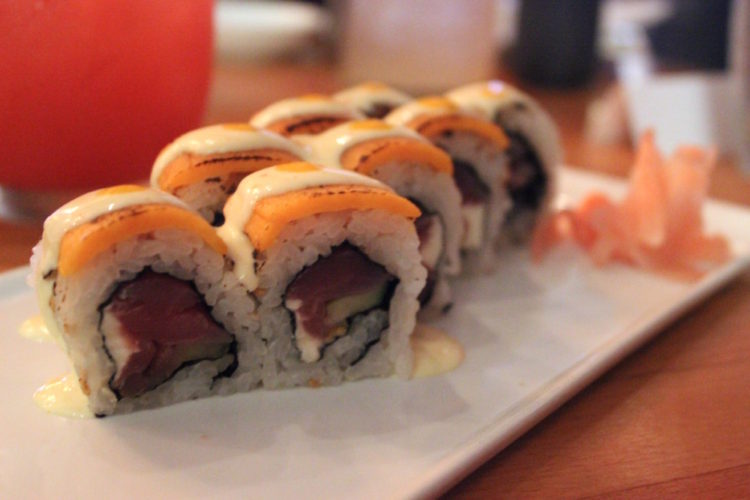 The next roll is meant for meat-lovers, and according to Jill from Fashionably French Fried, definitely did its job. The Butcher's Roll features slices of steak with garlic cream cheese, tomato and SuViche's famous lomo sauce. The Chef was not happy to see there was no plate in front of me, so he graciously brought me out a roll sans steak. The garlic cream cheese and lomo sauce were super flavorful, but it was a miss for me not having any real substance to the roll.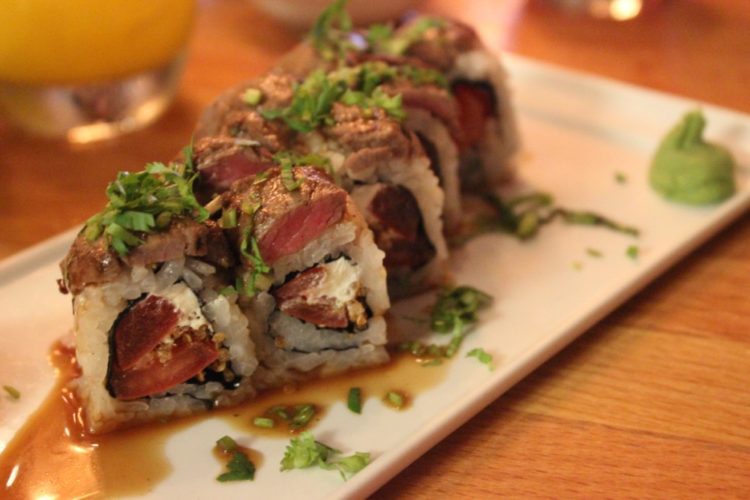 Last, but certainly not least, and definitely my favorite of all four dishes, was the crispy causa. The actual dish off the Features Menu is Causa Saltado, which is panko-crusted causa (lime- and aji amarillo-infused mashed potato) topped with chicken saltado, which includes sautéed red and green onions, tomatoes and the lomo sauce. For me, Chef prepared my causa with crispy fish instead of chicken and I absolutely loved every single bite.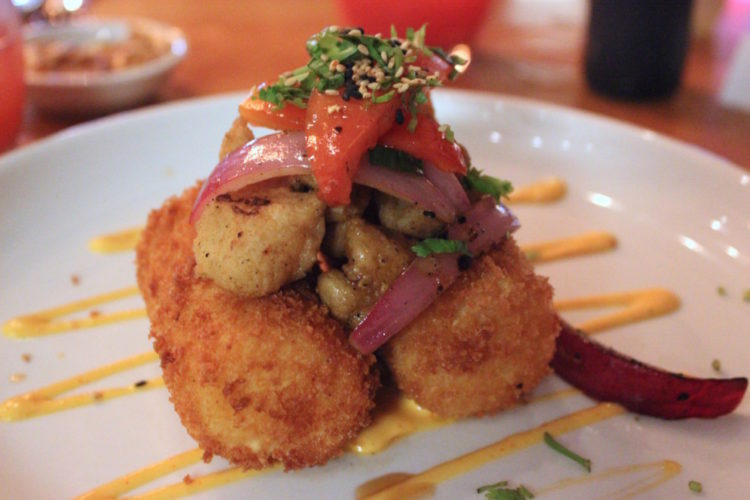 We all left with a new love for causa and cocktails, as well as a commemorative SuViche cocktail glass and a gift card to return for more. I'm looking forward to trying their variety of ceviches — and another one of those El Santo drinks…
SuViche is located at 401 East Las Olas Blvd, Suite 150, in Fort Lauderdale. Other locations include Wynwood, South Beach and Brickell. Las Olas and Wynwood are the only two locations with a Pisco Bar.