Never miss a bite! Sign up here to receive new recipes and reviews straight to your inbox
Disclosure: I received a gift card to use to try the new Hooked on Tuesday menu at Bonefish Grill in exchange for this post. No monetary compensation was received. As always, all opinions are 100% my own.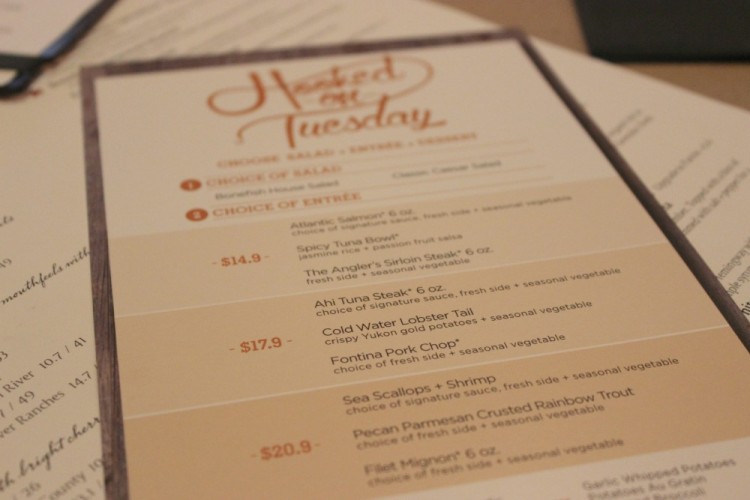 Bonefish Grill is introducing its new Hooked on Tuesday menu — a 3-course dinner featuring nine different entree options paired with a salad and dessert. You can even add on the signature Bang Bang Shrimp appetizer — because, let's be honest, who goes to Bonefish Grill and doesn't order the Bang Bang Shrimp?! It's hard to resist those crispy little shrimp tossed in that zesty, creamy sauce. Ah… Now that I've successfully made myself hungry, let me tell you all about my Hooked on Tuesday experience at the Boca Raton location.
Bonefish Grill's award-winning Chef Cliff Pleau created this new menu to really highlight the innovative and unique combinations found on his menu. There are nine meal options available, starting at just $14.90, proving that yummy food doesn't always have to come at a cost to cringe at. All of the entree options can be found on the regular dinner menu, but the Hooked on Tuesday menu allows you to pair them with a salad and dessert, all for the price of your entree. As I mentioned, you can also add the Bang Bang Shrimp to your meal for $6.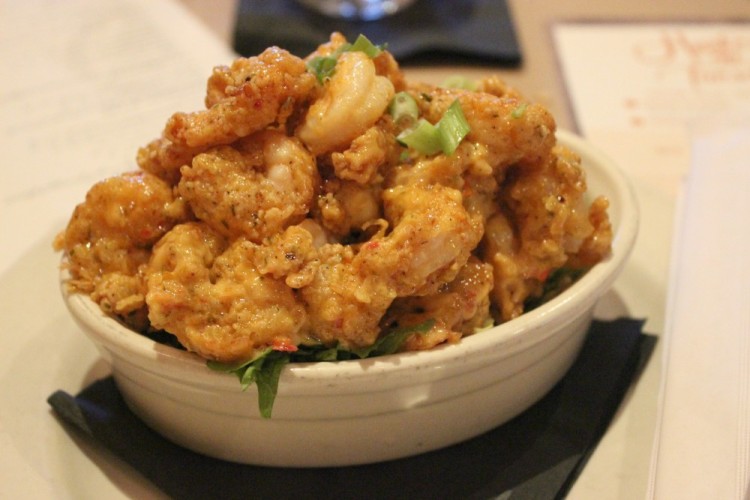 Along with its appetizing menu of delectable dishes from both land and sea, Bonefish has a great wine and cocktail list too. Their signature Sangria is always a favorite — you can choose from either Blackberry Red or Sparkling Mango White. My guest, Katie, is a huge fan of Sangria, so this was her choice of drink for the evening, and of course you know I had to try it. I normally opt for white sangrias, but I love blackberries, so decided to give the Blackberry Red a shot. It's an ideal balance of sweet and tart and really packs a punch of flavor. Bonefish's summertime favorite is the cool and refreshing Fresh Watermelon Icicle Aphrodisiac™ Martini — Hand-muddled watermelon, fresh sour mix, house-made cucumber vodka infusion and frozen watermelon ice cubes. However, for me, seafood calls for a crisp glass of white wine.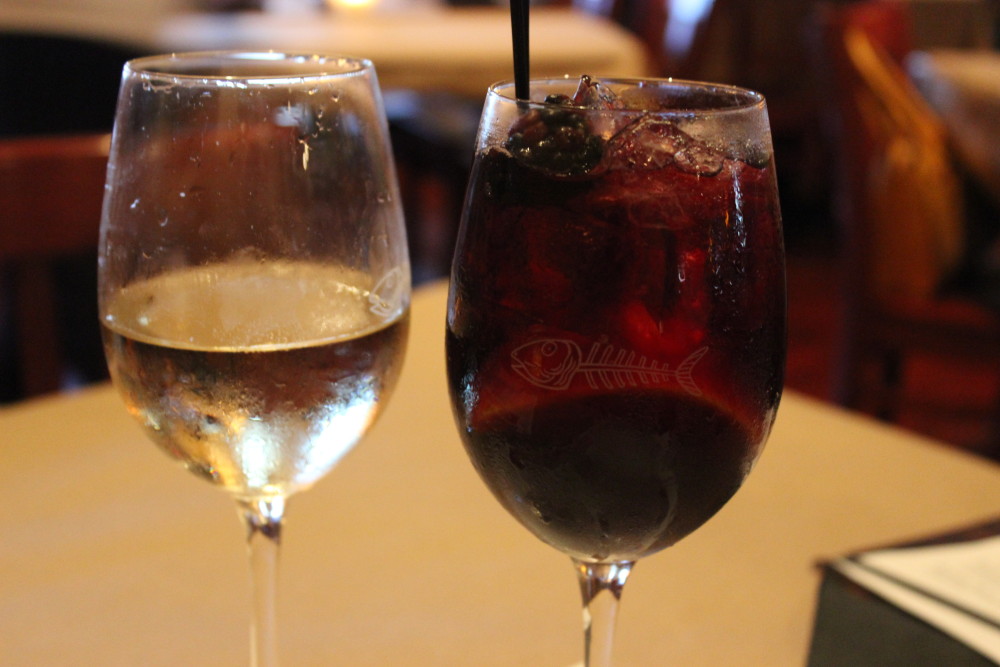 Now…what did we eat?!
Of course we started with the Bang Bang Shrimp. This was Katie's first time trying this oh-so-popular appetizer. and she proved me right — no one can resist them! Freshly baked bread and a pesto dipping sauce accompanied our drinks and shrimp, and we munched away while drooling over all the yummy choices on the Hooked on Tuesday menu. So many choices!
First, you choose between the Bonefish House Salad with hearts of palm, kalamata olives, tomatoes, sunflower seeds and a citrus herb vinaigrette, or a Classic Caesar Salad with house-made garlic croutons. You can order the salad sans croutons to keep it gluten-free. I ordered the house salad (no olives, blech!) and Katie ordered the Caesar. The dressing on the house salad is a total winner. The bright acidity of the citrus and all that herbaceous flavor really complemented the salad components well.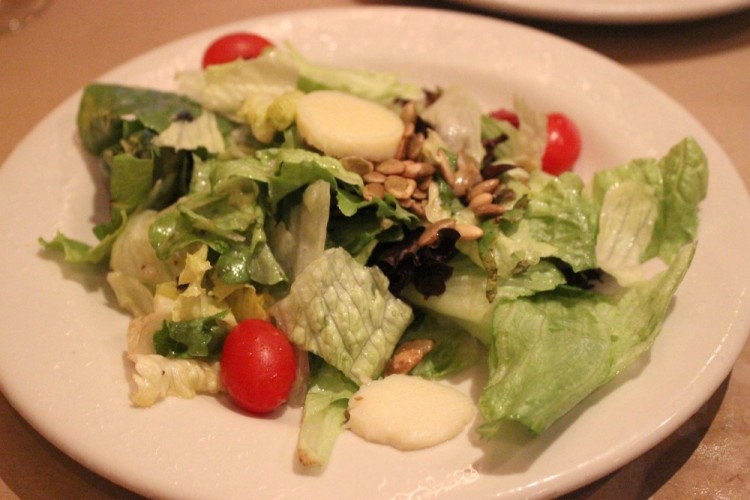 The entree choice is where things get tough. Nine incredible dishes, some even including a fresh side and seasonal vegetable, are available — things like an Angler's Steak, Cold Water Lobster Tail, and Pecan Parmesan Crusted Rainbow Trout. After much debate, Katie decided on the Fontina Pork Chop with garlic, prosciutto and a mushroom Marsala wine sauce. It came with the seasonal veggie — sautéed zucchini with a light dusting of parmesan — and she chose the Garlic Whipped Potatoes for her side. According to Katie, her pork chop was cooked just right and she liked the addition of fontina cheese oozing over top of the meat.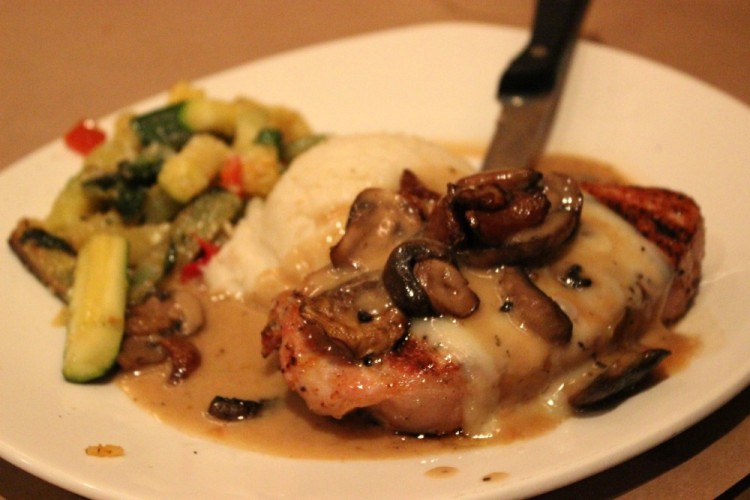 I ordered the Sea Scallop and Shrimp with the Bonefish signature Mango Salsa and a side of fresh French Green Beans. My dish also came with the seasonal veggie. I loved my huge colorful plate of seafood, fruit and veggies! The coating of parmesan on the zucchini was a great touch — it added an extra layer of salty, savory flavor. The wood-grilled scallops and shrimp had a delicious amount of char and beautiful grill marks. I could really taste the wood-fire grill in every bite.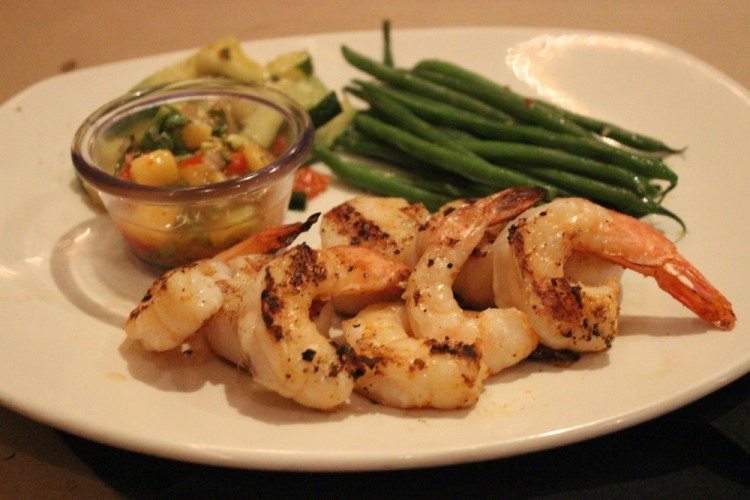 There are three desserts to choose from on the Hooked on Tuesday menu, and I wished we could have ordered all of them! I can never say no to a coconut pie. Jen's Jamaican Coconut Pie is filled with a creamy coconut custard and topped with a Myers Rum sauce and fresh whipped cream. The toasted coconut was the best part! We tried the Macadamia Nut Brownie too — a flourless brownie with raspberry sauce, vanilla ice cream and a sprinkling of chopped macadamia nuts and whipped cream on top. Like most flourless cakes and brownies, it was supremely dense and fudgy — which means it was obviously delicious! Raspberry always is a good idea to pair with chocolate. I would have liked more macadamia nuts — they were hard to detect against the strong flavors of bitter chocolate and sweet, tangy raspberry. The third dessert available was a Classic Cheesecake with sea salt caramel and chocolate sauce — I guess I will have to try that one next time!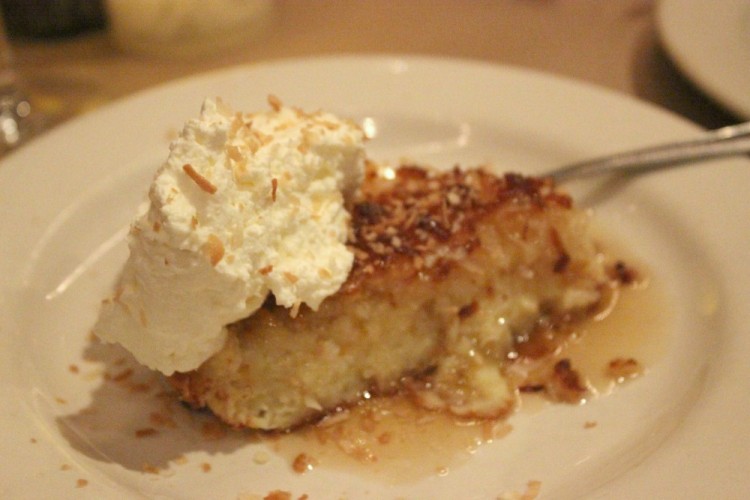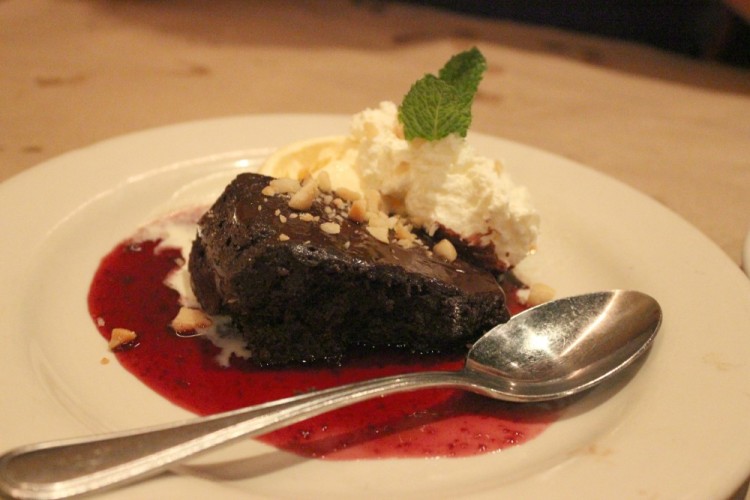 Get Hooked on Tuesday at your local Bonefish Grill! The Boca location is at 21065 Powerline Road and is open Monday through Thursday 4 to 10:30 p.m., Friday 4 to 11 p.m., Saturday 11 a.m. to 11 p.m. and Sunday 10 a.m. to 9 p.m.