Never miss a bite! Sign up here to receive new recipes and reviews straight to your inbox.
NOTE: This restaurant has since closed.
Disclosure: I was invited to dine as a guest of the restaurant. No monetary compensation has been received for this post. As always, all opinions are 100% my own. 
Boca Raton is home to South Florida's only location of the popular sports bar and restaurant, Tilted Kilt. With over 40 beers, including many of South Florida's local brews, and creative twists on some of your favorite pub grub, Tilted Kilt is the place to go to cheer on your favorite Florida sports teams!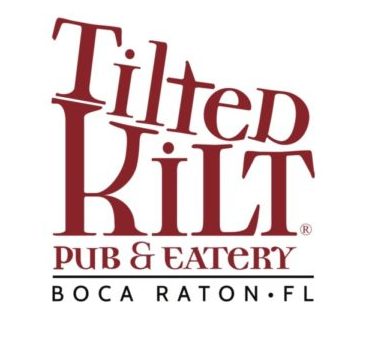 Years ago, during a visit to Roselle, IL — a suburb of Chicago — for a family wedding, a bunch of us wandered over to Tilted Kilt one night to hang out, have a few drinks, and play some pool. It was walking distance from our hotel, so we couldn't beat the convenience. I never thought about the Tilted Kilt again after that trip, until a couple years ago when one opened up in Boca Raton. Although you may think it's just another Hooters-type of place, the vibe is totally different. Sure, they've got the Kilt Girls®, but I promise you — it's not all about them. It's about the food, drinks and atmosphere! There are 64 HDTVs throughout the 8,000-square-foot space, making it the perfect spot for game day. It's also kid friendly! Parents, don't be turned off and think you can't come here for a fun family night out. There is a kids menu available, and on Mondays kids eat FREE with the purchase of an entree. When it comes to food, there is a lot to choose from. Although the menu features recipes created by the brand's corporate chef, the Boca Raton owner Samir Changela and Executive Chef Robert Thomson infuse their own signature touch to guests' dining experience. Instead of having line cooks cooking standard recipes, having a seasoned executive chef in the kitchen allows for more creativity in taste and presentation.
Tilted Kilt recently unveiled its new menu featuring an assortment of appetizers, salads, burgers and entrees and invited in a group of local media and bloggers to try. For me, the menu is pretty limited — but when I saw that one of the new menu items was loaded tater tots, I was a happy girl. Let's start there, shall we? There are three different kinds of loaded tots — you can get them with Fat Tire® Ale beer cheese sauce, bacon, green onions and sour cream;  jalapeño jack cheese sauce, chili and green onions; and buffalo sauce, blue cheese crumbles and ranch. I could have eaten an entire bowl of the buffalo-style dish, and I pretty much did, since I knew there wouldn't be too much else for me to try. It's definitely got a kick to it, so spice-haters beware. Blue cheese and buffalo sauce go hand-in-hand and were the perfect topping for those crispy taters. It's messy and delicious, just how good bar food should be. Then there's that Fat Tire® Ale beer cheese sauce… Um, more please! Obviously I avoided the bacon, but I certainly did not avoid that cheese sauce! These may be noted as the 'regular' option on the menu, but they are anything but!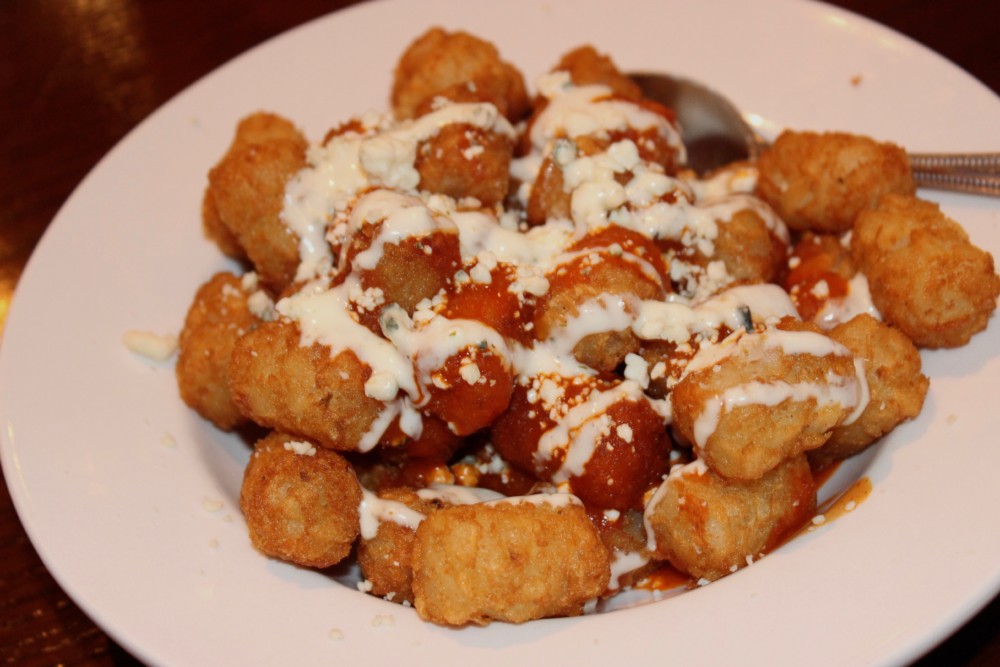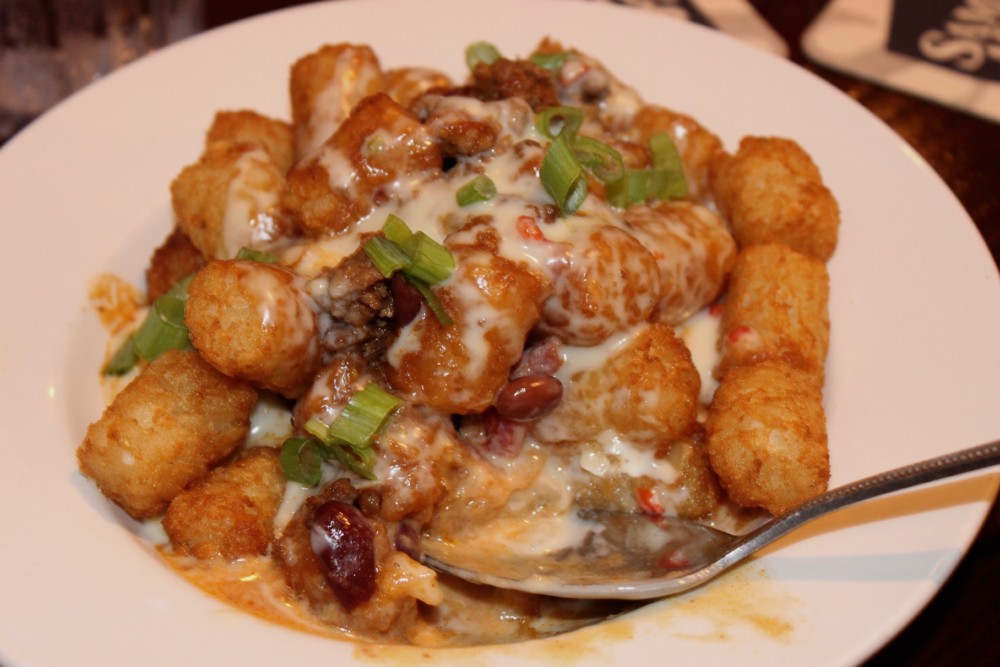 Moving on… Another item we got to try was the new version of the ever-so-popular Pub Pretzel. It's now Bavarian style, fresh-baked and served with more of that tasty Fat Tire® Ale Beer Cheese Sauce, as well as a honey mustard sauce and a pepper jack cheese sauce. All three of the sauces are super delicious — I'd probably dip french fries in them too, or even just my spoon… The pretzel is one of Tilted Kilt's signature menu items, and rightfully so. I mean, who can resist a perfectly good soft pretzel when you're out watching a game?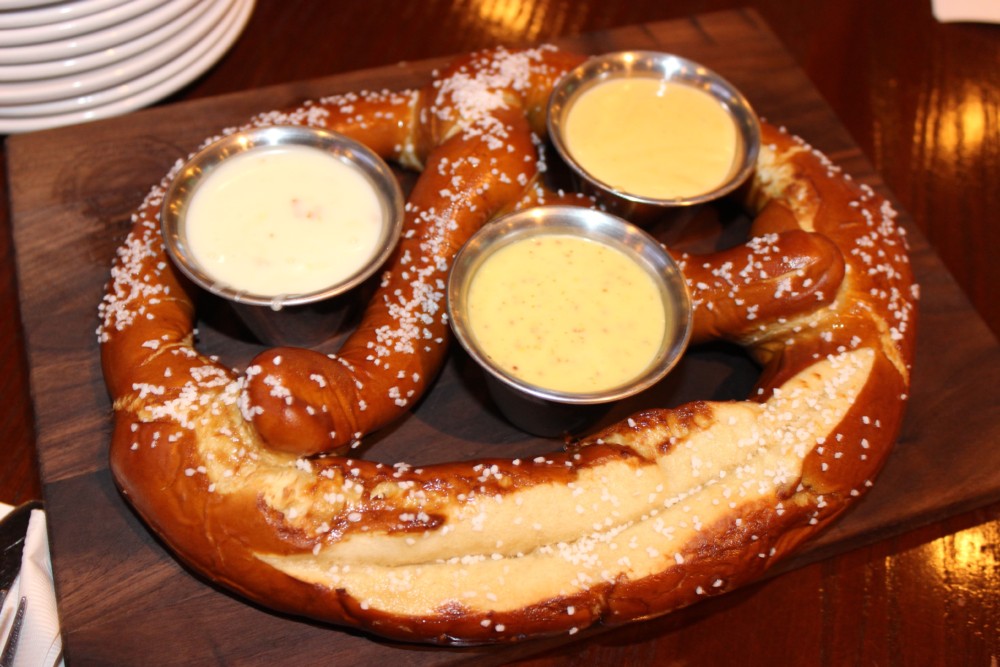 Speaking of signature dishes, we also were served the Drunken Clams. Although not a new item, it is definitely a favorite among guests. The clams are seasoned with a blend of spices, steamed in Guinness® and served with garlic bread. The Guinness adds such a beautiful depth of flavor to the broth and really elevates the flavor. Being a Pescatarian, I was particularly happy they decided to highlight this dish during the dinner. I'd definitely order it again!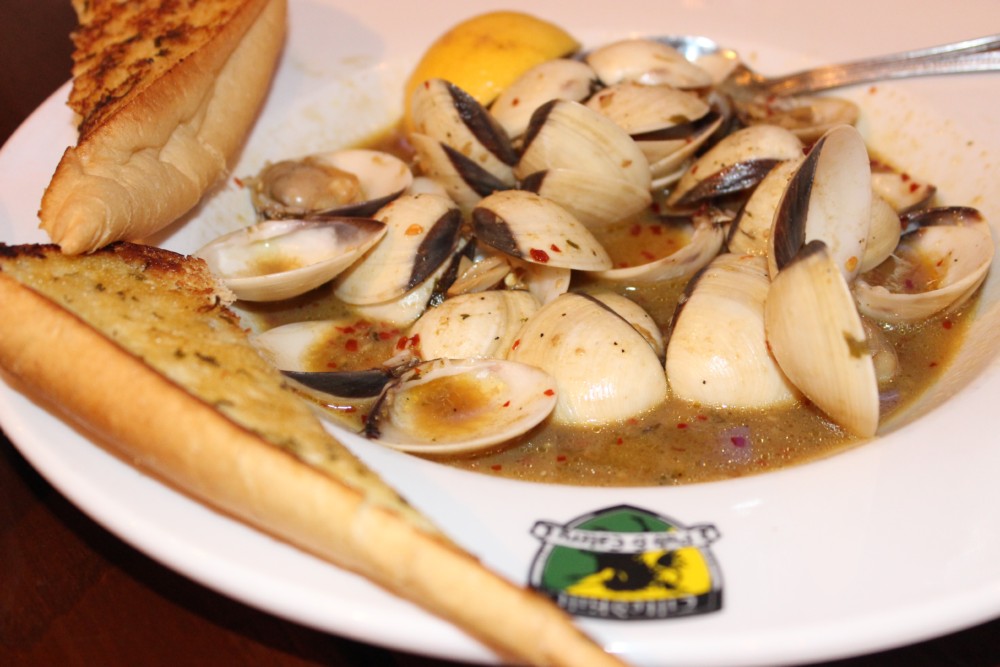 Tilted Kilt is very well known for their hand-breaded boneless chicken wings and variety of sauces and rubs, so of course this had to be tried. My fellow diners dove right in, noting the Thai sweet chili as a favorite. Some of the other flavors include garlic parmesan, Guinness BBQ, mango habanero and a lemon-pepper dry rub. More new appetizers include chili con queso, pub-fried pickles, beef fritters and spicy chicken wontons.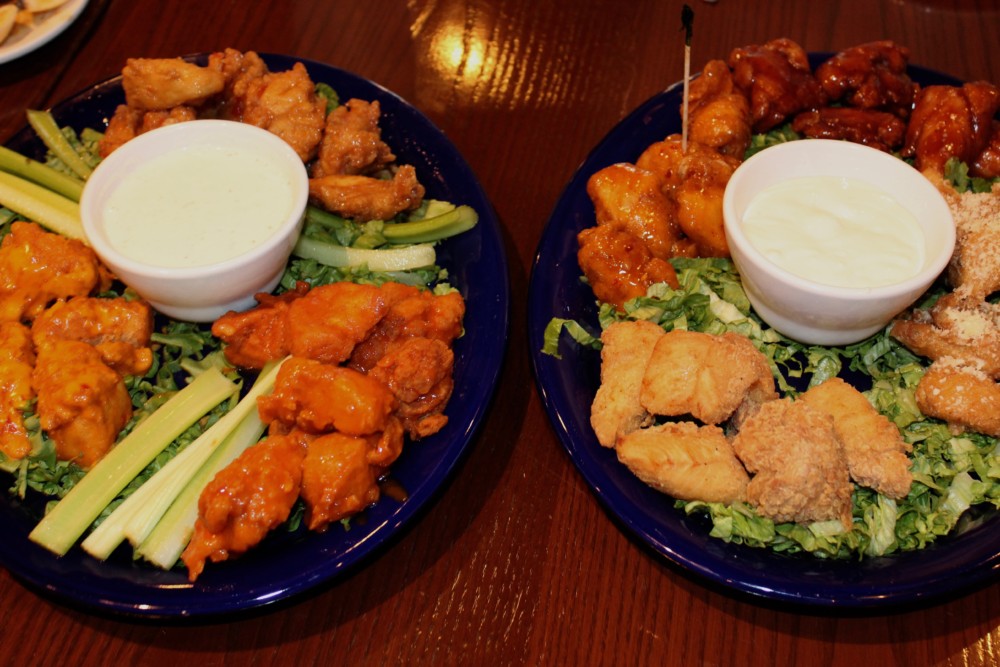 Next up was one of the new burgers, the Inferno Burger with sliced jalapeños, pepper jack cheese, lettuce, tomato, red onion and Kilt Burner mayo. From what I gathered, this burger is not for the faint of heart. All of Tilted Kilt's burgers are made with 100% fresh Angus beef, hand-pressed and cooked to order, served with a choice of side. Their perfectly seasoned and crispy french fries are the way to go!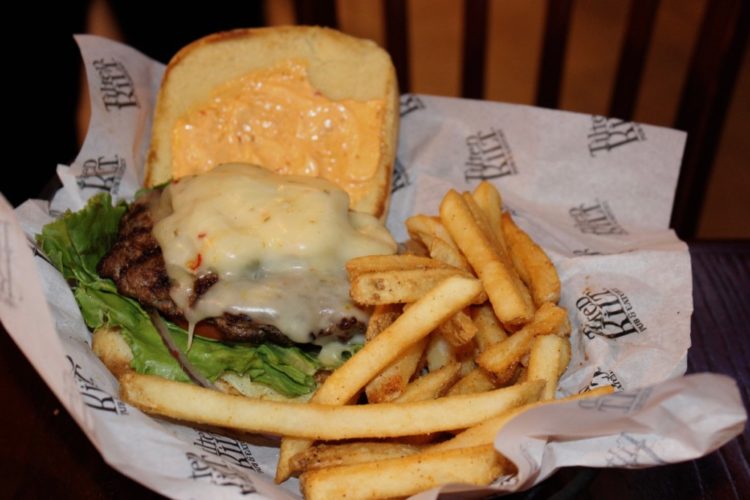 When it comes to entrees, Tilted Kilt doesn't skimp on variety. Shepherd's pie, fish and chips, chili spaghetti, sirloin, blackened chicken pasta — there's something for everyone. We started with one of the most popular dishes, the buffalo chicken mac and cheese. Cavatappi pasta is topped with spicy buffalo fried chicken, cheddar jack cheese, ranch dressing and green onions. I definitely understand why this is such a hit with Tilted Kilt's customers; everyone at the table loved it and couldn't help going back for bite after bite.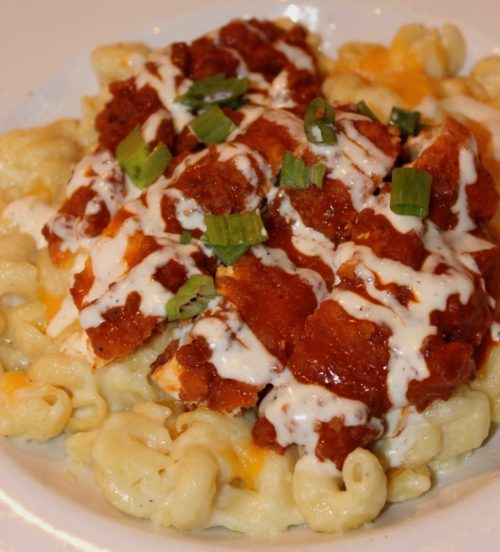 The Gaelic chicken is one of the new items, and while it isn't the prettiest to look at, it's one you'll most definitely want to dive right into. Chicken breast tenders are sautéed with onions and mushrooms in an Irish whiskey cream sauce. You can opt for the chicken to be served on top of mashed red potatoes or cavatappi pasta. I snuck a taste of the sauce, sans chicken, and can totally vouch for its deliciousness. Irish whiskey should be used in cream sauces more often.
Now let's get to something I can actually eat! There's a new seafood dish on the menu, Salmon Vera Cruz, that is a great option for someone like myself who doesn't eat meat, or may want to have something on the lighter side while dining at Tilted Kilt. Grilled salmon is sautéed with bell peppers, onions, tomatoes, olives, lemon juice, white wine and thyme, and served with mashed red potatoes. The mixture of veggies is super flavorful — and whew, I barely noticed the olives. It's nice to see a healthier fish option on a very hearty, meat-heavy menu. There are plenty of other new menu items to check out, including the pork po' boy, blackened chicken avocado sandwich, and cheesesteak salad, plus new lunch specials like the half-sandwich and side combo, and half order of wings.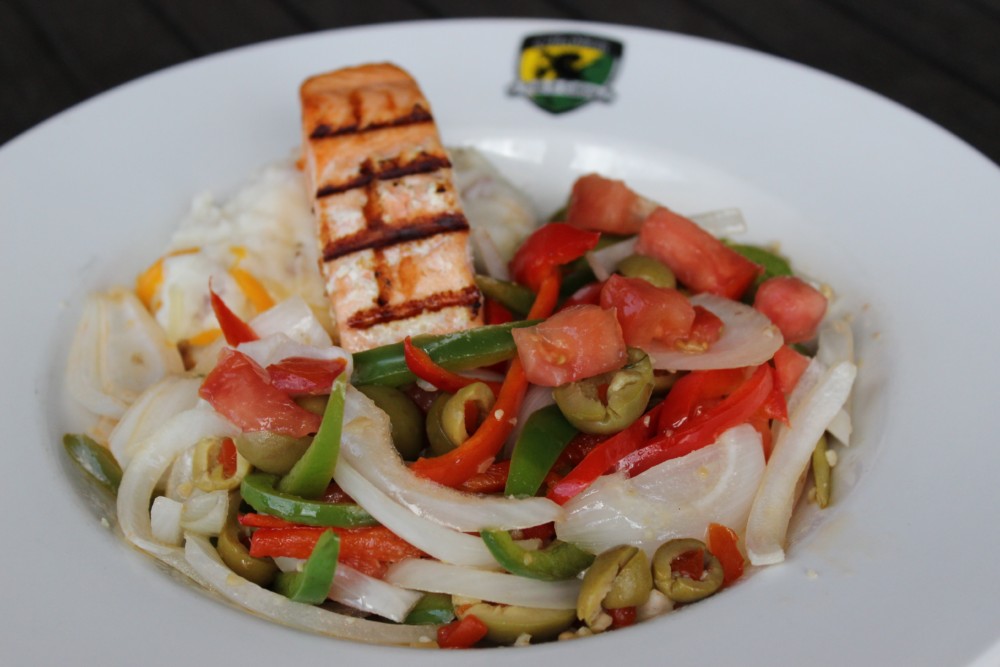 Did we finally make it to dessert? You bet! The Tilted 'Guilt' desserts are not to be missed. All three options are served in a skillet with vanilla ice cream and topped with powdered sugar and chocolate sauce. Choose from a warm, ooey-gooey chocolate chip or salted caramel cookie, or the intensely rich, fudgy chocolate brownie. No matter what you choose, you'll be happy. And if you can't decide, order all three!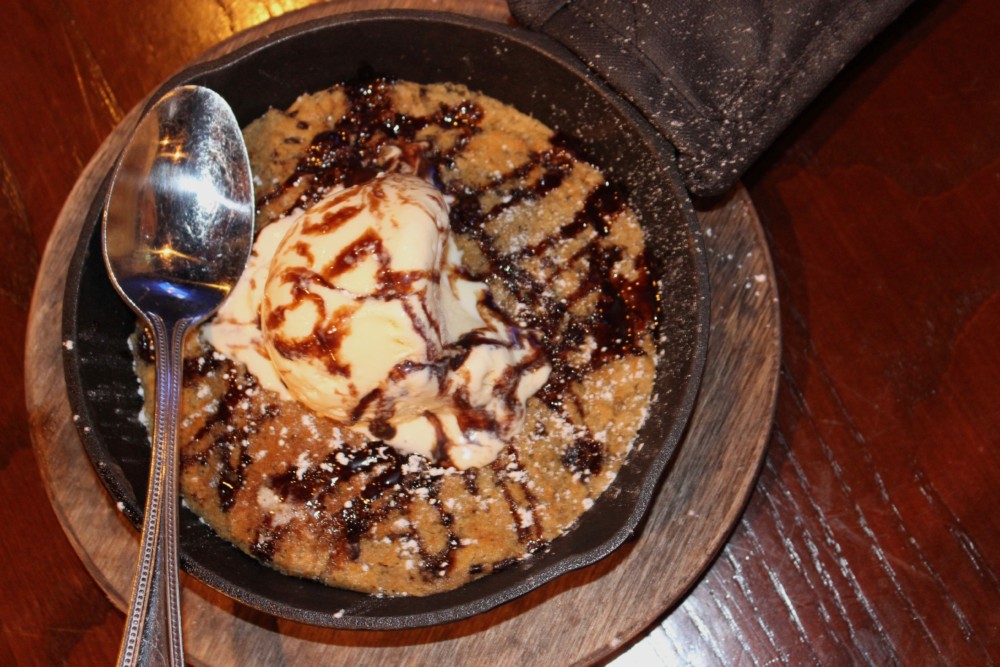 Tilted Kilt hosts a weekly car meet every Wednesday from 7-11pm, co-sponsored by Boca Car Club, SpotBig.com and South Florida Project Apex Events. There is also a 2-3-2usdays℠ special featuring $2 draft beers, $3 imported craft beers, house premium liquor and house wine every Tuesday from 3pm to close.
Tilted Kilt is located at 3320 Airport Rd., Suite #1, in Boca Raton.