Never miss a bite! Sign up here to receive new recipes and reviews straight to your inbox.
Disclosure: I was invited to dine as a guest of the restaurant. No monetary compensation has been received for this post. As always, all opinions are 100% my own.
What used to be most well known for its long list of burgers and fries is now branching out to new territory with a more varied menu of foodie-approved fare.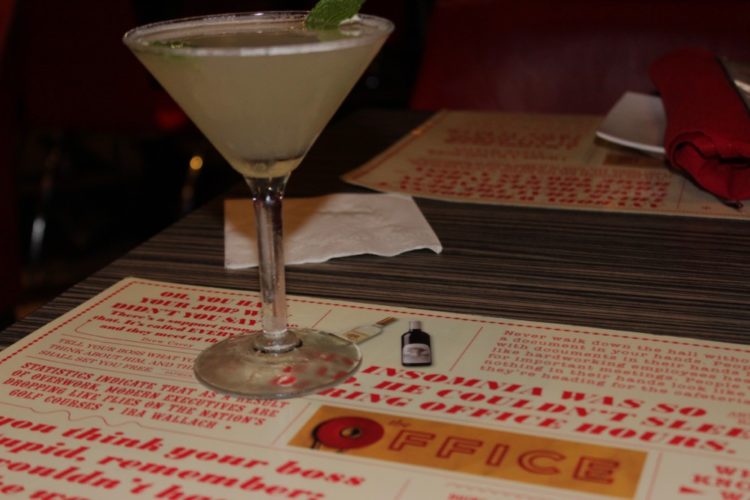 One of Downtown Delray's most beloved gastropubs, The Office, revamped its menu this past summer, but kept true to their whimsical style of calling the appetizers "Office Supplies" and entrees the "Board Room." Each of the salads can be topped with a variety of "assistants" a.k.a shrimp, chicken, salmon or skirt steak; and the "Weekly Agenda" includes $10 Burger & Beer Night every Monday, $5 Tito's drinks every Tuesday, daily Happy Hour from 3-7pm and 10pm to close, and Bottomless Brunch every Saturday and Sunday from 10am to 3pm. Grab a seat at the bar and you've got one of the best seats in town for people watching. This is one office you'll definitely want to go into every day.
Fresh, local burrata was the first "co-worker" we met at The Office. The big ball of ooey, gooey cheesy deliciousness sat on a bed of beautiful heirloom tomatoes, pickled onions, baby arugula, a generous drizzling of aged balsamic, and topped with a dollop of pesto. Simple ingredients, big flavor, perfect sharing plate. With forks in one hand and cocktails in the other, we were off to a great start.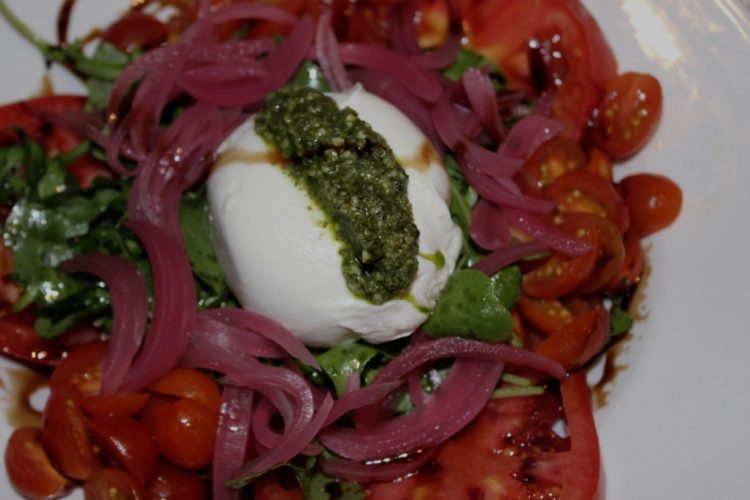 Those cocktails, by the way, were champagne mojito martinis, made with Cruzan aged rum, elderflower liqueur, sweet gomme, lime, mint and Veuve brut. Super light and refreshing, and a perfect amount of sweetness. The dry champagne and sweet elderflower balance each other out, making them a great flavor combination. The Office has a lot of other creative cocktails on the menu, including the Pineapple Grove, which pays homage to the section of Downtown Delray in which the restaurant resides. The drink is made with rum, muddled berries, pineapple juice, pomegranate liqueur and sweet gomme and is served in a big bronze pineapple that is so cute you'll want to steal it, until you realize how heavy it is… That would not go well being carried around in your purse for the rest of your night out.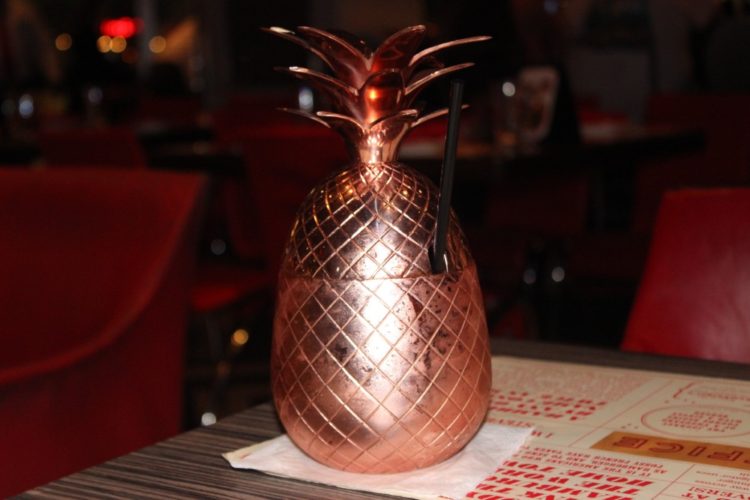 Moving on… Although I never will get tired of octopus, I am getting tired of seeing the same preparation over and over again. Two ingredients in this particular dish stood out as very unique and left me really intrigued — truffled English pea puree and black garlic créme. Not only were both of these sauces insanely delicious, the octopus was cooked to perfection with such beautiful char marks and tasted amazing. This is another great sharing plate; it's a pretty big portion.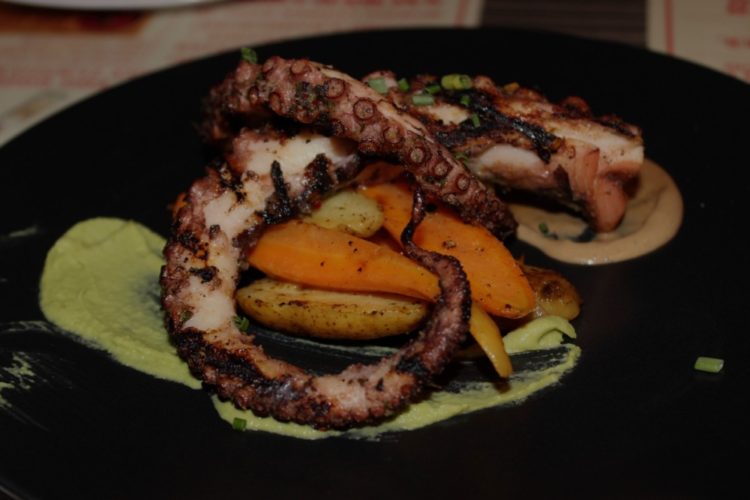 There are a lot of other great "Office Supplies" on the menu that are available at a special price during Happy Hour. I recently visited and tried the roasted cauliflower with a sweet and spicy chili sauce and the chipotle deviled eggs with truffle, paprika, chives and bacon (obviously got mine without). Both are appetizers I would 100% go back for again and again. I hear the colossal pretzel is a favorite of many — it's seriously the size of my head, if not bigger. It comes with honey bacon butter and beer mustard for dipping. That sounds like a serious contender for "Employee of the Year" to me.
The list of entrees at The Office has really evolved. There is a lot of variety, including two fish dishes that I absolutely could not choose between. Thankfully, my guest thought they both sounded good too — so we each ordered one and shared. The cider and thyme salmon was the epitome of fall on the plate. Everything about this dish reminds me of leaves changing color and sweater weather. It's served with sweet potato and apple hash, baby kale, pepitas and an apple cider gastrique. Every single ingredient played extremely well together, and there was great textural contrast. But that salmon was the star. The skin was super crisp and flavorful. I almost wished I hadn't agreed to share…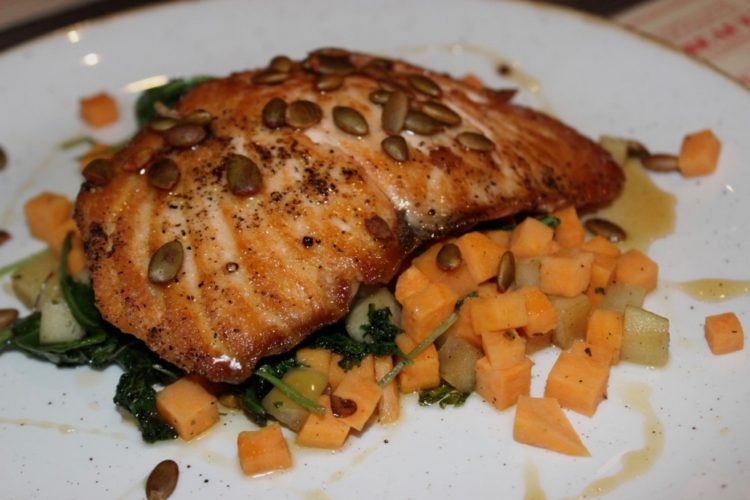 Until I tried the baked golden corvina. That too was cooked beautifully. It's served over baby vegetables and fingerling potatoes in a citrus herb butter and white wine sauce. The skin on the fish wasn't quite as crisp because of the sauce, and it is a lighter, flakier fish, so it had a very different taste and texture than the salmon. I'm glad we got both dishes — they were equally as delicious, yet stood on their own with unique characteristics.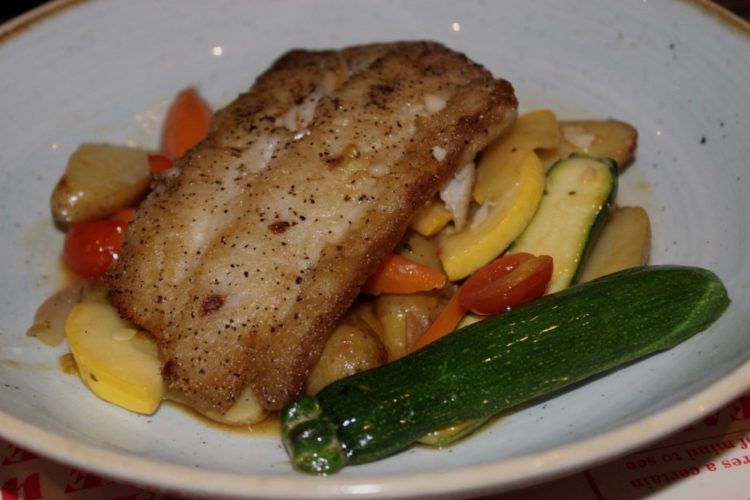 Of course our entrees needed some sides! We couldn't resist the crispy Brussels sprouts with sweet and spicy chili sauce (bacon too but we got it on the side), and — no surprise here — the truffle parmesan fries. You can't go wrong with either of these options when it comes to side dishes, and The Office did not disappoint. I've had their truffle fries in the past and they've always been up there as one of my favorites in town. In fact, my very first memory of The Office includes a veggie burger (which is still available on the lunch menu) and truffle fries, resulting in a very happy Shaina.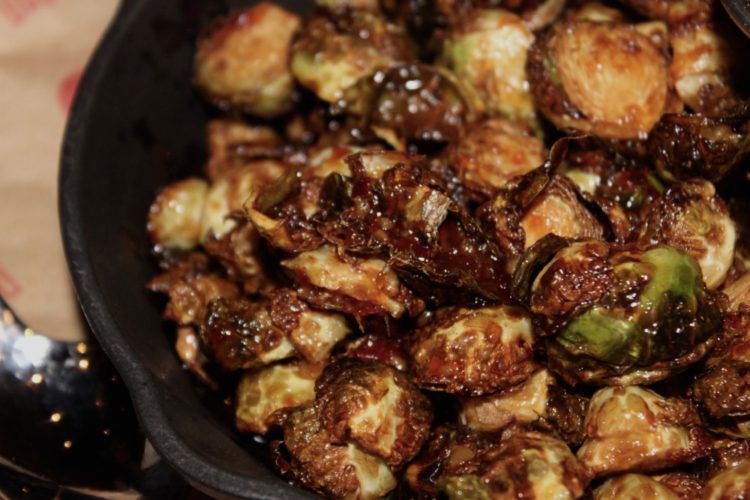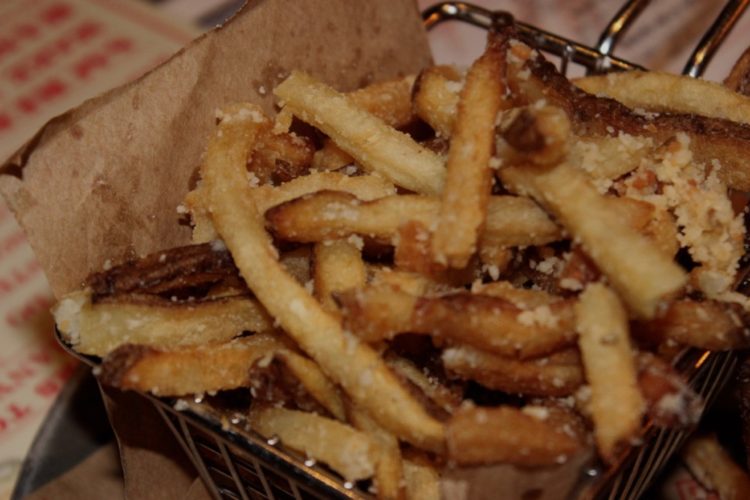 There were two dessert specials the night we dined — key lime pie or the chocolate brownie sundae. Because we're in South Florida, where key lime pie is pretty much a diet staple, we chose to get the pie. The sundae sounded pretty decadent, and I wasn't in much of a chocolate mood. The pie hit the spot. It was cool, velvety smooth and creamy, and tart enough to make my lips slightly pucker. The cloud-like whipped cream and fruity coulis added just the right touch, and the graham cracker crust was a game-changer. I think we made the right decision.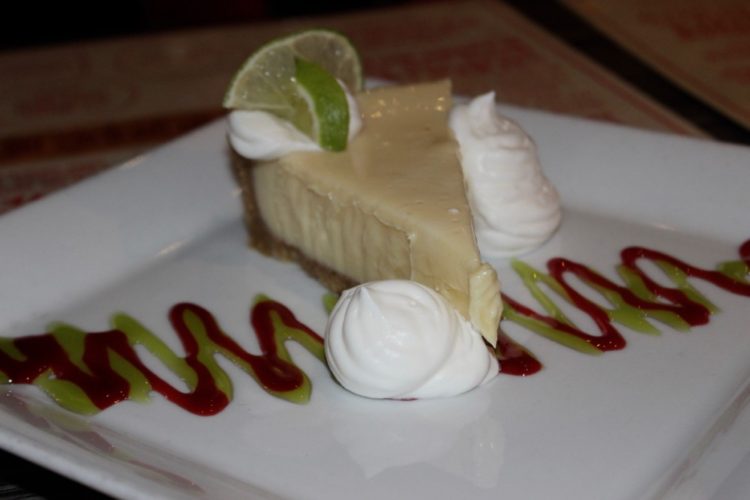 The Office is open Monday through Thursday from 11:30am-midnight. Friday from 11:30am-2am, Saturday from 11am-2am and Sunday from 11am-midnight. The Office is located at 201 East Atlantic Avenue in Delray Beach.