Never miss a bite! Sign up here to receive new recipes and reviews straight to your inbox.
If there is one thing I love about fall, it's the abundance of delicious ingredients we get to cook with. Fall produce and spices are unbeatable, and when a chef knows how to use 'em, they can really wow a crowd. Case in point — Executive Chef Kelley Randall from The Office in Delray Beach put together a delectable new menu to release for the season.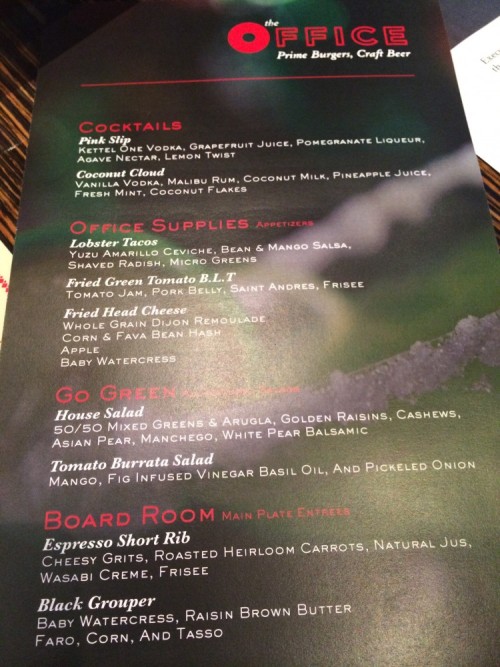 Denise and I were invited to attend a VIP tasting of some of these brand new dishes and we were super excited to see what was in store. (PS-If you aren't familiar with The Office, read the review I wrote a few months back when Bubby and I tried some of their summer seafood specials.)
I recently became a huge fan of The Office's food after trying their insanely delicious veggie burger during one of Denise's Savor Our City Culinary Tours back in June. Then I had that seafood dinner with Bubby that was equally as impressive. And now I was about to embark on another food-filled journey through their menu. Chef Randall does his best to put out only the most innovative and unique plates of food — and he does so succeedingly well.
Denise and I were greeted by General Manager Marcel Buruiana and immediately offered one of the signature cocktails they were featuring for the night — the Pink Slip and the Coconut Cloud. I've tasted the Coconut Cloud before and it is just heavenly as its name suggests — vanilla vodka, malibu rum, coconut milk, pineapple juice, fresh mint and coconut flakes. Denise couldn't resist how amazing this sounded, but I wasn't in the mood for something so sweet. The Pink Slip's combination of grapefruit juice and vodka wasn't appealing to me much either, so I opted for a different cocktail — the Pearfection with pear vodka and St. Germaine.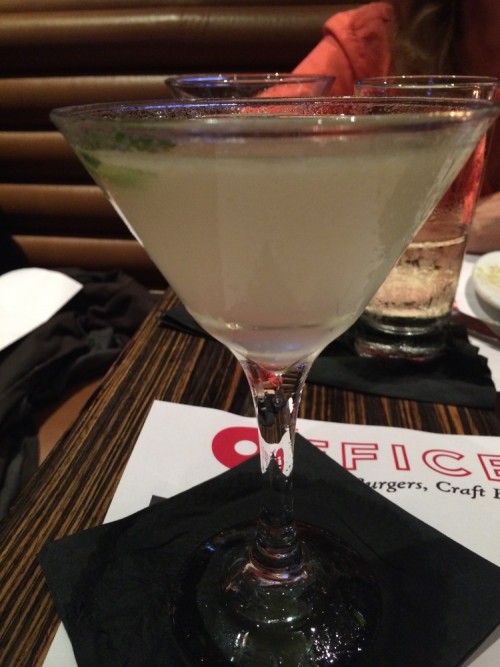 We shared a plate of their pretzel bread — a must have for anyone visiting The Office — served with a spicy mustard and a cheese sauce. The carboholic in me could have eaten a zillion pieces of that pretzel bread and been totally satisfied. But pretzel bread could wait… There was plenty more eating to do!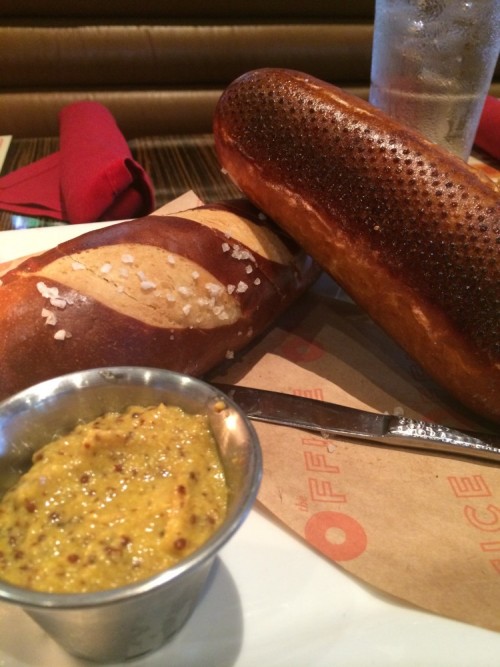 First up were two salads from the "Go Green" section of the menu. The House Salad — a mixture of greens and arugula, golden raisins, candied cashews, Asian pear slices, manchego cheese and white pear balsamic — is my new favorite salad in the whole entire world. Crunchy, chewy, salty, sweet, bitter… Every single one of my taste buds sprung to life with one bite of this salad. The combination of ingredients is the definition of perfection. I will be going back for this salad as soon as the new menu is available!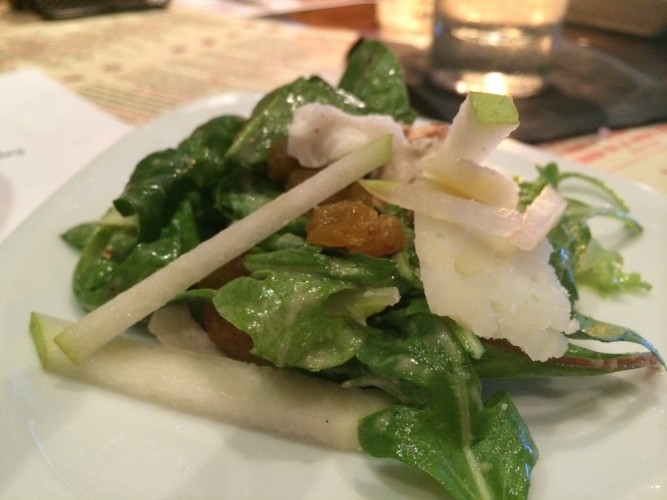 More yumminess was up next. Burrata! The Tomato Burrata Salad had mango slices, fig infused vinegar basil oil and pickled onions. Another salad packed with unbeatable flavors and textures. Seriously, Chef Randall knows what he's doing!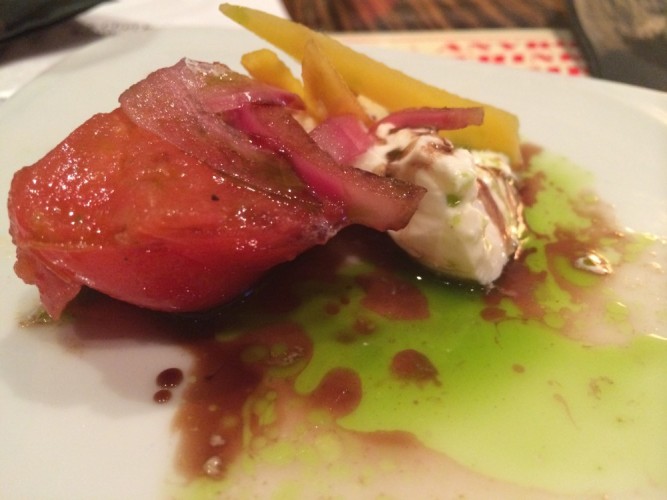 Now on to "The Office Supplies" a.k.a. our appetizers. Three delectable new appetizers were presented to us with beautiful plating and presentation and Chef Kelley even brought me out special substitutions to adhere to my non-meat-eating ways. First up was something I had no problem scarfing right down, no substitutions needed. Housemade taco shells filled to the brim with yuzu amarillo ceviche, bean and mango salsa, shaved radish, micro greens and the star of the show — lobster. I'm all in! Although I normally prefer a soft taco shell, the crunch was a nice added element.
One of the most popular appetizers at The Office is definitely their Fried Green Tomato. The old version comes topped with spiced shrimp, cheddar cheese, panchetta and a green onion aioli. The new and improved version is reminiscent of a BLT with tomato jam and pork belly. Of course mine came without the pork belly, but that tomato jam was a wonderfully sweet touch to the crispy, crunchy coating that envelopes the tart green tomato hiding inside. I have been saying I want to make fried green tomatoes at home ever since I first tried theirs, and now I'm even more determined. Excuse me while I go add this to my insanely long list of things I want to make..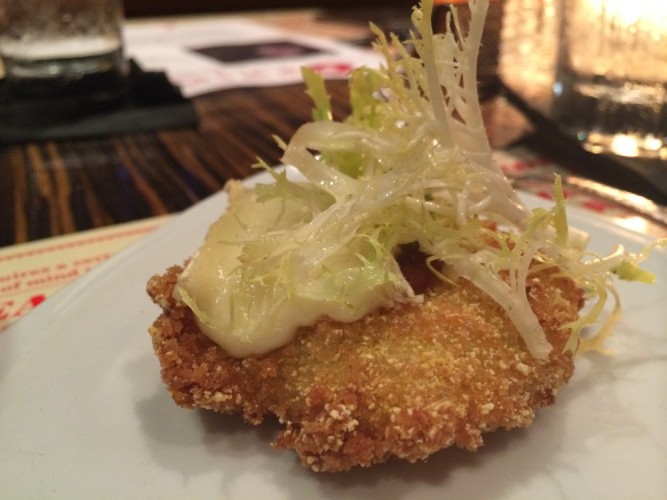 .
The final appetizer is something Denise and I have never even heard of, and frankly, I never ever want to hear about it or see it ever again. Fried Head Cheese. No, this is NOT cheese. It's some kind of mishmash of pig heads that I really don't want to get into. If you're curious, Google it. Needless to say, I obviously did not eat this. Instead, the awesome kitchen staff make me their signature fish dip served on cripsy homemade tortilla chips. I graciously gobbled that right up.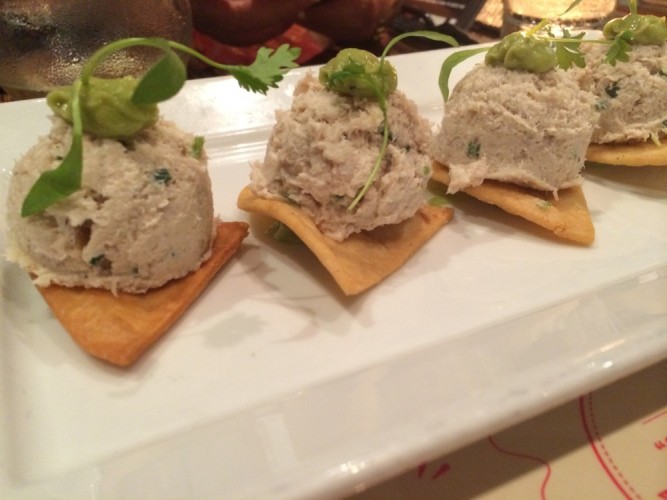 Are you full yet listening to me describe all this food? It's a good thing these were all tasting portions and not full-sized. We haven't even gotten to the entrees!
Now we enter "The Board Room," better know as the Main Plates Entrees. Black Grouper with watercress and raisin brown butter served over a bed of farro, corn, and tasso. I loved the cook on the fish, and loved what it was served with even more. Farro = YUM! The second dish was espresso short ribs served over cheesy grits, roasted heirloom carrots, wasabi creme and frisee. My plate was a bit different though — Florida blue crab cake with a remoulade sauce and salad of corn, black eyed peas and edamame. The Office really knows the way to my heart…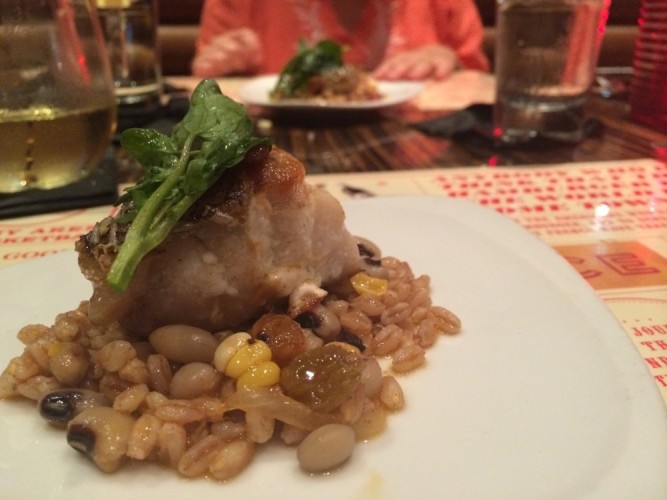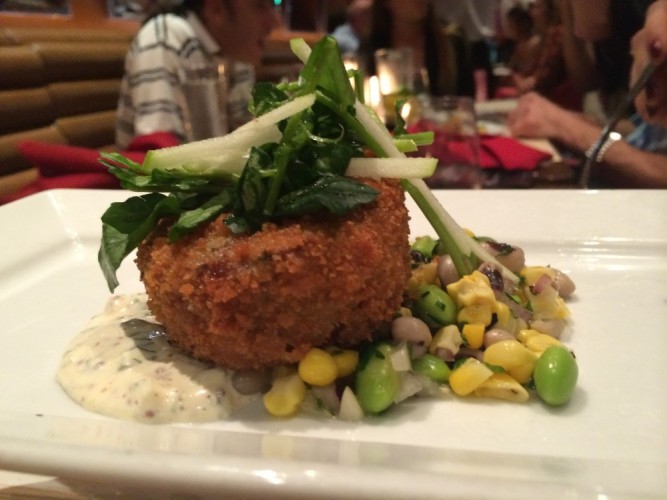 But Chef Kelley was not done with us yet. He wanted to try out another one of his dishes on us — the Oxtail Spaetzle with corn, pickled red cabbage, oyster mushrooms, Brussels sprouts and pumpkin topped with a fried egg. Of course, mine was served without oxtail, but wow, what a dish! I can only imagine how much more flavorful it was with the oxtail because even without it I was incredibly impressed. Even though we were all pretty stuffed by this point, I don't think anyone left their plate untouched.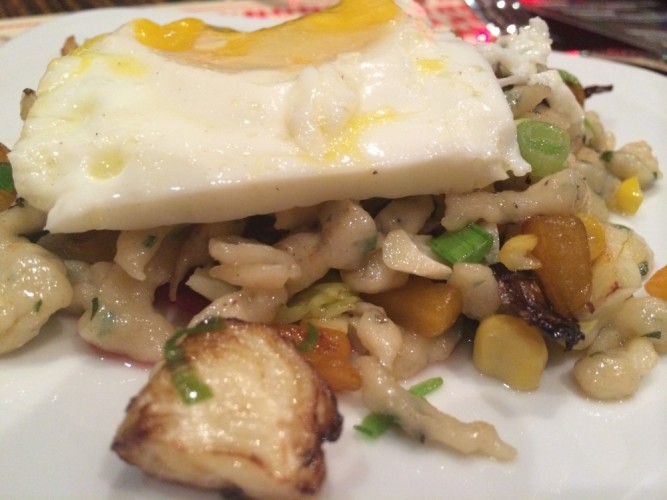 We've finally reached the finale — dessert! This donut concoction is named Miss Piggy Goes to Vermont. Can you guess what was on top of the donuts? You got it — bacon! The donuts were served with a chocolate sauce and a creme anglaise for dipping. I'm not a huge donut fan, so I could have gone without this, but I still did try a piece of one (sans bacon…) and I probably would have drunk the chocolate sauce if no one was watching…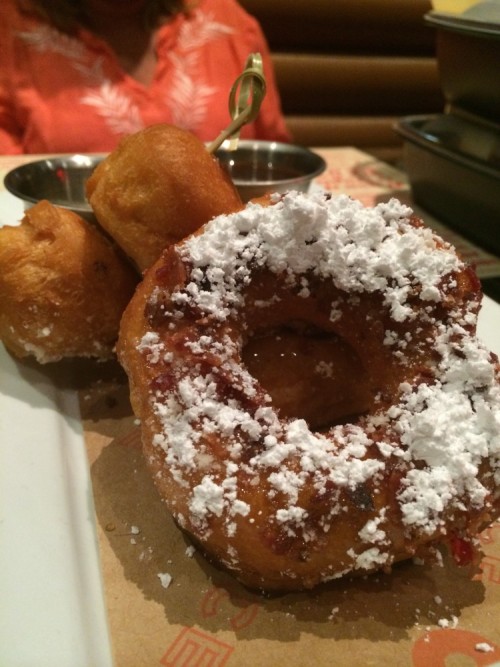 Thank you so much to the staff of The Office for a great dinner, and an even bigger shout out to Chef Kelley for introducing us to his new creations. I can't wait for the rest of the Boca/Delray area to try these new menu items!
Disclaimer: I was invited as a guest of The Office to this VIP menu tasting. There was no compensation received for this review and as always, all opinions are 100% my own.