Never miss a bite! Sign up here to receive new recipes and reviews straight to your inbox.
Disclosure: I was invited to dine as a guest of Henry's. No monetary compensation has been received for this post. As always, all opinions are 100% my own.
For over 17 years, Henry's has been a staple on the Boca/Delray dining scene, serving up quality American comfort food for customers who could be seen frequenting the restaurant at least 3-4 times a week. And while Henry's has spent these years under the helm of the successful Rapoport's Restaurant Group, the time has come for it to find a new home. As of this past April, new owners have taken in Henry's as their newest child — and you may already be familiar with them. The new owners have quite a few other restaurants under their umbrella, most notably Ke'e Grill and Tom Sawyer's, both located in Boca Raton, as well as Cool'a Fish Bar in Palm Beach and The Crow's Nest in Venice, FL. 
Just before the change in ownership occurred, a new executive chef was put in place. Florida-born-and-bred Chef Amy Mandile, the daughter of two restaurant owners in Stuart, has that culinary edge that only someone who grew up in a restaurant family can have. With no formal training, aside from the skills she developed as a child and the experience she gained while working in various restaurants, Chef Amy knew it was her passion and will to learn that would push her to the top. She began her career at Henry's in 2002, but left at one point to pursue an opportunity at Jazziz Bistro in Hollywood, FL; came back to Henry's, and then left again to work as a golf course Food & Beverage Manager; manager at Farmer's Table in Boca Raton and as the General Manager at Che in Delray Beach before finally returning to Henry's for good — and clearly, this is where she belongs.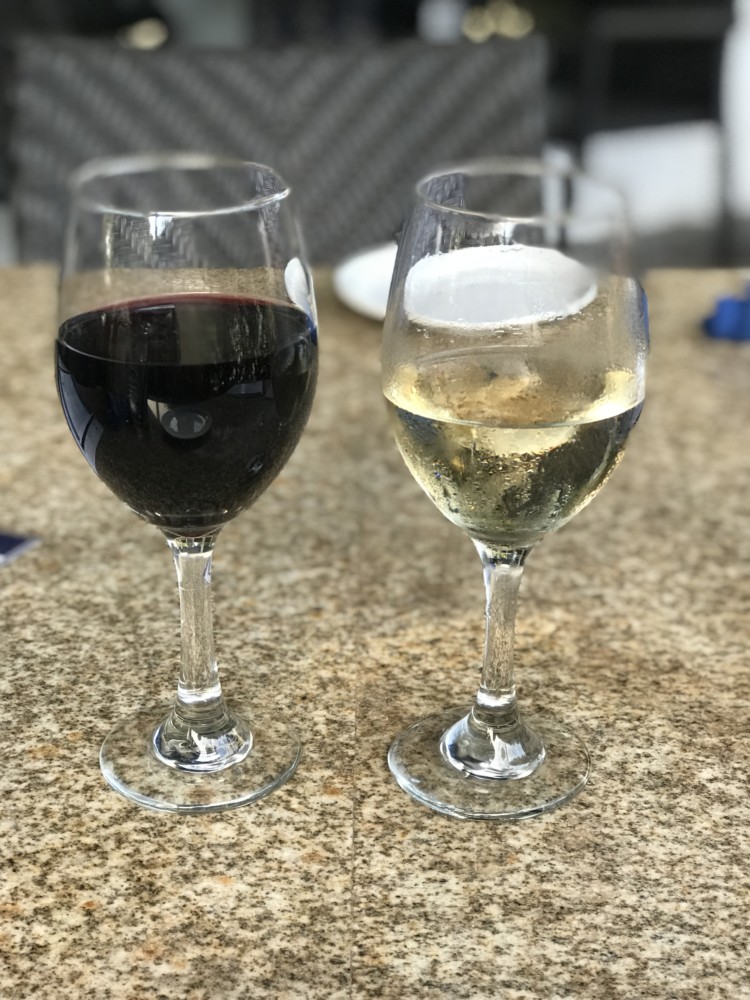 Now that summer is upon us, Chef Amy has taken advantage of this season's ingredients and abundance of fresh, organic produce available in our area to revamp the menu and add 15 new lunch and dinner items. For lunch, over half of the 11 for $11 menu has been replaced with new options including the turkey and brie wrap, Thai chicken salad, open-faced tuna melt, Mediterranean wrap and eggplant parmesan. This special menu is available to diners Monday through Saturday from 11:30am-3pm and includes a choice of soda, coffee or tea with each plate.
Organic has become a buzz word at Henry's, with three new organic salads on the menu as well as organic red and white wine varietals. The organic summer salad, with spinach, cherry tomatoes, toasted almonds, strawberries, goat cheese and champagne vinaigrette, is a beautiful blend of bright color and flavor. The combination of ingredients is well balanced, with the tart goat cheese helping to offset the sweetness of the strawberries and tomatoes. The dressing is where it's at though — so light and refreshing, it practically screams summer.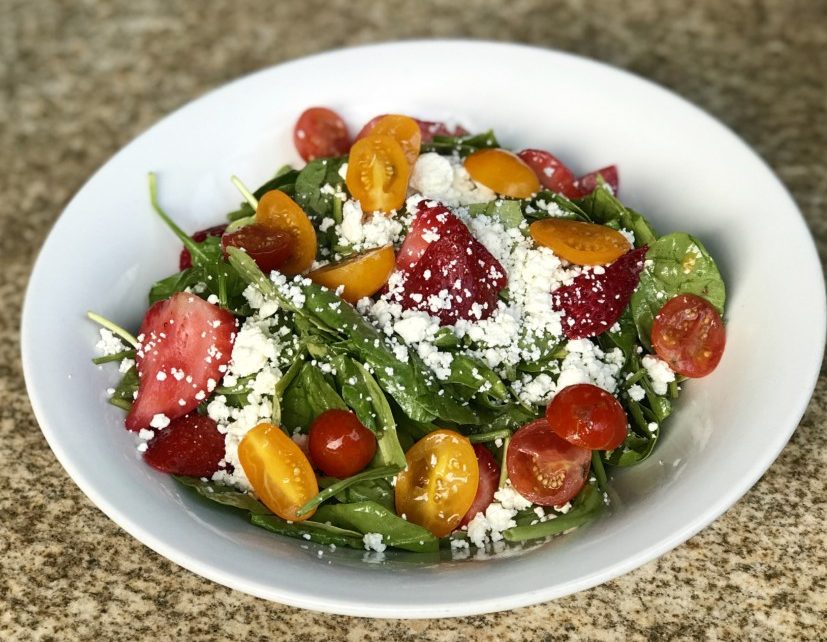 While Henry's signature nightly specials have for the most part remained the same — they'd be out of their mind to take away a guest's chicken pot pie on Sunday, southern fried chicken on Monday and Thanksgiving dinner on Thursday — the new dinner entrées are a welcome change, and have been well received. I've always enjoyed Henry's salmon dishes in the past, but this preparation is the best yet — grilled, on top of a bed of roasted vegetable ratatouille, drizzled with a pomegranate glaze. The salmon was expertly grilled, and the flavors popped right off the plate into my mouth. The veggies were cooked just right — not too mushy, as can sometimes happen when roasting them in a sauce. In addition to the grilled version, there are another two new salmon entrées including the mustard-glazed salmon with horseradish mashed potato and sautéed green beans and the house-made salmon croquet with spinach, tzatziki sauce, feta and tomato.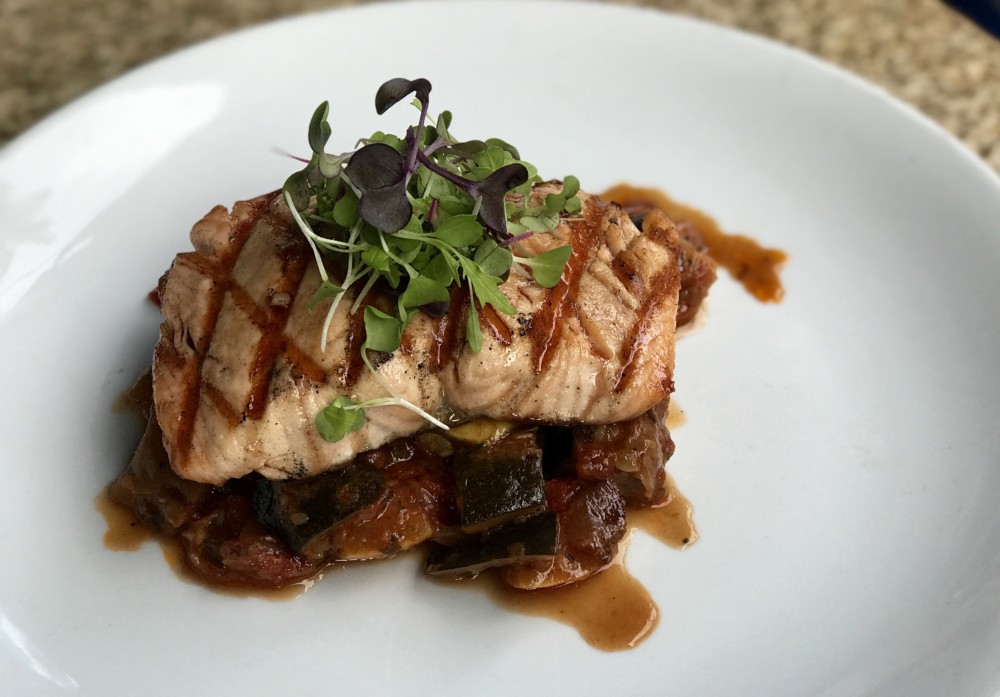 Now it was tuna time — sesame-seared tuna, that is. This new dish comes with Henry's signature fried rice, crispy carrots and a wasabi-soy drizzle. I wasn't able to have the fried rice because it contains butter, but according to everyone who has ever had it, it's completely and utterly amazing and holds its own against even the best Asian food places.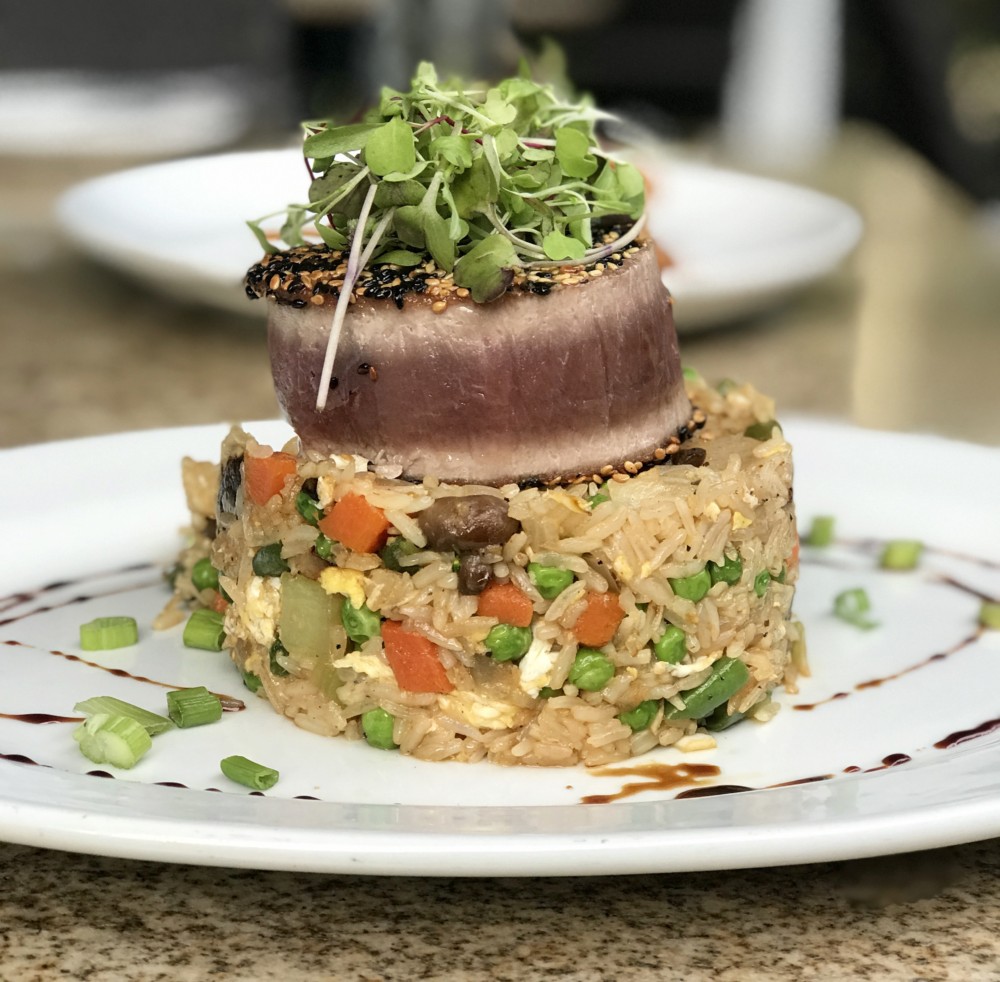 Although Chef Amy was not able to accommodate me with the rice, she did go out of her way to bring in gluten-free soy sauce and put together a beautiful side of vegetables for me to enjoy alongside the tuna — which, by the way, was incredible. The presentation alone will make you want to dive right in, and the flavor will keep you from putting down your fork.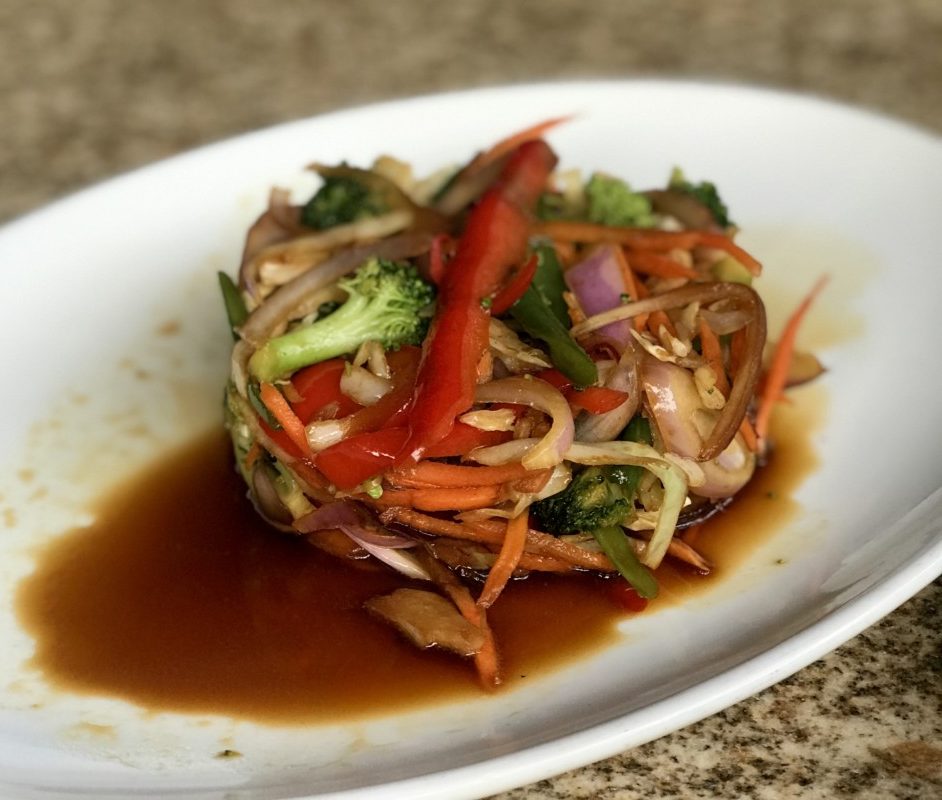 Chef Amy's new menu isn't the only thing turning heads this summer — the weekly promotions are quickly gaining attention too. The Summer Sunset menu, offered daily from 5-6:30pm, features a selection of 11 entrée options or four signature pastas, each coming with a choice of soda, iced tea or coffee and a starter soup or salad. There is also a Summer Wine Down menu available with a rotating list of featured wines by the bottle starting at $20 each, half-priced bottles of wine with the purchase of an entrée during Wine Wednesdays, and Kids Eat Free all day, every day, with the purchase of an adult entrée (children 12 and under). 
Henry's is located at 16850 Jog Road in Delray Beach. Lunch is served Monday through Saturday from 11:30am-2:30pm, and dinner is Monday through Saturday from 5-9pm, Sunday from 5-8pm. Happy hour is available daily at the bar and dining room, featuring half-price beer, wine and spirits from 11:30am-6pm. Guests can order from a special bar bites menu at the bar from 4-5pm. The bar is always open from 11:30am-2:30pm and 4pm-close.