It's rare for me to have the energy to actually cook when I get home from work, but somehow I managed to pull it together to whip up a delicious vegetarian dinner for myself this week. Pinterest has really been an eye-opener when it comes to finding new and inspiring dishes. I was definitely inspired by a recent eggplant with tomato and feta recipe I spotted, and changed it up a bit based on what I had in the kitchen. Much to my surprise, I had no feta cheese on hand (I usually do), so I used crumbled gorgonzola cheese instead. Mozzarella would be a good cheese to use for this recipe as well. I paired the eggplant with a side of sauteed spinach and broccoli, and served the veggies over a quinoa and brown rice mix — I use the brand Seeds of Change. This is a wonderful product. Organic, cooks in 90 seconds, and is a great complement to a lot of different foods. 
For someone who enjoys cooking, there is nothing like putting together a dish with your fingers crossed, hoping that everything will turn out good, then sitting down and taking that first bite, only to realize you did an awesome job and it tastes great! That's how I felt about this dinner. If you like eggplant, I recommend either using my recipe or using it as inspiration for your own! If you do, let me know — maybe you can guest blog your recipe! Keep in mind that I made this dinner for myself, so the measurements are based on a "dinner-for-one." Adjust the amounts accordingly.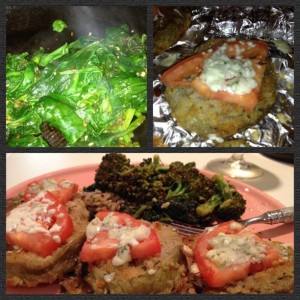 1/2 cup panko breadcrumbs
Small or medium size tomato
Reduced fat crumbled gorgonzola cheese
Preheat the oven to 400 degrees. Line a baking sheet with tin foil. Cut the eggplant into slices and place each wheel onto the foil. Drizzle a little olive oil over the eggplant and sprinkle bread crumbs on top until well coated. Slice a tomato and place one piece on top of each slice of eggplant. Top with a spoonful of crumbled cheese. Bake in the oven for about 12-15 minutes.
Coat a small pan with cooking spray and place on the stovetop at medium heat. Add the garlic and lemon juice and cook for a minute or so until browned. Add the spinach and broccoli. Let cook for a few minutes, occasionally stirring around the pan, absorbing the lemon juice and garlic. Remove the pan from heat and let cool.