Never miss a bite! Sign up here to receive new recipes and reviews straight to your inbox.
NOTE: This restaurant has since closed.
Disclosure: I was invited to dine as a guest of New River Pizza & Fresh Kitchen. No monetary compensation has been received for this post. As always, all opinions are 100% my own. 
With 18 years under its belt, New River Pizza & Fresh Kitchen is nothing new to the Fort Lauderdale community. But people may not realize that it's much more than just a place to pick up a great pie — the menu offers plenty of healthy choices, and gives those with vegan and gluten-free lifestyles a chance to enjoy comfort food that they normally aren't able to have. That's exactly what New River prides itself on — providing guests with good quality, healthy, dietary restriction friendly alternatives to the classics.
There are a lot of places in Fort Lauderdale that I'm unfamiliar with or have never visited, and New River was definitely at the top of that list. I'm thrilled to have been introduced to it though, thanks to my E.P.I.C. (Eating Partner in Crime) Jill. As a former Fort Lauderdale resident, she makes sure I'm always in the know about the local spots and the hidden gems. New River Pizza & Fresh Kitchen is not a full service restaurant — it's a small, mom-and-pop shop, situated next to a liquor store so you can BYOB/W. There's counter service and a few booths, and it's probably best known for take-out and catering. But don't let that deter you, because the menu is large and full of variety, the owner, Randy, is super friendly and accommodating, and the ingredients used are not what you'd expect from a neighborhood pizza joint. Like jackfruit. But more on that later…
I'll take grilled or sautéed calamari over fried any day of the week, but there was something about the Caribbean-style crispy calamari on New River's menu that had me intrigued. Unfortunately, most fried calamari is not gluten-free… But at New River it can be! Randy uses cornmeal instead of flour to dredge the calamari for those who request it to be gluten-free, and so, that's how we kicked off our meal. The Caribbean calamari is served with banana peppers, tossed in a jerk seasoning, topped with scallions and served with a cherry pepper aioli. The aioli does have egg in it, so I didn't have any of it, but Jill confirmed — it was a delicious complement to the calamari, which had a nice little kick to it but wasn't too spicy.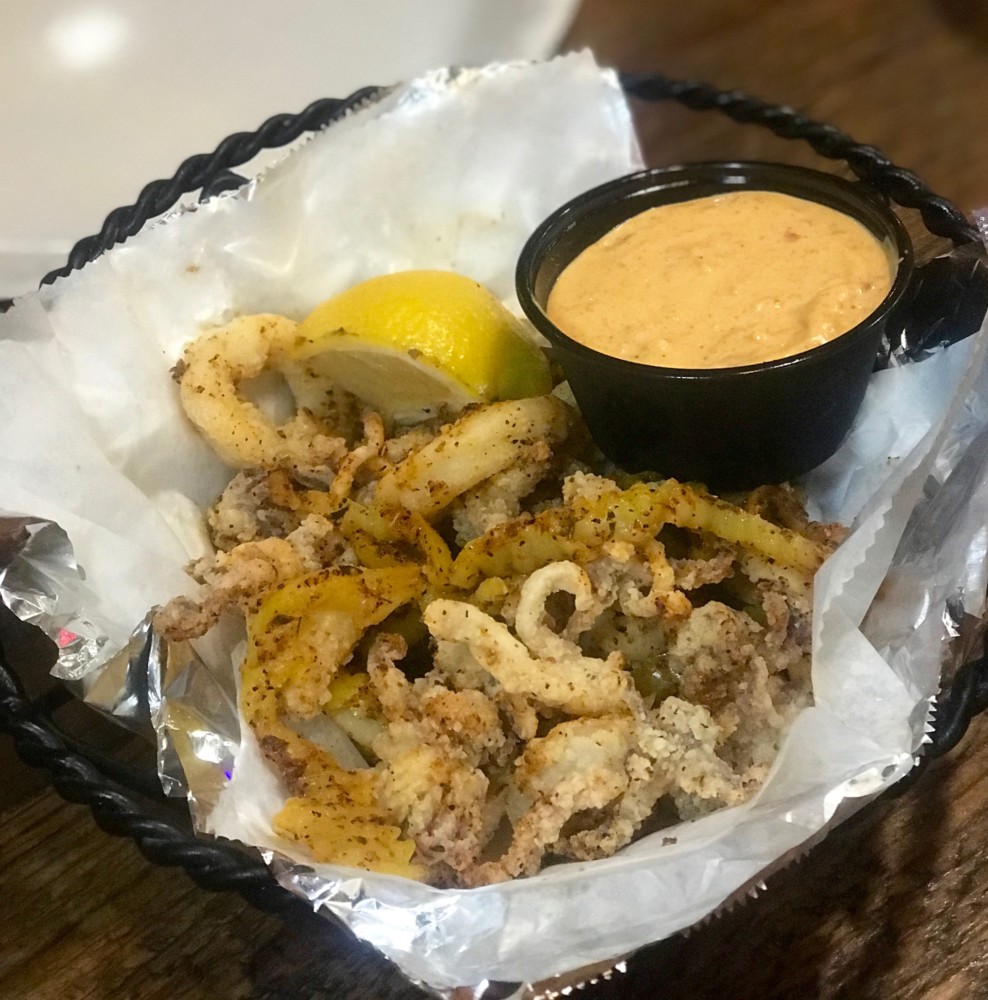 New River can make almost all of its menu items both vegan and gluten-free. All you need to do is ask. My eyes lit up when I saw Randy bringing out a pizza — something I haven't had in what feels like forever. This BBQ "chicken" pizza is is made with gluten-free crust, and the topping consists of BBQ sauce, vegan cheese and jackfruit. Unfamiliar with this vegan meat substitute? According to Today Food, jackfruit is a sustainably sourced food that is a relative of figs and grows in tropical areas of Southeast Asia, Brazil and Africa. The nutrition facts are pretty good — no saturated fat or cholesterol, light on sodium, low in calories and contains 3g of fiber and 110mg of potassium per serving.
It has the consistency of pulled chicken or pork, which is what people often use it as a replacement for in various dishes, like this BBQ chicken pizza. The crust was chewy with perfectly crisp outer edges, and had a very light, mild taste. The pizza topping was just over-the-top delicious. I honestly think you could serve this to a meat-eater and they'd be surprised to find out they weren't actually eating chicken. The flavors were spot on. I could have eaten the entire pie, but I boxed up the remaining slices to enjoy at home. You heard that right — I took home leftovers. I never, ever, ever take home anything. I actually hate eating leftovers and it's incredibly rare that I do. But this pizza was just too good not to have again, and I couldn't let the rest go to waste.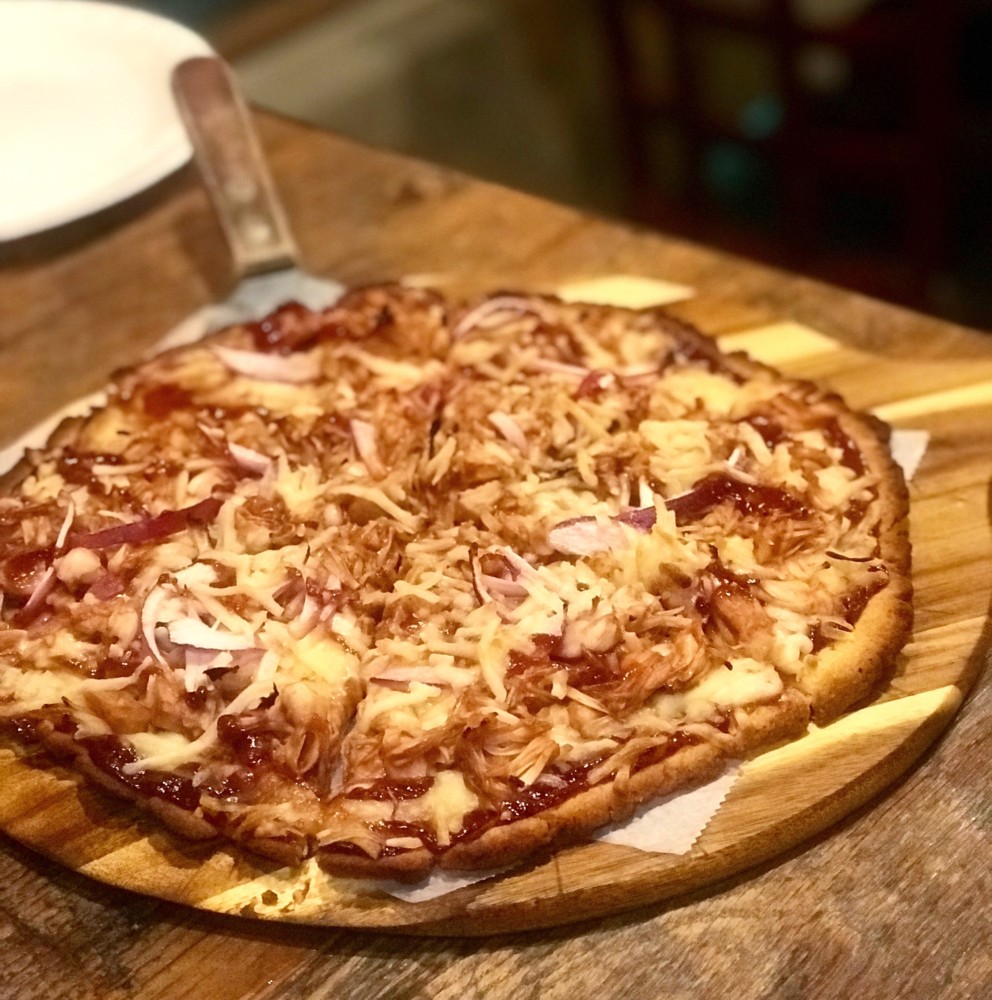 Another menu item that can be made vegan and gluten-free is the quesadilla. The same ingredients as above — gluten-free flour, vegan cheese and jackfruit — made it possible for me to have another dish I haven't had in a long time, and it tasted just as delicious, if not better, than ones I've had in the past. Nothing tasted fake or off-putting; it was as if I really was chowing down on a chicken and cheese quesadilla. Jackfruit really is a vegan's best friend.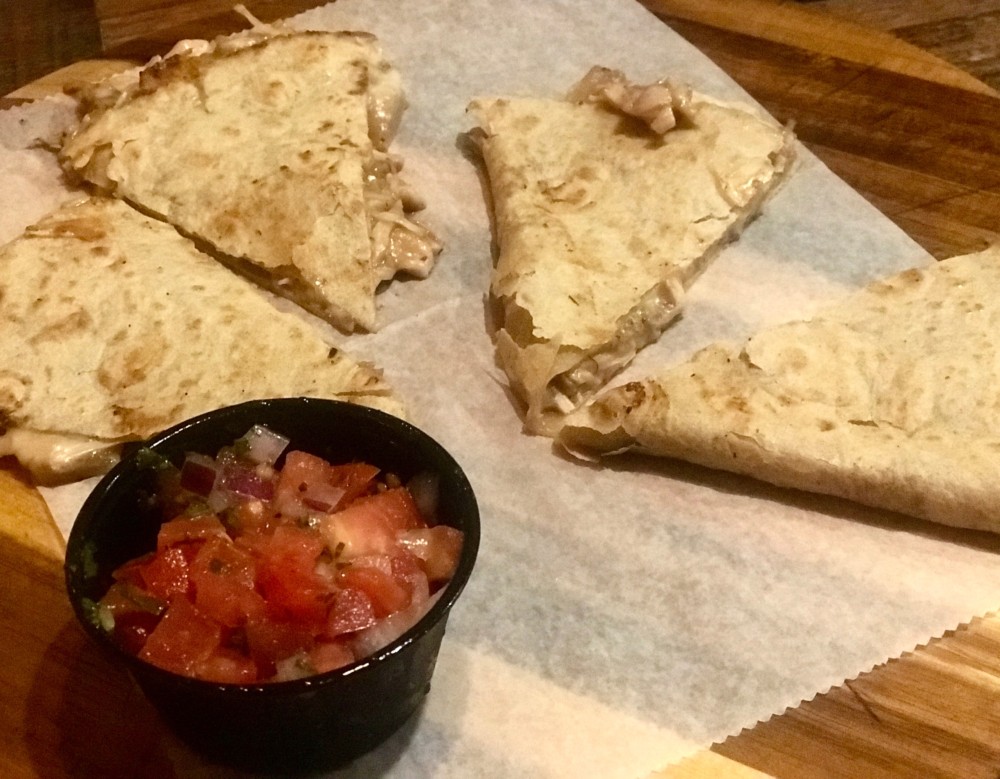 Now, we'll take a break from the vegan, gluten-free items and take a look at one of Randy's favorite things about the menu — the Philly Cheesesteak. Randy imports the meat directly from Philly, as well as the rolls. If you're from the Philadelphia/South Jersey area, you know how important it is to have an authentic Amoroso roll for your cheesesteak. It's not a Philly Cheesesteak without one! Guests can add peppers, onions and/or mushrooms, and choice of cheese. Hey, Dad, I know you're reading this and wondering when we're going here — and my answer is any time, Dad, any time. 
What goes better with a Philly Cheesesteak than a side of fries? Better yet, two kinds of fries! New River's hand-cut french fries are really good. I like my fries nice and crisp on the outside, but soft and potatoey on the inside, and that's exactly how they're done here. While I also loved the regular ones, the sweet potato fries stole the show. Guests can also order the regular fries with truffle and parmesan.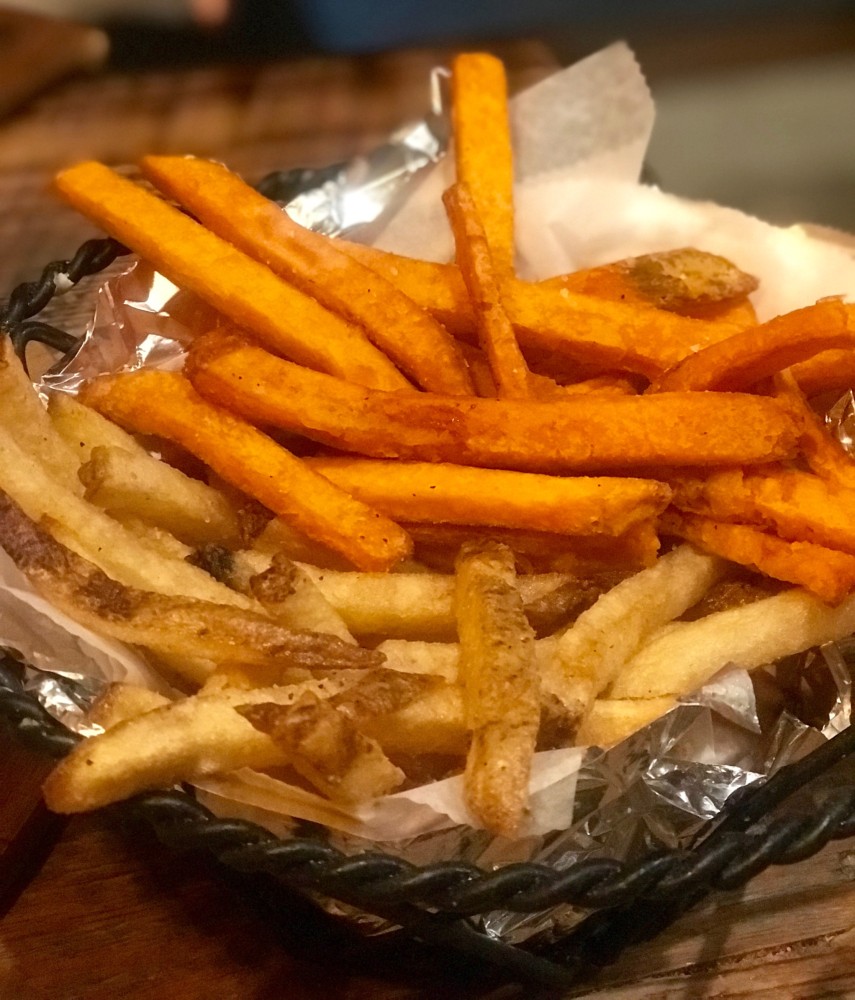 Aside from all the vegan, gluten-free variations on the regular menu items, New River offers a selection of healthy entrees including dishes like eggplant meatballs and zoodles, oven-roasted turkey with sweet potatoes, blackened tofu with vegetables, and shrimp a la plancha. I tried the baked wild Alaskan salmon, served with quinoa salad with tomatoes and cucumbers. The flavors were bright and zesty, and reminded me a lot of springtime. The salmon was cooked nicely, and although simple, tasted great. It's nice to know that you can walk into a place that is best known for its pizza and still enjoy a healthy meal. That's the direction most restaurants are going in — providing a well-balanced menu that allows groups of people with various eating habits to all enjoy a meal together — and it's a smart move to make.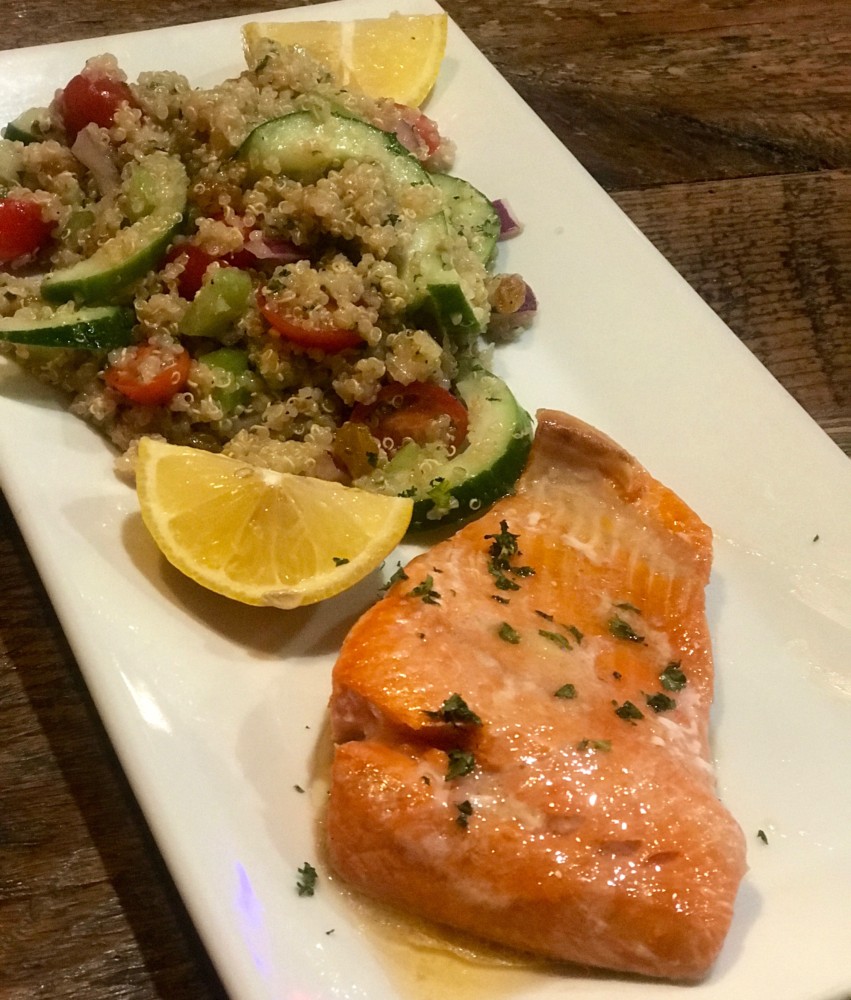 As I mentioned earlier, New River also offers catering. Most of the menu items are available, including a full range of soups and salads, all made fresh on the day of your event. New River can also supply all dessert and beverage needs as well. For inquiries, email sales@newriverhospitality.com or call (954) 618-7000 to arrange for a private tasting or consultation.
New River Pizza & Fresh Kitchen is located at  706 South Federal Highway in Fort Lauderdale. It's open daily from 11am to midnight.