Never miss a bite! Sign up here to receive new recipes and reviews straight to your inbox.
Guy Fieri just opened up a new restaurant at Bally's in Atlantic City. Chophouse is not your traditional steakhouse — it's a GUY FIERI steakhouse. Which means lots of traditional items with a twist, and plenty for pescatarians like myself too. The restaurant sits at the very top of the "big escalator" right in the center of the casino. You really cannot miss it. Once you step foot on the escalator and look up, your eyes are met with bright, neon lights that read "Guy Fieri's Chophouse." So yeah, you're not missing this place. If you're lucky enough to sit toward the back of the restaurant, you get a gorgeous view of the city. Floor to ceiling windows show off the nice-looking parts of AC. This is where I spent my last night in NJ visiting with my family.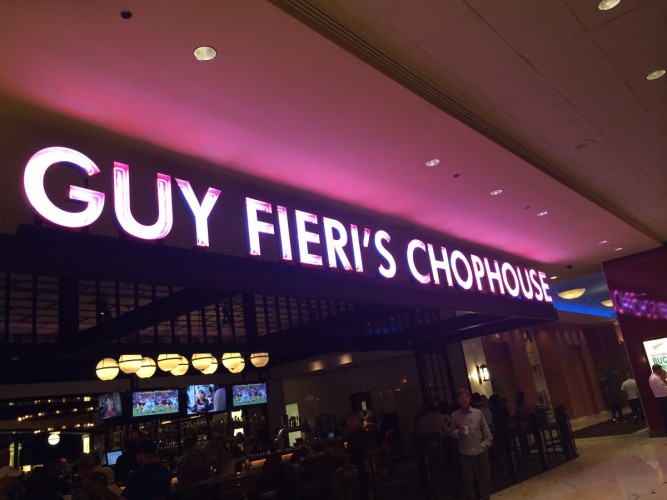 I was skeptical about going to the restaurant after hearing how much flack Guy's last place got. The reviews of his New York spot were awful, and I was afraid this would have the same fate. But my mom is a Bally's employee, so she was able to sample the menu for one of its opening parties and said it was great. Reviews have been stellar, and people seem to really like the place. So, as I planned my trip home to NJ, I started to get pretty pumped for our dinner reservations. After all, it is Guy Fieri.
I'll start out by saying that the service was incredible. Not only were we greeted promptly, but we were offered a tour of the restaurant. The hostess showed us around, explaining everything as we passed. The gift shop with Guy Fieri paraphernalia… The raw bar… The potato rig that, if ordered, is brought table side, and your loaded potato dish is assembled right before you with whatever toppings you want… She even knew exactly what the faint yet delicious smell was in the air as she seated us at our table. "That's one of our desserts…the flambéed ice cream."
Our waitress was equally as personable and friendly. Everyone has nicknames, and hers was Trinity. We also met Bubba who quickly became our best friend after he found out that I was a food blogger. He must have come back to our table at least ten times throughout the night just to talk about the food and see how we were enjoying ourselves. Trinity and Bubba made our experience at Chophouse a lot of fun, but it was the food that made it incredibly memorable…
Mom and I started out with cocktails — she had the Not Your 8th Grade Punch with two kinds of rum and fruit juices, and I had the Lemon Drop or Not with St. Germain and garnished with rosemary. She chose sweet, I chose sour, and neither of us liked each others' drinks haha. Onto the pretzel bread… Yep, bread service at Chophouse is not your typical basket of rolls. Each guest gets their own braided pretzel bread, but this isn't even the best part. The homemade flavored butter made with a pale ale, honey dijon mustard, onion powder, and dill is a thick, creamy butter that pairs perfectly with the saltiness of the pretzel. Yep, Guy, you know what you're doing buddy!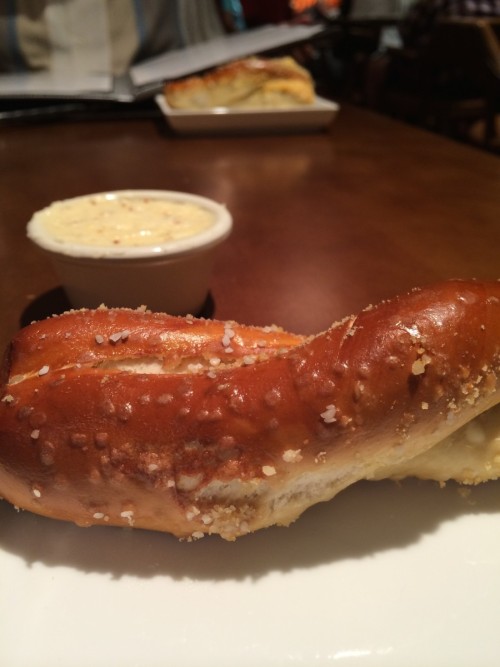 The menu is all over the place — there's a raw bar, sushi, oysters, and seafood cocktails; pub-like appetizers; soups and salads; tons of different cuts of meat; some serious crustaceans; burgers; and a variety of potatoes, including the rig I talked about earlier. The four of us ordered very differently, which made for a nice range of dishes to hit our table. My sister started with the Lobster Knuckle Chowder, a bowl that doesn't quite look like soup when it's placed in front of you, just a bowl full of lobster, potatoes and cheddar biscuit — then the waiter pours the liquid right over top of the ingredients right before your eyes. Gorgeous to watch, and even more delicious to taste.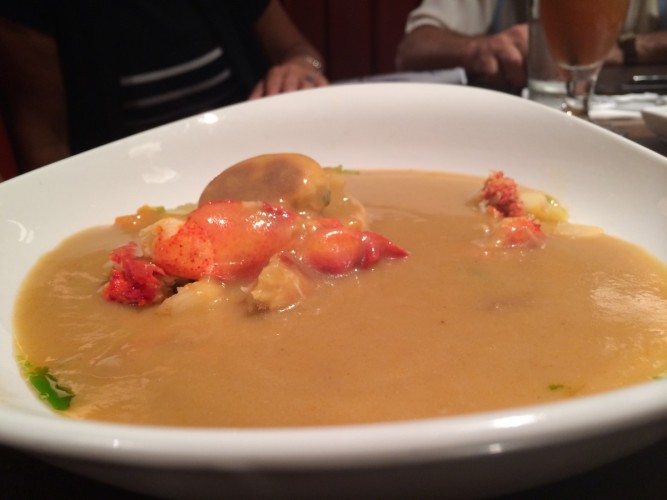 I couldn't resist the Malibu Oysters, a dish that Trinity told me Guy came up with alongside Matthew McConaughey. Broiled oysters topped with havarti cream, garlic, spinach and crispy shoestring potatoes. I fell in love with chargrilled oysters in New Orleans, but they weren't anything like these broiled ones. These had SO much flavor, I was hesitant to even let my mom try one. But I did — someone else had to experience how amazing they were!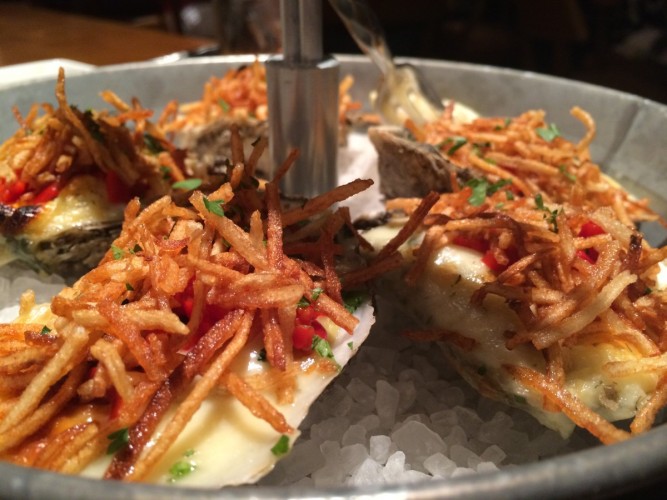 Rebecca and I both ordered salads for our entrees — she got the Thousand Island Shrimp Salad with jumbo shrimp, heirloom tomatoes, Boston lettuce, and hard-boiled egg tossed in a Louis Dressing, which is what I assumed to be a creamy thousand island-like dressing.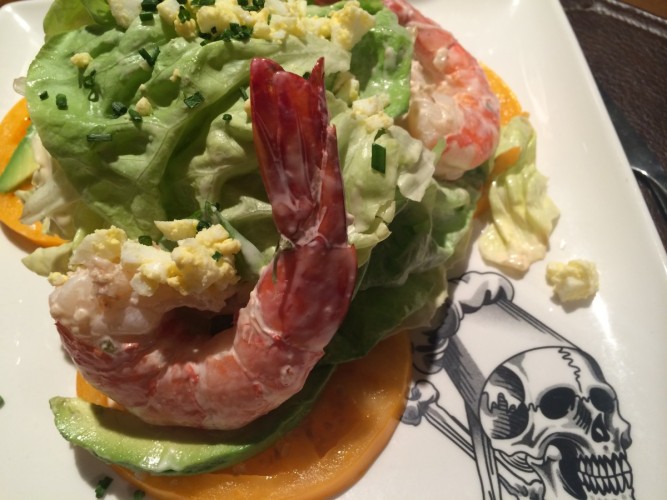 I had the Jersey Tomato Salad with (obviously) Jersey tomatoes, sweet Vidalia onions, baby arugula, extra virgin olive oil and 1o-year aged balsamic vinegar. The salad was refreshingly sweet with big bursts of flavor and color. It was a smart choice to showcase Jersey's finest produce at a Jersey location.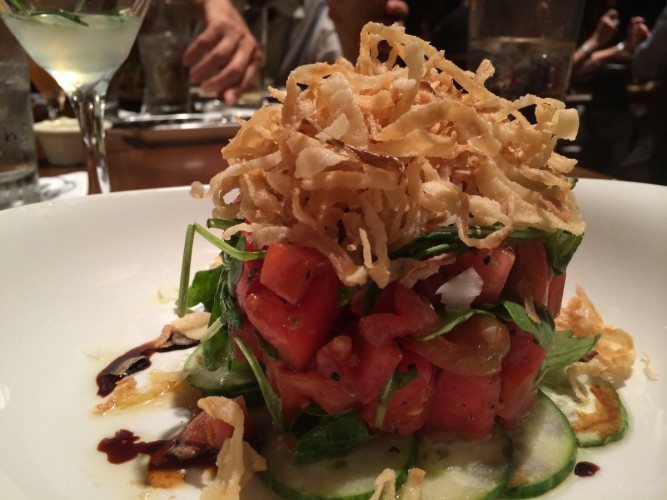 My mom had the Parmesan-crusted Butterfish, something completely new to her. I tried to explain how smooth and buttery Butterfish is, but she couldn't fully understand until she took her first bite. After seeing her eyes light up, I knew she got it. The dish also came with sautéed spinach and a white bean ragu — a seriously understated combination of ingredients that really made an excellent complement to the fish. Spinach and beans seem so simple, but they really can be pretty gourmet.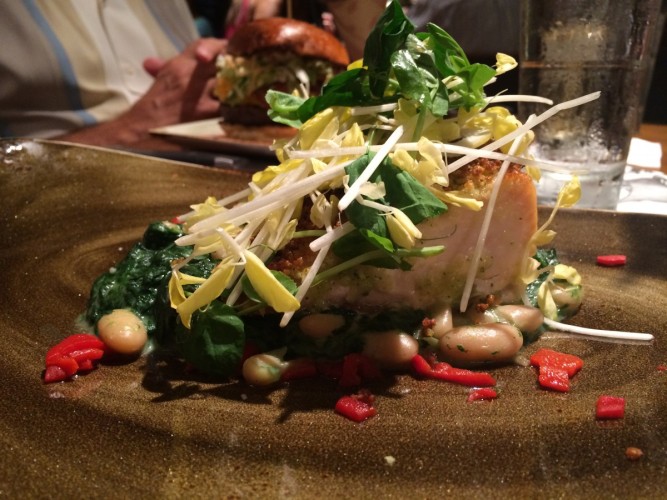 Now, my dad ordered what I would describe as a heart attack on a bun. But he loved it. And he was smart about it and only ate half, making sure to box up the other half to bring home. The Bacon Mac 'n Cheese Burger. Yes — Bacon. Macaroni and Cheese. Hamburger. All in one. There were also crispy onions and cheddar cheese. Oh yeah, and the side of garlic-parmesan fries. Those fries though…I totally stole a handful and devoured them. Thick round potato crusted with parmesan and flavored to perfection with garlic. SO good. This burger is what made Guy the New York City Burger Bash winner, so it's definitely a winning dish. I'm glad my dad ordered the most prized item on the menu.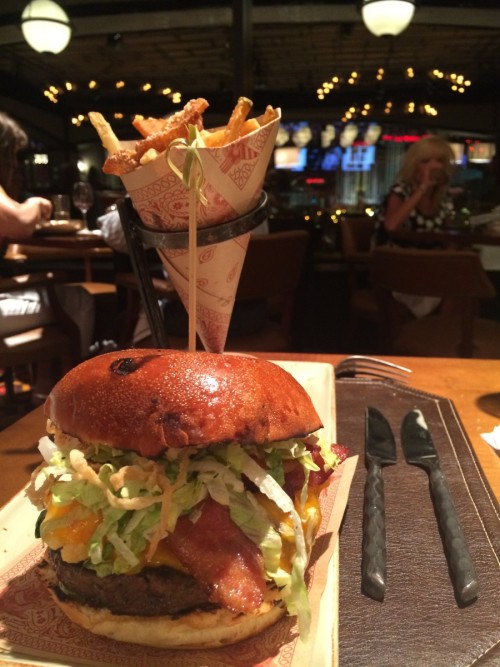 As tasty as everything was, I don't think anything could come close to the dessert. The Chophouse Cheesecake — chocolate covered potato chips, chocolate covered pretzels, hot fudge, Reese's Peanut Butter cups scattered throughout, and a graham cracker crust unlike no other. Decadent doesn't even begin to describe how incredibly rich and indulgent this dessert was. It's shaped as a half moon and looks like a huge mess with ingredients all over the plate. But I promise you, it's a beautiful, delicious mess that you will never ever ever forget. It's huge — the four of us could only finish half.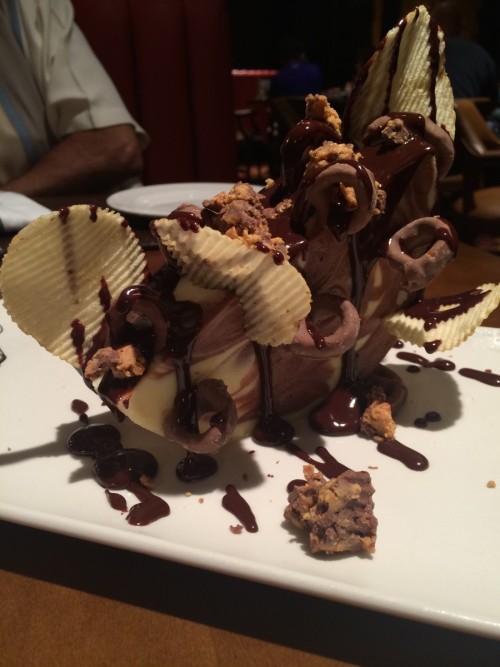 You absolutely, 100% cannot go to Chophouse without ordering this for dessert. It's mandatory. You'll be sorry if you leave without tasting this perfect combination of sweet and salty.
Atlantic City has its share of great restaurants, but I don't think there is anything like Chophouse. It's an entity of its own, and I think it's exactly what Bally's needed to step up its game and match some of the other high profile casinos. I'm looking forward to seeing how well it does. And I'm already drooling thinking about the next time I'm home to visit. Chophouse Cheesecake, I'm coming for you!