Never miss a bite! Sign up here to receive new recipes and reviews straight to your inbox.
It's impossible for me to visit my parents in New Jersey and not make them take me to whatever the newest restaurants in town are. I had heard about a new seafood place in Margate (NOTHING like the Margate here in Florida…) from one of my friends and knew I had to check it out while I was home. Shuckers is a super cute little restaurant and bar about a block or so from the beach with indoor and outdoor seating and all the makings of your typical beach-town hotspot.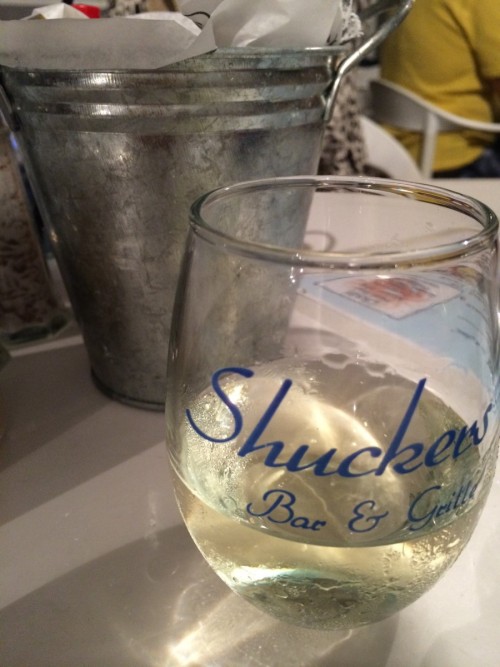 The porch outside was completely packed with patrons when we got there, so Mom, Rebecca and I took a seat at the bar while we waited for a table. They had my favorite Sauvignon Blanc, Kim Crawford, so I was pretty satisfied snacking on super addictive oyster crackers and sipping on my glass of white wine for the 20-minute wait. Those oyster crackers — ugh, SO good. Why don't Florida restaurants have these?! These are not those tiny little hexagon-shaped oyster crackers you get in a bag to put in your bowl of soup. No — these are big, round hunks of cracker that take up your entire mouth when you pop 'em. I have only ever seen ones like this served at seafood restaurants here like Shuckers and my ultimate fave, The Crab Trap. Maybe it's a South Jersey thing. Maybe I have to go hoard bags of them from Shuckers to bring back to Florida with me…
So this place is hardcore seafood. Oysters and clams are shucked to order. Hardshell, Dungeness, or Alaskan King crabs. A raw bar, clam bake options, and an appetizer list with everything from the typical fried calamari and mussels to Shuckers specialties like home made potato chips or seafood stuffed clams. There are sandwiches — crab cakes and lobster rolls and fish tacos and more — and a whole slew of incredible seafood entrees. They have a three-item "Land Lovers" section too, for those weirdos who come to a seafood restaurant and don't want to eat seafood. 😉
But what caught my mom's and my eye was the Seafood Tower, a heaping pile of all the best in straight-from-the-sea deliciousness. Clams, oysters, jumbo shrimp, crab claws, a whole lobster, and crab cocktail are served with cocktail sauce and a garlic aioli for dipping. Slurping the clams and oysters from their shell was like taking in a mouthful of ocean water — in a good way. The briny taste really made me feel like I was back home at the beach. New Jersey seafood is just so much different than Florida…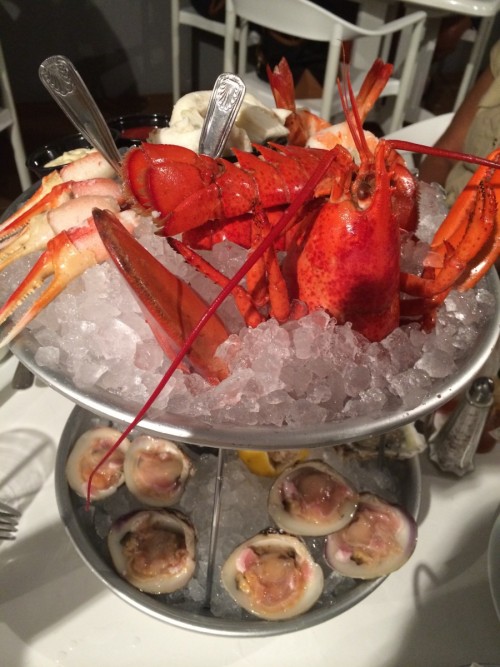 It was the perfect amount of food for two people to share. Actually a third would have been welcomed with open arms.
My mom and dad also tried their Crab Bisque, which was the special soup of the day. This soup was comparable to that of The Crab Trap. That's definitely saying something — The Crab Trap's crab bisque has been voted Best of the Shore for years. Shuckers' version was on point with flavor and texture; the big difference was theirs had shredded pieces of crab as opposed to large chunks at The Crab Trap's.
Shuckers is a great addition to the restaurant scene in South Jersey. I'm glad I was able to get a taste during my trip. I would definitely come back, if not for the tasty food then for those oyster crackers!
We couldn't leave without taking a family shot! 🙂