What's better than a chocolate brownie? How about a chocolate brownie with Nutella swirled inside and crumbled Ferraro Rocher on top? Sounds like a winner to me!
On my days off, you will most likely find me in the kitchen trying out a recipe from Pinterest, creating my own recipe for that night's dinner, or baking up a storm. I put on my Pandora, tie on my apron, and hang in the kitchen all afternoon. A lot of people say that baking is therapeutic. I totally agree. It always puts me in a great mood. I could feel super anxious or overwhelmed about something, but give me a request for cookies or cake and by the time the timer goes off on the oven, all worries have cleared from my mind. Do you feel this way about cooking or baking, too? I think asfood bloggers, we all must; otherwise we wouldn't spend so much of our time doing this!
A half empty jar of Nutella in the cabinet inspired me to make something using this amazing hazelnut spread. I've never met anyone who doesn't love Nutella. It's rich, creamy, nutty and chocolaty all in one. Seriously, does it get any better? I think not.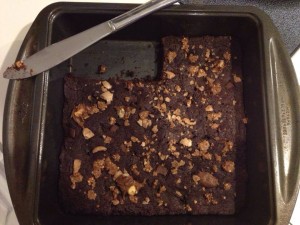 Nutella Brownies
Adapted from Two Peas and Their Pod's Recipe for Nutella Brownies
¾ cup all-purpose flour
¾ cup granulated sugar
½ cup bittersweet chocolate, coarsely chopped (I used a chocolate bar that a customer from work brought me back from her trip to Europe)
½ cup unsweetened cocoa powder, sifted
¼ tsp baking powder
½ tsp kosher salt
1/3 cup canola oil
2 large eggs
½ cup Nutella
2-3 Ferraro Rocher chocolates, crumbled

Preheat the oven to 350 degrees.

In a medium bowl, sift the flour, sugar, cocoa powder, baking powder and salt. Add the chocolate chunks and whisk until combined. In a small bowl, beat the oil and eggs. Add the wet ingredients to the dry and mix until just combined. Stir in the Nutella.


The batter will be very thick and sticky. Using a rubber spatula, scrap the batter into an 8-inch square baking pan. Use the spatula to smooth it out evenly. Top with the crumbled Ferraro Rocher chocolates. Bake for 20 minutes or until a toothpick comes out clean.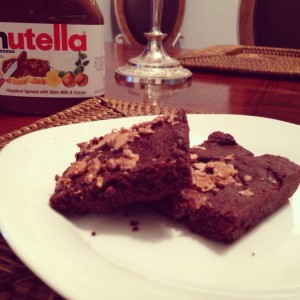 Posted with Blogsy