Although South Florida is pretty good on its variety of restaurants, I have not found too many great Indian places. So while in New York, this was definitely on my list. Lucky for us, one of our company's partners is from India and was in town exhibiting at Book Expo America. When I expressed my foodie-ness and how I was itching for some Indian cuisine, he went ahead and made reservations for dinner at a restaurant called Copper Chimney for us, along with two other friends/potential clients. It's right in the heart of I guess would be "Little India" on the Lower East Side. There were a ton of Indian shops, markets and restaurants in the area, but apparently this Coppers Chimney is New York City's best. They promote a "Modern Indian" menu complete with all the best traditional foods.

Our friend Nizam took care of ordering for the table to share. As you know, I love this way of eating. Especially when there are so many eclectic and iconic dishes to try. Four appetizers and four entrees later, the four of us were stuffed! But ohhh so happy.

Can I just tell you how much flavor is packed into even the smallest little bite of food? Nothing was overly spicy, but there was a distinct amount of heat giving each dish it's own flavor profile that left me wishing I could bottle up the entire restaurant and bring it back to Florida with me.

Let's start with the assortment of appetizers, shall we?

Bombay Bhajia (chickpea fritters filled with onion, cottage cheese and spinach), Tandoori Samosa (crispy turnovers filled with spiced potato and baked in a tandoor oven), Dahi Aloo Puri (crispy mini poori's filled with potatoes and chickpeas in yogurt, tamarind sauce topped with chat masala spice), and Shrimp Jalfrezi (shrimp in a thick red sauce flavored with onions, bell peppers, and tomatoes).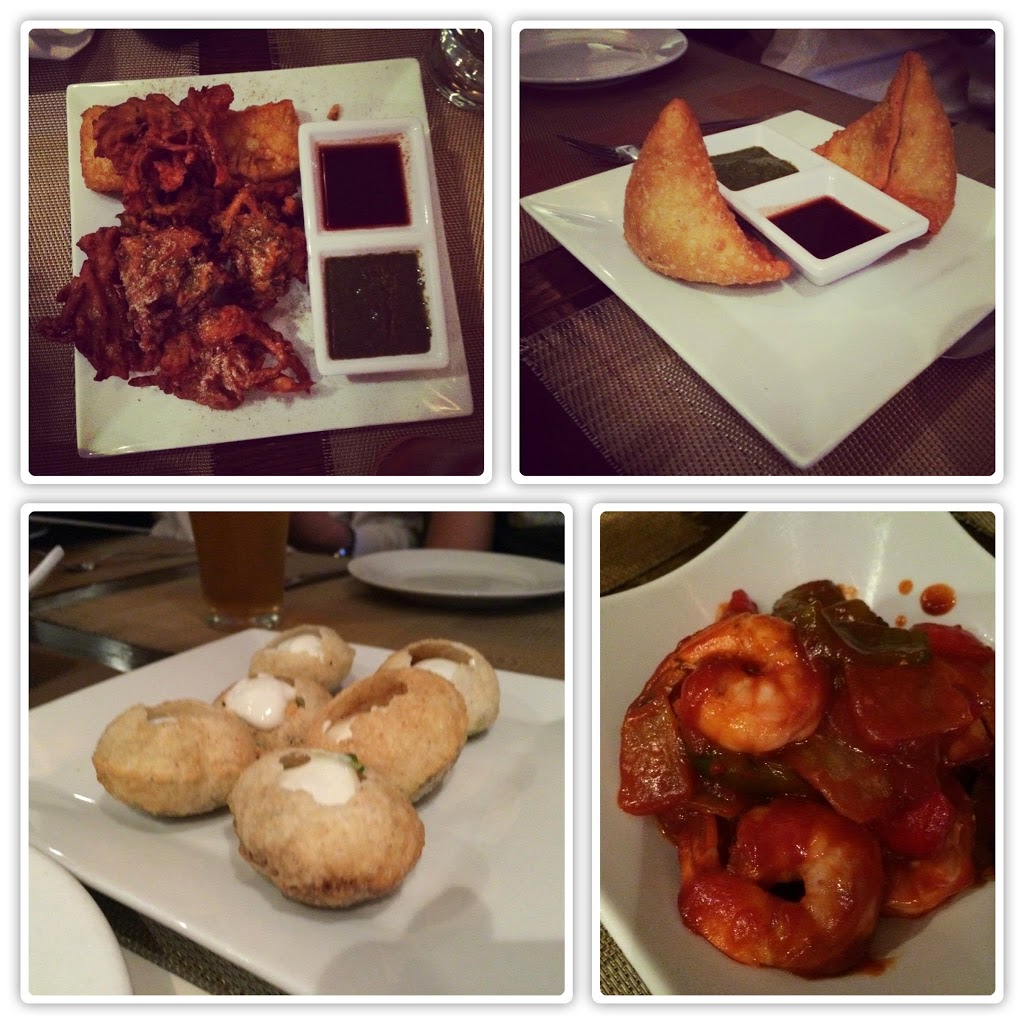 Dinner was an interesting concept. We were served a large bowl of steamed basmati rice accompanied with four different dishes meant to be poured over the rice, smothering it to pieces. We had quite the assortment — Methi Makair Mutter (corn and green peas in a fenugreek-flavored onion sauce), Dal Makhani (creamy black lentils-not shown), Goan Fish Curry (a traditional dish from Goa where the fish is cooked in coconut milk and spices), and Chicken Tikka Masala (boneless chicken cooked in a sauce flavored with tomatoes and onions).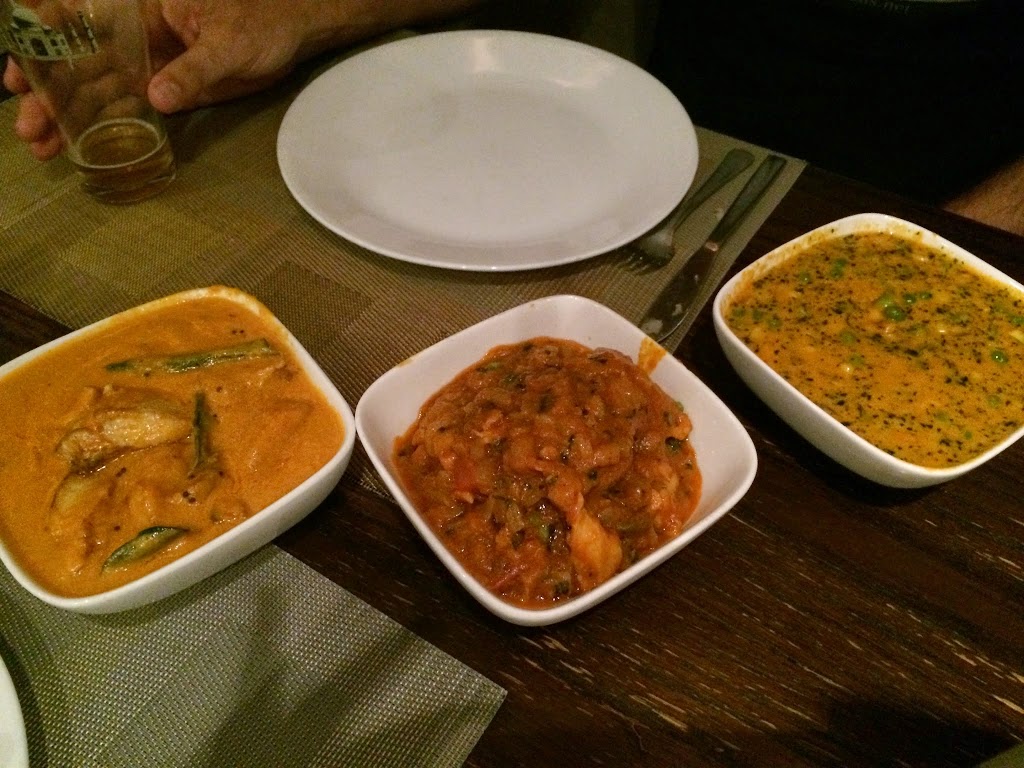 This is where the Naan bread was served too — my favorite! Though it was a little on the spicy side, I could not stop eating it! The perfect grill marks, the warm dough so soft and fluffy both inside and out, how each piece you tear off sops up all the extra sauce after you finish your rice…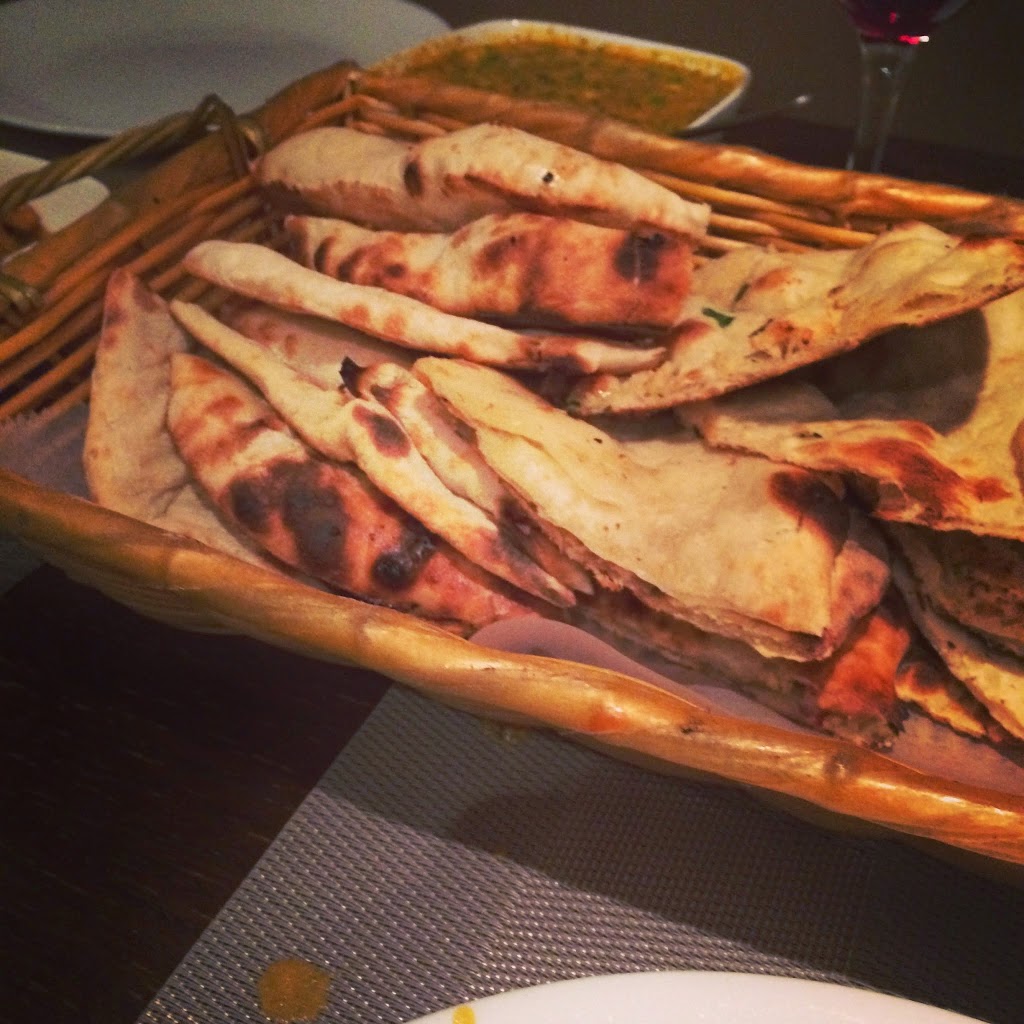 I was in foodie heaven.