I can't believe I've lived in my apartment for a year already. Time flies by. I remember when I moved in last year, painting my bedroom with friends, and all the time I spent organizing and shopping for cute little decorative things to put throughout the place. Welp, while it has been a good year, but it is time to move on to another place. I've decided that living alone just ain't cutting it, so I'm moving in with my friend Amy. You remember Amy…my baking buddy at my old job! Actually, she's my ex-manager, but she has become one of my best friends and a big positive role model in my life. I am super excited to move into her house with her and her adorable daughter, Emma (who loves to bake, so there will be tons of goodies coming at you all the time once I'm all settled in over there).
Last weekend we painted my new bedroom. We obviously needed to store up energy for the night ahead of us, so we prepared dinner to enjoy together before we got started. Amy's boyfriend picked up some fresh bread from Publix, Amy made tilapia and I took care of making a salad and side dish. The salad was inspired by two salad recipes we have made at work: Spinach salad with toasted cashews, feta cheese, kiwi, mango, papaya, and figs in a shallot vinaigrette. For the side, I made Veggie Quinoa Cakes coated in Panko breadcrumbs. Come by tomorrow for the recipe for this easy side dish.
Oh, and I made these Oatmeal Ginger Sandwich Cookies with Cookie Butter Cream Filling for dessert, because what dinner is complete without dessert!
Oatmeal Ginger Sandwich Cookies with Cookie Butter Cream Filling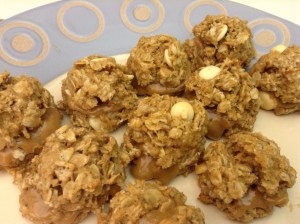 1/2 cup brown sugar
1/2 cup? vegetable oil
2 egg whites
1 tsp vanilla extract
1/2 cup non-fat Greek yogurt
2 tbsp Gourmet Garden ginger (alternatively, you could mince up some fresh ginger too!)
1 cup white whole wheat flour
2 1/2 cups old fashioned rolled oats
1 tbsp cinnamon
1/2 tsp baking soda
1 cup Trader Joe's Speculoos Cookie Butter or Biscoff
1/4 cup unsweetened almond milk
3-4 tbsp powdered sugar
1 tbsp Gourmet Garden ginger
For the cookie:
Preheat your oven at 350 degrees. In a medium bowl, beat the brown sugar, oil, egg whites and vanilla together. Add the Greek yogurt and ginger and continue to beat until smooth.
In a large bowl, combine the flour, oats, cinnamon, and baking soda. Make a well in the center of the dry ingredients and pour in the egg mixture. Mix the wet ingredients into the dry until the batter is well combined.
Use a cookie scoop to measure out your batter onto a baking sheet lined with parchment paper or a baking mat (such as Silpat). Flatten the cookies with the back of a spoon (this is the part I forgot to do, so my cookies looked like big balls and I had to slice them in half horizontally so I could still make them into sandwiches!) Bake for 8-10 minutes.
For the filling:
In a small bowl with a hand mixer, beat together the cookie butter, almond milk, ginger and powdered sugar until it becomes a thick and creamy texture.
These cookies were insane. I wholeheartedly believe that the amazing flavor is all thanks to the Gourmet Garden ginger paste I used. That stuff is terrific. They have so many different herbs and spices. I want them all. I did also get the basil and chili pepper, both of which I used in my veggie quinoa cakes. Don't forget to come back tomorrow to get that recipe!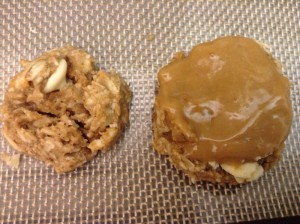 Disclosure: Gourmet Garden sent me free coupons for their products during my participation in Blogger Brunch Week. I was not compensated for this post and all opinions are my own.

Posted with Blogsy