Disclosure: I was invited to dine as a guest of Oceans 234. As always, all opinions are 100% my own.
Oceans 234 Introduces Local South Florida Chef Takeover Series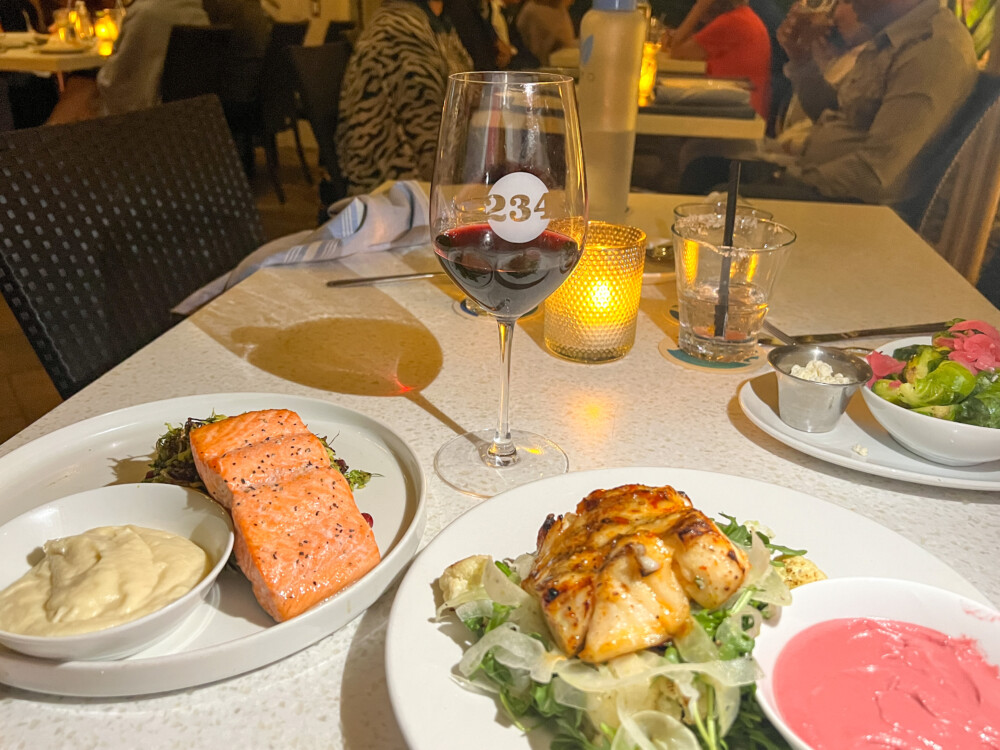 Oceans 234, the award-winning, oceanfront hotspot at the Deerfield Beach Pier, is set to host an array of top South Florida chefs as guest stars in its kitchen alongside Executive Chef Nicole Fey. Each featured chef will create a special menu of dishes, available for a limited time only.
The series kicked off with acclaimed Chef Dean Max, co-owner of DJM Restaurants, from January 20th through February 3rd, and I was lucky to have a chance to grab a reservation for dinner and try one of his dishes.
Chef Dean's menu was very seafood-focused, with fresh and local ingredients wherever possible. The menu featured an Ahi tuna coconut tostada made with ceviche-style tuna, avocado, cucumber, red radish, green onion, toasted sesame and cilantro oil, a Greek style salad with harissa grilled shrimp, red pepper, tomato, feta, black olives, walnuts, parsley yogurt and oregano vinaigrette; a Maine scallop crudo with avocado puree, red radish, jalapeño, crispy shallots, cucumber, watermelon radish and Florida citrus vinaigrette; and a spicy honey-grilled black grouper that was served with crispy cauliflower, marcona almonds, arugula, pickled fennel, parsley leaves and a beet tahini sauce.
I tried the grouper main dish and it was delicious! The fish was cooked perfectly, and the marinade was definitely more sweet than spicy, which I appreciated.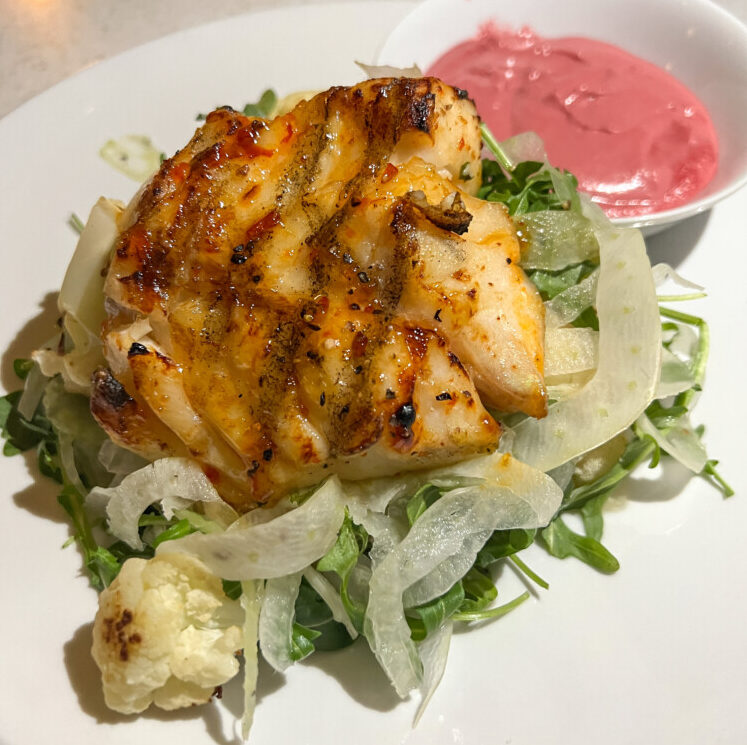 Fresh Seafood with a View 
Oceans 234 owner, Danielle Rosse, has a great lineup of chefs in store to feature throughout 2022, but the Chef Takeover series isn't the only reason to visit this gorgeous restaurant on the beach. First of all,  the fact that you truly are right on the beach is amazing. The sand is mere footsteps from your table, the water in plain view, and you can feel the ocean breeze as you sit and dine al fresco.
If you have never been to Oceans 234, it is a sight to see. The restaurant went through a $1.8 million renovation back in 2012 when Rosse purchased it and became its sole owner. She has turned it into a true dining destination and haven for community affairs, always participating in and hosting events and giving back to local charities.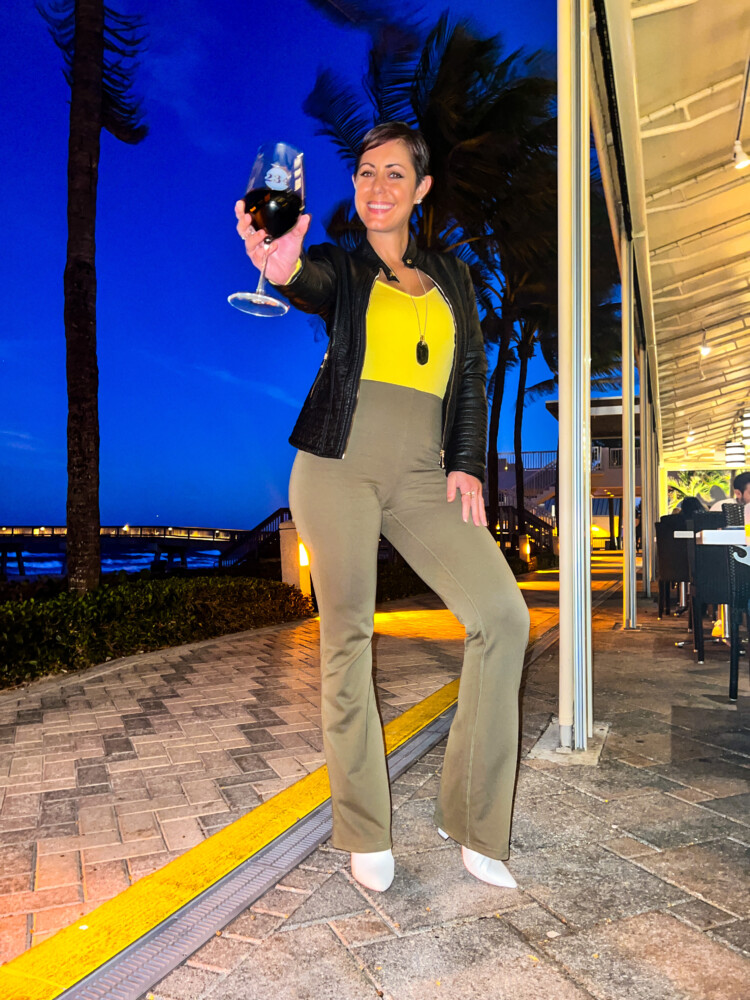 Although I came mainly to give one of Chef Dean Max's speciality dishes a taste, I obviously had to order from the regular menu too. I brought along my new friend and fellow food & fitness enthusiast, Mallory, and we kicked off our girls night with one of the restaurant's signature cocktails, the Skinny Rosa. It's made with Oceans 234's Private Reserve Codigo 1530 Rosa Tequila, hibiscus, cold-pressed lime juice and agave. It's light, refreshing, and exactly the kind of drink you'd want to enjoy with your girlfriends on the beach! Cocktails came first, and red wine came later to pair with our food.
For our appetizers, we got the hamachi crudo, which typically comes with yuzu ponzu, Japanese pickled vegetables, crispy quinoa, jalapeño and lotus chips. The kitchen was extra cautious about my dietary restrictions (with no hesitation or question at all!) so they prepared it a bit differently for us, excluding any citrus or gluten-filled components. The fish was incredibly fresh and flavorful, and I really didn't even miss the extras.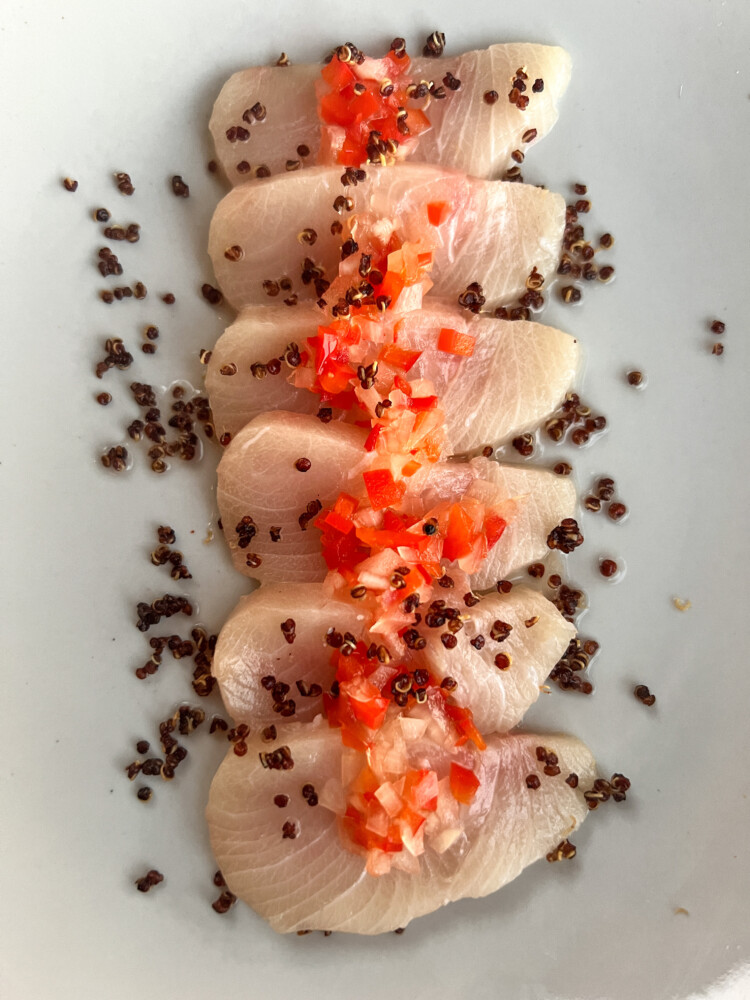 We also had the grilled octopus and chorizo, which is totally Shaina-friendly so it could be served as is without any changes. This dish has been on the menu for a while, and it is always one of my go-to choices! Charred tentacle and thick slices of chorizo sit upon a salad of fennel, tomatoes, roasted potato, olives and herb oil. If you know me, you know I despise olives — but they aren't very prominent in this dish and are very easy to avoid if you don't like them. Their briny taste doesn't leech onto the other ingredients on the plate, so they didn't bother me too much. Plus, the rest of the dish is just so bold and flavorful that you barely notice them.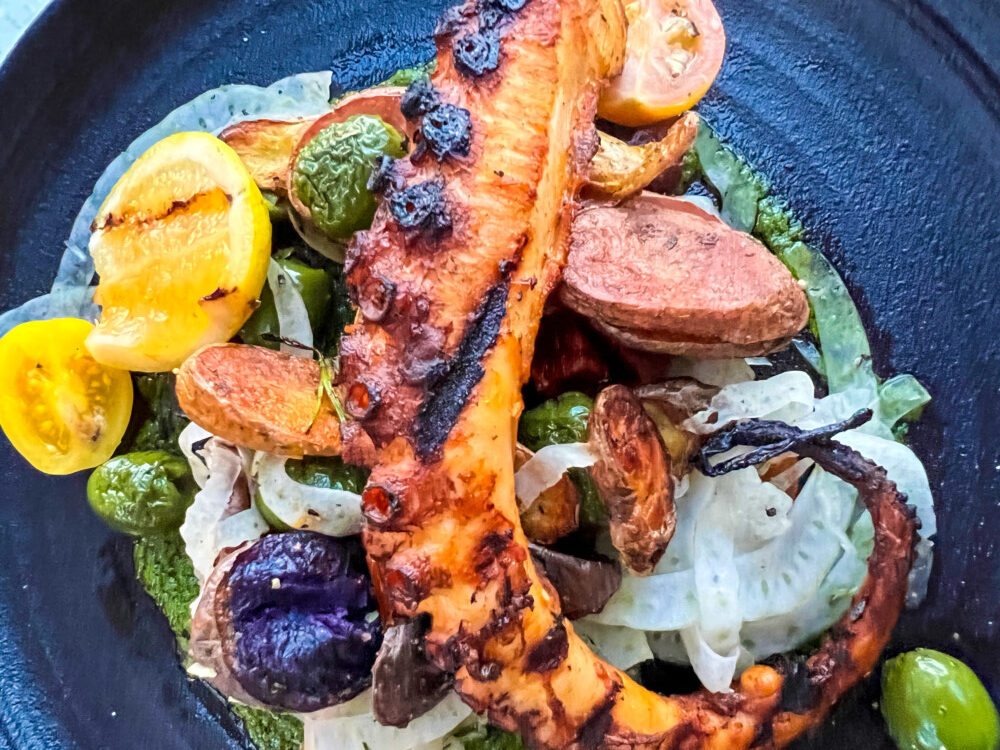 In addition to the Chef Dean's grouper, we also got the Ora King salmon with cauliflower purée, shaved Brussels sprouts salad and pomegranate reduction. The purée did have dairy, but that was an easy fix — it was just served in a separate bowl on the plate. The salmon was cooked a perfect medium and tasted absolutely excellent.
We had zero room for dessert, but Oceans 234 is definitely well known for its sweet treats. Diners go crazy over the Chocolate Trilogy, which is a chocolate chip cookie dough and fudge brownie, with Double-Stuffed Oreos baked in between the layers, topped with vanilla ice cream and chocolate ganache. If that doesn't sound like the perfect way to end your meal, I don't know what is.
Reserve Your Oceanfront Table at Oceans 234
Oceans 234 is located at 234 North Ocean Blvd. in Deerfield Beach. The restaurant is open for lunch and dinner Monday through Thursday from 12-10pm, Friday from 12-11pm, Saturday from 11:30am-11pm and Sunday from 11:30am-10pm.
Happy Hour is Monday through Friday from 4-7pm and features $7 house wines by-the-glass, $9 premium wines by-the-glass and speciality cocktails, as well as other drink discounts. A menu of 'Seaside Savories' is also available including things like Old Bay peel & eat shrimp, charcuterie and the crudo of the day, among other happy hour-priced bites. A kids' menu is available for the little ones, as well as other Chef specials throughout the week.