Never miss a bite! Sign up here to receive new recipes and reviews straight to your inbox.
Disclosure: I was invited to dine as a guest of Oliv Pit. No monetary compensation has been received for this post. As always, all opinions are 100% my own.
Fans of Mediterranean food will love the newly expanded menu filled with modern takes on traditional cuisine at neighborhood restaurant, Oliv Pit Athenian Grille, located in the Shoppes at Village Point in Boca Raton. A kid's menu, catering, and family-style take-out menu have also been added. Oliv Pit prides itself in unique cooking style, using olive pits as briquettes for cooking, which is an ecologically sound, flavorful and healthier grilling alternative to charcoal, as the olive pits do not contain the carcinogens found in charcoal.
The restaurant's original owner, Emmanuel Vlahos, has been joined by two new partners and a new executive chef who hails from Tel Aviv. Chef Aval Kitches has brought his own personal spin on pita wraps and hummus to Oliv Pit, as well as lots of new gluten-free, paleo and vegan options to satisfy all diners. There is even gluten-free, vegan pita bread available, which made me incredibly happy. For once, I didn't have to ask for veggies to dip in the hummus!
Speaking of hummus, Chef Aval makes his differently than any I have ever tasted. Traditional hummus is made from chickpeas — duh — but at Oliv Pit, you'll notice the hummus has a much silkier, smoother mouthfeel. Why? Because in addition to chickpeas, there are also Santorini split peas! I don't know how or why, but the combination of the two creates a luxurious texture that I could not stop dunking triangle after triangle of gluten-free, vegan pita — which was also so good.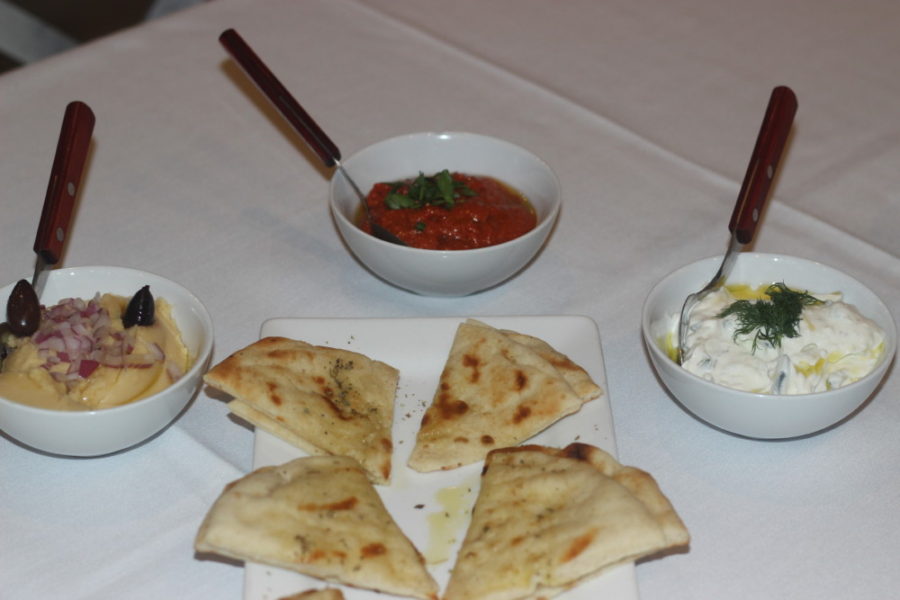 It was just as warm and fluffy as I remember pita to be, and was the perfect dipping vessel for the trio of spreads we started out our dinner with, which consisted of Fava, which referred to the Greek hummus, also made with a touch of lemon, Kalamata olive oil and sea salt; Tzatziki, a traditional blend of Greek yogurt, cucumber, garlic, dill and Kalamata olive oil; and Paprika spread, something brand new to the menu made with roasted red peppers, red wine vinegar and herbs. Unfortunately, the spicy feta dip that I loved oh-so much from my previous visit to the restaurant last year — but the creamy new hummus and sweet paprika spread make up for it!
My parents and I experienced wonderful service from the staff at Oliv Pit. The general manager, David, was so friendly and accommodating, especially when I asked if he could recommend a nice white wine from Greece. He told me there are 88 grape varieties in Greece, one of the most popular being the malagouzia. He poured me a glass of 2011 Alpha Estate, which I thoroughly enjoyed with my meal. Since traveling to Italy, I've started to become much more intrigued with learning about the wines made in different countries, especially if I'm eating international cuisine.
The spreads were a nice start, but now it was time for appetizers. Each of us ordered something unique — Mom got the crispy fried feta with sesame seed and local honey; Dad got the lamb meatballs with tzatziki, and I got the grilled octopus.
Are you surprised?
The octopus was charred to absolute perfection — tender and crisp, and so freaking good. One large tentacle comes dressed in parsley, capers, and preserved lemon vinaigrette, which provides a balanced set of salty, sweet, and bitter flavor that all blend beautifully. I hesitated, but did let Mom and Dad have a taste. I don't think I'll ever get Dad to appreciate octopus the way I do, but I have been able to convince Mom on a couple occasions to try it, and she's never disappointed.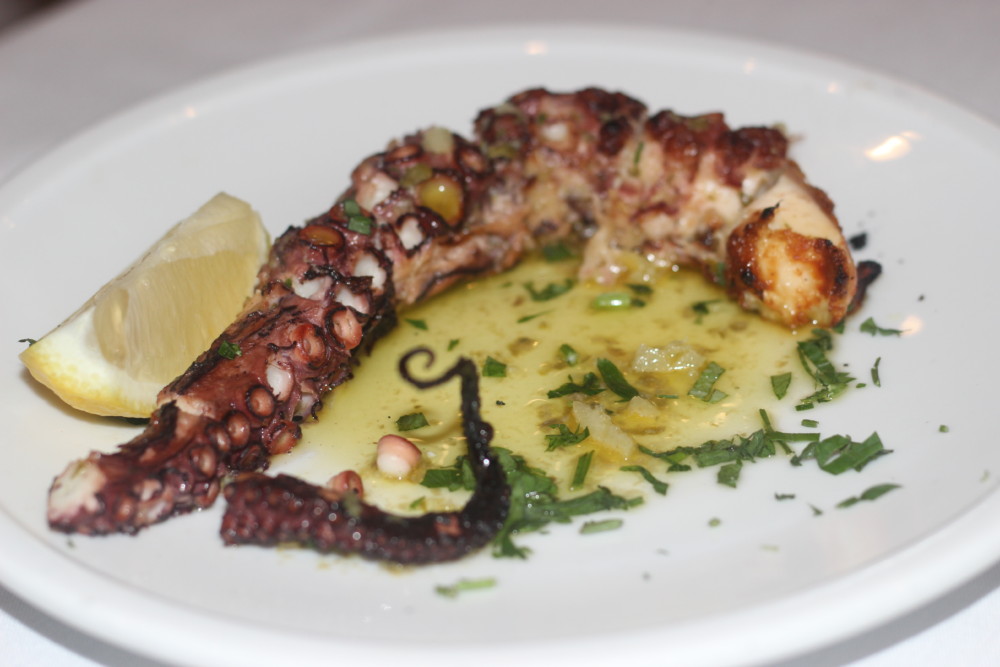 The fried feta was such a pretty dish. Unfortunately, it's not gluten-free because of the breading, but Mom assured me it was really good. The sweet honey did the trick. I couldn't have the meatballs either, and Dad can be hard to please, so I was curious to hear his thoughts. He's pretty traditional when it comes to food, burgers, fries and Philly cheesesteaks are his thing, but there were no complaints; the meatballs were a hit too.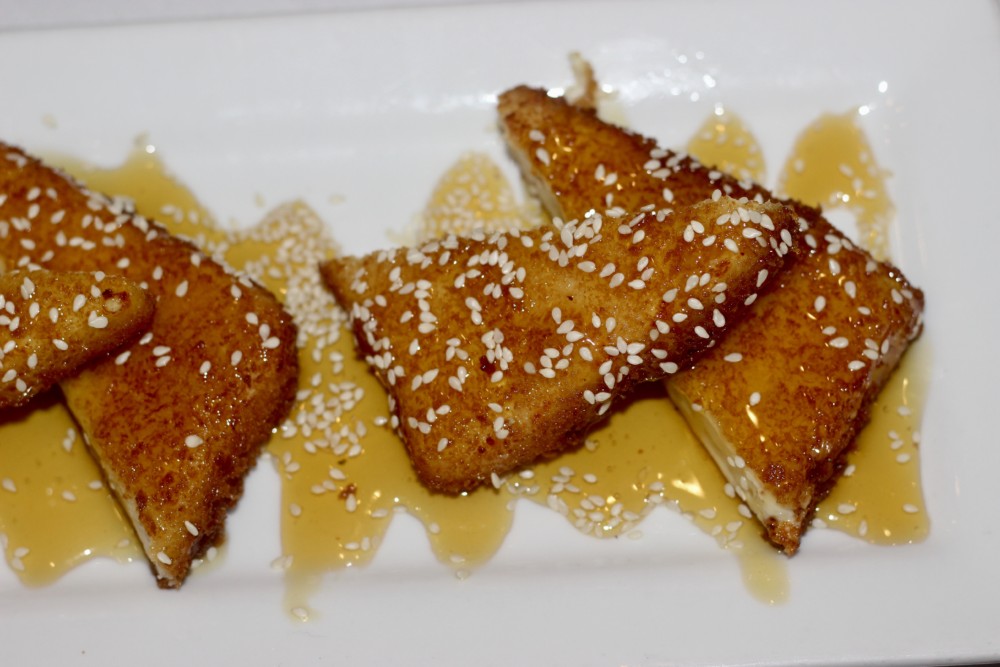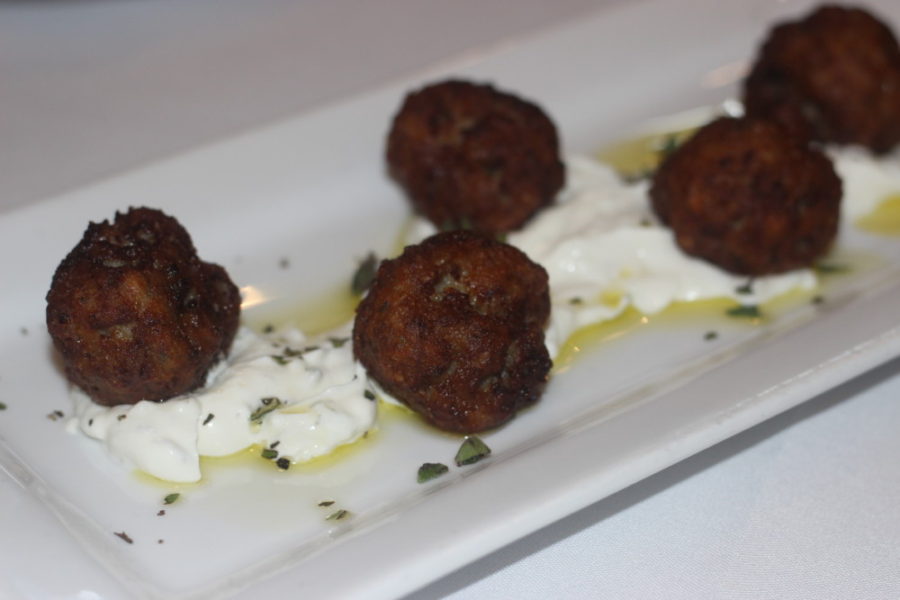 It was time for the entrées — and I'll be honest, I had mine picked out way before we even sat down at our table. Braised short rib. It was happening, and I couldn't have been more anxious. Tender braised beef, the most tender I have ever tasted, served over cherry tomatoes and broccolini tossed in olive oil, garlic confit and parsley. The meat sliced like butter, it melted in my mouth, and it tasted like heaven on a plate. I'd go back to Oliv Pit for this dish over and over and over again. Mom and Dad agreed after one bite, and both exclaimed that they too would definitely come back for this entrée. This dish solidifies my decision to become a meat eater again. I am never turning back.
Mom chose the grilled prawns, which she was a little nervous about at first since they come head-on, but then she realized it's all about the presentation — and it would look good in the photo. #Lifeofafoodbloggerparent. The heads came off and she loved the dish. It's simple, dressed in lemon, olive oil and parsley, but sometimes it's that simplicity that makes something so tasty.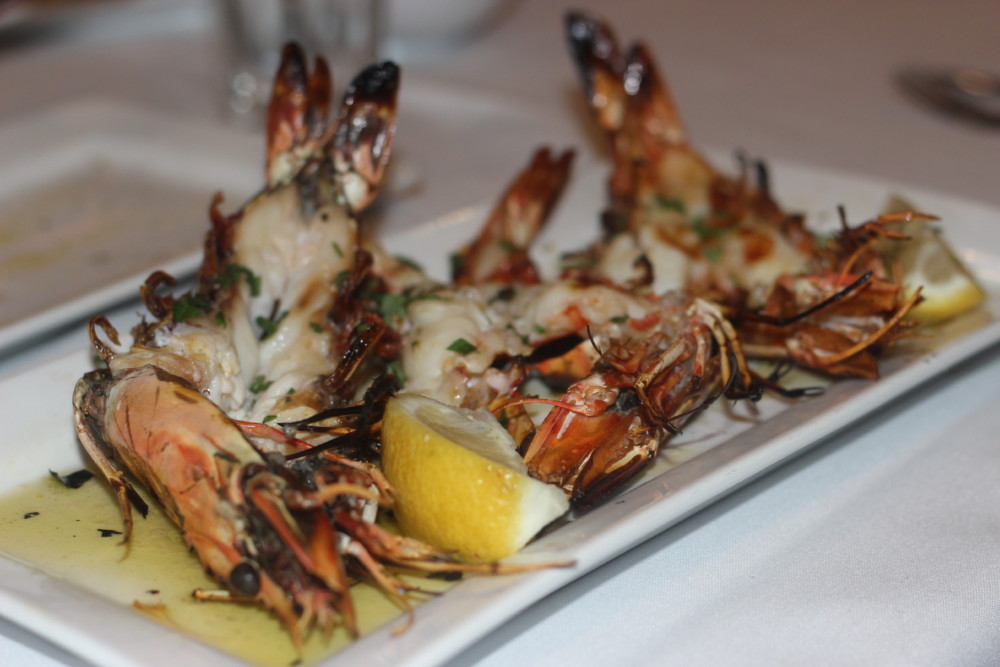 Dad went super "Greek Fair" on us and ordered the chicken thigh gyro. Gyros will always make me think of the Greek Fair I would also go to as a kid in the South Jersey town I grew up in. We'd all eat gyros, play carnival games and go on rides — definitely good memories. The pita wraps are one of the new additions to Oliv Pit's menus. Fresh-made pita is filled with lettuce, tomato, onion, fries and sauce, and guests can choose their preferred protein — things like chicken, steak, lamb, beef, salmon and even grilled vegetables or the vegan Impossible™ burger.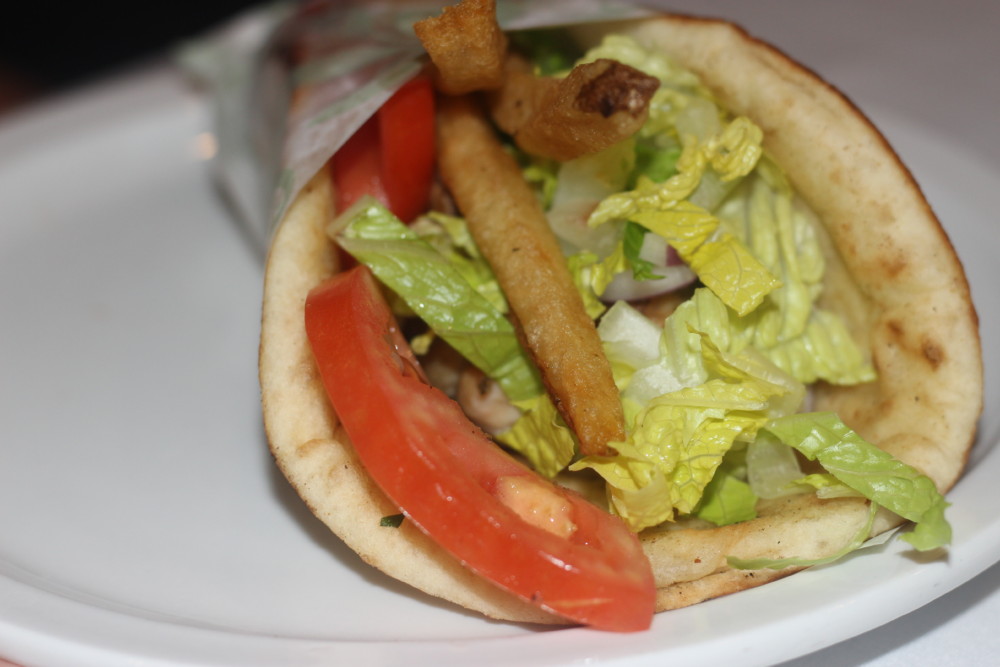 Mom and Dad got a chance to indulge their tastebuds a little more than I did that evening, diving head first into the chocolate ferrero cake. This cake had Dad's name written all over it, as that combination of chocolate and hazelnut is his favorite thing ever, this love stemming from his obsession with a certain chocolate-hazelnut cake from a bakery in Center City Philadelphia he gets for his birthday every year.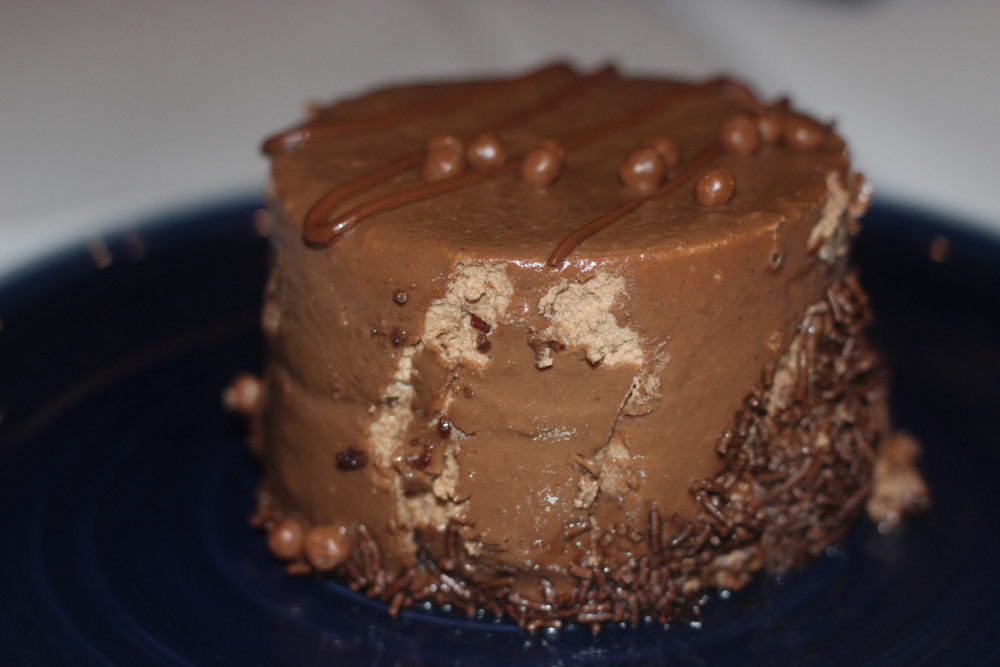 Once again, I was able to share a special evening with my parents at a great local neighborhood spot, thanks to the hospitality of a wonderful staff and incredible cuisine from a talented chef. I did love my first experience at Oliv Pit when it first opened, but a lot has changed there over the past year. After this meal, I'm confident that they are in a solid place, and going in a great direction.
Oliv Pit is located at 6006 SW 18th Street, Suite 6B, in Boca Raton. The restaurant is open for lunch and dinner from 11:30am-9pm Sunday through Thursday, and 11:30am-10pm Friday and Saturday.