Never miss a bite! Sign up here to receive new recipes and reviews straight to your inbox.
Disclosure: I was invited to dine as a guest of Oliv Pit. No monetary compensation has been received for this post. As always, all opinions are 100% my own. 
Savor the flavors of Athens, Greece at the newly opened Oliv Pit Athenian Grille at the Shoppes at Village Point on SW 18th in Boca Raton, where the menu is filled with traditional Greek fare with a modern twist.
Ask me to list my top three favorite cuisines and you can bet your bottom dollar I'll mention Mediterranean food, specifically Eastern Mediterranean. This includes the countries Greece, Turkey, Syria, Lebanon, Israel, Egypt, and the State of Palestine. I have experienced Israeli cuisine firsthand while visiting Israel, lived across the street from a Lebanese restaurant during my senior year of college, and can't even begin to count the amount of times I've dined on incredible Greek food both here in Florida and where I lived up north. Of all of these, Greek cuisine is probably what you are most familiar with, and definitely what I would consider my favorite. Lucky for us here in Boca, Oliv Pit co-owners Emmanuel Vlahos and Marcos Alexandridis are well-versed in this type of cooking, as the former is the son of Greek immigrants who moved here recently after spending 27 years in Athens, and the latter is a Greek native. Both have committed to bringing authentic Athenian cuisine to Boca Raton — and have definitely succeeded in doing so.
Most of the ingredients used at Oliv Pit have been imported straight from Greece, while others — such as fresh produce — are sourced from local independent suppliers. One of the coolest features of Oliv Pit is that it's the first restaurant in the U.S. to use BBQ briquettes made of olive pits for grilling its meat. This is a popular process used in Greece, and other places in Europe, mainly because olive pits do not contain the carcinogens that are found in charcoal. No carcinogens? Score one for Oliv Pit!
Another reason I love Greek restaurants so much is that they tend to offer imported Greek wine — Oliv Pit serves imported Greek wine and beer exclusively — which always gets me to try something new and different. On this particular night, we were able to taste a very light and refreshing white (Santorini Assyrtiko Santo), and a smooth, bold red (St. George Aghiorghitiko Nemea). Both had distinct characteristics of certain Italian wines that I like, which makes sense considering the close proximity of the two countries.
The white wine paired absolutely perfectly with one of the first appetizers we tasted — and although first, it was easily everyone's favorite thing of the night. The Tirokafteri (spicy cheese spread) consists of spicy goat's milk feta, green peppers and Greek olive oil. One bite of the feta, whether scooped onto the grilled pita or simply eaten with a fork, followed by a sip of the white wine is all it took to elevate this seemingly simple spread to a whole other level. Oh, and HALLELUJAH for this cheese being from goat's milk because that meant I could indulge in as much of it as I wanted. (For those of you who are thinking "Wtf is she talking about?" I can't have cow's milk dairy, but I can have goat's!) The Tirokafteri can be ordered on its own, or as part of a dip trio, called the Pikilia Trio. It also includes the traditional tzatziki spread made of Greek yogurt, cucumber, garlic, and dill with Greek olive oil, and the Melitzanosalata, which has eggplant, bell peppers, green onions, parsley, garlic and Greek olive oil. This is a great share plate to kick off a meal at Oliv Pit, or to nosh on throughout the evening on the side.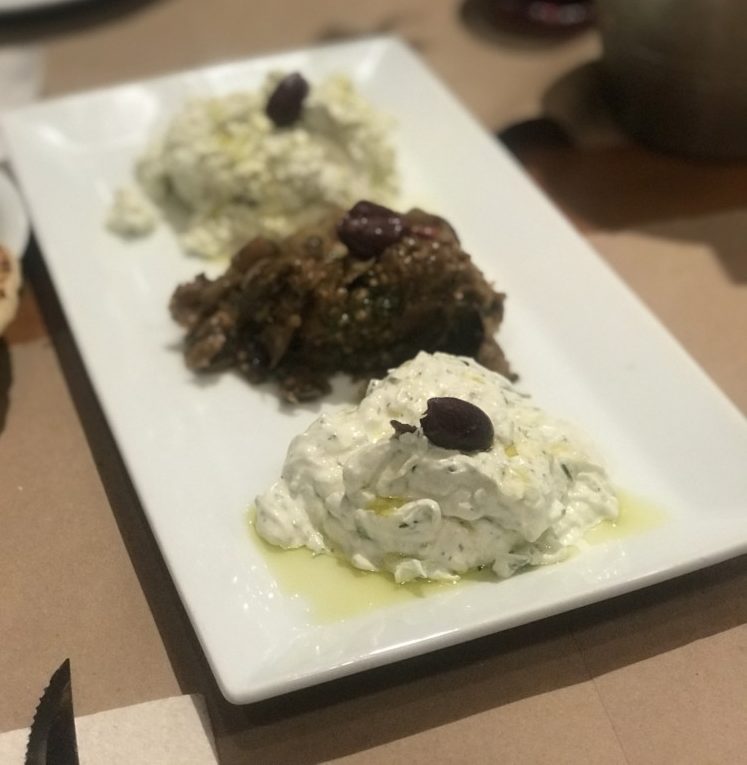 Following the Pikilia Trio was a popular appetizer, Kolokithokeftedes (lightly fried zucchini croquettes), and then the traditional Greek village salad, Horiatiki, which is always a fan-favorite. This type of salad says see ya! to typical lettuce or mixed greens, and includes a combination of vine tomatoes, cucumbers, red onions, Kalamata olives, mint, barrel-aged feta, green peppers, mountain oregano, and Greek olive oil. I'd be ok with never having lettuce in my salad ever again if it was as tasty and fresh as this one — and with more of that goat's milk feta! I did actually detect a difference in the taste and texture compared to cow's milk feta. It's a bit tangier, and much smoother and creamier.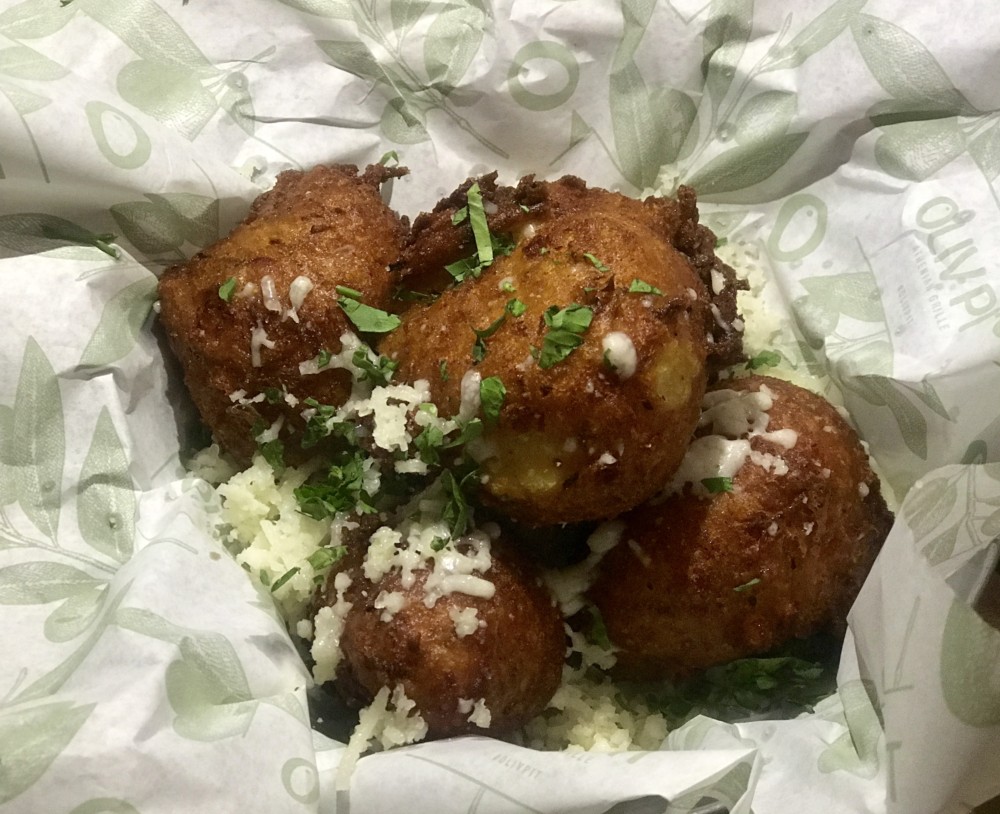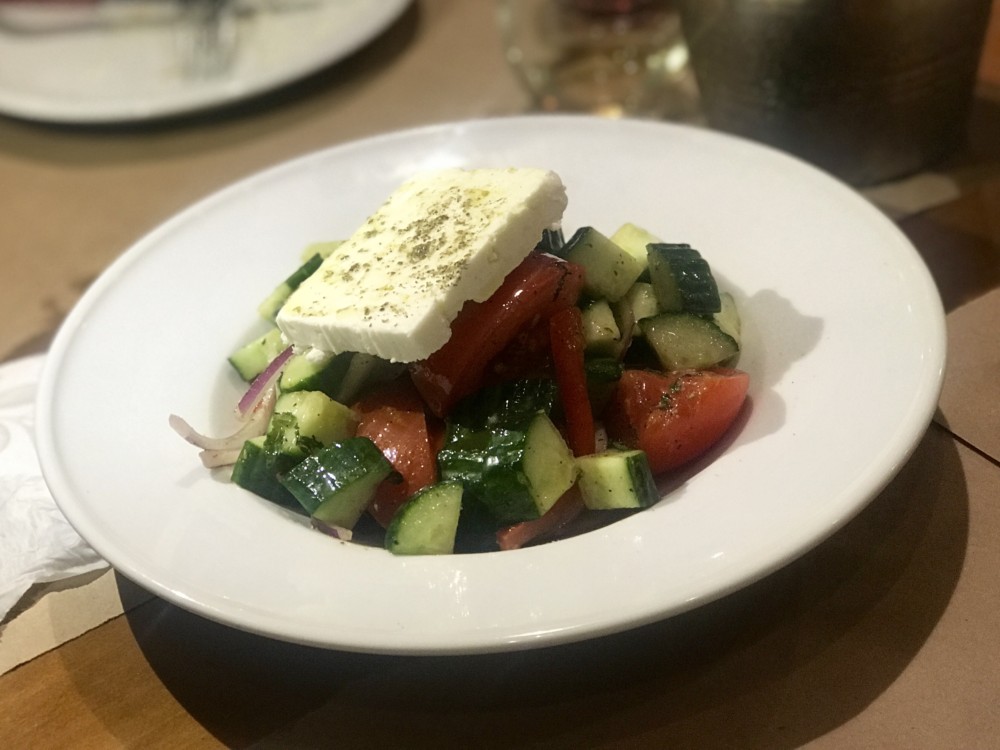 It was time to get our Greek entrée on, and it started off with a collection of seafood. Goat's milk feta, a seafood-centric entree…could this place be any more fitting for me?! The seafood platter comes with Calamari Tiganito (fried calamari) with a tomato-basil-lemon dip, jumbo prawns that have been seasoned and cooked on the Oliv Pit, salmon souvlaki and slow-roasted octopus, charred on the Oliv Pit. The octopus was beautifully cooked — not chewy in the least and the sprinkling of capers on top added an extra element of saltiness that worked well. The half-shelled prawns were meaty and full of flavor, and the salmon was excellent. Oliv Pit offers four different variations of souvlaki — beef, chicken, salmon or veggie — and these individual skewers are a definite must-try while dining here.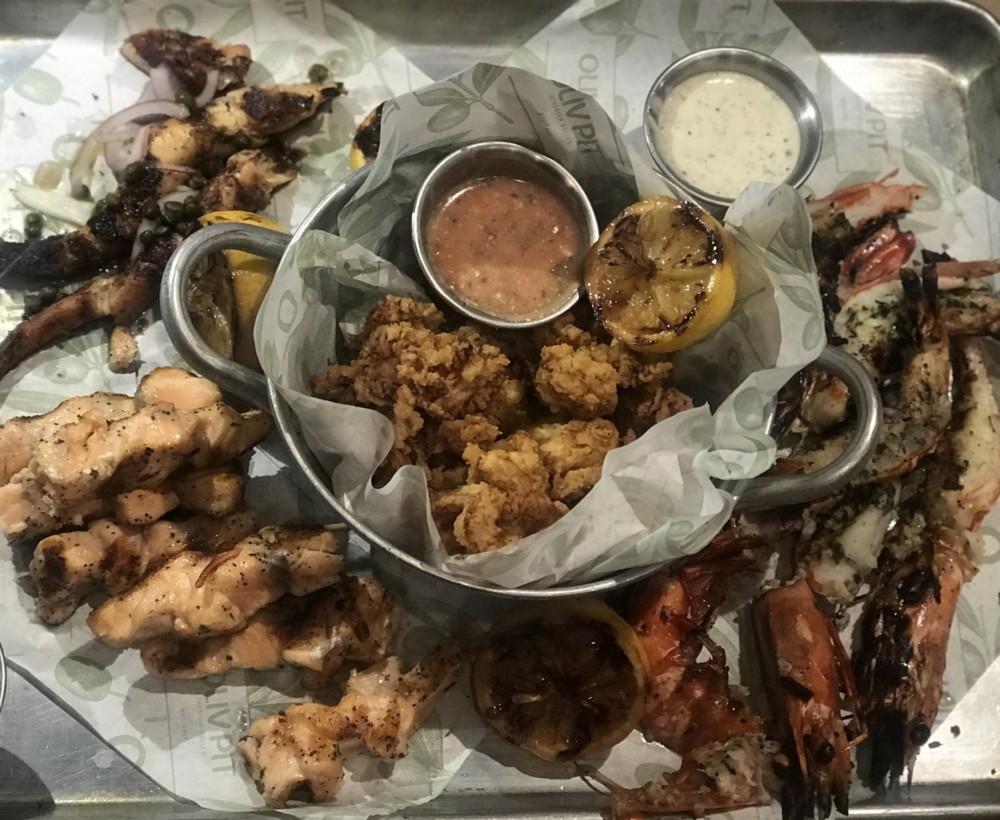 Aside from a delicious seafood platter, Oliv Pit also offers a meat platter called the Pikilia Kreaton Mix Grill Platter, which comes in two sizes — one that feeds two, and one that feeds four. The platter comes piled with Beefteki (a Greek burger made of beef and pork and seasoned with fresh oregano, garlic and onions), sliced gyro meat, and a choice of skewers as well as a side green salad (with lots of feta!), pita, tzatziki and tomato-paprika sauces.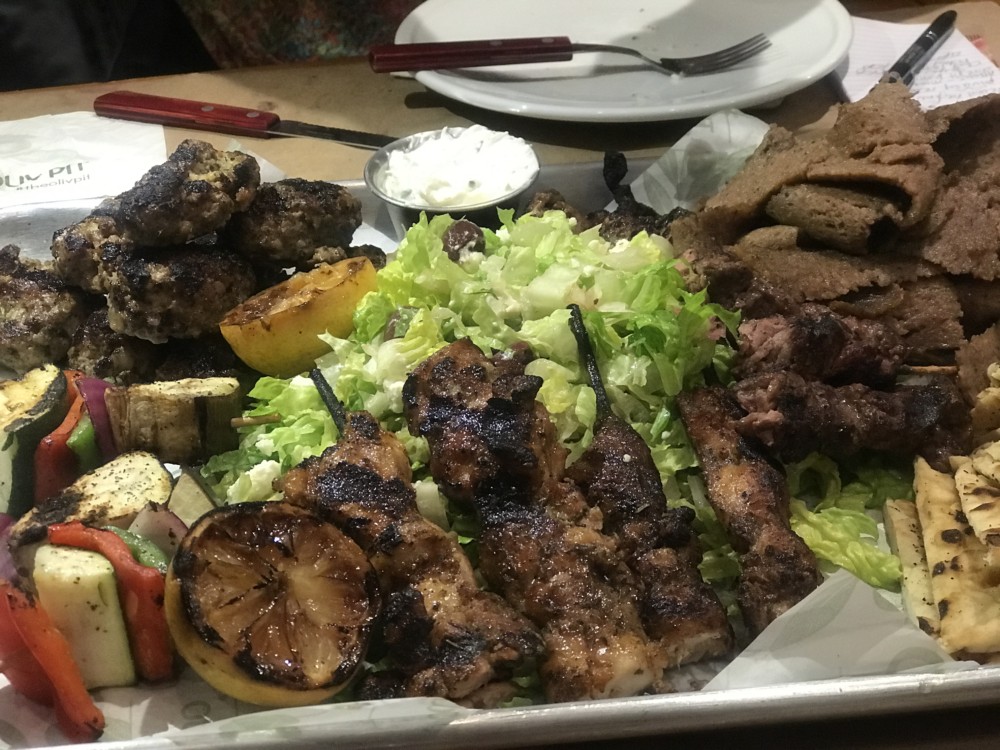 One additional dish made it to the table before dessert arrived — although it didn't last too long. The Patates Tiganites Me Feta, or FRIES WITH FETA!!!!!!! Um, if this isn't French Fry Heaven, I don't know what is. Delicious is an understatement. Do not leave Oliv Pit without ordering these, whether as a full appetizer or smaller side.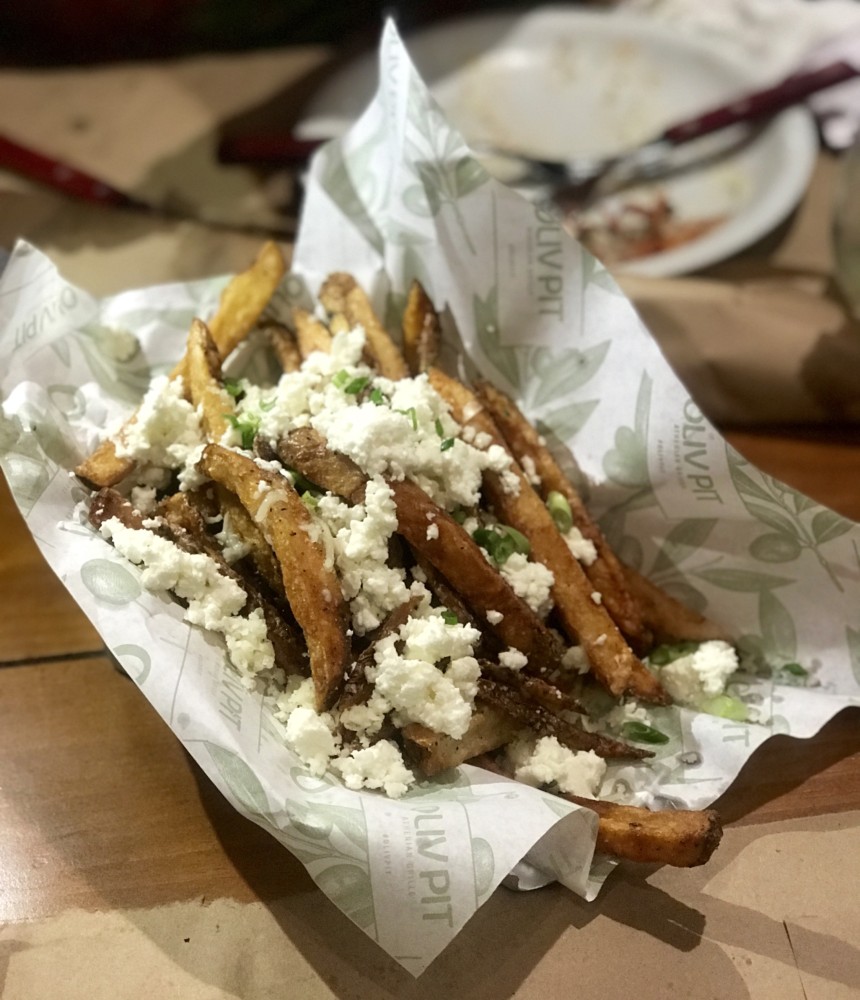 Greek desserts are their own breed. There's nothing that can compare to a sweet, sticky Baklava, which is a staple at every Greek restaurant. But Oliv Pit offered two other cakes that were new to me — the Karidopita (walnut and honey cake) and the Portokalopita (honey and orange cake).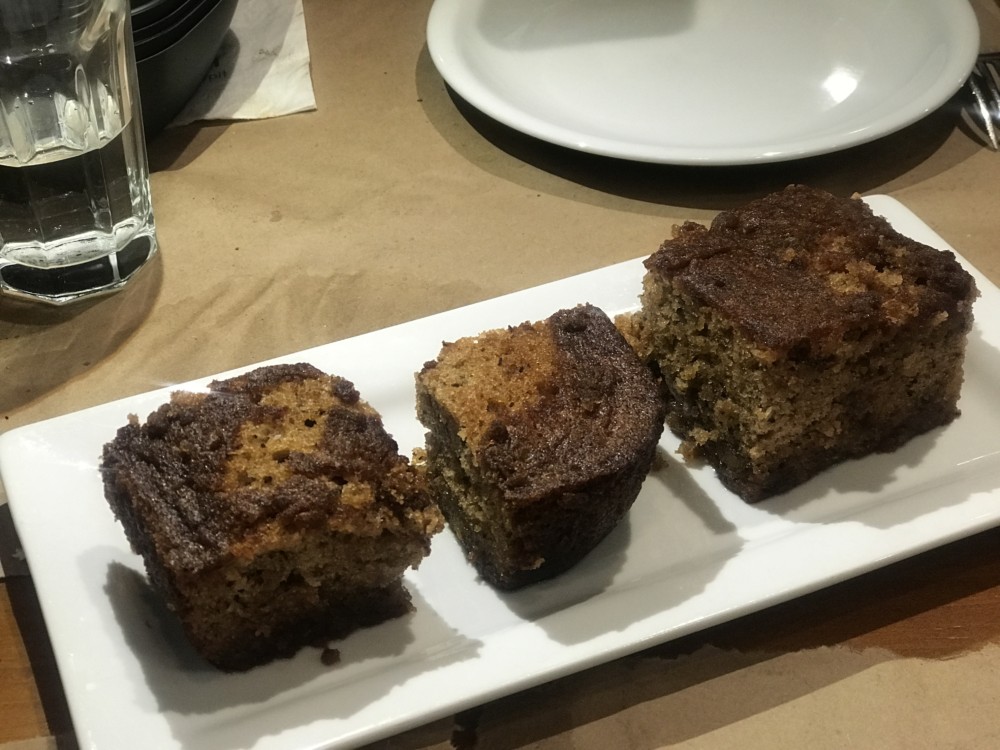 I sat and stared while the others devoured each of these, bite by bite, soaking up the incredible aromas. It's ok though — by this time, I'd had so much of that amazing feta cheese I was pretty full anyway.
Oliv Pit is open Sunday through Thursday from 11:30am-3pm and 4:30-9pm, and Friday and Saturday from 11:30am-3pm and 4:30-10pm. Oliv Pit is located in the Shoppes at Village Point at 6006 SW 18th Street in Boca Raton.