Never miss a bite! Sign up here to receive new recipes and reviews straight to your inbox.
Hope everyone had a relaxing and enjoyable Christmas! Chanukah and Christmas may have come and gone, but we are still in the holiday season right up until that clock strikes midnight on December 31st… If you're looking for a fun and unique way to celebrate the New Year, or just get some friends together, host an Olive Oil Tasting!
Not that I really needed an excuse to have a dinner party — it is the holiday season, after all — but when I was asked to throw an Olive Oil Tasting Party to introduce three new fresh tasting and brilliantly packaged oils from Nudo Italia to a few of my friends, how could I say no?
Nudo is an olive tree adoption program, allowing people from anywhere in the world to adopt an olive tree in Italy and receive oil directly from their tree. It's a collaboration between Nudo and artisanal olive oil producers in Le Marche, Liguria and Sicily. To learn more about adopting your own olive tree, visit Nudo Adopt.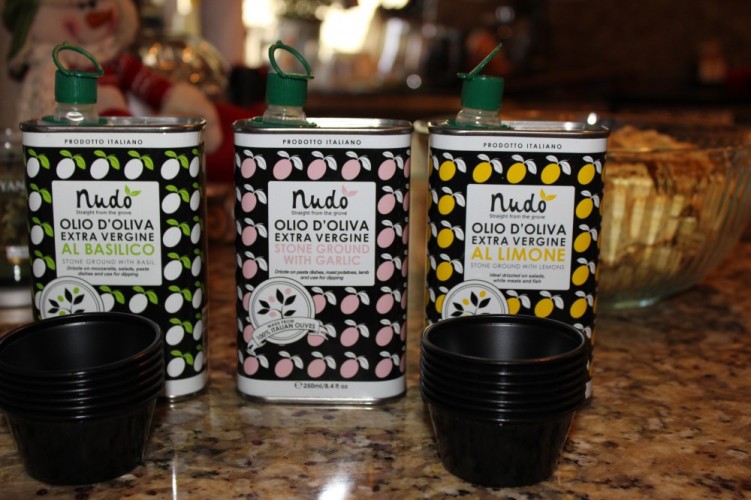 I received the lemon, garlic and basil flavored olive oils and was given the task of throwing some kind of shindig where people can try these oils. Of course in my mind this meant I had to have a whole dinner party to highlight Nudo olive oil. It was a reason for me to cook and bake and get the girls together for a fun night in. I kept it small — quality over quantity — and invited a few choice girlfriends over for a holiday get together. Denise helped me put on the event by pitching in with some of the dishes for the evening. Other than my friend Kait, the other women I invited are all people I've met through Denise and her awesome Foodie Events and Savor Our City Culinary tours. We all have our love of food in common!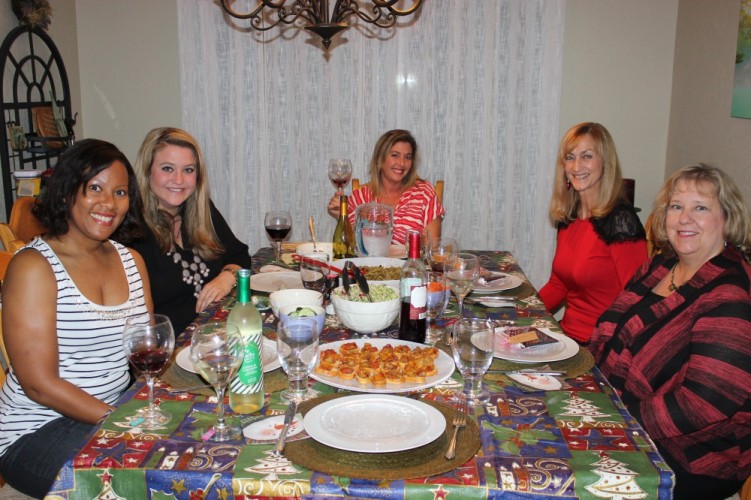 Some of the dishes served that evening used one of the Nudo olive oils in the recipe — I also set out the oils with little tasting cups so everyone could sample the flavors and see which one they liked best. Basil was a favorite.
We all gathered at the dining room table for a family-style sit down dinner where we shared stories about our lives and gushed over all the yummy food and wine on the table. I made Super Creamy White Bean Dip from "Seriously Delish" by Jessica Merchant of one of my favorite blogs, How Sweet Eats and used the garlic olive oil and the Kale-Basil Walnut Pesto from Tuesday's post, using the basil olive oil (and tossed with whole grain linguine.)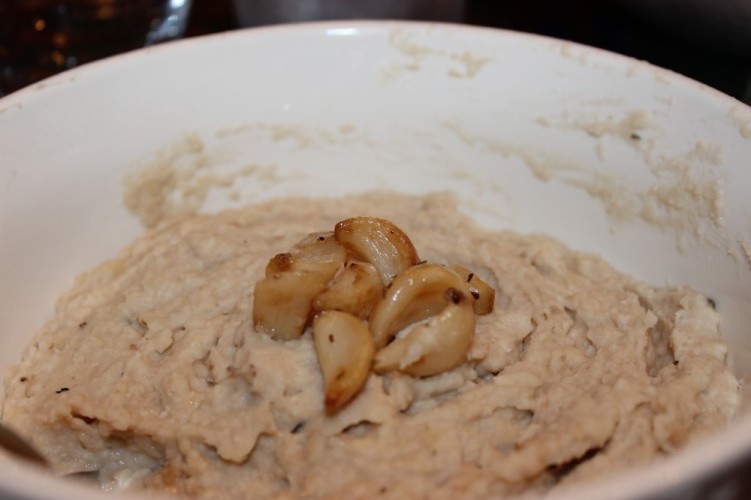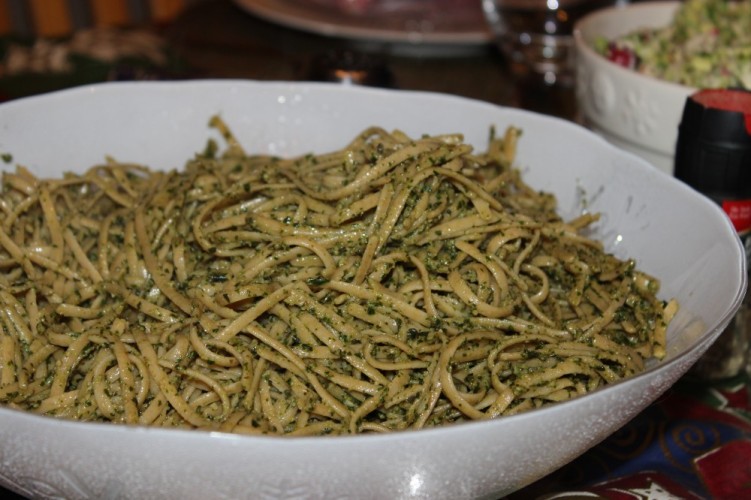 Denise made her signature roasted red pepper bruschetta and separated the prepared crostinis into three groups, each drizzled with a different flavor oil. It was really interesting how, just by a quick inhale, you could tell which crostini had which olive oil. Not only are the flavors distinct, but the smell is too. I really loved how the garlic olive oil complemented those smokey peppers in the bruschetta.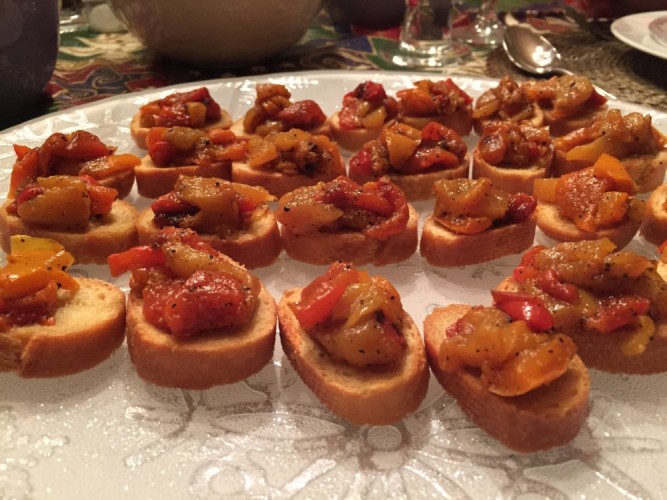 I also made a shredded Brussels sprouts and endive slaw — recipe coming next year. 😉 The table was full of extras too — veggies, tzaziki, cheese and crackers.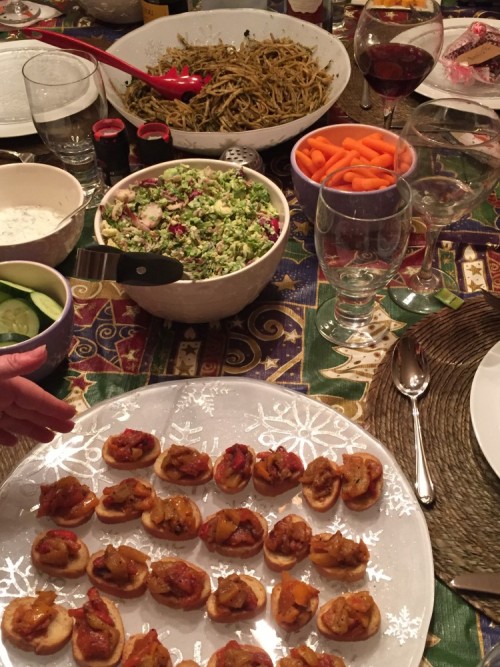 For dessert, Denise made homemade vanilla ice cream over which she instructed us pour a little bit of olive oil (basil and lemon were used for this) and then sprinkle with sea salt. This was inspired by a dessert she had at a restaurant once and could not stop thinking about. It was new to the rest of us, and definitely a welcomed experience. I drizzled a bit of the basil olive oil over my ice cream (and some caramel sauce we had too!) and lifted the spoonful to my mouth. Instant basil slapped me in the face, but there was a hint of vanilla wafting through which gave it a sweeter scent — I could not wait to taste it! The sea salt really enhanced the flavor and brought out the basil even more. Olive oil and ice cream, who woulda thunk?!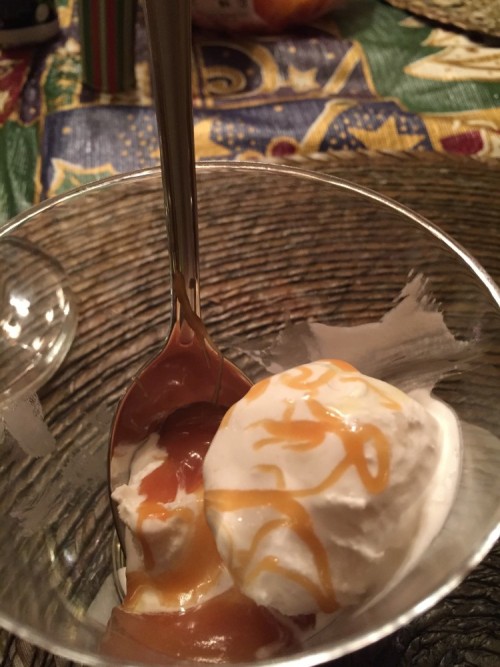 Oh and… Remember those Chocolate Chai Rum Truffles I told you about the other day? Yeah, I served those along with the ice cream. We were rich in sweets and totally loving it.
Hosting an Olive Oil Tasting is a great way to spend a night in with friends and enjoy a nice, home cooked meal. Sometimes, especially around the holidays, we forget to take the time to appreciate the people in our lives. I recently read something about how our "girlfriend time" is good for our health and we actually really, truly need it. After all the hustle and bustle of the holidays has subsided (and maybe someone adopted you a tree from Nudo Italia!), I suggest you get some of your girlfriends together for a quiet evening in tasting delicious olive oils from Italy, sipping on your favorite wine and enjoy some good food.
Disclaimer: This is a sponsored post by Nudo Italia Olive Oils through The Baddish Group. I received compensation and product for this post. As always, all opinions are 100% my own.