Day number two brings you another sweet holiday treat: peppermint bark. Around this time of year, every store you walk into carries various kinds of peppermint bark. It's easy to go and buy these delicious chocolate candies, but it's so much more fun to make on your own! It's very simple, too. All you need is a bag of chocolate chips (I chose to use dark, but you can use whatever kind of chocolate you prefer), white chocolate chips and candy canes.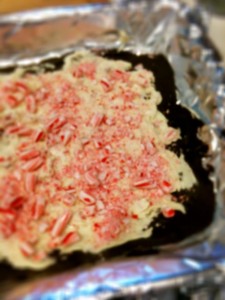 Crush the candy canes in a food processor, or just throw them into a Ziplock and use a rolling pin, or any hard object that will get the job done. Melt the chocolate in the microwave or over a double boiler, whichever method you prefer, and then pour the liquid onto a cookie pan lined with aluminum foil. Put the pan in the freezer to harden for about 15-20 minutes and then proceed to preparing the white chocolate. White chocolate does not melt as easily as dark or milk chocolate, so you have to really watch it, especially if you're using the microwave. I poured a little over half of the bag of white chocolate chips into a microwave-safe bowl and set the timer to 30 seconds; this is really all it took to melt to the consistency needed to pour over top the dark chocolate layer. Even if you think it could use a bit more time in the microwave, do not do it! It will burn, and become a mushy mess and a waste of perfectly good white chocolate. Once you've mastered the melting of the white chocolate, take out your chocolate from the refrigerator and pour the white chocolate on top. Sprinkle the crushed candy generously over the entire mixture and put back into the freezer for another 20 minutes. 


When you take the sheet of chocolate out of the freezer, it will be hard to break into pieces, so just grin and bear it! I found it easier to break when I used the palm of my hand rather than my fingers. This is such a quick and easy holiday favorite to put together, and it makes for a nice gift to give out to your family and friends. The combination of dark chocolate, white chocolate and peppermint just screams holiday season, so make sure to add this to your to-do list!