Happy 3rd night of Hanukkah! Here's a twist on another delicious Jewish dish: Mini Sweet Potato Knishes! The traditional knish is baked or fried dough filled with potato, a meat mixture, kasha (buckwheat) or cheese. Other versions of this appetizer have fillings made of fruit, spinach, and even tuna fish. I decided to change up the original a bit and use sweet potato, my personal favorite variety of potato, for a sweet version of this snack. Sweet potatoes are also very appropriate for the holiday season, so it only seemed fitting to use it in my recipe.


Making the dough for the knish is very easy; all you need is vegetable oil, water, and flour. The amount you use depends on how many you want to make. I made 6 bite-size knishes with 1/2 cup flour, 2 tbsp vegetable oil and 3 tbsp water. Mix all the ingredients together until you have a doughy consistency and then place the rolled dough into the refrigerator to cool for at least an hour. Now comes the fun part! Once you've decided what you want to use as a filling, you can get to mixin'. For my sweet potato filling, I pureed 1 mashed sweet potato, about 1/4 cup butternut squash and 1 tbsp fat-free plain Greek yogurt in a food processor and then transferred the mixture to a bowl where I stirred in a pinch of cinnamon. Remove your dough from the refrigerator and roll out as thin as possible. I used a regular-sized glass as my "cookie-cutter" to cut out circular shapes of the dough, put a spoonful of the filling in the center of each, and drew the edges of the dough over the filling and pinched them together, brushing the top with a little vegetable oil. Each time I rolled out the dough I was able to cut out two circles, so I repeated the process until there wasn't enough dough left for a full circle. After my mini knishes were finished, I put them on a greased pan and into the oven for 45 minutes.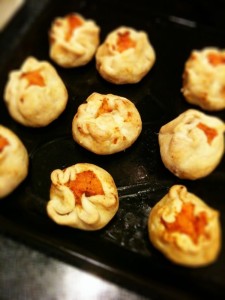 I used Jewish Fusion as a guide for the dough, but the sweet potato filling was my own doing. The end result of my creation was pretty satisfying. The dough had just the right amount of flakiness to it, and the sweet potato filling was smooth and tasty. It tasted like the holidays! As opposed to most holiday treats, these knishes aren't too bad at all. They are two-bite appetizers, so it's okay to indulge in more than one. They are perfect for a holiday party appetizer, or if you opt for a fruit or chocolate filling, an even more perfect dessert!


I hope your holiday has been filled with lots of love and latkes, gifts and gelt, dreidel and dessert!