One of the most popular Hanukkah food is the latke, a fried pancake made with potato, flour and egg with onion or garlic for flavoring. Latkes are often eaten with applesauce or sour cream. No one makes a better latke than my dad. Made with grated potatoes and onions, his latkes are super thin and crispy. Sometimes you'll see latkes that really do resemble a pancake: round and thick with a soft middle. While these are good, they're not my cup of tea. I prefer to hear a crunch with every bite I take and when I eat my dad's latkes, that is always the case.
Regretfully, I was unable to assist him this year when he turned the kitchen into a latke-making factory. It's one of my favorite things about being home during the holiday season. As a team, we are able whip up multiple batches of latkes in under two hours, but when working alone it took my dad close to three! I'm sure he missed having me as his sous-chef, but that didn't stop him from making plenty of latkes for the rest of the family. Luckily, he didn't mind filling me in on the details of his cooking this year and agreed to be part of my Eight Days of Hanukkah Cook-a-Thon.
To make Barry's Hanukkah Latkes you will need:
5 pounds potatoes, grated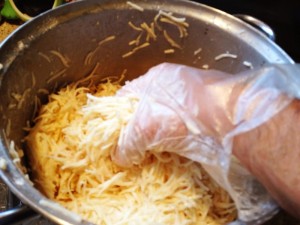 First you must peel and cut each of the potatoes. When working together in an assembly line, my dad and I got through this part of the process pretty quickly; I did the peeling, he did the cutting. Immediately place the chunks of potato in a bowl of cold water so they don't change color from being exposed to air. Grate the potatoes, 2 cups at a time with about a cup of water, in a food processor. Place the grated potato into a strainer to remove any excess water. Use a wooden spoon or spatula to press down on the potato pieces with as much force as possible; you want to get rid of all the water and the excess starch will strain along with it. Immediately after straining the potatoes, sprinkle them with flour, covering them completely; this keeps the air from getting to them. After the potatoes have been strained and covered with flour, mix in the beaten eggs, grated onion and salt. This mixture should be relatively thick, so if it appears at all runny just add in more flour.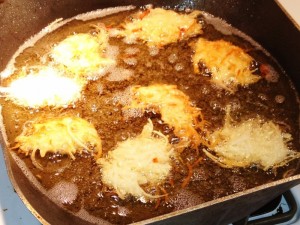 Now comes time for the frying! You don't need to buy fancy oil for these latkes to turn out good. Everyone's wallets are tight around the holidays, so why spend more money on cooking supplies than you need to? My dad bought the store brand, simply labeled Vegetable Oil, and says it actually worked much better than the oils he's used in the past. Pour enough oil to hold the latkes into your frying pan and wait for it to bubble. Drop spoonfuls of the batter into the oil and leave until the edges turn golden brown, then flip them over. Make sure you leave some space between each pancake so they don't run together. Place the finished latkes on paper towels to drain the excess oil before putting them into air-tight containers.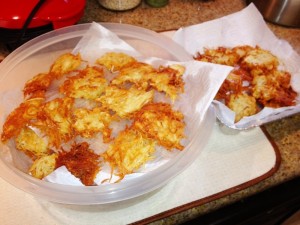 My dad did a few things differently this year. As I stated above, dad's latkes are always really thin, which he accomplishes by flattening each dollop of the batter with a spatula after dropping them in the oil. This year, he wanted to make them "meatier," that is, more potato in each one, and chose not to flatten them. He also decided against letting them get as crispy as previous years. He changed my two favorite things about his latkes! I guess my not being there makes it easier to do so. But despite those two small changes, he says they still turned out terrific and the whole process went extremely smooth.
This recipe makes a ton of latkes, so be prepared to have a lot for your Hanukkah dinner, and plenty more left over to give to friends. I brought them into work last year and they were gone within minutes. Here's the Latke Master himself, enjoying a piece of his work! Special thanks to my wonderful father for sharing his recipe with Take A Bite Out of Boca for the fourth night of Hanukkah.