The holidays are always filled with lots of food. People break out their "fat pants" and flowy dresses so they can indulge a bit more without feeling those tight waistbands. But fear not! Here is a delicious dessert that won't break the scale, but will still satisfy your sweet tooth. Thank you, Skinnytaste, for for this Apple Cranberry Crumble recipe; it was a hit at my family Hanukkah dinner.
Although the recipe calls for chopped walnuts or pecans, I left them out due to the fact that my cousins' sons are still too young to eat them. That lowers the calorie and fat count on this dessert even more. My crumble was simply filled with apples and cranberries and topped with oatmeal and lots of cinnamon, and tasted fantastic. I also substituted two other ingredients in the recipe; I used Stevia instead of Agave and vegetable oil instead of light butter. Although these two ingredients are fine to use, I didn't have them in the house and did not want to go to the grocery store on Christmas Eve day…
This is a very simple dish to put together. The hardest part? Waiting for it to bake! First, peel and slice 4 Gala apples. This will yield about 4 cups of apples. Combine your sliced apples with about 1 1/4 cup fresh cranberries, 1 tbsp flour, 1/2 tsp cinnamon, and 2/3 cup sugar substitute of your choice. Mix the ingredients well and pour into a baking dish, spreading evenly. In another bowl, pour 3/4 quick-drying, instant, or rolled oats…whatever you have on hand. I used rolled oats. Add in about 2 1/2 tbsp vegetable oil, 1 tbsp flour, and 1/4 cup packed light brown sugar. If you'd like to use chopped nuts, this is where they would go. Pour this mixture over the apples and cranberries and bake in the oven for about an hour. That's it!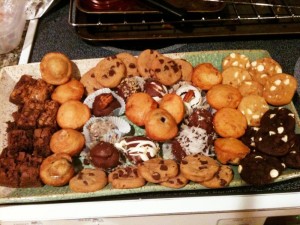 I brought this to my aunt's and uncle's home for our Hanukkah dinner on Christmas Eve. Everyone really liked it, even the little ones! It was a nice light dessert option next to plates of beautiful chocolate covered strawberries and an assortment of baked cookies, brownies, muffins and homemade truffles. Check out the dessert platter I put together with all these goodies my aunt had in the house. The strawberries were a gift to my aunt and uncle from a friend. Huge, juicy strawberries coated in dark chocolate and chocolate chips, white chocolate, and milk chocolate with chopped nuts. Yum!
Back to my crumble… Add some fat-free vanilla yogurt or cool-whip over top of the crumble for an extra treat. Apples and cranberries are a great combination for the filling, but there are many other fruit pairings you could try. This dish can be altered every time you make it. You could do a berry medley using strawberries, raspberries and blueberries. Cranberries and Mandarin oranges are another unique combination to try. There are lots of different things you can add to the topping, as well. Raisins, various nuts, dried fruit, or even chocolate chips. Get creative!