For the last day of Hanukkah, I wanted to show off some of the holiday fare my family and friends were generous enough to share with me.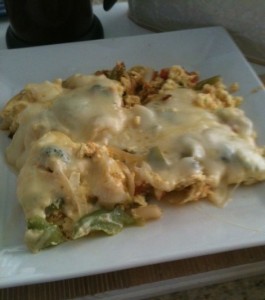 My mom put together a 
delicious spread to celebrate the end of the holiday. A combination of
fruit, potato latkes and her take on a Western-style Omelette completed the meal. There were still plenty of latkes left over, so she paired them with some strawberries and grapes. Next she made an omelet with onions, red and green peppers, and tomatoes, topped with melted swiss cheese. Also on the table were my dad's Hazelnut Nutella Thumbprint cookies he made from a recipe found in The Atlantic City Press and some peppermint bark that was a gift from a friend. Add coffee, OJ, toast and bacon to the mix and her End-of-Hanukkah breakfast was complete.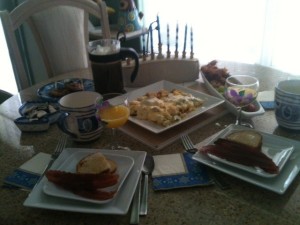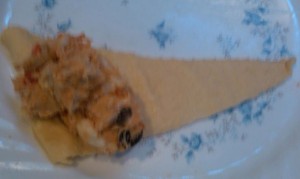 My friend Leanne is also a devoted Skinnytaste and Dashing Dish follower. When she asked me what to make as an appetizer for her family's Christmas dinner, we immediately turned to these sites for ideas. She finally decided on Dashing Dish's Greek Chicken Pockets. These look absolutely delicious and there are so many different combinations you could use for the filling. She lists a Chicken Enchilada Pocket on the site, as well. The dough is simply reduced-fat Pillsbury Crescent dough. Preparing the filling is the fun part.  Small chunks of chicken breast, red pepper hummus, garlic, salt, pepper, red onion, black olives, red pepper, grape tomatoes and fat-free feta cheese make up this delicious Greek-inspired dish. The key to making the perfect pocket, however, is knowing just how much of this filling to stuff inside each crescent roll. The filling needs to be fully enclosed inside the dough so it doesn't spill while baking. Be careful not to overstuff or they may not survive the oven!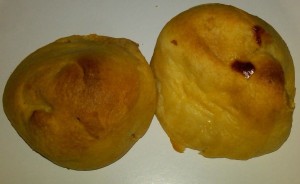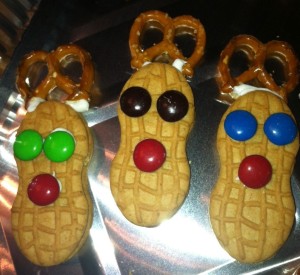 If you remember back from my
Creative Thanksgiving Treats
post, my friend Kelly made an adorable turkey treat out of Oreos and Candy Corn for her students. Well, she has done it again, only this time the snack is Christmas-themed. She made reindeer out of pretzels and Nutter Butter cookies. Salty and sweet…what better combination. All you need are Nutter Butters, pretzels, M&Ms and icing. Put icing on the cookie where the eyes and nose will go and stick on the M&Ms. Break off the bottom of one of the pretzels and attach it to the top of the Nutter Butter to look like antlers. Kelly's students really must love her for all her fun ideas for arts and crafts; the best part about them is they're edible! 
Another friend of mine, Ava, shared her recipe for a zucchini and squash casserole with a sun-dried tomato pesto. She was in charge of just about all the cooking for her family's Christmas dinner, so I really appreciate her taking the time to snap some photos.
For the casserole you'll need:
2-3 each zucchini and yellow squash
1 cup Italian seasoned bread crumbs
1 1/2 cup shredded cheese (mozzarella or your preferred Italian cheese)
1/4 cup sun-dried tomato pesto
For the pesto, add about a handful of sun dried tomatoes and olive oil into a blender or food processor. As far as the amount of ingredients used here, you'll need to play around with it as you go until you get your desired consistency. After blending, pour into a bowl and add a pinch of salt, pepper and about a tbsp of oregano and mix well.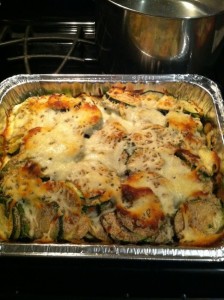 Preheat oven to 400 degrees and begin preparing your zucchini and squash. You may peel them if you wish, or leave the skin on. Chop them into thin wheel slices. In a large bowl, mix together the pesto, olive oil and parsley in a large bowl. Add the chopped vegetables to the bowl and stir until they are well coated in the mixture. Transfer to a shallow baking dish and put in the oven for 20 minutes. Using
 the same bowl you combined the zucchini, squash and pesto, add the bread crumbs and mix with the remnants of mixture left in the bowl. Remove the dish from the oven when it's done and top with the breadcrumbs and cheese. Bake for another 20 minutes, and then let the dish settle for 10 minutes before serving. 
This is a recipe I will definitely be trying soon. The pesto is a versatile addition to the casserole as it could also be used as a sauce served over pasta, chicken, or another vegetable dish. 
Thank you to my mom Fran, Leanne, Kelly, and Ava for sharing a little bit of their Christmas and Hanukkah spirit with me. I hope everyone had a wonderful holiday and was able to spend time with family and friends. Enjoy your last week of 2011!