Never miss a bite! Sign up here to receive new recipes and reviews straight to your inbox.
Disclosure: I was invited to dine as a guest of the restaurant. No monetary compensation has been received for this post. As always, all opinions are 100% my own. 
One of the countries I am dying to travel to one day is Greece — and while it may not be in the cards anytime soon, at least I know I can get an authentic taste of the country right here in Boca at the newly opened Ouzo Bay. The restaurant recently took over the space in Mizner Park that used to be home to Jazziz. If you're familiar with the location, you know how huge it is, which makes Ouzo Bay the perfect location for parties and events, especially with its inviting atmosphere, chic and modern decor, and indoor and outdoor seating.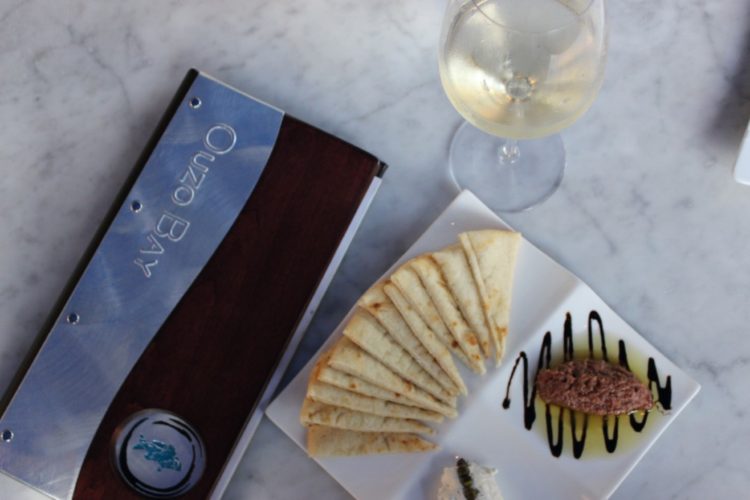 Ever since tasting their grilled octopus during this past year's Boca Bacchanal Grand Tasting, I could not wait to return to the restaurant. That one bite had everything I could ask for — a crispy char, a great balance of sweet and salty, and it looks beautiful too. Of course this was one of the first things I ordered upon sitting down at Ouzo Bay. And thankfully, the dish was just as incredible as I remembered the bite-size tasting was at the event. Char-grilled octopus is tossed with sweet red peppers and onions, and a red wine caper vinaigrette. They offer a half and full-size portion. Since we knew there was much more food on the way, the half portion was the perfect amount.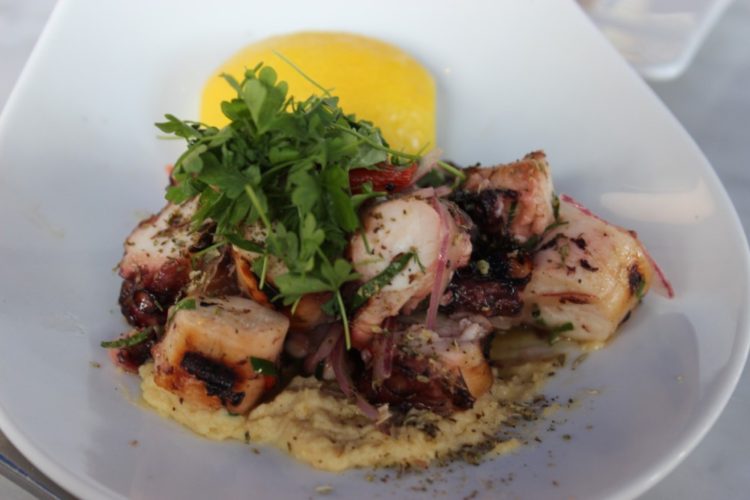 It's no surprise that the octopus jumped off the menu at me, but even before I saw it, my eyes were drawn to the "Feta Sto Fourno," or Baked Feta. Um, YES PLEASE! A thick block of baked feta cheese sits on top of juicy beefsteak tomatoes and a velvety-smooth eggplant puree, drizzled with balsamic reduction to add just the right amount of sweetness and garnished with micro greens. One bite of this and I was hooked. I've never seen anything like this before on any Greek menu and can't understand why. It's incredible. Baking the salty feta brings out such a deep flavor that almost reminded me of ricotta in lasagna. The tomato added a pop of freshness and the silky puree was earthy and robust. The best part about this dish? It's offered on the happy hour menu for only $5, Sunday through Friday from 3-7pm!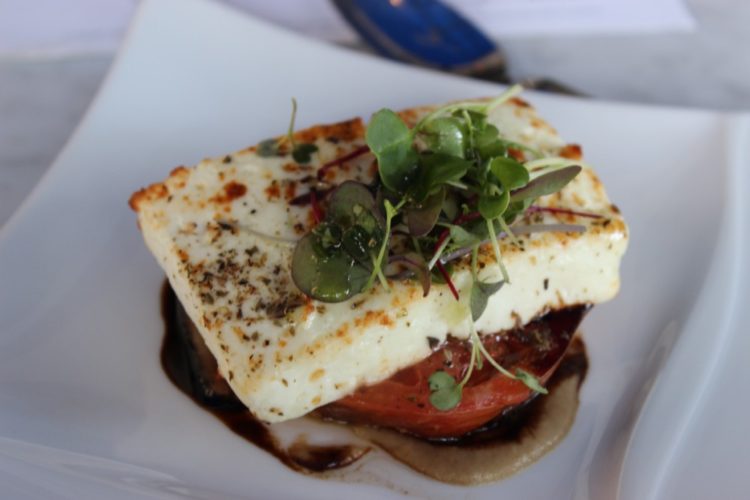 Moving on to more deliciousness… You can't really visit a Greek restaurant and not have the Spanakopita. This traditional dish of spinach and feta baked in flakey phyllo dough is a staple, and it's really hard to mess it up. Ouzo Bay does an excellent job with theirs, adding leeks and a variety of aromatics to the mixture. The ratio of filling to phyllo is perfect — I guess that's where people can mess it up — too much phyllo and not enough filling would be a total failure. This is also offered during happy hour, for $7, and would be perfect with a crisp glass of Greek white wine.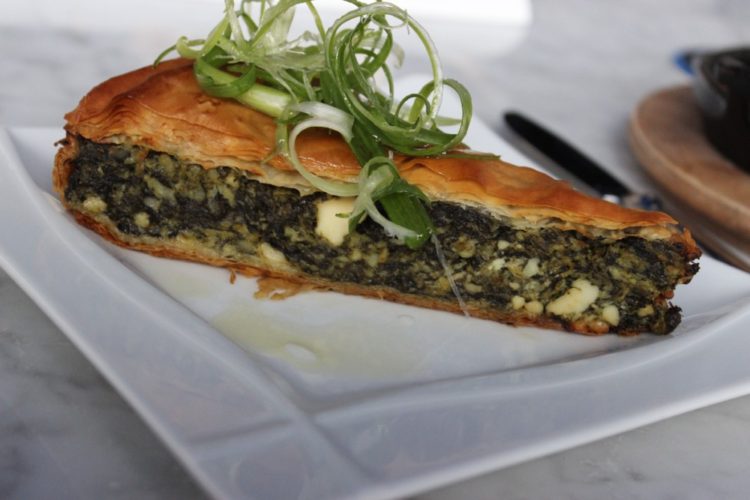 Speaking of which, the in-house Sommelier and Beverage Manager, Bradford, brought out some delicious wines from around the world for us to try with each course. We started with a Greek white wine, Nico Lazaridi "Magic Mountain" Sauvignon Blanc, moving on to the Whispering Angel Rosé from Côtes de Provence, France, and finished with the Bodega Naides Verdejo from Spain.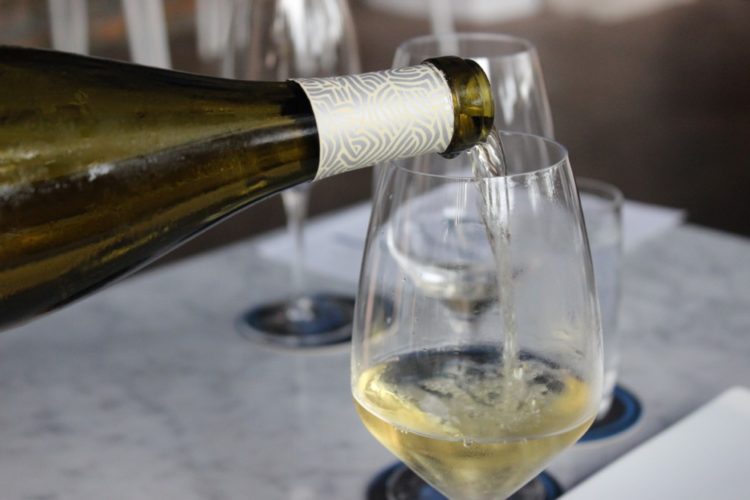 The feast continues… The next dish served by our incredible server, Charlie, was the Shrimp Saganaki, which features sauteed Paradise Blue prawns with a confit of fennel and baby tomatoes, Kalamata olives (which I 100% avoided), zucchini, feta and a spiced ouzo-tomato sauce. At first glance, I didn't think I'd like it. Olives and ouzo — not my favorites. Surprisingly, the olives weren't overpowering and the ouzo was very nicely balanced by the spices and tomato. So despite not being a fan of two of the main ingredients, I was still able to thoroughly enjoy the dish. Keep that in mind, all you olive and ouzo-haters! The prawns were cooked beautifully and all of the ingredients really played well with each other.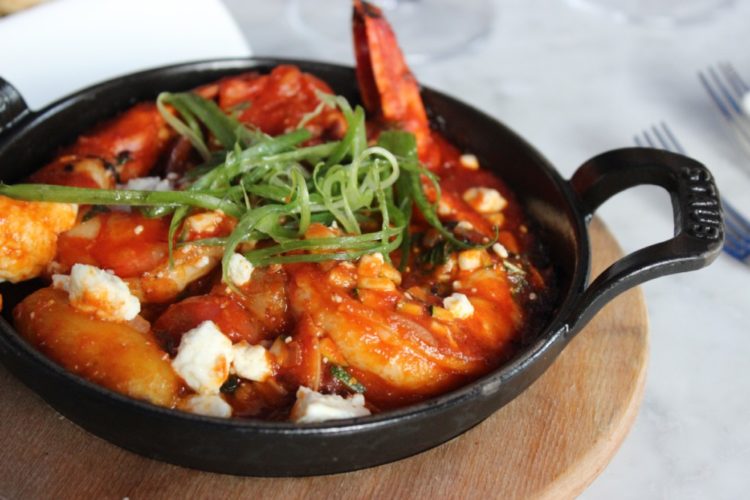 Ouzo Bay offers a wide variety of fresh-caught whole fish, grilled on charcoal and priced per pound. The chefs will debone the fish for you, unless you tell them otherwise. If you plan on ordering the whole fish, they recommended allowing 30-40 minutes for preparation. We were lucky enough to get a taste of the Lavraki, otherwise known as Bronzino or Mediterrean Sea Bass. It's a lean white meat fish that's super tender and mildly sweet. For presentation purposes, our fish was not deboned. In hindsight, I wish that I had asked them to debone it after taking my photos so I could have eaten more of it. After coming across too many bones, I sort of gave up. It was, however, AMAZING, and I would 100% recommend it to anyone who loves a good, fresh fish. And even those who don't — because after you try this, you will.