Never miss a bite! Sign up here to receive new recipes and reviews straight to your inbox.
This restaurant has since closed.
Disclosure: This is a sponsored post by Rapoport's Restaurant Group. As always, all opinions are 100% my own. All photos have been provided by the sponsor.
The Wait Is Over: Pagoda Kitchen Is Now Open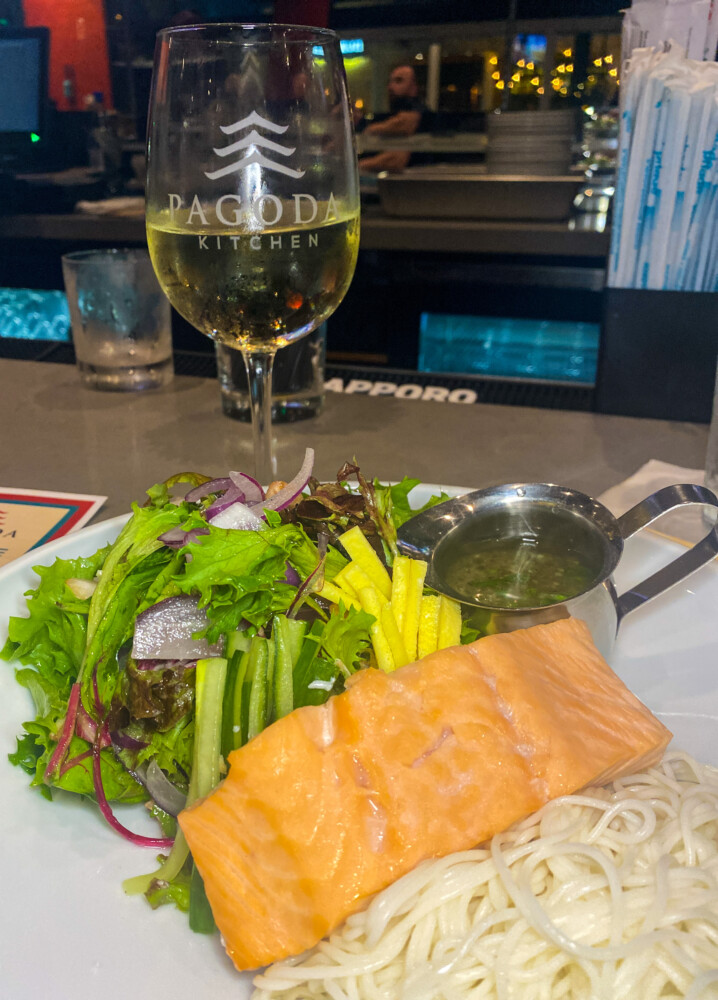 The long anticipated opening of award-winning South Florida restaurateur Burt Rapoport's newest concept is finally here! Pagoda Kitchen is now open in the Delray Marketplace, bringing patrons Chinese home-style cooking and a menu filled with a variety of dim sum, noodle and rice dishes, and traditional plates like kung pao chicken, beef and broccoli, won ton soup and more.
The main focal point of the restaurant is the double vertical rotisserie which will be roasting Peking duck, Chinese spare ribs, and chicken from morning to night. There is also a large indoor bar and a 360-degree outdoor bar that is sure to draw a crowd, especially if you're a fan of unique craft cocktails and sake!
A First Look at Pagoda Kitchen
Prior to the opening, I had a chance to check out Pagoda Kitchen during its Friends & Family mock services, and got a little sneak preview of what is now officially available to the public.
At first glance, I was impressed with the atmosphere. The bright and bold turquoise and red decor really pop, and there is a gorgeous koi fish mural, done by well known Miami artist, Urban Ruben. The space is large, with plenty of seating both inside and out, and there is even a semi-private area if you want a more intimate dining experience.
The restaurant occupies a building that was once another Rapoport's restaurant, but was turned over to new ownership after a few years before finally closing down last year. Having another Rapoport's concept in this space feels a little full circle — even for me, because I was working with the restaurant group when RRG owned that other restaurant.
I know the public has been eagerly waiting for Pagoda Kitchen to open its doors. To calm the anxious soon-to-be customers, RRG hosted Pagoda Pop-Ups at the other three restaurants, Deck 84, Burt & Max's, and Max's Grille, before the opening. A few members of the Pagoda culinary team set up shop at each of the restaurants' kitchens and offered 2-3 items from Pagoda's menu on select days. Just as I, and many others, were able to get a sneak peek during Friends & Family, this gave restaurant guests a preview of what's to come.
Chinese Home-Style Cooking
Now, let's get to the food, shall we?
The first thing I tasted at Pagoda Kitchen might probably be my favorite out of everything I tried — the blistered shishito peppers. I'm a huge fan of shishito (and yes, I always end up getting the spicy one!) so there was no hesitation to order once I saw it on the menu. The peppers come with parmesan cheese sprinkled overtop, but I got it without the cheese. The real star, however, is the sauce. It's called "Chef Bryan's Bangin' Sauce" and it is exactly that — bangin'! Side note… do the kids still say that?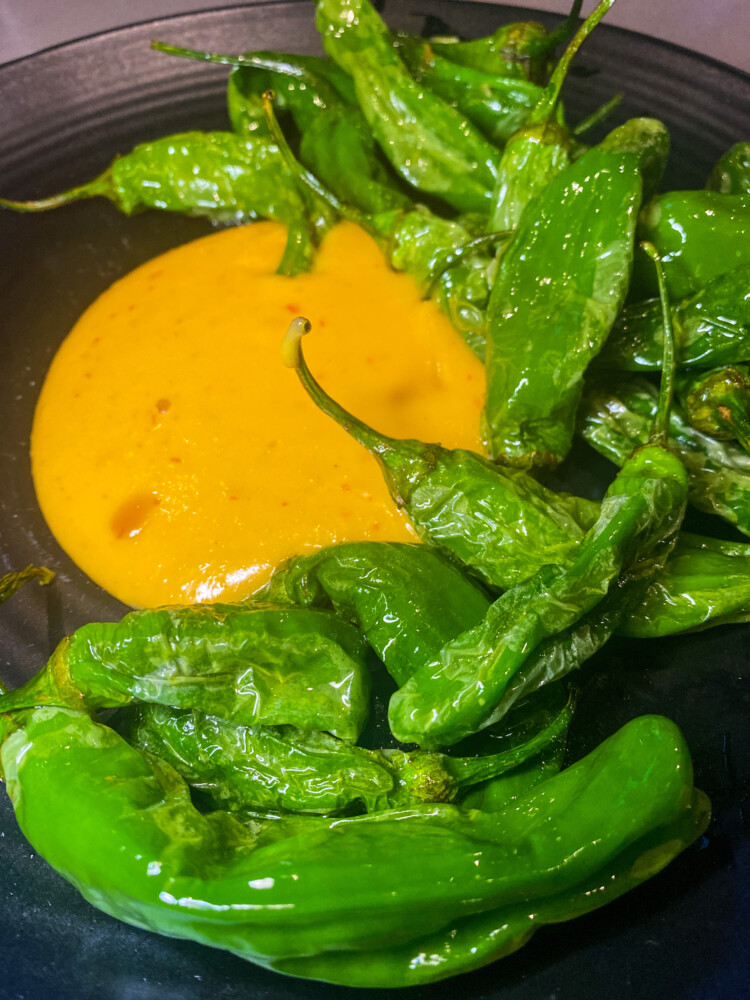 No, but seriously — that sauce is so good. Oh, and yes, it's gluten- and dairy-free! Speaking of which, there are a lot of things on the menu that are not gluten-free, BUT Executive Chef Bryan created a gluten-free stir fry sauce that can easily be substituted in many of the dishes.
Chef made a gluten-free sesame-based dressing for me too, so I could try the Singapore salmon salad. It was light, refreshing, and I absolutely loved the preparation of the salmon: steamed and then chilled. The salad is also served with rice noodles, and has a soy vinaigrette, but as I mentioned, Chef swapped out the dressing for me. As I always say, just ask. There might be a simple solution to making a dish gluten-free, but you'll never know if you don't ask your server.
The fried rice is one of the dishes that can be cooked using the gluten-free sauce, and I am SO happy about that. I love fried rice, and this one did not disappoint. The flavor was spot on, even with the sauce substitution, and it was very traditional in its preparation. You can choose to keep it just vegetables, or add pork, chicken, or shrimp. If you can't decide on a protein, you can have all three if you order the Imperial Fried Rice, which comes with all three, in addition to a soft egg on top. If noodles are more your thing, the menu also includes dan dan noodles and chow mein, with a choice of pork, chicken, shrimp or tofu.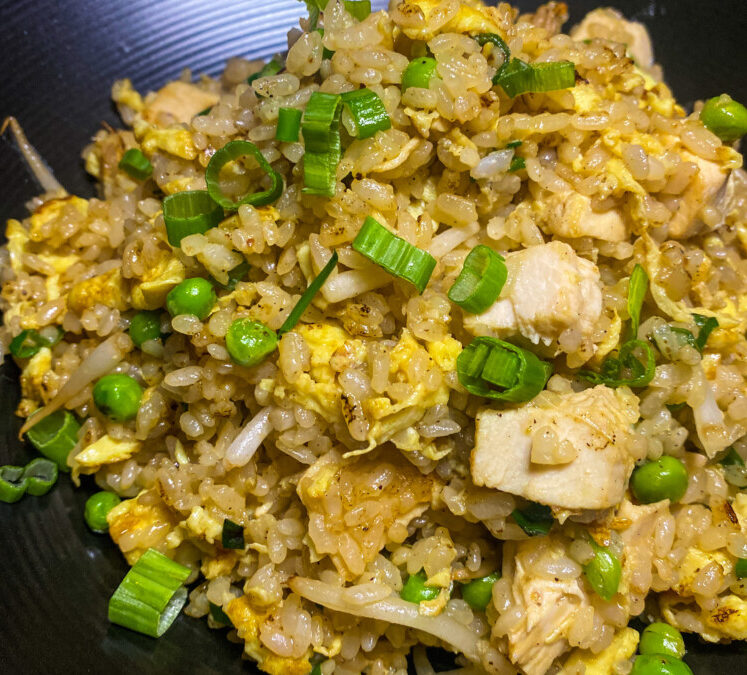 Another dish that is easy to make gluten-free is the salmon entrée. The salmon is coated in a sweet soy glaze, so that's where the swap comes in. The salmon was cooked exactly to my liking, and quite honestly didn't even need the sauce because it was cooked so well. It comes with bok choy, one of my favorite greens and also one of the things I love about Asian cooking — you never see bok choy on any other kind of restaurant's menu. All of the larges plates come with a side of steamed white rice, but there is also an option to sub for cauliflower rice.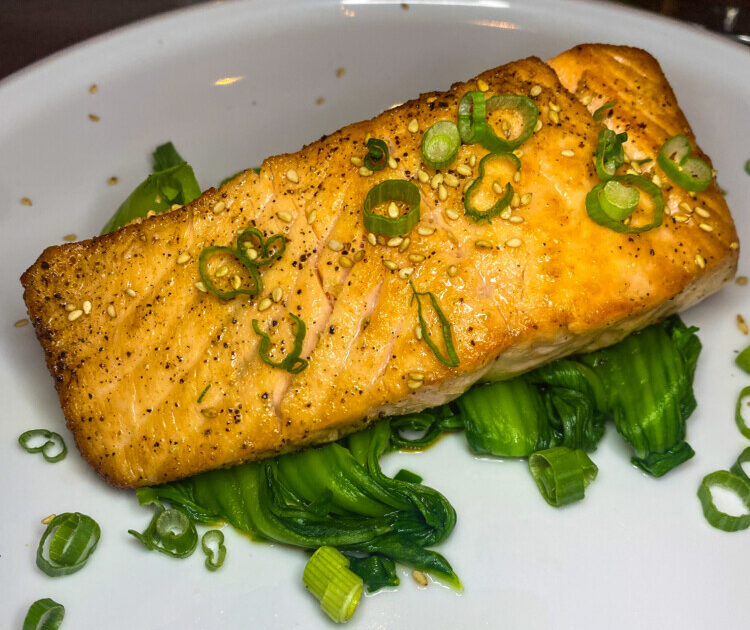 I can see the dim sum menu being incredibly popular. Egg rolls, shu mai, dumplings… these small, sharable plates are always a favorite at Asian-style restaurants. There's even a 'PK Tower' that comes with egg rolls, bao buns and tuna tartare tacos. At Pagoda Kitchen, the one that has gotten lots of rave reviews is the wagyu beef potstickers. Roger loved 'em, and so did everyone else I know who tried them during their Friends & Family visits. They come three to an order, and are served with a dumpling sauce for dipping.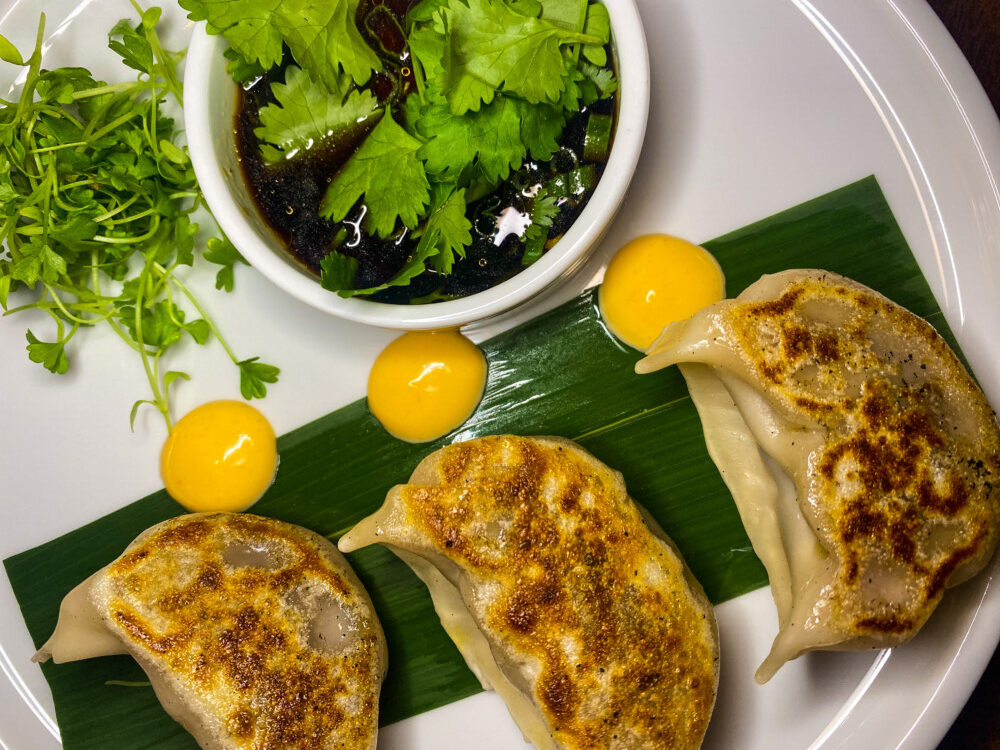 Sourcing Local for Desserts
If you've left room for dessert at the end of your dinner, you're in for a sweet treat. I do enjoy a good food biz collaboration, so I loved to see that Pagoda Kitchen sources their cake from local Delray Beach bakery, Two Fat Cookies, and the ice cream for two of their other desserts from a local sweet shop, Lily's Ice Cream.
The Two Fat Cookies VIP Coconut Cake is a multilayer cake, made with coconut buttercream. If you've ever had anything from Two Fat Cookies, you know this is going to be good. I've had a couple of their gluten- and dairy-free offerings and loved 'em.
The chai latte ice cream pie uses Lily's gourmet chai latte ice cream with a Biscoff cookie crust, and the black and white ice cream pie also uses Lily's gourmet ice cream, both vanilla and milk chocolate flavors with an Oreo cookie crust. There's also a flourless chocolate cake with vanilla cream and filthy cherries.
Suffice to say, you are not going to leave Pagoda Kitchen hungry! The options are plentiful and flavorful, and cater to all, whether you are vegetarian, pescatarian or a meat-eater, gluten-free or not.
Welcome to Delray, Pagoda Kitchen!
Make Your Reservation Now at Pagoda Kitchen
Pagoda Kitchen is located at 14917 Lyons Rd., #100 in Delray Beach. The restaurant is open for dinner Sunday through Thursday from 5-9pm, and Friday and Saturday from 5-10pm. Take-out, brunch and lunch coming soon!