Of all the food and wine festivals I've been a part of, the Palm Beach Food and Wine Festival last week was the best. A week full of top-notch foodie events, starting with an exclusive Chef's Welcome Party at the beautiful Cafe Boulud in Palm Beach and ending with a bang at 150 Worth Avenue with the 7th Annual Grand Tasting. I wish I could have attended every single event throughout the week, but alas, I was only able to get to four of them. I volunteered my time for these events and was also able to enjoy myself, taste incredibly delicious food, and meet some really awesome people — Robert Irvine, Marc Murphy, Jeff Mauro, and Elizabeth Faulkner, to name a few. 🙂


I met the chefs of some really great South Florida restaurants too, most notably Clay Conley of Buccan and Dean Max of 3030 Ocean. I made some great new friends that share my love of the culinary world. I also got to meet one of my fellow south Florida food bloggers: Dianna from The Kitchen Prep. It was awesome to finally meet her! We foodies gotta stick together!
Let's start out with the kick-off event at Cafe Boulud. Legendary Chef Daniel Boulud is someone whose food I have always wanted to try. Not only did I get to sample tons of dishes from his Palm Beach restaurant, but I got to meet him, gush about his amazing array of food and take a picture with him! The evening was a great way for the chefs to all get together and begin the amazing week ahead, starting with receiving their chef's coats.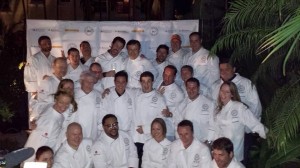 The party was held in the outside area of the restaurant, with a raw seafood bar, meat carving stations, a salad and antipasti bar, grilled seafood station, an ice bar,specialty cocktails, and one hell of a dessert display. I tried uni, monkfish and swordfish for the first time, and had my very first macaron (yes, I'm being serious.) I had a pink one and a green one…I'm really not sure what the flavors were. Strawberry and lime, maybe? Whatever they were, they were really good. I also sampled crab claws and lobster ceviche, heirloom tomato salad, grilled eggplant, and a coconut panna cotta. The best, however, was one of the passed-around hor d'oerves — arancini. Basically a fried ball of risotto and lots of yummy cheeses, the most prominent being fontina. The other volunteers and I all agreed that this was the most perfect bite and our favorite thing we tasted that night.



The next morning I headed to the Four Seasons Palm Beach, an absolutely gorgeous resort that I would not mind going back to very, very soon. I helped out with the Kid's Kitchen event. A group of adorable kids decked out in chef's coats, hats and aprons (soon to be completely covered in flour and sprinkles) got to make the famous Momofuku Milk Bar cake truffles with the Momofuku sweet genius herself, Christina Tosi!