Put on your Lily Pulitzer and big floppy hats — we're going to Palm Beach!
Denise and I recently were invited to visit The Colony Palm Beach and its star restaurant, Polo Steaks & Seafood. The moment we stepped inside the hotel, it was as though we were totally taken back in time to the days when everyone spent their Sunday afternoons sipping Mint Juleps at the horse track watching polo players on horseback… Wait, people in Palm Beach totally still do this. Well, The Colony fits in perfectly where it is. The decor is full of bright pinks and blues with pretty tacky designs (and I mean this in the nicest of ways) and even a cabaret performance room. Let's just say I felt a bit out of place in my black and white outfit and knee-high black heeled boots. Oh well, that's what happens when you drop a Jersey girl who's lived in New York City in the heart of Palm Beach Island.
Things got even weirder when we walked into Polo Steaks & Seafood and were met with a big wheel of cheese. Weird — but awesome! Guests can enjoy complementary cheese and crackers at the restaurant on Sunday through Thursday evenings. We were fortunate to have the Primadonna, a blend of cheddar and parmesan. We could 100% detect the cheddar, but I would have guessed its partner was swiss, not parm. Regardless, it was yummy and we gobbled it right up. Denise and I decided to sit outside — it was a gorgeous night and the outdoor seating area overlooks the pool and hotel patio lounge, so it was a pretty atmosphere. Side note about the pool — it originally was built in the shape of Florida, but has recently been reconstructed to make room for more seating. They chopped off the part where the Panhandle would be — I'm pretty sure the people who live there think they should be separated from the state anyhow.
You know how sometimes you're at a restaurant and you wonder where your waiter went? That was so not the case at Polo Steaks & Seafood. Our waiter, Fili, was so incredibly attentive — as was the restaurant manager, Maurice, who came out to check on us countless times throughout our dinner. Toward the end of the meal, Chef de Cuisine Stephen Darling came out to meet us and pretty soon we were taking a stroll with him and his wife and sous chef, Mylene, through their made-from-scratch herb garden. Stephen and Mylene met while working at Polo Steaks & Seafood and got the idea to start growing their own herbs only two years ago. It's an amazing addition to the restaurant and a really beautiful sight to see.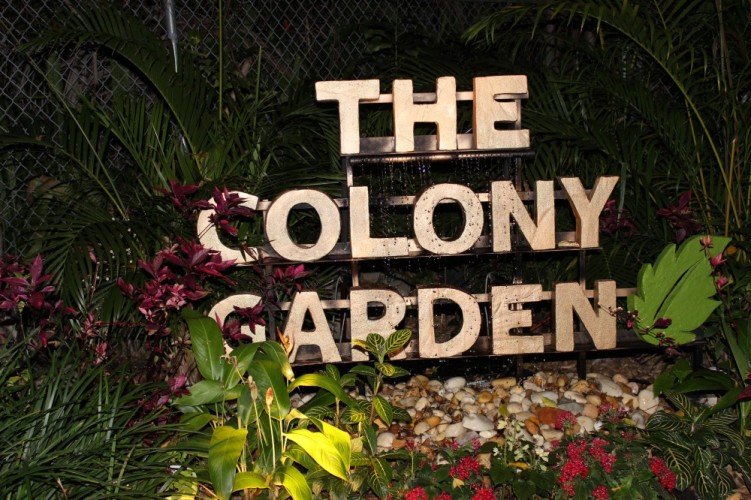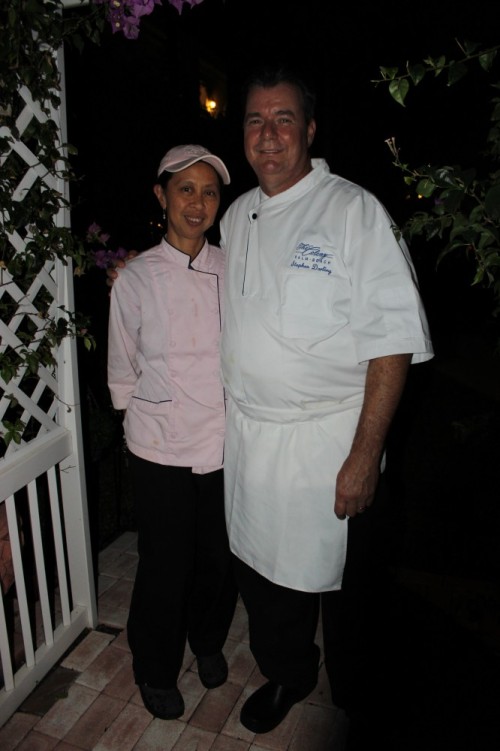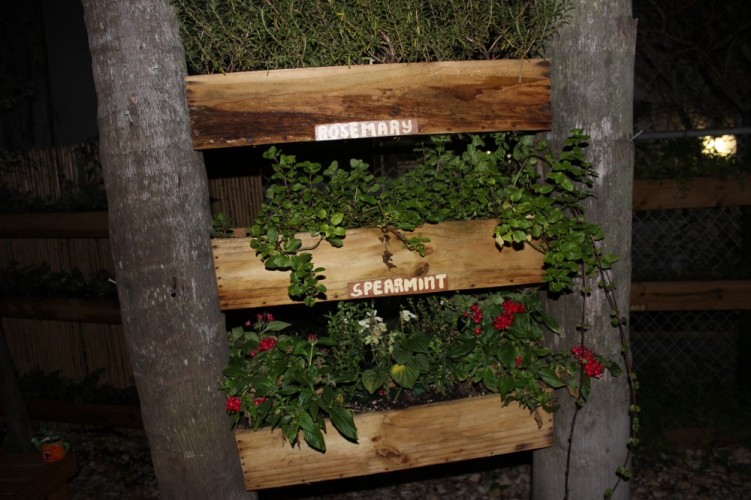 Now, the food…Ohhh the food! Everything about The Colony and Polo Steaks & Seafood is so classically Palm Beach, including the menu. It was straightforward — not very many thrills and frills like a lot of restaurants do nowadays. There was one thing on the menu though, that immediately stood out to me and Denise, and there was no hesitation about whether or not we'd be ordering it. A vegetarian appetizer — a thick-cut cauliflower steak with a white bean ragout. Chef Stephen actually told us he had seen something like this online and improvised to make it his own. There's a lot of great flavor in this dish — a little bit of cilantro and truffle oil really add something special. Though the cauliflower could have been a little more tender, we both still really enjoyed it and have plans to try and recreate it at home very soon.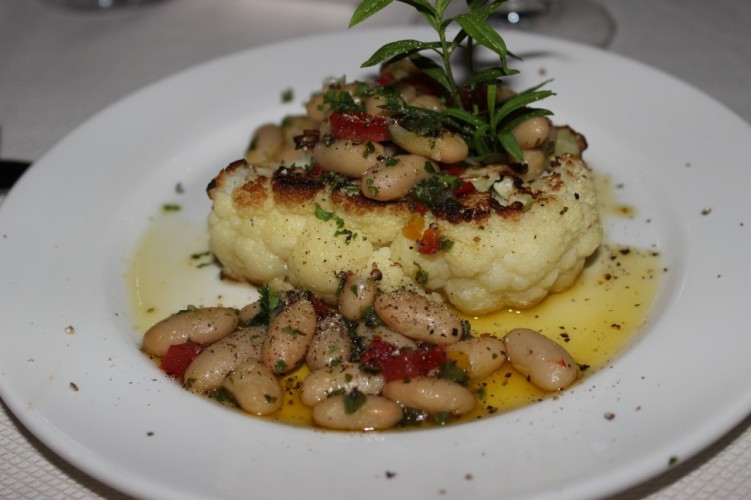 We also ordered the Roasted Beet and Goat Cheese Salad with spinach and white balsamic vinaigrette. You really can't go wrong with this kind of salad. It's one of our go-to menu choices whenever we see it. This one in particular was beautifully presented and the beets were cooked perfectly. The only thing it was missing was a crunchy element — pistachios or walnuts would have done the trick.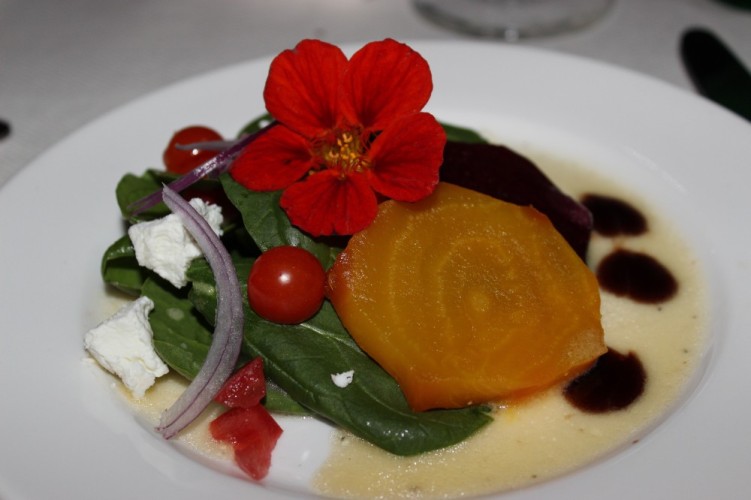 For dinner, I had the Seared Diver Scallops with saffron risotto and asparagus. These scallops were exactly how I like them — huge! The sear was perfect. I could eat scallops cooked like this everyday. And that saffron risotto? Wow. It was so full of flavor and really complemented the scallops. I'm a sucker for risottos but I've never had one like this before.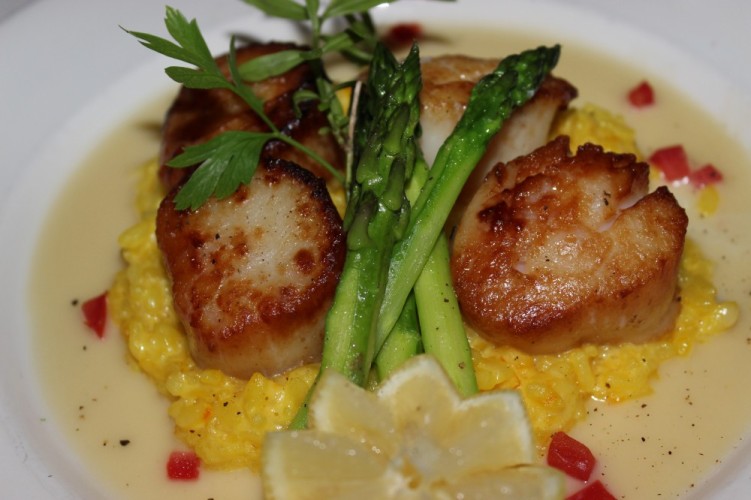 Denise ordered the special of the night — Chilean sea bass with jasmine rice and julienned vegetables; however, she subbed the veggies for a side of grilled asparagus with hollandaise. I couldn't resist trying the sea bass — after all, it is one of my favorite kinds of fish. It was silky smooth and tasted like butter, just the way you want your sea bass to taste and feel.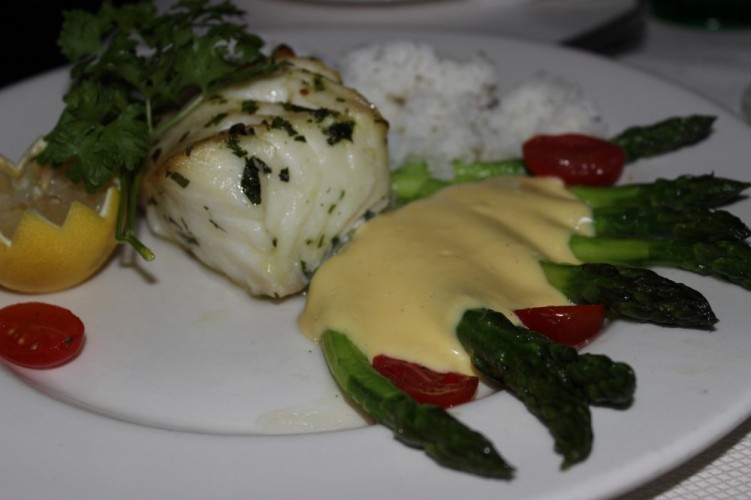 Dessert was super special. There were a lot of sweet treats on the menu that sounded great, but the restaurant's signature dish is the Bananas Foster, prepared tableside! I've never had Bananas Foster before and well, how could I resist someone flambéing bananas and rum right before my own eyes?! Pretty soon, a cart full of ingredients was rolled over to our table by Michael, the restaurant Maitre D with such a distinct Irish accent you'd think he just moved here last week.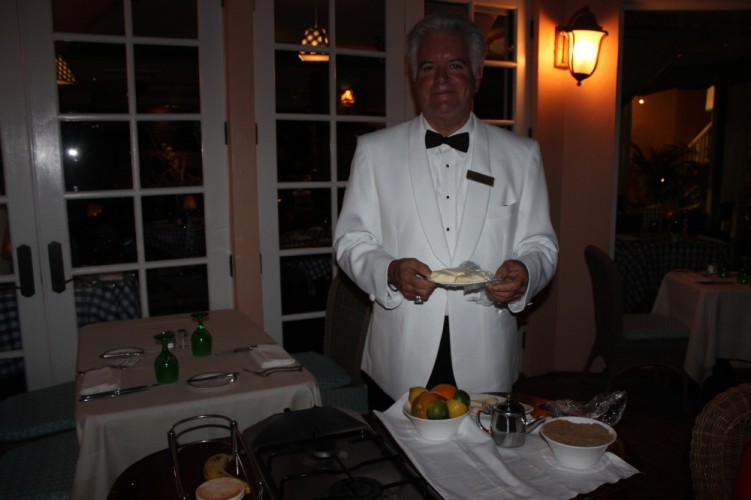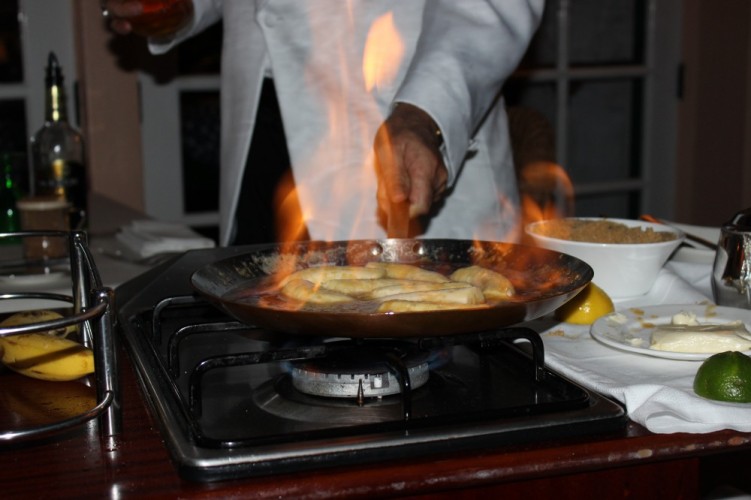 The Bananas Foster was absolutely incredible. It was served with a dollop of French vanilla ice cream. This definitely satisfied my sweet tooth that night!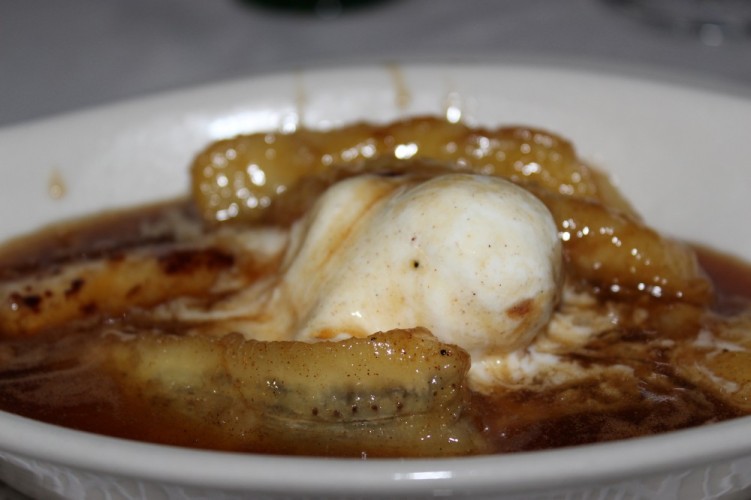 I knew nothing about The Colony or about Polo Steaks & Seafood before going there, and had no idea what to expect, but I was totally and completely taken away by the wonderful staff, the beautiful atmosphere, and the delicious food. I need to get up to Palm Beach more often.
The Colony Palm Beach and Polo Steaks & Seafood are located at 155 Hammon Avenue in Palm Beach.
Disclaimer: I was invited to dine as a guest of the restaurant. No monetary compensation was received for this review. As always, all opinions are 100% my own.