I promised you the recipe for my Veggie Quinoa Cakes, so here you go! These paired really nicely with the tilapia Amy cooked up for our dinner. They had great flavor; my only complaint was that they needed some kind of sauce. My bad. I should have prepared something to go along with the cakes; I think my Sweet Caramelized Onion Dip drizzled on top would have been perfect. I will definitely try that out next time I make these.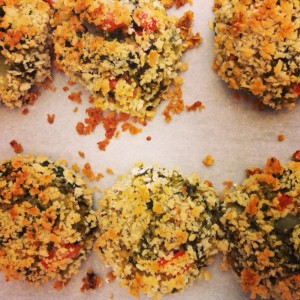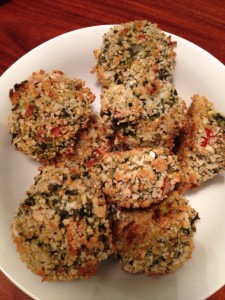 Panko-Baked Veggie Quinoa Cakes

2 tbsp coconut oil
1/4 onion, small, diced
1 red bell pepper, small, diced
1 cup frozen spinach, thawed and drained
1/2 cup wild mushrooms, chopped
1 tbsp garlic powder
2 tbsp Gourmet Garden basil (or chopped fresh basil)
2 tbsp Gourmet Garden chili pepper (or red pepper flakes)
2 egg yolks
1/2 cup cooked quinoa
all purpose flour for dredging
1 egg, beaten
panko breadcrumbs for coating

Heat oil in a medium sauté pan over high heat. Add onions and cook until translucent. Lower to medium heat and add peppers, spinach and mushrooms and cook for 5 minutes or until all veggies appear soft. Remove from heat and stir in the garlic powder, basil and chili pepper.

In a separate bowl, combine the egg yolks and cooked quinoa. Add the vegetable mixture and stir until well combined. Use a cookie or ice cream scoop to portion out your cakes and place on a baking sheet lined with parchment paper. Place in the freezer for 1-2 hours or until cakes have hardened.

Preheat your oven to 375 degrees. Make your assembly line: fill 3 shallow dishes with flour, beaten egg and panko breadcrumbs. Dredge the cakes one by one in flour, then coat with egg and finish by completely covering in panko. Place back on the baking sheet and bake for 25-30 minutes.

Disclosure: Gourmet Garden sent me free coupons for their products during my participation in Blogger Brunch Week. I was not compensated for this post and all opinions are my own.

Posted with Blogsy