Never miss a bite! Sign up here to receive new recipes and reviews straight to your inbox.
If there is one thing we all crave here in South Florida during the summer, it's frozen treats! Whether ice cream, frozen yogurt, sorbet or gelato — everyone wants something ice cold and refreshing to help us stay cool. Papalani Gelato opened up at just the right time! This Hawaiian-inspired gelato shop opened in Delray Beach on May 7th and features a tropical and fruitful array of fresh and delicious hand-crafted Hawaiian-style artisanal flavors. There is another location in Tampa — and Hawaii, too!
But don't be fooled — this is not your typical ice cream parlor. Papalani Gelato has hand-made Hawaiian-style gelato, dairy and gluten free sorbetto, truffles made exclusively for the store, a variety of pastries and baked goods made by local bakers, signature cakes and pies, freshly brewed Kona and Oahu coffee, and a breakfast menu with things like Belgian and Big Island Waffles, Old School Oatmeal, Fresh Tropical Fruit Salad and locally-made granola. Although the breakfast menu may appear unavailable after 11:30 a.m. (it doesn't show up on the TV showing their digital menu), you can still order breakfast all day! Papalani Gelato also offers blended drinks — a "Freeze" is made with sorbetto and a "Breeze" is made with gelato. There is even a "Fit Freeze" option for those who want a fat-free treat of under 200 calories.
I had the opportunity to meet Mark, the owner of the Delray Beach location, to try some of the delicious treats coming out of this particular Papalani Gelato kitchen. First up was an assortment of the most popular gelato and sorbetto flavors — the Papalani™ Pie Gelato (espresso, coconut, espresso crunch, chocolate cookie sauce), Belgian Chocolate Gelato (gluten and nut free), Lilikoi Sorbetto (Hawaiian passion fruit), POG Sorbetto (pink guava, passion fruit, and blood orange). The Papalani™ Pie Gelato had such an intense amount of coffee flavor — it really felt like I was getting a kick of caffeine! Both sorbetto flavors were delicious! Super refreshing and a great balance of sweet and tart. For me, texture is a big deal when it comes to frozen desserts. The gelato was smooth and creamy, as it should be, while the sorbetto has a bit of a grainier texture like water ice, but still pretty smooth. I really enjoyed both varieties.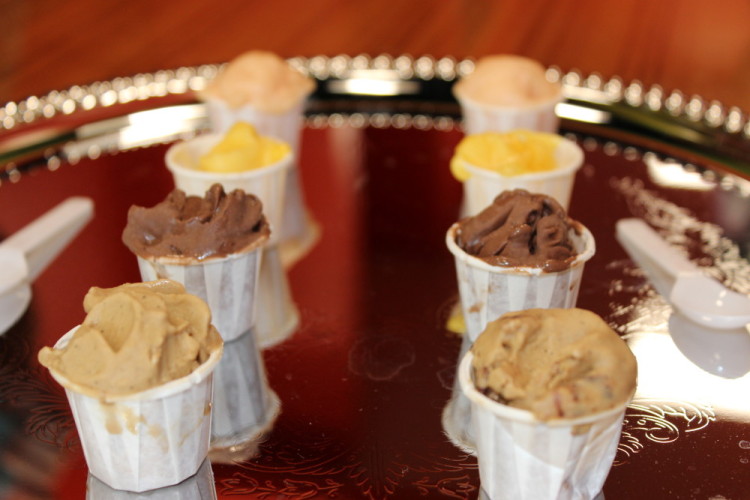 I just had to have a cup of fresh coffee. I love the taste of rich, bold Hawaiian-style coffee. It was the perfect complement to the Blood Orange Truffle and Lilikoi Truffle I was given to try. Lilikoi, as I mentioned above, is Hawaiian passion fruit and it is seriously one of the most delicious flavors I've ever tasted. To make it even better, it's coated in rich, dark chocolate — my favorite!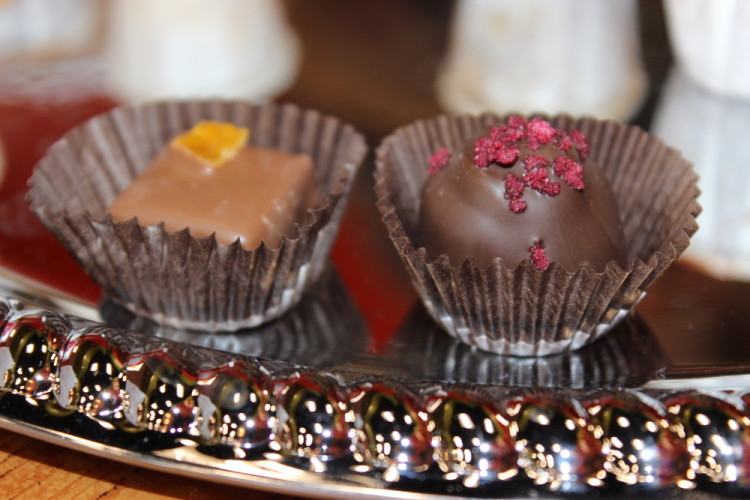 We were doing things a little backward here — gelato and chocolate first, breakfast second! Mark brought out an array of toppings for us to build our own Belgian waffles. One of these waffles is enough for three to share! Papalani Gelato's waffles are gorgeously browned, thick and fluffy, and soft as air on the inside. He scooped a dollop of vanilla bean gelato on top and there were crushed macadamia nuts, rainbow sprinkles, and chocolate shavings in all kinds of colored sprinkles were there for us to have fun with.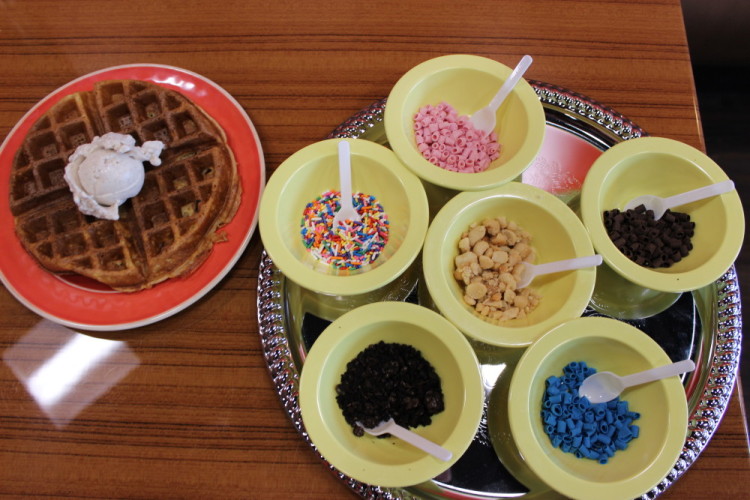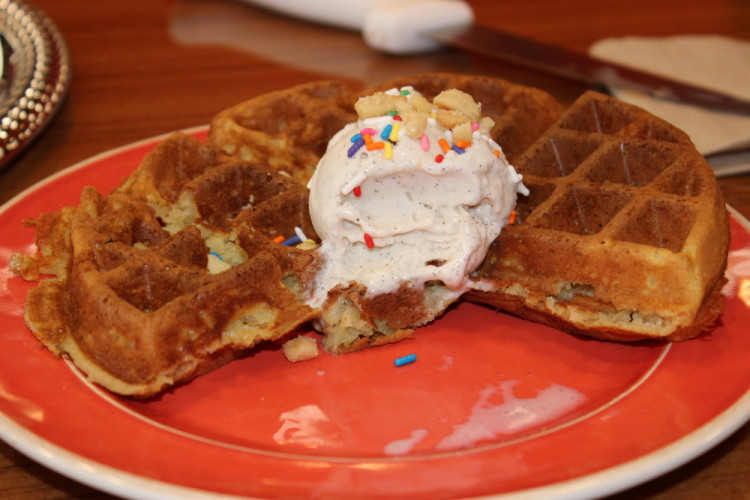 Like I said, Papalani Gelato is not your typical ice cream parlor. This is sweet-tooth heaven! You can turn any flavor gelato or sorbetto into a cake or pie — perfect for a birthday! Speaking of which, you could even have your child's next birthday party right there in the store! How's that for a fun idea?
Next time you're hankering for something sweet after dinner, try something new!  Papalani Gelato is located at The Shoppes at Addison Place at 16950 Jog Road, Delray Beach.
Disclosure: I was invited as a guest to sample an assortment of dishes at Papalani Gelato. No monetary compensation has been received for this review. As always, all opinions are 100% my own.