With the Super Bowl right around the corner, dips and fun finger foods are on everyone's minds. If you're headed to a party, there's bound to be a huge variety of foods for you to dig into, but sometimes these appetizers are a little heavy on the calories. Why not be the one to bring something healthful to the table? No one will even know the difference!


I recently made two low-calorie & low-fat dishes to bring to a family get-together for my cousin's son's 2nd birthday: spinach and artichoke dip and cucumber feta rolls. Both of these appetizers would be great for Super Bowl parties or any gathering. Dips are probably the most popular potluck item at parties, so it's crucial to make sure that you aren't bringing the same one as another guest! Spinach and artichoke dip is a common one, but it's often loaded with full-fat cheese and super heavy; this dip is a healthy alternative that tastes just as good!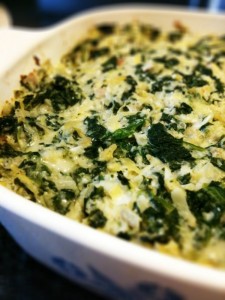 I adapted this recipe from Skinnytaste and changed a few things. I paired the dip with pretzel crisps (my favorite!) and small triangles of pita bread, but it would be just as tasty with other types of chips too! Choose whole wheat pita chips or any baked variety to stay on track with the healthy theme of the dish.


You'll need the following:
14 oz. artichoke hearts packed in water, drained
10 oz. frozen spinach, thawed and drained
1 small or medium sized shallot, chopped
1 garlic clove, chopped
2/3 cup fat-free plain Greek yogurt
1/4 cup fat-free ricotta cheese
1/4 cup parmesan cheese
2-3 oz. shredded part-skim mozzarella cheese


Preheat your oven to 375 degrees. Chop the artichoke hearts, shallot and garlic together in a food processor. Then, in a medium bowl, combine with the other ingredients and mix well. Pour the mix into an oven-proof baking dish (coated with cooking spray) and bake for 25 minutes. You'll want to serve this warm, so either serve immediately or keep it in the oven until you are ready. I chose to keep it in the oven until we were ready to go to my cousin's and heated it up in the microwave once we got there. Everyone enjoyed it, especially with the pretzel crisps. There weren't any leftovers to bring home, which is always a good sign!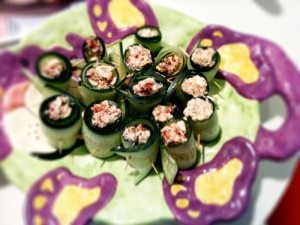 The cucumber feta rolls were an absolute hit. These sushi-lookalikes are so cute and easy to make. I came across the recipe randomly on a site called GoodLifeEats. You'll need a mandolin slicer to get just the right size cucumbers; it was difficult to master at first, but eventually I got the hang of it. I probably would have had more cucumber slices had I known what I was doing with the slicer from the start, but there's always next time! The recipe says it should yield about 20, and I got 15, so I did get pretty close.


You'll need:
2 large cucumbers
6 oz. crumbled fat-free feta cheese
2-3 tbsp fat-free plain Greek yogurt
3 tbsp chopped sun-dried tomatoes or roasted red peppers, whichever you prefer. I used sun-dried tomatoes this time; next time I'll try it with the peppers.
1 tbsp oregano
2 tsp lemon juice
a pinch of pepper


Combine all the ingredients together in a bowl and mix well. Lay your cucumber slices out on a paper towel and put about a teaspoon of the mixture at one end of the strip of cucumber and roll up. Secure the roll in place with a toothpick. Keep the rolls in the refrigerator until you're ready to serve. These were absolutely delicious. The combination of feta and sun-dried tomato not only tastes great, but smells really good, too! The fun presentation makes them a good appetizer to bring as your contribution to a get-together with friends or family, no matter what the occasion.


Now you have some healthy, but still plenty yummy, options to bring to the next party you're invited to! It's easy to swap ingredients for ones with lower calories when you're making simple recipes. Keep in mind that fat-free plain yogurt is a really good substitute for mayonnaise or sour cream in most recipes, and always complement your dips with lower-calorie chips, pretzels, or cut-up veggies. Keep it light, but always remember to party on!