I can't wait to get my hands on an ice cream maker attachment for my KitchenAid stand mixer. There are so many flavors of ice cream and sorbets I just cannot wait to churn up. We make this limoncello sorbet at work that is so good, it actually makes me like lemon. Normally, lemon is my least favorite flavor in desserts. Don't make me lemon bars — I won't eat them. But limoncello, an Italian lemon liqueur, is pretty freaking delicious; and when made into a yummy dessert, it doesn't get much better.
Anyway, I'm getting away from myself. The point is…I don't have the ice cream maker attachment yet. So if I want to make ice cream at home, I have to improvise and figure out a different way to make this frozen treat. Since I'm moving soon, I'm trying to use up all of the perishable items in my kitchen. I had some Cool Whip and cream cheese in my fridge that needed to be used, so I figured I'd whip them up with a few other ingredients to make a dessert. Super ripe bananas and a little bit of Better'n Peanut Butter made this creation the perfect dessert to pair with the dinner my friend Lauren and I cooked up the other night. Dinner included three recipes from work that I absolutely love: farro salad with roasted beets, radicchio and feta cheese; collard greens with roasted garlic, potatoes and wild mushrooms; and salmon with a chili-garlicsauce. This Peanut Butter Banana Cheesecake Ice Cream was the perfect ending to a really flavorful dinner.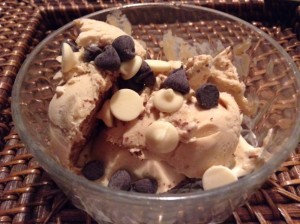 The reduced fat cream cheese and fat-free Cool Whip help make the smooth, creamy consistency that we all know and love about ice cream — with way less calories and fat. Better'n Peanut Butter is also a contributor to making this dessert pretty guilt-free. For a 2 tablespoon serving, it's only 100 calories and 2 grams of fat. The flavor is just as good, if not better, than regular peanut butter. I like it a lot better actually, and prefer using this product in anything I make that uses peanut butter.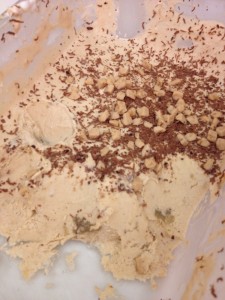 Peanut Butter Banana Cheesecake Ice Cream
1 overripe large banana
8 oz. reduced fat cream cheese
6 oz. fat-free Cool Whip
3 tbsp Better'n Peanut Butter
1 tsp vanilla extract
optional toppings: chocolate shavings, toffee bits, dark chocolate chips, white chocolate chips
Blend the banana in a food processor until creamy. Using a hand mixer, combine the banana, cream cheese, Cool Whip, Better'n Peanut Butter and vanilla in a medium bowl and mix until smooth. Freeze for at least 4-5 hours or overnight.

Posted with Blogsy