Never miss a bite! Sign up here to receive new recipes and reviews straight to your inbox.
Welcome in the holiday season with Peppermint Cream Cookie Cupcakes.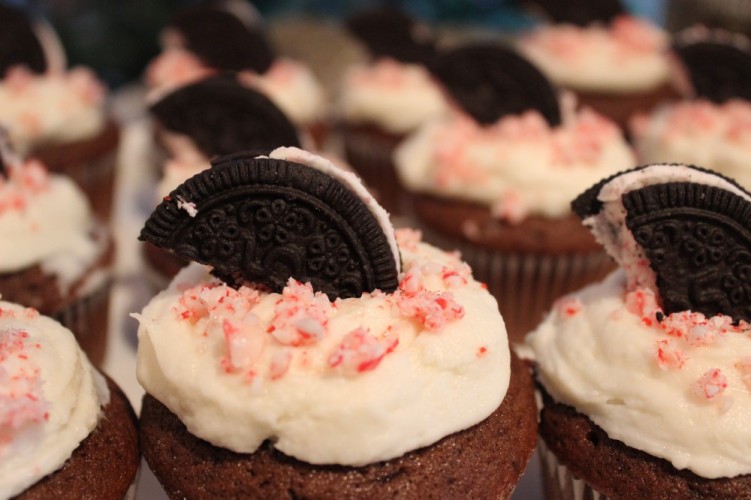 Food Bloggers are at it again! We're dreaming up delicious holidays to give everyone an excuse to indulge in things like…CUPCAKES! Today is #CupcakeDay — well, actually next Monday is #CupcakeDay, but since so many of us participate in the Great Food Blogger Cookie Swap, we decided to post our cupcakes today instead. Besides, celebrating cookies and cupcakes on the same day is too much. We need to spread the sweetness!
So, today you're getting a list of over 20 kinds of cupcakes you can make. I think you should make each and every one of our creations — how about you start with these Peppermint Cream Cookie Cupcakes? Holiday sandwich cookies are the crust to a chocolatey cupcake with peppermint cream cheese frosting sitting lusciously right on top. And only because of how addicting these little Candy Cane Cookies are, we added more right on top. I found these Candy Cane Cookies at Whole Foods. They are yummy!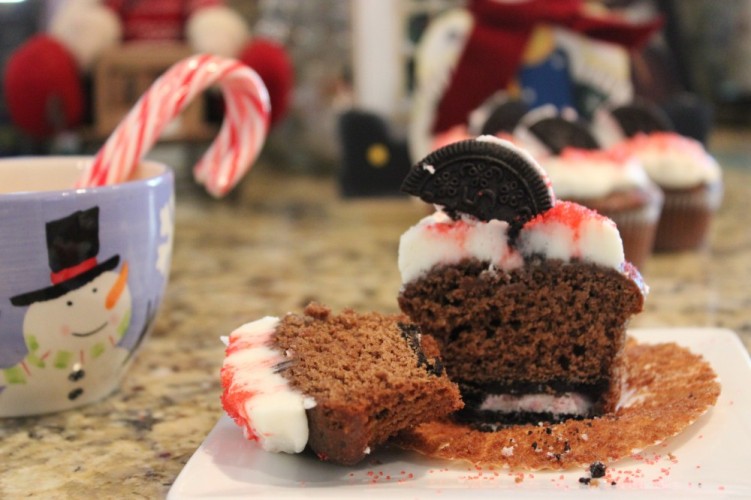 Can we talk about the cream cheese frosting for a second? It's thick, it's creamy and it's suuuuuuper pepperminty. It's amazing how much a tiny drop of peppermint extract can do… Seriously though, peppermint lovers will cry about how amazing this frosting is. Plus, it's cream cheese frosting — need I say more?
Since the frosting is so creamy and dreamy and makes my tastebud sing Christmas carols (and the dreidel song!), I thought a little peppermint crunch action would make it even better. How about some candy canes and red sparkles for a little extra holiday cheer — sound like a good idea? Yeah, I thought so too.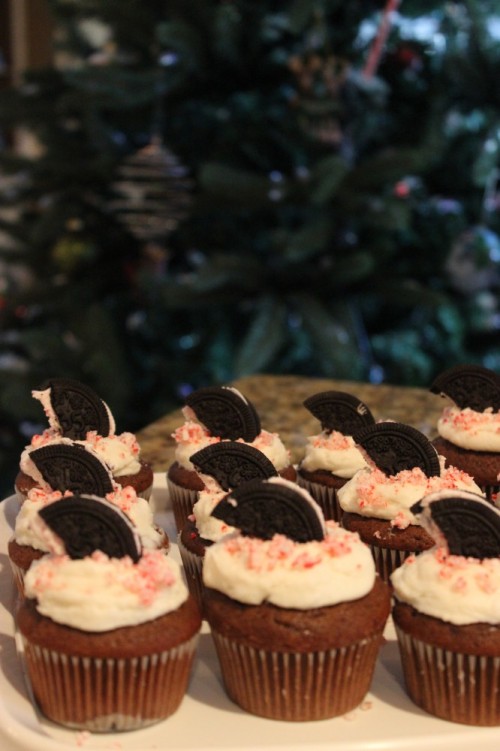 Sometimes I get so overwhelmed with the desire for pumpkin spice season that I forget how much I loooove the combination of chocolate and peppermint. I'm actually pretty in love with peppermint itself too. You know those peppermint cream meltaways, the big red and white striped mints that "melt away" in your mouth? Here's an idea of how much I like them — one year, my friend bought me the huge Costco size tub for my birthday. True story.
So naturally, being that it's winter and the holiday season and chocolate and peppermint are the obvious choice during this time of year, it was the first thing to come to my mind for #CupcakeDay. No brainer, right?!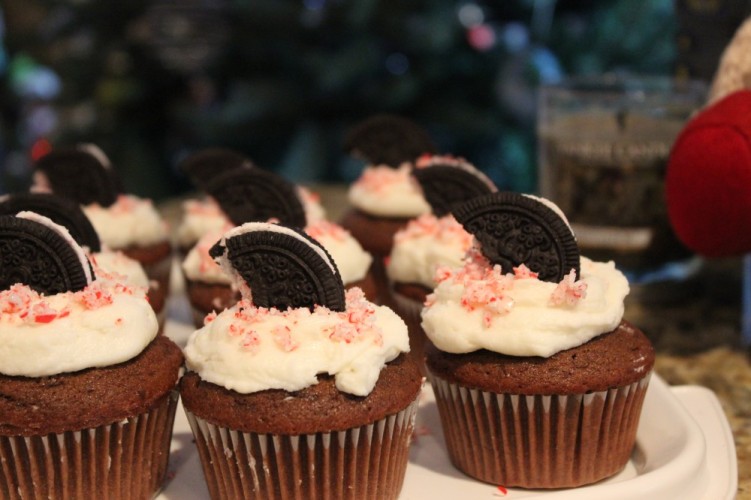 If you have any holiday parties coming up, I highly suggest you go out right now and buy Candy Cane Cookies, then come home and bake up some chocolate cupcakes, whip together a peppermint cream frosting, and voilá — you've got the perfect holiday hostess gift, especially if the party is on #CupcakeDay!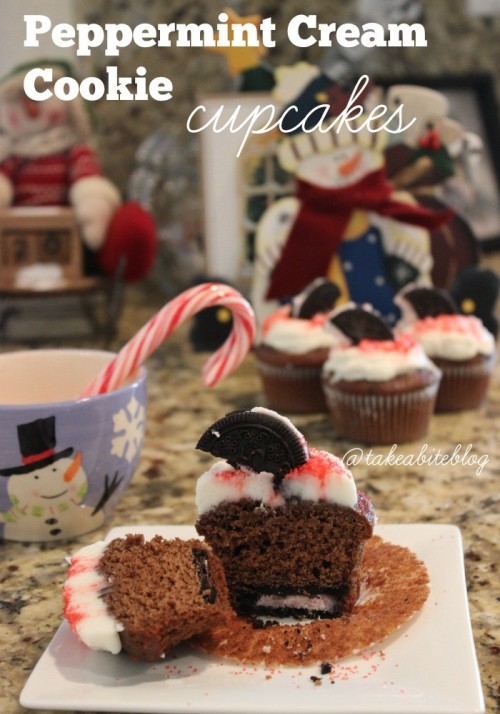 Peppermint Cream Cookie Cupcakes #CupcakeDay
Author:
Holiday sandwich cookies are the crust to a chocolatey cupcake with peppermint cream cheese frosting sitting lusciously right on top.
Ingredients
For the cupcakes
1 cup packed brown sugar
6 tbsp unsalted butter, softened
2 large eggs
1 1/4 cups ap flour
1/2 cup unsweetened dark cocoa
1 tsp baking powder
1/2 tsp baking soda
1/2 tsp salt
1/2 cup low-fat buttermilk
1 tsp vanilla extract
12 Chocolate Candy Cane Sandwich Cremes (I used Whole Foods 365 brand)
For the peppermint cream frosting
2 cups powdered sugar
4 oz. neufchâtel or reduced fat/light cream cheese
1/4 cup 1% milk
1/8 teaspoon peppermint extract
For the topping
3 regular sized candy canes, crushed
6 Chocolate Candy Cane Sandwich Cremes, cut in half
Instructions
For the cupcakes
Preheat oven to 350°. Prepare a 12-cup cupcake pan with liners, place one cookie in each liner and set aside.
Combine flour, cocoa, baking powder, baking soda and salt in a medium bowl.
Add brown sugar and butter to the bowl of a stand mixer and beat until well combined.
Add eggs 1 at a time, making sure to beat well each time.
Alternate adding dry ingredients and the buttermilk to the sugar mixture, starting and ending with the dry.
Add vanilla extract and mix well.
Scoop batter into each cookie-filled liner. Bake for 12 minutes.
Cool in the pan for 10 minutes before moving to a wire rack to cool completely.
For the frosting
Combine powdered sugar, cream cheese, milk and peppermint extract in the bowl of a stand mixer and mix until smooth and creamy.
Scoop the frosting into a ziplock bag and snip the corner.
Pipe the frosting onto the cooled cupcakes. Sprinkle the crushed candy cane on top, and finish with one cookie half.
Notes
Adapted from Cooking Light: http://www.myrecipes.com/recipe/chocolate-cupcakes-with-peppermint-frosting
We are Cupcake Crazy today! Special thanks to The Redhead Baker Coleen Hill for putting this event together!