One of my favorite flavor combinations during the holidays (or any time of year really) is chocolate and peppermint. So when Hodgson Mill invited me to participate in their "Have a #GRAINHoliday" Recipe Contest, I knew exactly what I wanted to make! Chocolate Peppermint Crunch Brownies!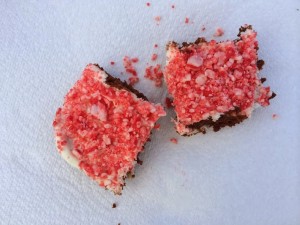 Hodgson Mill is a family-owned company that makes products such as flours, quinoa, pasta, bread mixes and cereal. They also have kosher and gluten-free products. I always look for high quality and nutritious products when I'm baking, and Hodgson Mill is definitely one of the best out there. Right now, you can get a $1 off coupon for any 5 lb bag of flour or cornmeal and you can also enter the 25 Days of GRAIN Holiday Sweepstakes on Facebook! Hodgson Mills will pick a winner every day for 25 days; the winner will receive their choice of a whole-grain or gluten-free prize pack!

So I bet you're dying to hear more about my delicious holiday-treat worthy chocolate and peppermint brownie creation, huh? It's such a simple recipe, and with the help of Hodgson Mill White Whole Wheat Flour, you get a nice kick of nutrition in each bite. I also lightened the recipe up a bit more by replacing a little over half of the butter with non-fat Greek yogurt — one of my go-to healthy swaps! One thing that Hodgson Mill and I have in common is our mantra that healthy and nutritious eating can still taste good! I'm always looking for ways to keep recipes healthy without risking flavor.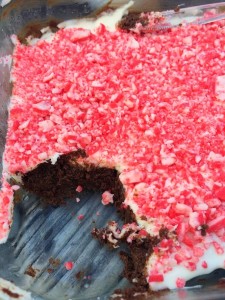 These brownies are ooey, gooey, chocolaty and delicious. They are so rich you may want to use a fork instead of eating them with your hands. I like to under bake my brownies a little bit. This definitely helps them retain some moisture and stay nice and fudgy. This is a three-part recipe. First, you've got your brownie layer. Then you have a peppermint cream cheese frosting layer and on top are a whole bunch of crushed Andes Peppermint Crunch candies. Are you following me? Brownie. Cream Cheese Frosting. Peppermint Crunch Candy. Is your mouth watering yet?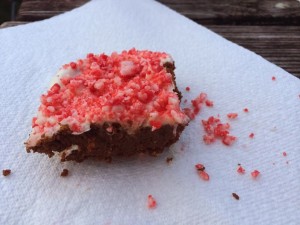 It totally should be.

Though it may seem complicated with there being three steps to these Chocolate Peppermint Crunch Brownies, it's not difficult if you follow this sequence. All in all, I'd say these brownies take about 45 minutes from start to finish.

Begin by baking the brownies. All you need is a microwavable glass bowl, an 8-inch glass baking dish, a wooden spoon and a spatula. Pretty simple if you ask me.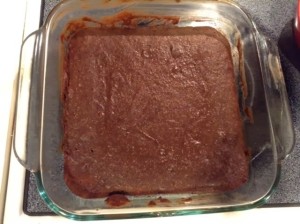 While your brownies are baking, you can work on the cream cheese frosting. This is the same frosting I make for my Cheesecake Stuffed Strawberries. It's simply cream cheese and powdered sugar. I added in peppermint extract to give it the peppermint flavor needed here.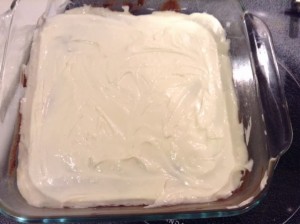 Now you can crush up all your Andes Peppermint Crunch (limited holiday edition!) in your food processor until they are all completely pulverized. You really don't want many big chunks; it looks a lot prettier when the pieces are all uniform in shape and size.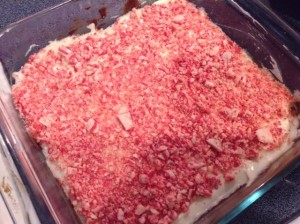 I still can't get over how these brownies turned out. Anyone who likes a fudgy brownie will go crazy over these. One thing is for sure — these are kind of a mess. I mean, you can't even get the knife to come out clean after cutting them into squares. It's impossible. There will be so much brownie amazingness left on the knife, that whoever is cutting them is pretty much forced to lick the knife afterward. And if you insist are forgoing the fork and eating with your hands, don't say I didn't warn you! I'm going to start keeping a list of all my favorite goodies to bake during the holidays and these Chocolate Peppermint Crunch Brownies are going right at the very top!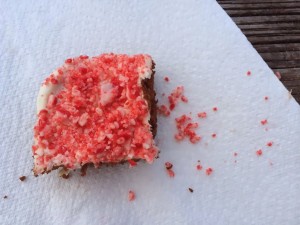 Chocolate Peppermint Crunch Brownies
Makes 16 brownies
For the brownies
3 tbsp unsalted butter, room temperature
½ cup non-fat plain Greek yogurt
1½ cup granulated sugar
¾ cup Hodgson Mill White Whole Wheat Flour
1 cup cocoa powder
2 eggs

For the cream cheese frosting
1 8 oz. tub of reduced fat plain cream cheese
1 cup powdered confectioners' sugar 2 tsp peppermint extract

For the topping8 Andes Peppermint Crunch wrapped candies

Preheat the oven to 350 degrees. Spray an 8-inch glass baking dish with cooking spray and set aside,

In a medium sized microwavable glass bowl, melt the butter for about 30 seconds. Add in the Greek yogurt, sugar, flour, cocoa and eggs. Stir with a wooden spoon until well combined. Pour the batter into the baking dish and spread evenly. Bake for 25 minutes.

While your brownies are baking, combine cream cheese and powdered sugar in a medium bowl. Use an electric hand mixer to beat until you reach a smooth and creamy consistency. Add the peppermint extract and continue to mix for another 15 seconds. Keep the frosting in the refrigerator until you are ready to frost the brownies.

Place all of the Andes Peppermint Crunch candies into a food processor and pulse until they are completely crushed. Set aside.

Don't fret if the brownies appear underdone when you take them out of the oven. This will give them the fudgy density that this recipe calls for. Let the brownies cool completely.

Once the brownies have cooled, take your frosting out of the refrigerator and spread generously and evenly over the brownies. Sprinkle the crushed peppermint crunch candies over top, completely covering the entire pan of brownies.

Keep in the refrigerator until you are ready to serve.


Disclaimer: Hodgson Mill sent me three bags of flour and a baking mix to test and develop a recipe to enter into their Have A #GRAINHoliday baking contest. I was not compensated for this post. As always, all opinions are my own.