Never miss a bite! Sign up here to receive new recipes and reviews straight to your inbox.
Disclosure: I am a member of the Perfect Keto affiliate program. The links provided in this blog are affiliate links. I also received an Advanced Review Copy of the Keto Answers book from the authors and chose to write this review. Photos and information has been provided by the sponsor. As always, all opinions are 100% my own. Shop Perfect Keto and receive 15% on your first purchase at www.perfectketo.com/bite15.
Over the summer, I made a commitment to my health, my body, and my boyfriend that I'd follow the Keto diet for one month. That meant we were to have no more than 20g of carbohydrates per day, consume little to no sugar, and incorporate foods with way higher fat content than I'm normally used to. It was a struggle at first. The hardest part for me was not being able to have many of the things I like to snack on — fruit (berries are okay), roasted chickpeas, plantain chips, certain protein bars, rice cakes, etc. But after the first couple weeks, I started to feel a difference. My focus was clearer, I was sleeping better, digestive issues were happening much less than usual, and I was leaning out like mad.
When you truly follow the Keto diet, it can have a profound effect on the mind and body. So, what exactly is this diet all about? It's about training the body to burn fat for energy instead of glucose. When you restrict carbs in your diet and load up on fats, it puts your body into a fat-burning state called ketosis, meaning that it will burn fat for fuel rather than carbohydrates.If you aren't quite convinced yet that Keto can help get you the weight loss results you're looking for, check out this article.
Aside from aiding fat loss, Keto is also known to improve overall health including improving endurance for athletes, improving IBS symptoms and abdominal pain, balancing blood sugar and insulin levels, reducing risk factors for heart disease, alleviating PMS symptoms, supporting brain health, and prevent seizures in epileptic patients — which is actually what the diet was created for back in the 1920's.
There are tons of Keto-friendly brands and products out on the market now too, which makes it much easier to transition into this low-carb, high-fat lifestyle. But there is one company in particular that helped me out the most as I started out on this Keto journey — Perfect Keto. Not only is the website filled with incredibly educational and useful articles and tools, but the products are delicious and make keeping Keto interesting and EASY.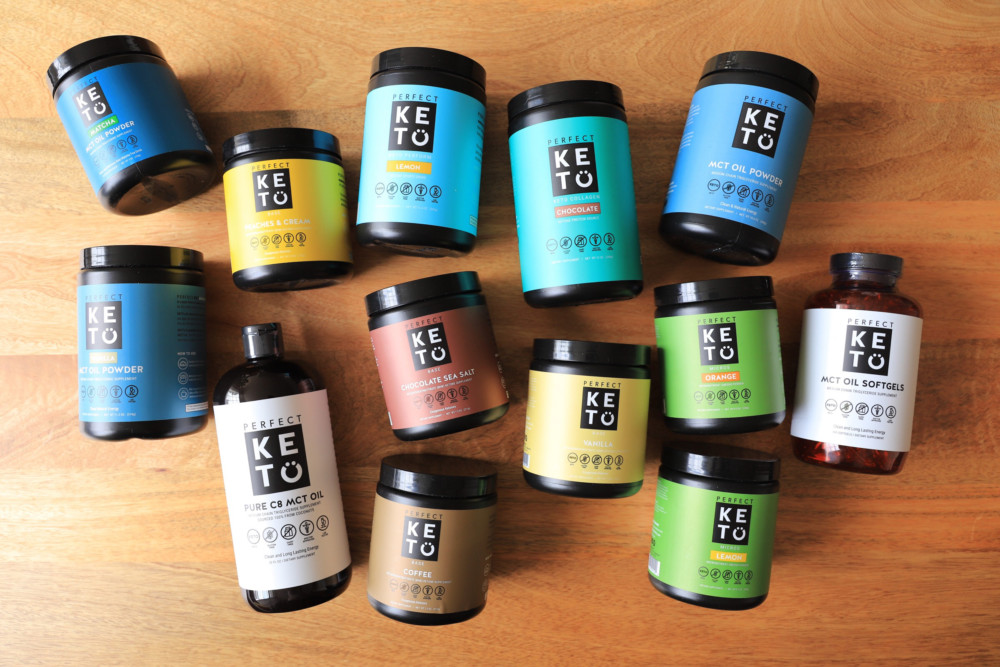 All of the snacks and supplements are gluten and grain free, and there is no corn, soy, fillers or chemicals, or added sugars. The products are doctor-developed, backed by science, and made to promote better health overall. So even if you aren't diving headfirst into a Keto lifestyle, the products are still made to improve general health.
The chocolate chip cookie dough and cinnamon roll Keto Bars are my favorite. They're vegan which is not always the case with Keto products since dairy and egg is allowed — this also means they are totally Shaina-friendly! Pro tip: keep them in the freezer! They will soften up if left at room temperature.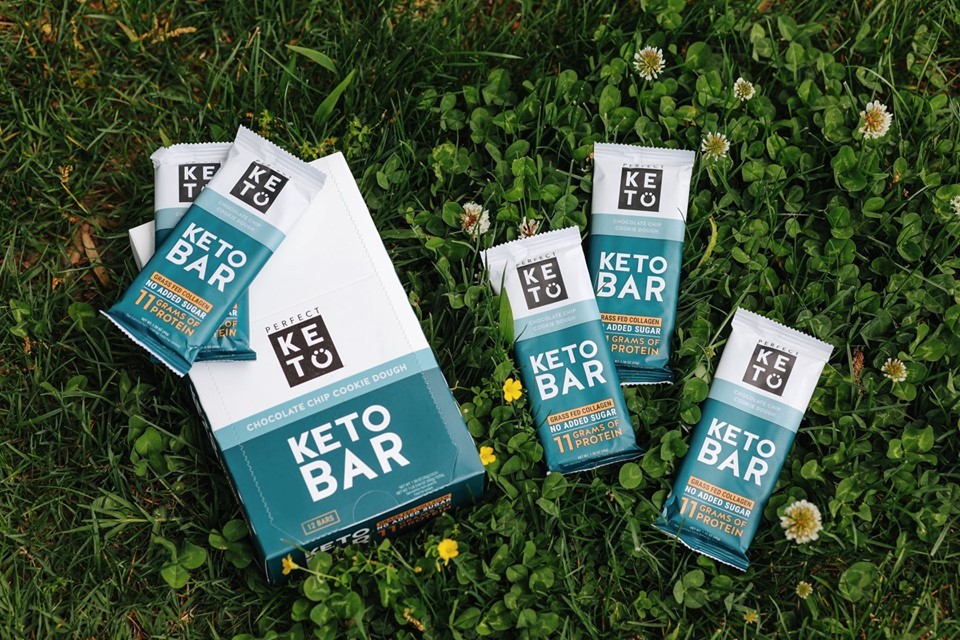 There's also different flavor collagen powder — I like to use the chocolate flavor mixed with with almond milk and Perfect Keto Nut Butter after a workout. MCT oil, one of the most popular products for those who follow a Keto diet, is available in powder form in flavors like matcha latte and salted caramel — its ideal use is blended with coffee or espresso to make what tastes and appears like a latte.
MCT oil is the ingredient in the bars, nut butter and some of the other Perfect Keto products that make these products Keto-friendly. MCTs are a unique type of fatty acid found in coconut oil that are a much faster source of energy than most longer chain fatty acids. MCTs support mental clarity and sharpness, improve gut health, help with weight loss, boost mental acuity, and prevent heart disease. It's a pretty impressive ingredient, and one I would have known nothing about had it not been for my partnership with Perfect Keto.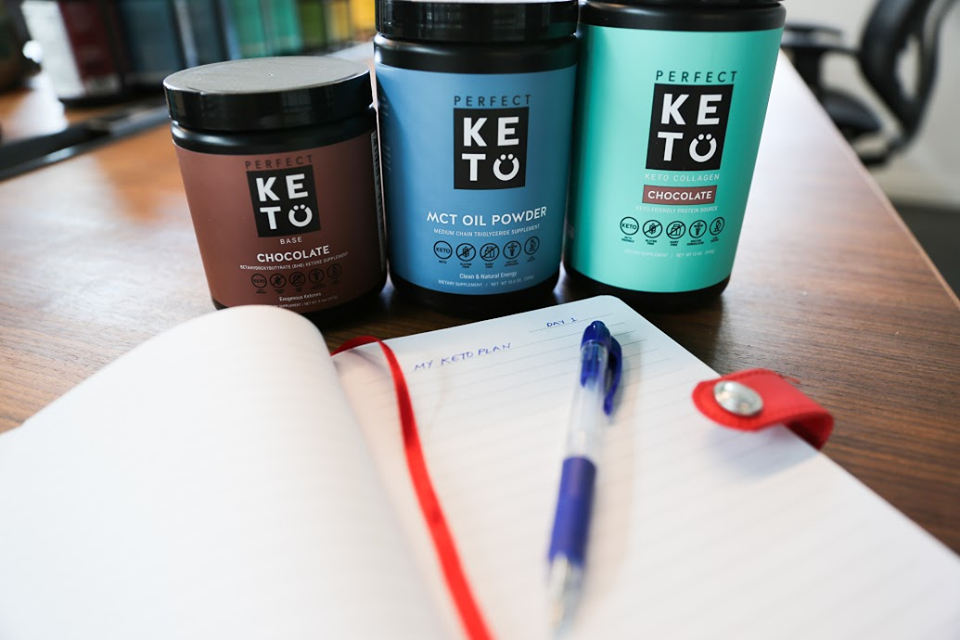 The Perfect Keto website has answered a lot of my questions — but not all of them. Until now. The founder and CEO, Dr. Anthony Gustin, along with Education Manager Chris Irvine have just released a totally comprehensive guide to the Keto diet. Their first book, Keto Answers, is available on Amazon and dives into over 288 questions about Keto, includes over 50 infographics and provides practical, in-depth tips from a leading Keto doctor and researcher. The book is in an easy-to-follow question-and-answer format, and it reads so that even someone who has never heard of Keto can still understand the content.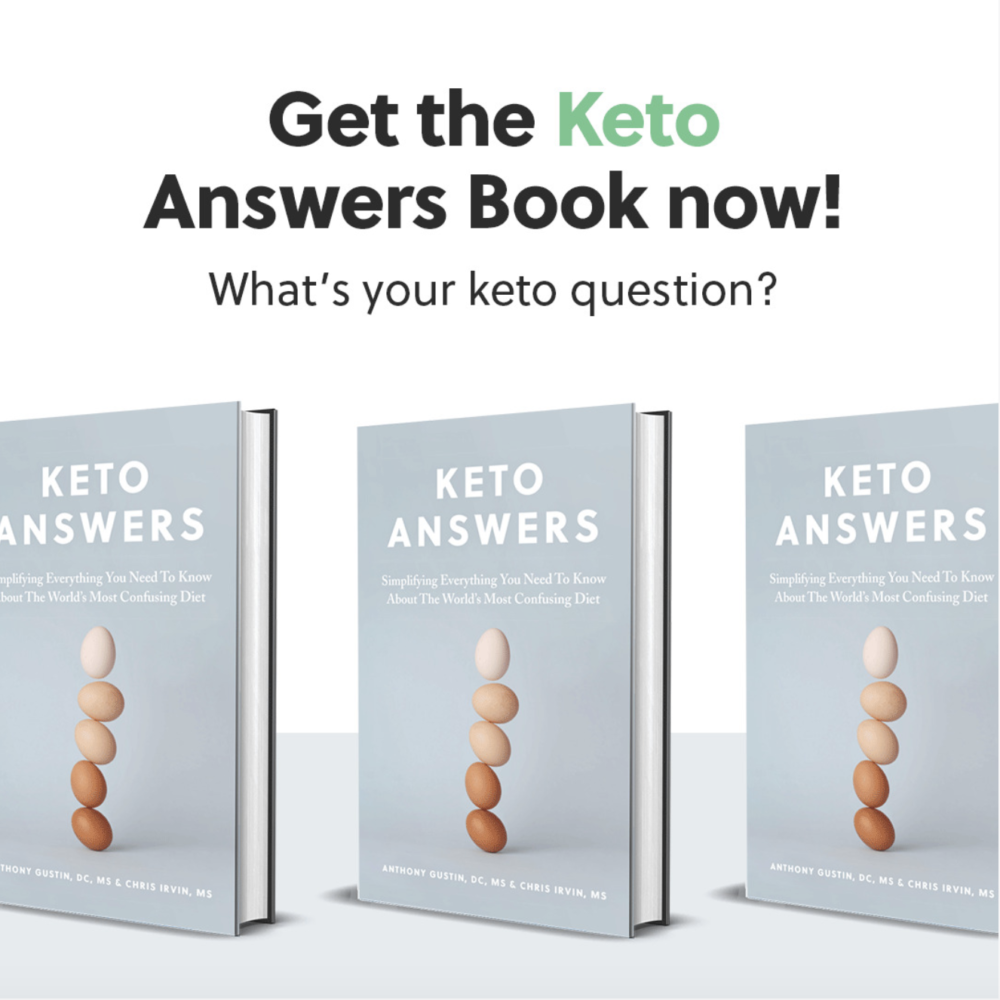 One of my favorite sections of the book is on dining out while on Keto. As someone who attends dinners and food-related events, keeping Keto is definitely not the easiest thing to do. This chapter of the book gave tips on how to order at all kinds of restaurants, which is super helpful for someone like me. After that initial month, my boyfriend and I both decided that strict Keto was a difficult, so we have just decided to keep it when we can, and just be mindful of our carb and sugar intake overall.
Since everyone's bodies respond different to diets and lifestyle changes, there is no "one size fits all" when it comes to Keto. The book describes five different kinds of Keto, one of which is called Cyclic Keto. This means that you consume carbs a couple days a week and then keep Keto the rest of the week. I guess you could say we do a modified version of this. There's also a section that talks specifically about the affect of Keto on women, traveling while on Keto and tons of information that truly simplifies what could be one of the most confusing diets out there.
Interested about Keto and don't know where to start? Head over to Amazon to purchase your own copy of Keto Answers. It's available for the Kindle and in paperback form. You can also shop on the website and save 15% on your first purchase of any individual Perfect Keto products. These products were super helpful when I started, and now they are some of my favorite things to have on hand, even if I'm not 100% doing Keto!
For more information on Perfect Keto, visit their website and follow on Instagram and Facebook.