Never miss a bite! Sign up here to receive new recipes and reviews straight to your inbox.
Disclosure: I was invited to dine as a guest of the restaurant. No monetary compensation has been received for this post. As always, all opinions are 100% my own.
BBQ fans will rejoice when they hear that Pitmaster Bryan Tyrell has brought his award-winning food to Boynton Beach in the form of a cafeteria-style restaurant called PigSty BBQ.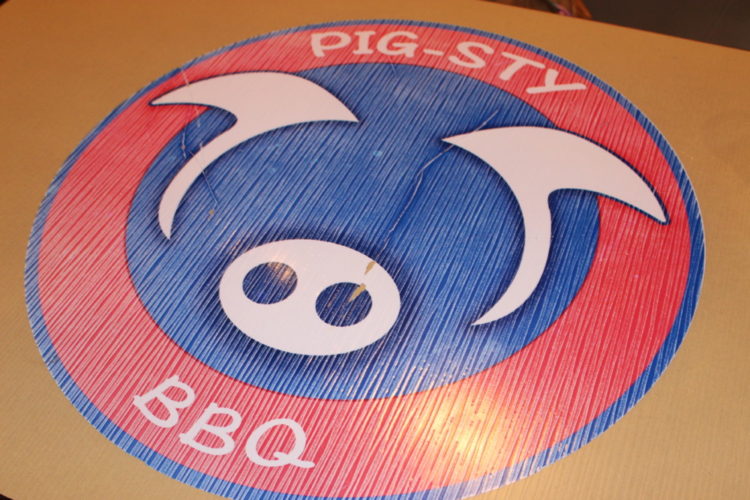 For those of you who aren't familiar with Chef Bryan, he was once part of the competition BBQ team, Slaughterhouse Five, a group who won the American Royal World Championship two years in a row. He was also the original smokehouse manager at Kansas City's Oklahoma Joe's BBQ, voted Best "BBQ Restaurant in the World" by Zagat and "One of the 13 Places You Must Eat Before You Die" by Anthony Bourdain. Ahem, that's sayin' something. Now, alongside his partner Elliot Harris, who has had a successful career launching franchise concepts and advising restaurants throughout the United States, they've brought PigSty BBQ to life, and are welcoming guests with open arms — even if you're a vegetarian.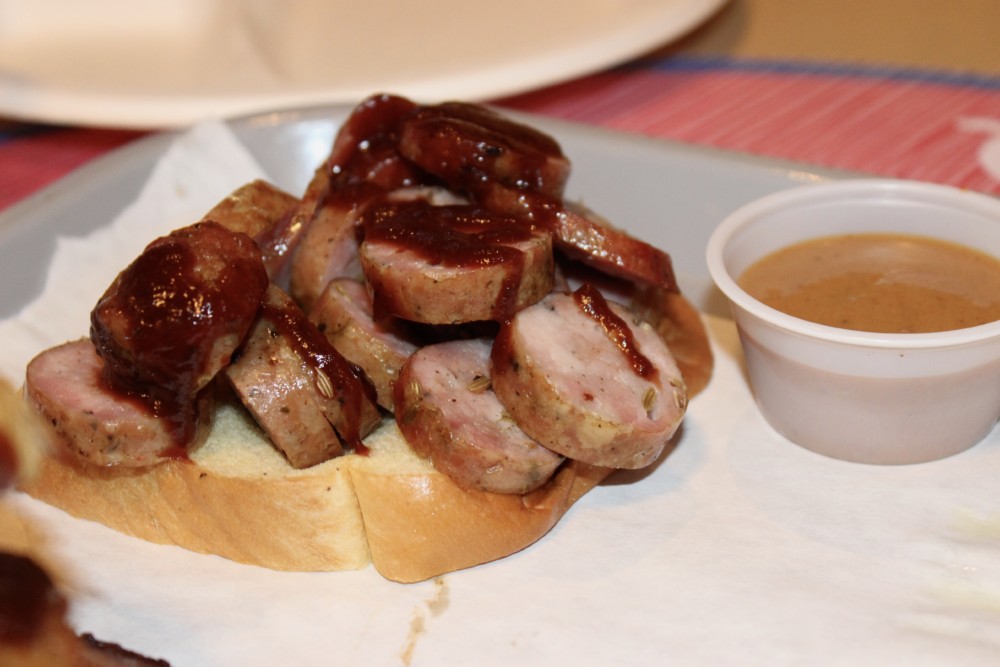 Yes, you heard right. A vegetarian can leave PigSty BBQ with a full, satisfied belly. I've done it before here, and I was eager to do it again. Walk into PigSty and the smell of BBQ wafts through the air and smacks you right in the face — it made me hungry just thinking about all the yummy sides I knew were coming my way. Because everyone knows that the sides are where it's at when it comes to BBQ. Am I right, or am I right?! While Chef Bryan is extremely well known for his smoked meats, he knows that it's important to make everyone who steps foot into the restaurant happy, even vegetarians. So, he offers the 'Hippie Picnic' as a peace offering. (See what I did there?) The Hippie Picnic is a sandwich consisting of nice and crispy fried eggplant, juicy tomato, thinly sliced red onion, house-made balsamic dressing and provolone or Swiss cheese. I know my Dad will cringe when he reads this, but I chose provolone over Swiss — although I'm sure Swiss would also taste delicious! All of this is sandwiched between a toasted kaiser roll, which I didn't eat but was happy to see a good filling-to-bun ratio. Crispy eggplant is high up on my list of favorites, whether it's fried or baked (see my Bubby's recipe) and I really liked their balsamic dressing. It added just the right amount of sweetness needed. The Hippie Picnic is a nice option for vegetarians who may be accompanying their meat-loving friends to PigSty. I bet it'd be good with fried portobello mushroom too!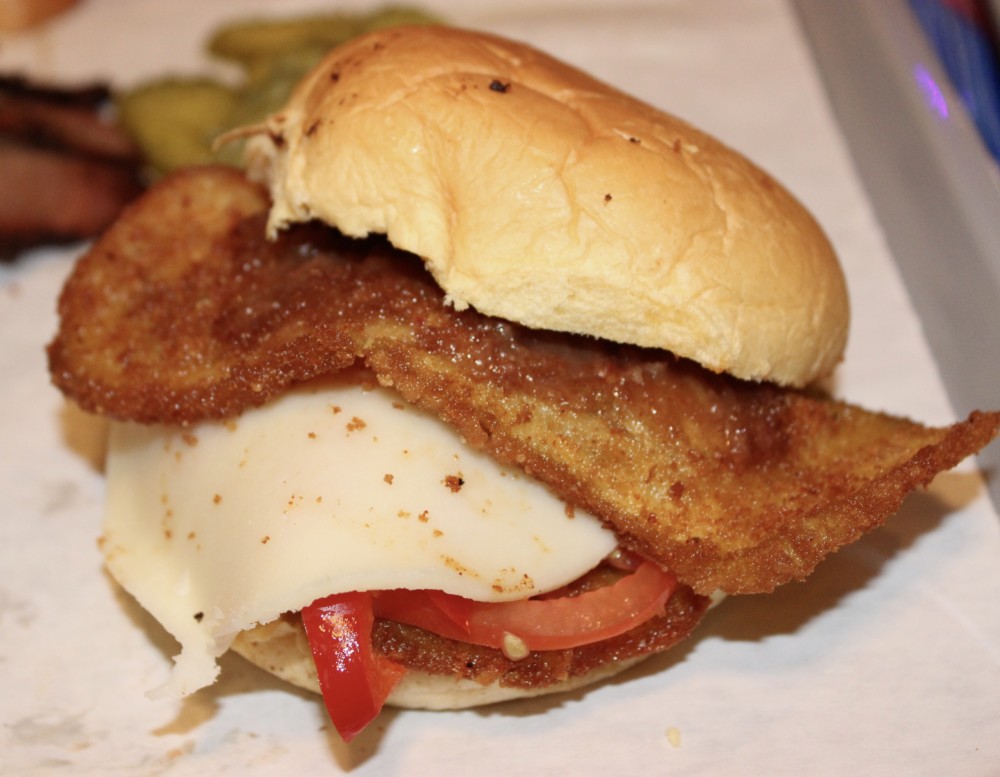 I knew I couldn't go to PigSty without someone to chow down on some of their signature smoked meat, so of course I brought along my friend Jim, who I knew would enjoy a good BBQ feast. Chef Bryan brought him out the smoked sausage and a new hot dog they were trying out, as well as the JAKL sandwich, which was made famous back at Joe's BBQ. A toasted kaiser roll is filled with smoked brisket, provolone cheese and onion rings. Jim added some of the signature BBQ sauce on top, and could barely finish the entire thing, it was so colossal. We did go to town on the sides though, so I sort of don't blame him for not finishing… He gave his stamp of approval on all three meat items he tried, and I got a little nostalgic about the brisket… It reminds me of Bubby's cooking during the Jewish holidays. It might be the one thing I miss from when I ate meat. Although it's much, much different than the way Chef Bryan cooks it, brisket's fall-off-the-bone and juicy, tenderness always got me good.
But now for the star of our meal — the PigSty BBQ sides! We got the hand-breaded onion rings, southern coleslaw, loaded potato salad, the fresh cut french fries and Grandma's mac and cheese (which I could only have a couple bites of, but Chef Bryan insisted that I try, so we had to go for it).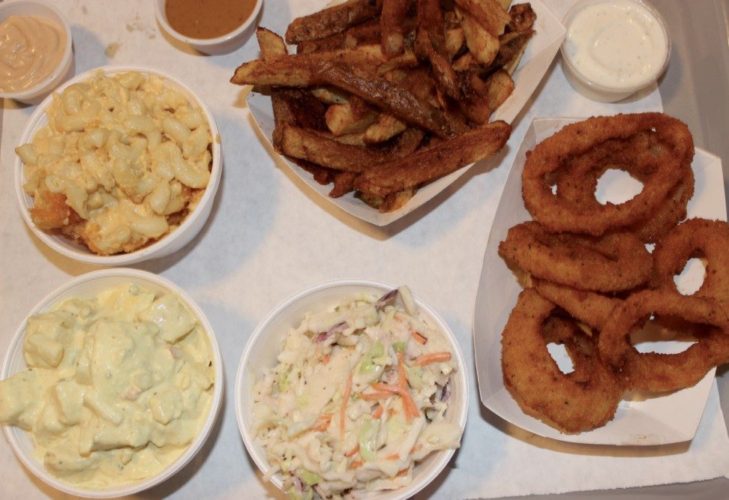 Let's start with the fries… These babies are double-fried, thick-cut, and super delicious with or without being dipped into the intensely flavored BBQ mayo. It's a little smokey and a little sweet, and I definitely used it for the onion rings too, which were another winner. I used to hate onion rings — what was I thinking?! Now I love them almost as much as I love a good french fry. It's all about the coating on those rings. The crispier, the better. And when you bite into it, if the onion slides out… Game over. That's the absolute worst! Thankfully, that didn't happen here.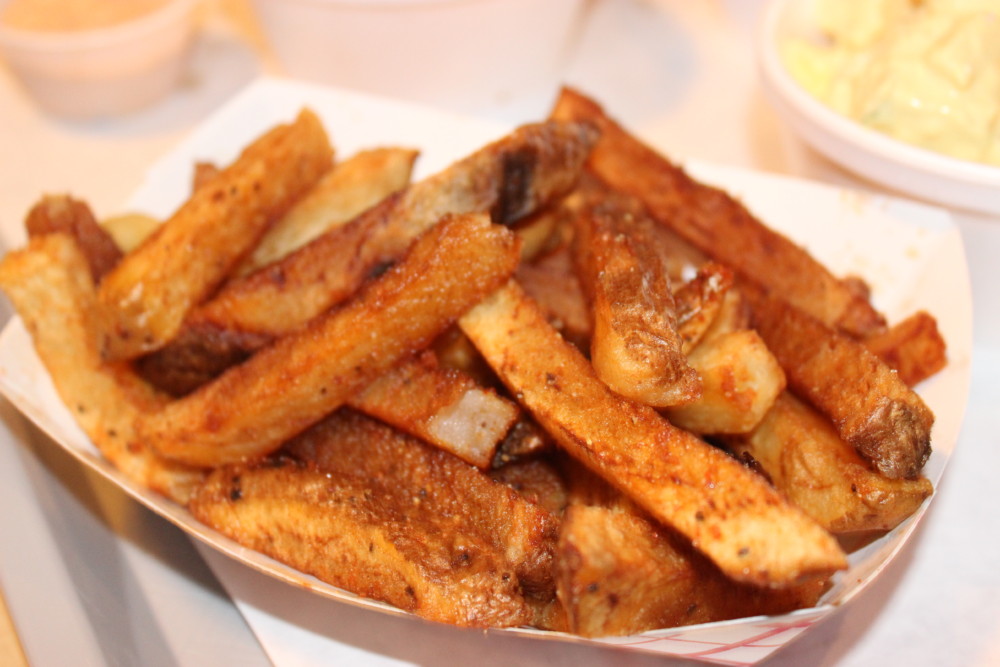 As much as I enjoyed all the fried deliciousness of the fries and rings, it was the potato salad and slaw that brought it home for me. I don't like coleslaw that is drowning in mayonnaise or whatever dressing is being used, but PigSty's wasn't like that at all. No sogginess here. It was crisp with plenty of crunch, and the perfect amount of mayo-based dressing. This is another thing I used to hate, and my Dad could never understand why, but it was because every coleslaw I ever tried as a kid was LOADED with mayo! Keep it light and fresh and I'm down with the slaw. PigSty gets it.
Clearly we all know how much I love my potatoes in the form of french fries, but there is certainly no discrimination against potato in salad form! I love a good potato salad, especially at a BBQ or any outdoor party. A summer shindig is nothing without potato salad. PigSty's was definitely on the heavier side, but I don't care because it was seriously delicious. So thick and creamy, full of flavor, and addictive, as I had to force myself to stop going back for bite after bite. Speaking of bites, the mac and cheese was good — but didn't exactly live up to expectations. Maybe it was just that particular batch, but we felt like it was lacking in the seasoning department and could have been a little bit…goo-ier. 
Oh, and I can't forget about the sauces at PigSty… I've already mentioned the BBQ mayo that came with the french fries, but there's also a BBQ mustard that came with the smoked sausage and ranch that came with the onion rings. Plus, of course, the quintessential BBQ sauces. All of the sauces are made in house, and taste amazing no matter what you're eating them with. I happily switched between the BBQ mayo, BBQ mustard and ranch for my fries and onion rings, and slathered a bit of the mild BBQ sauce on my eggplant. No complaints here!
PigSty BBQ offers beer and wine, as well as house-made desserts including Chef Bryan's very own ice cream. We tried a taste of the Oreo cheesecake flavor and it was delish. Grab a tub on your way out and by the time you get home, it will be the perfect consistency and ready for you to indulge. PigSty also offers catering, a great idea for your corporate events and lunches, family get togethers, poolside parties and wherever else BBQ would be welcomed — which is pretty much anywhere.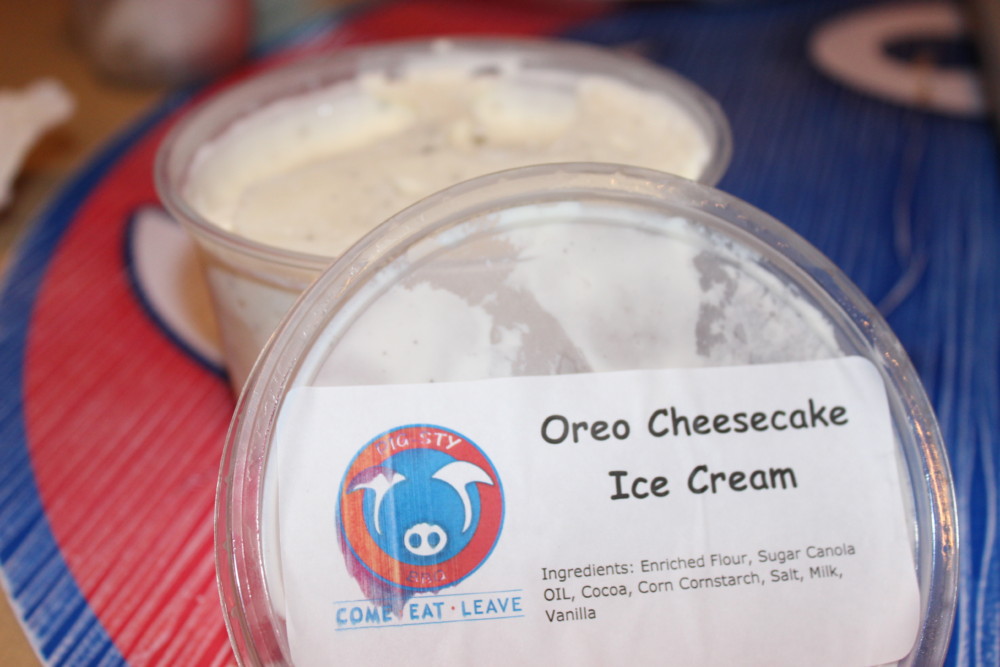 PigSty is open Monday through Saturday from 11am to 10pm, and Sunday from 11am to 8pm and offers various deals each month. PigSty BBQ is located at 706 W. Boynton Beach Blvd. in Boynton Beach.