Never miss a bite! Sign up here to receive new recipes and reviews straight to your inbox.
Disclosure: This is a sponsored post on behalf of Wyman's of Maine. All nutritional and product information has been provided by the sponsor. I received complementary product in exchange for this post. As always, all opinions are 100% my own.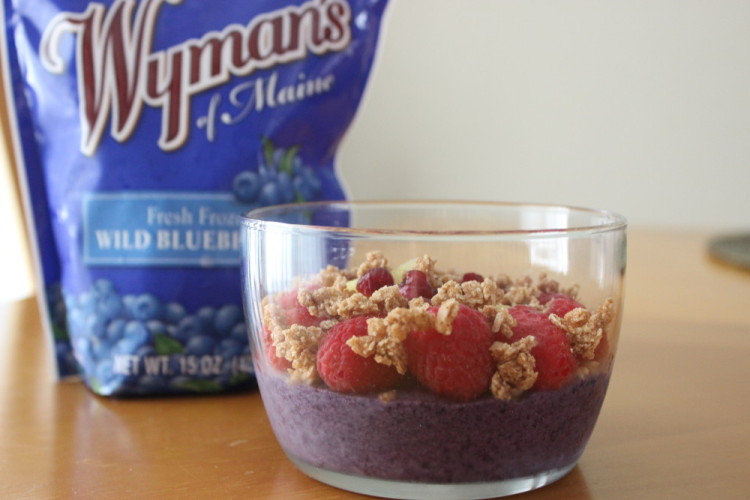 Whew! Can you believe we're already halfway through January? I've been slacking over here in recipeland, but I promise things will pick back up. I was a little preoccupied running my first half marathon… Yep! I traveled over to Orlando last weekend to run the Disney Half Marathon and finished in 2 hours, 50 minutes, 29 seconds. I'm super proud of myself — and already looking forward to running another one later this year, the Epcot Food and Wine Festival Half Marathon. Right up my alley!
Anyway, it's fitting that my first recipe post in the new year is something on the healthier side, made with a variety of good-for-you ingredients that help you power through the day. One of my new favorite things are acai bowls. I know, I know — I'm a little late to the game, but at least I'm there! A smooth and creamy base topped with fruit, granola, and other mix-ins make this a super versatile and fun breakfast, lunch, or even dinner. Instead of acai berries, I used Wyman's of Maine frozen wild blueberries as the main ingredient in the base of my Power Berry Breakfast Bowl.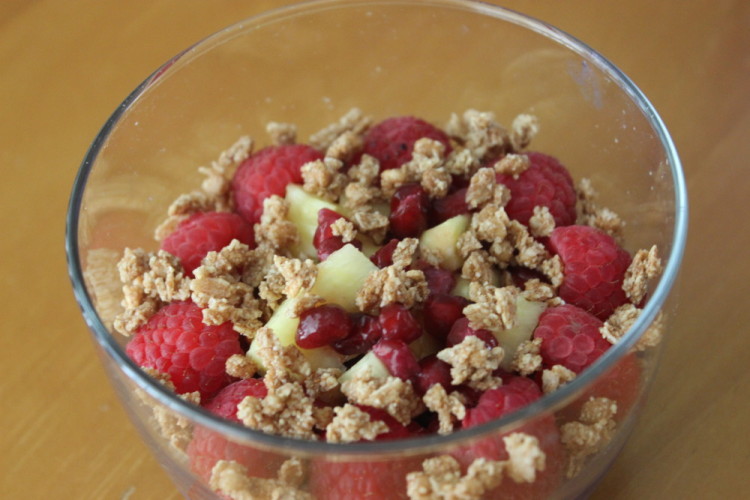 Wyman's of Maine is the largest U.S.-owned wild blueberry grower and processor, offering a line of wild blueberry products and complementary frozen fruit products through retailers, foodservice and industrial distributors throughout the country. Wyman's is a family-owned business started in 1874 and now farms 11,000 acres in Maine, Prince Edward Island and New Brunswick, Canada. Wyman's remains committed to sustainability through stewarding natural and human resources. Some of their efforts include enhancing and protecting their soil, water and air, improving the welfare of their employees and their rural communities, and helping the small farms that sell to Wyman's.
They also have a dedicated focus on the protection of honeybees, the pollinators that sustain their farms. All fresh fruit is IQF (Individually Quick Frozen), processed within 24 hours of harvest, locking in fresh fruit flavor and character in a state-of-the-art processing system. Wyman's products can be found in the freezer section of a variety of retailers nationally.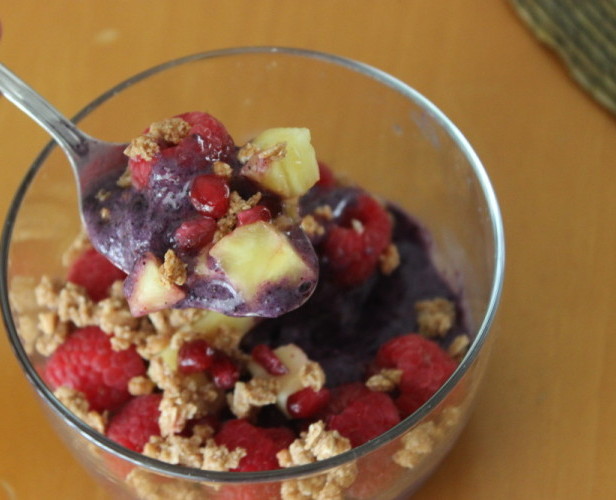 Wild blueberries are antioxidant powerhouses — they are number-one in antioxidant capacity per serving, thanks to their deep-blue pigment where those antioxidant compounds are found. Wild blueberries are also packed with fiber, minerals, and manganese. Just one cup of frozen wild blueberries delivers 25% of your recommended Daily Value of fiber and 200% of your RDV of manganese, a trace mineral that is important to bone development and other body functions.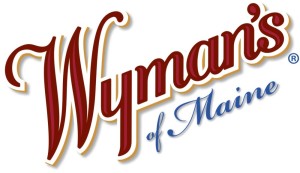 For more information on the health and nutrition benefits of wild blueberries, visit Wyman's website. Follow them on Twitter, Facebook, and Pinterest too!
Back to my Power Berry Breakfast Bowl… After a hard workout (or maybe a 13.1 mile run!), this is exactly what your body craves. A mix of Wyman's of Maine frozen wild blueberries and half a frozen banana, unsweetened almond milk, and vanilla protein powder make up the base, and you can top it with whatever ingredients you'd like! I chose raspberries, pineapple, pomegranate arils, and granola for mine. What are some of your favorite toppings? Let's hear 'em! I could make a different Power Berry Breakfast Bowl everyday!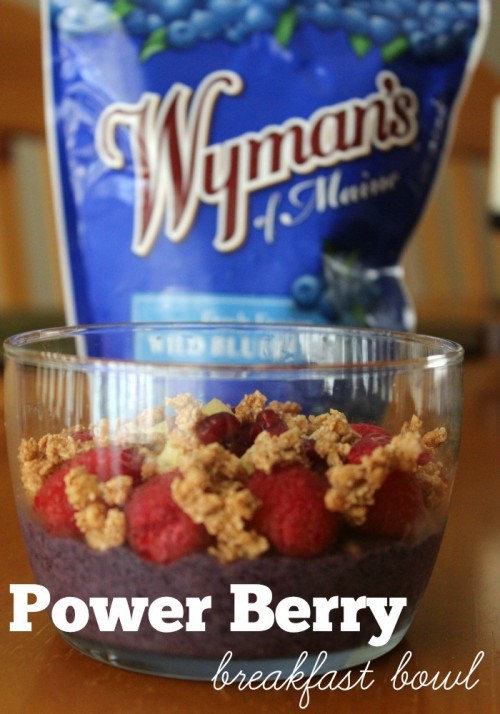 Power Berry Breakfast Bowl
Author:
Ingredients
3/4 cup Wymans of Maine Frozen Wild Blueberries
1/2 frozen banana
1/4 cup unsweetened almond milk
1 scoop vanilla protein of choice
1/2 tsp cinnamon
Optional toppings: raspberries, blueberries, blackberries, strawberries, pineapple, pomegranate arils, coconut flakes, granola, flax seed, chia seeds, etc.
Instructions
Blend together the frozen wild blueberries, frozen bananas, almond milk, protein and cinnamon until thick and creamy.
Spoon into a bowl and top with whatever your heart desires!