I don't know about you, but I am extremely upset that the Pretty Little Liars summer season is over and I have to wait until January for the winter season to start. 
I just about near had a heart attack after the finale. The betrAyal was NOT by the person I'd imagined it to be! I cannot believe Spencer had to go and lose her virginity to Tobey 20 minutes before we all find out he is part of A's entourage. Is he "A"?! I hate that we still don't know exactly who "A" is — but we know all of the helpers! And Caleb…oh my GOD. I don't even know how to comprehend the fact that he's gone… The show will not be the same without him. And just when things got good again with him and Hannah! Ughhhhhhhhhh. At least they're having another Halloween episode again this year… 
The past two Tuesday nights were not only Pretty Little Liars night, but they were both Mexican-themed nights, too! Lindsey and I always look forward to our dinners before we plant ourselves down in front of my TV to immerse ourselves in PLL.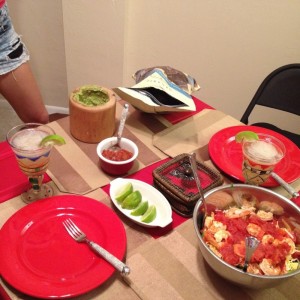 Night #1: I saw this Mexican Shrimp Cobb Salad recipe on Skinnytaste a while back and thought it would be a perfect healthy dish to serve for a Mexican-themed dinner. Obviously there would be margaritas and chips and guacamole, so dinner itself needs to be light. That way you save more room for the drinks and dip! 🙂 Lindsey and I threw together this salad and whipped up our own guacamole, too. I actually have a mortar and pestle so we used that — very authentic! I felt like the Rocco's Taco's guys who mash up the guacamole right at your table. Of course, this version is nowhere near as amazing as Rocco's…I don't think anyone could ever touch their guac! It's too amazing for words. Mine was good though! I literally had no rhyme or reason to anything, just threw everything together and! voilà! The perfect, super-simple, quick to make, guacamole. The organic blue corn tortilla chips made all the difference, too. Then came the best part — the margaritas! I found the zero-calorie margarita mix on sale last time I went food shopping at Target so naturally, I snatched it right up. Mixed with tequila and a little bit of Grand Marnier, we had ourselves some absolutely delicious margaritas. 
Night #2: I resorted to one of my favorite dishes, which I've made recently: baked chipotle-lime chicken. I thought the perfect complement to this spicy chicken dish would be something cool and fresh to tone down the kick from the chipotle powder. I made a black bean, corn and peach salsa to top the chicken, and we had a brown rice and quinoa mix as a side. As for drinks, it isn't Mexican night without margaritas — duh. Since I was serving a fruity salsa, I wanted to keep the margaritas in the same flavor category, so I made frozen peach-mango margaritas.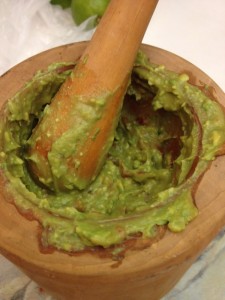 Mash the avocado and then add the garlic, tomatoes and lime juice. Continue to mix together until smooth, creamy and very well-combined.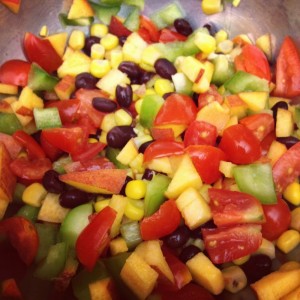 Black bean, Corn and Peach Salsa
1/4 cup canned sweet corn
1/4 cup canned black beans
1/2 peach, cut into small pieces 
5-6 grape tomatoes, cut into small pieces
1/8 cup green pepper, cut into small pieces
Combine all ingredients in a bowl and mix together.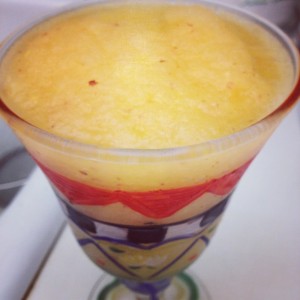 Frozen Peach-Mango Margaritas
Makes 2 drinks
8 oz. zero-calorie Jose Cuervo Margarita Mix
Combine all ingredients in a blender and mix until smooth.