Never miss a bite! Sign up here to receive new recipes and reviews straight to your inbox.
Disclosure: Thank you to Stonyfield, King Arthur Flour, Silpat and Dreamfarm for sponsoring this post. As always, all opinions are 100% my own. 
With all the heavy holiday treats around during this time of year, these healthy Pumpkin Chocolate Chip Cake Squares are a tasty and welcomed break!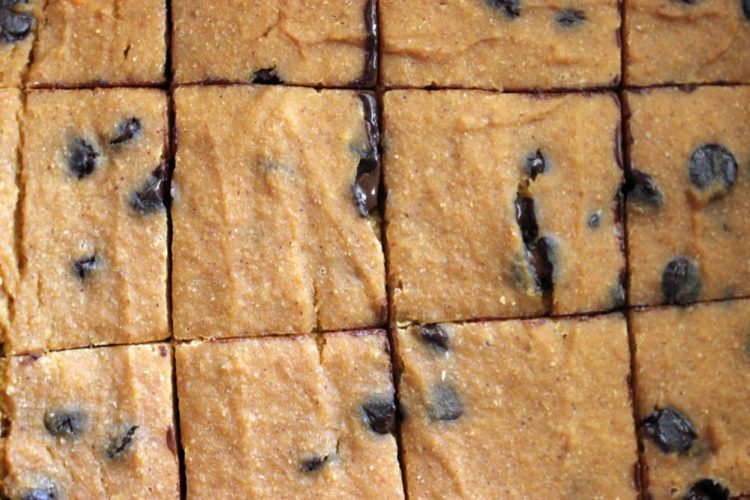 NO eggs. NO butter. NO oil. NO added sugar. Have I lost you? What's dessert without these ingredients? DELICIOUS, that's what. During the holidays, we're bombarded with cookies and cakes and so many sweet treats that it's not surprising to want something at least a little bit healthier. No worries — I've got you covered with these Pumpkin Chocolate Chip Cake Squares. And yes, they do contain dark chocolate chips. Because, let's be real, we all still crave chocolate even if we're trying to eat better.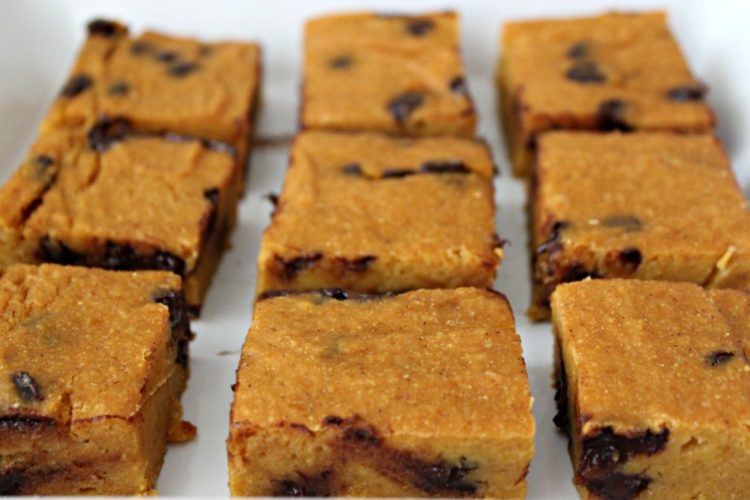 Thanks to some minor ingredient tweaks from some of my go-to brands, these cake squares are a cinch to make — and even easier to gobble right up. Pumpkin Chocolate Chip Cake Squares are naturally sweetened with honey and feature Stonyfield Organic Greek Yogurt and white whole wheat King Arthur Flour, two of my favorite brands for baking.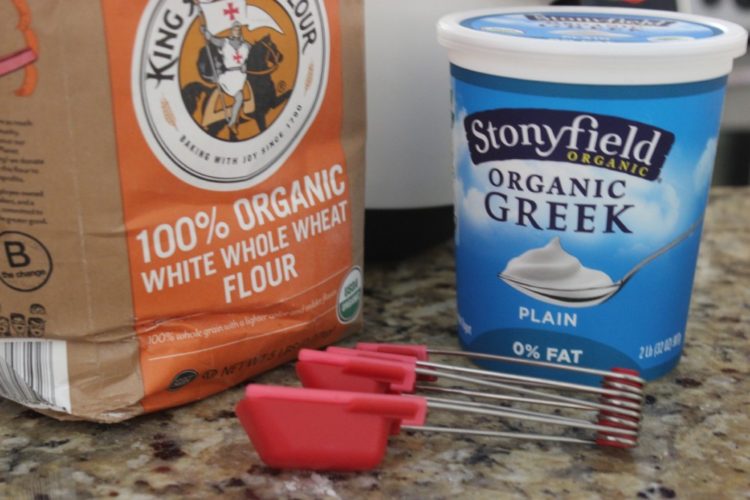 Speaking of baking, sometimes I wish precision wasn't so important. But it really is. Tablespoons vs. teaspoons, 1/2 cup vs. 2/3 cup — so many measurements to keep up with! Thanks to Dreamfarm, there's a new product that any home baker needs in their kitchen. If you're still on the hunt for Christmas or Hanukkah gifts, THIS is it! Levoons are leveling measuring spoons. Squeeze the tiny handle on the side to make a scraper swipe across the top and push off all any excess ingredient. The set of 4 spoons easily snaps together for storage and snaps apart for using/cleaning separately. These were a huge help when I made my Pumpkin Chocolate Chip Cake Squares, and will definitely make a difference in all your holiday baking this season.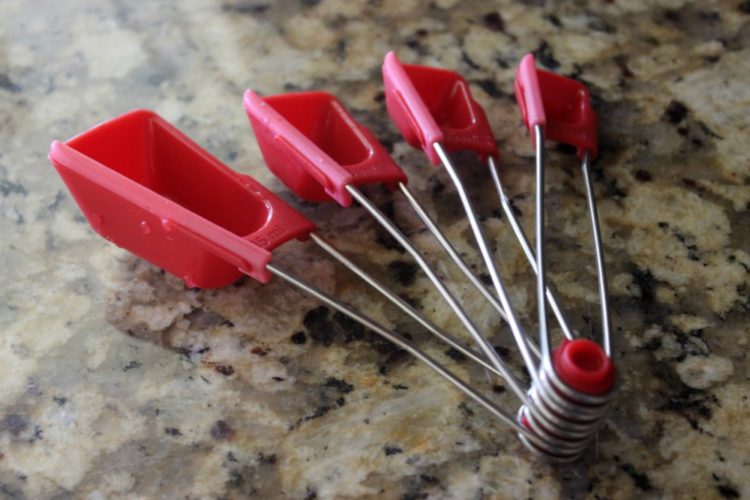 You know what else I love to use when baking for the holidays — especially when it comes to cookies? A SILPAT non-stick baking mat! These make cookie-baking so much easier. They're great for sticky materials like a gooey batter, taffy, caramel, and of course cookie dough. I like to use it for roasting veggies too — but we're talking desserts here. Though I did not use a Silpat mat when making Pumpkin Chocolate Chip Cake Squares, I will be using one to bake cookies for the holidays, that's for sure!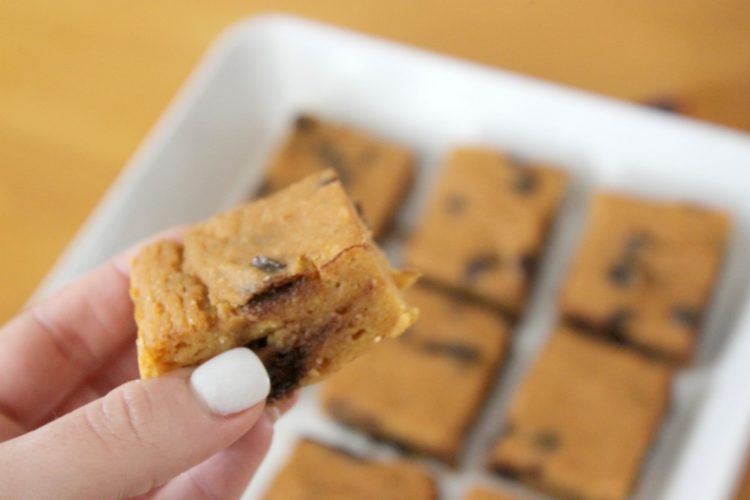 Back to those Pumpkin Chocolate Chip Cake Squares I was telling you about before I totally got distracted and basically gave you the best gift ideas for your baker-friends…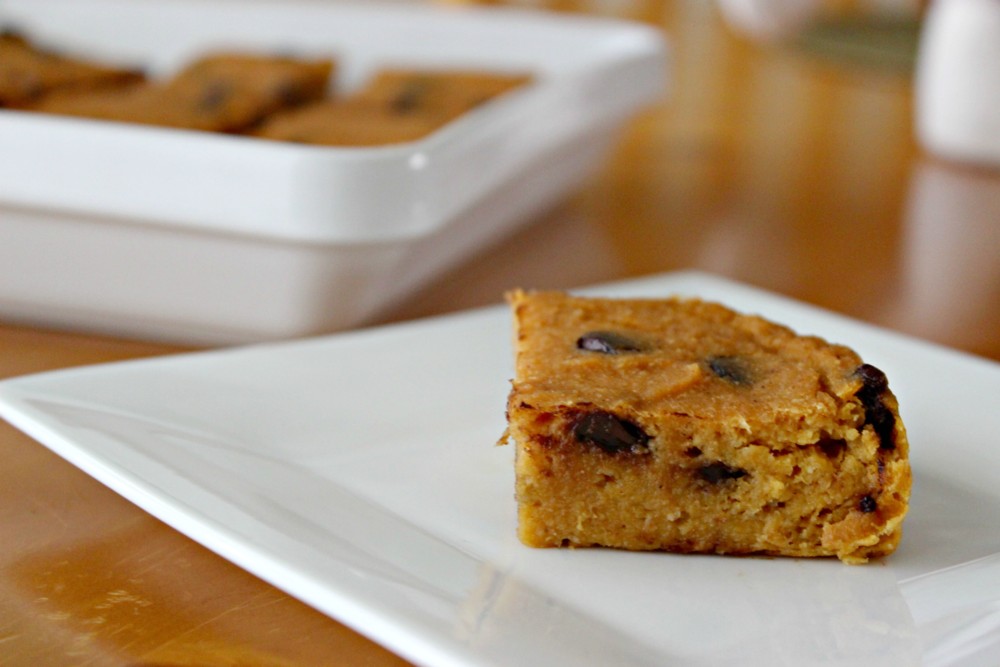 YOU NEED TO MAKE THEM NOW. End of story.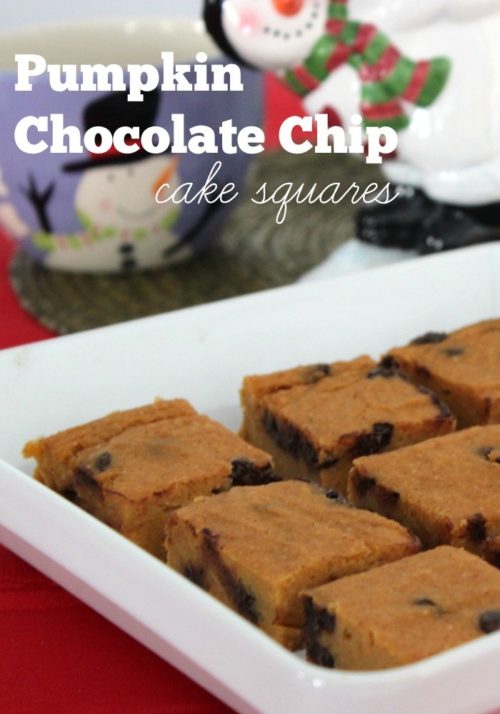 Pumpkin Chocolate Chip Cake Squares
Author:
Prep time:
Cook time:
Total time:
With all the heavy holiday treats around during this time of year, these healthy Pumpkin Chocolate Chip Cake Squares are a tasty and welcomed break!
Ingredients
1 1/2 cups canned pumpkin
1/2 cup plain nonfat Stonyfield Organic Greek Yogurt
2/3 cup honey
2 tsp apple cider vinegar
1 cup King Arthur Flour white whole wheat flour
2 tsp baking powder
1/2 tsp kosher salt
1/2 tsp pumpkin pie spice
2/3 cup dark chocolate chips
Instructions
Preheat the oven to 350 degrees.
Line an 8-inch square baking pan with parchment paper and set aside.
In a medium bowl, combine pumpkin, Greek yogurt, honey and apple cider vinegar. Let sit for about 10 minutes.
In a separate bowl, mix flour, baking powder, salt and pumpkin pie spice.
Add to the wet ingredients, stirring until just combined.
Stir in the dark chocolate chips.
Bake for 30 minutes.
After 30 minutes, turn off the oven but do not open the oven door.
Let sit for another 5 minutes before removing to let cool for at least 1-2 hours before serving. Speed up cooling time by putting into the refrigerator.
Store in an airtight container in the fridge to keep fresh.
Notes
Adapted from Chocolate Covered Katie's Pumpkin Snack Cake with Maple Greek Frosting: http://chocolatecoveredkatie.com/2016/09/22/pumpkin-snack-cake-recipe/